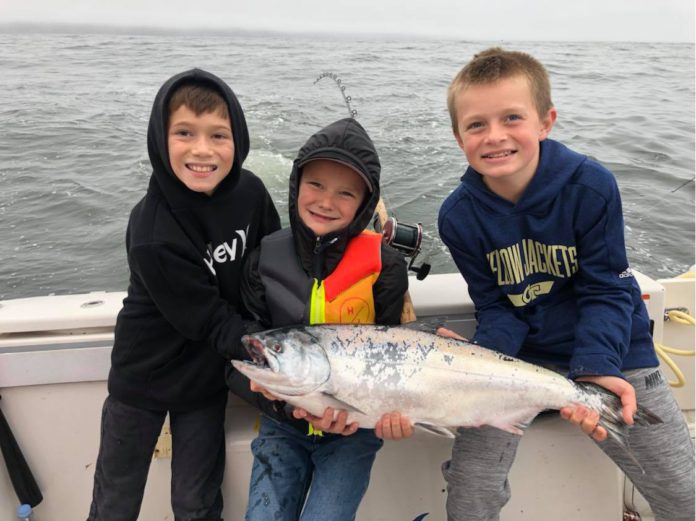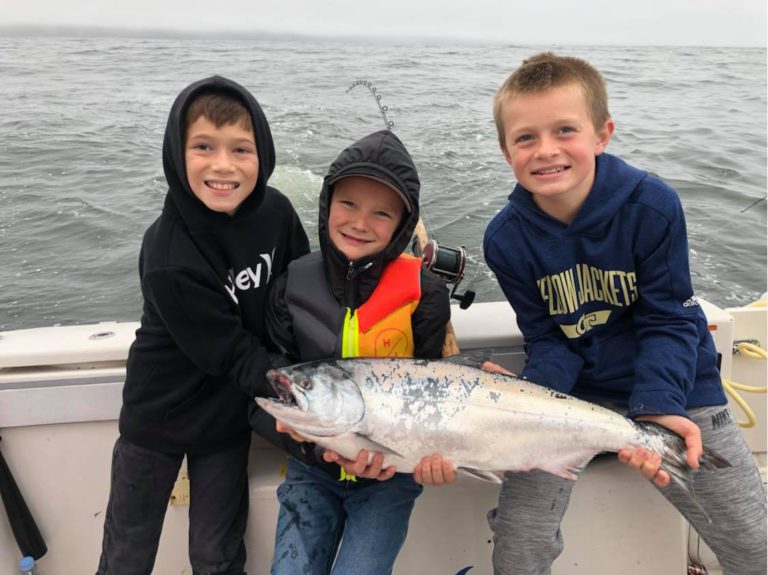 By DAVE HURLEY
BERKELEY –– If you want to get into some big salmon, head north of the Golden Gate to the Shipping Lanes or off of Duxbury, but you have to be on your game as many or more of the big fish are lost as are brought to the net. Schools of bluefin tuna showed up along the northern California coastline from Santa Cruz north to Bodega Bay on Sunday, and a few of the salmon boats started trolling cedar plugs without success. No species gets the northern California saltwater angler blood boiling more than the presence of bluefin. There was a spurt of tuna at the end of July last year, and we will see what unfolds in the coming weeks.
Captain Trent Slate of Bite Me Charters out of Loch Lomond Marina put in quick limits of what he refers to as 'Mega Hawgs' on both Saturday and Sunday trolling straight bait at the Shipping Lanes, and he said, "Trolling has been the best method as I had a group that wanted to mooch on Friday. We hooked 7 salmon, landing four big ones, but we went back to trolling over the weekend as the weather has been chunky. We need a week or so of calm weather for the salmon to school up for mooching. We have a number of clients who prefer to mooch, and this is one of our specialties, but I learned long ago, you have to take what the water will give you, and right now, it's a troll bite."
Captain Ron Koyasako of Nautilus Excursions out of San Francisco has also been scoring limits including big fish to 34 pounds gutted and gilled, and Sunday was the same story with 6 limits taken at the Shipping Lanes with a pair of salmon further north at Duxbury. He said, "These were all big fish with six over 20 pounds, and we lost a dozen that I would estimate from 20 to 35 pounds. We went through close to 40 weights to land these fish. The weather has been rough, and we are also waiting for things to calm down before we can mooch."
Jesse Hall of Elk Grove was out on his private boat with Justin Anderson fishing near Slate on Thursday, and they found some success for quality salmon with their three youngsters getting on the board along with Hall's wife, Monique. Also on a private boat, Steve Klein of Rodney Strong Vineyards was out for limits with Phil Havlicek on the Reel Time off of the Marin coastline.
Captain Jerad Davis of the Salty Lady took their longest lasting charter known as the Napa Boys this week for limits of salmon to 24 pounds south of the Gate off of Pedro Point. He said, "Pedro lit up, and there were fish from Mussel Rock south to Pacifica. The northside also showed signs of life with a couple of party boats scoring near limits up near Duxbury. It does seem that the larger fish always come out of the north side, but this is not always the case."
The popularity of salmon fishing has many of the party boats plugged throughout the month, and the Salty Lady is not exception with their first opening on August 16.
Fortunately, there is an alternative with the Captain Chris Smith of the Pacific Dream out of Berkeley beginning to run salmon trips as they are opening up for salmon due to the great action and angler demand.
The Pacific Dream went rockfishing on Saturday along the small reefs and rocks below the Golden Gate Bridge at Montara for 13 limits of rockfish along with 10 ling cod. Smith took the boat to the Farallons on Sunday for 21 limits of rockfish within 25 minutes, saying, "The rockfish bite was wide open, and you couldn't get your gear to the bottom without the rockfish stopping you on the way down. There aren't many lingcod out there now as we searched Fanny Shoals and the North Island for only an occasional ling." A few boats continue to chase halibut on the North and South Bar with one party boat tandem putting in nearly a fish per rod with 38 halibut to 18 pounds for 40 anglers.