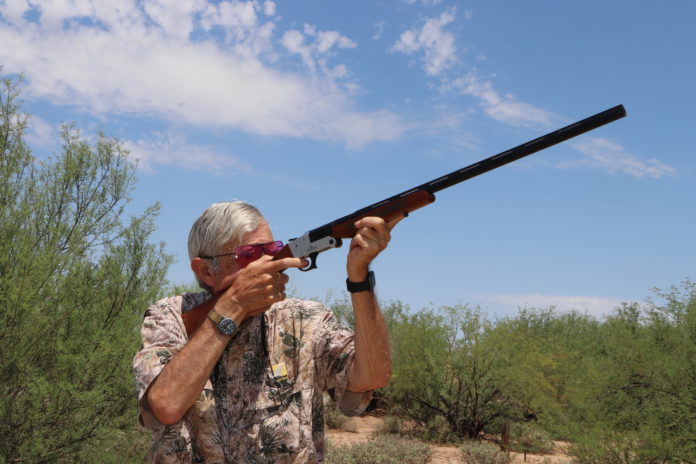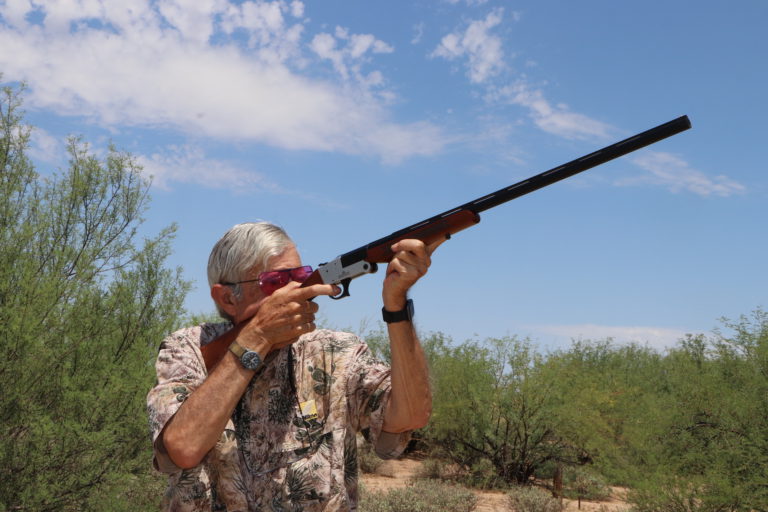 BY STEVE COMUS
As regular readers may have been aware, deep down inside, I am a single-shot kind of a guy. In a world of pumps, autos, side-by-sides and over/unders, there is always room for a single.
Dickinson Arms has introduced a new-for-2020 family of single-shot shotguns that combines classic good looks, craftsmanship, excellent shooting performance and remarkable value.
This new Ranger Series includes models designed for the shooting needs of adults and youth, as well as a short-barreled Survival model — at retail prices starting as low as $144 MSRP.
The Ranger is a folding design with external hammer. The gun is opened by pressing back on the front of the trigger guard, similar to some single-shot competition guns.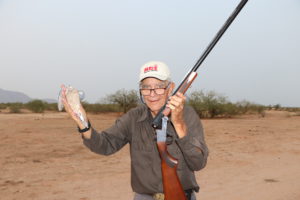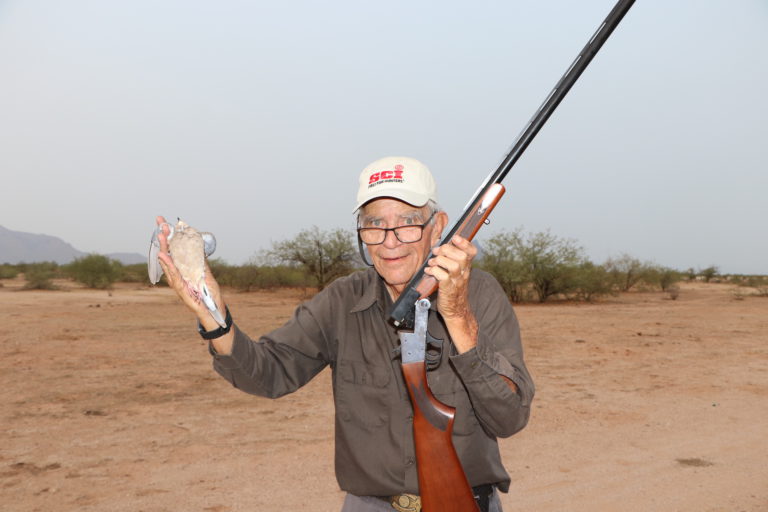 It is difficult to decide whether to focus first on the fun factors or the serious features that make this gun credible in a wide variety of scenarios.
Fun first. We took the test gun to the sporting clays range and hammered flying targets with it. Then it was off to the dove fields for some wingshooting.
Initially, however, I made a mistake. I attempted to grow a brain and think. Thinking and shooting don't go together.
I reasoned that since clay targets slow down from the moment they leave the thrower and that live birds fly more steadily, even going faster at will, that I would allow for a little more lead on crossing shots at the live doves.
I missed the first few and remembered how well the gun had done on clays. I was frustrated until a dove came screaming by, caught me off guard, so I just instinctively poked at it.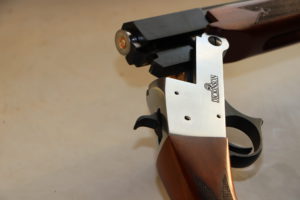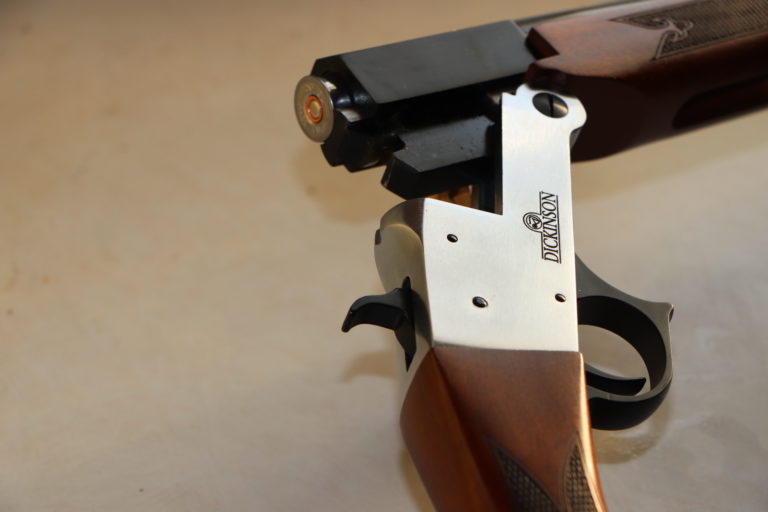 As the lifeless bird arced for a thump-down on the ground, a small cloud of feathers wafted in the air. Pillowcase!
From then on, I throttled-back on the lead and began hitting with regularity. The more I shot the little Ranger, the more fun I was having.
This little gun is quick, swings smoothly and handles like a dream. Single shots tend to be that way. They are not hindered with a lot of machinery. Just simple, straight-forward guns.
The Ranger features an extractor that lifts the spent shell when the gun is opened, making it easy to pull the shell out. I like that because I reload, so I didn't have to chase empties.
Another note about the Ranger: Like any folding break-open shotgun, it pivots through a much wider arc than many other kinds of break-open guns. What was impressive was how smoothly this action pivoted when opened. The action is tight, but not stiff. It acts like guns that cost a whole lot more.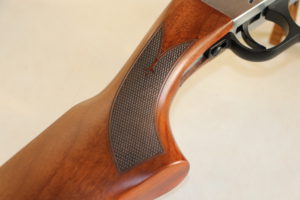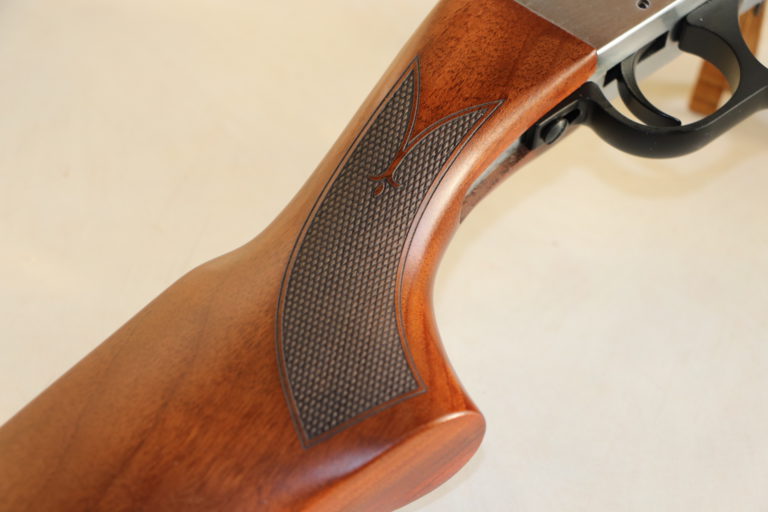 The Ranger weighs 4.6 pounds empty, has a 28-inch modified choke barrel with step rib vent rib and a single brass bead front sight.
Attractive checkering on both pistol grip and forend with fleur-de-lis accents front and rear embellish the straight-grain Turkish walnut stock on this Ranger model. Sling swivel studs front and back, basic plastic buttplate and 14-inch length of pull all come together to deliver great balance.
This gun is chambered to handle 2 ¾ or 3-inch 20-gauge shells. At such a light weight, it does kick a bit, but nothing of real note. It's amazing how little recoil a shooter perceives when targets are hit.
I did notice, however, that the trigger pull was a bit heavier than I am familiar with – wasn't hard to use, once I got used to it, however. I am told the folks at Dickinson have already addressed this situation.
"This is an excellent first shotgun for those getting into the sport, as well as for more experienced shooters looking to add something new and unique to their collections," said Tim Bailey of Dickinson Arms.


"In the Dickinson tradition, this new Ranger Series has a look and feel of quality, despite the fact that it is so affordable. It may be somebody's first shotgun, but they will own it and treasure it for years to come, because it is built to last and it's fun and easy to shoot," added Bailey.
The standard Dickinson Ranger features a simple and reliable break open action for easy loading and operation and comes with a 28-inch barrel in 12-gauge, 20-gauge, 28-gauge and .410 bore.
The Ranger's satin silver receiver is complimented by a choice of available checkered Turkish Walnut or rugged black synthetic stock.
The Dickinson Ranger comes with a fixed modified choke for 12-, 20- and 28-GA. models, with a fixed full choke on the .410 bore.
For younger shooters the Dickinson Ranger Youth Model is available in 12-gauge, 20-gauge and .410 bore with a 24-inch barrel.


Designed to be easy to carry and handle, Dickinson's Ranger Youth shotgun is a great way to bring new people into the sport. The Ranger Youth is available with a walnut stock and forend with silver satin receiver.
Dickinson will also offer a Ranger Survival Model with a rugged black synthetic stock and 18.5-inch barrel. This model will be offered in 12-gauge, 20-gauge and .410 bore and will include a durable nylon carrying case with shoulder strap as standard equipment.
To learn more about the new Single Shot Ranger Series Shotguns from Dickinson Arms — or the company's complete line of quality shotguns for hunting, sport shooting and tactical use, check out a dealer, call (805) 978-8565 or visit www.dickinsonarms.com.