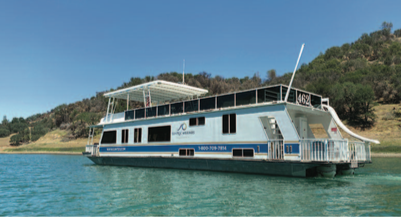 BY BLAKE WARREN
WINTERS – Just the mention of it alone had the future travel plan gears kicked into high speed. A sheer guttural response. When the good folks Suntex Marinas generously offered early this spring to give Western Outdoor News an up-close taste of the houseboat experience they offer at Lake Berryessa — one of Northern California's true gems of a bass fishery — I pounced at the opportunity and began scrambling to see just what I could manage to put together in a month's time, hectic schedule be damned. This was No Brainer City, U.S.A., population 1. I had to find a way to make this happen.
Fortunately, things came together somewhat seamlessly. After a couple weeks of shuffling and asking around as to who might take part in this unique trip, the picture quickly began to shape up. During a weekend phone call to SoCal bass guide Rusty Brown for info for WON's weekly fishing reports, he said he just so happened to have a handful of trips with clients at some Northern California lakes the first half of May — including coincidentally, Berryessa. I knew WON tournament director Billy Egan had a rare break in a frenzied stretch of four events in seven weeks, so I threw the idea to him about possibly meeting up in NorCal. He happened to be doing a sportsman's show in Modesto the weekend prior, so yet another fortuitous checkmark in the box for things coming together, and it was all-things-go to head north on I-5 the first week of May.
Meeting up in Sacramento and heading into the Napa foothills with Rusty last Tuesday, we found Egan and his son Liam waiting along with WON BASS AAA basser Jeremy Mann waiting for us at Pleasure Cove Marina. He was nice enough to lend Billy his brand-new Phoenix boat for a few days. Turns out, the trio's very first fish earlier in the day was a 9.17-pound largemouth on a jerkbait for Jeremy, a new personal best. Hopes were immediately high as we checked in with the Suntex Marinas crew, who quickly got us set up and loaded into our new digs for the next few days, the 70-foot, two-deck houseboat, Monticello, one of six such rigs available in the marina.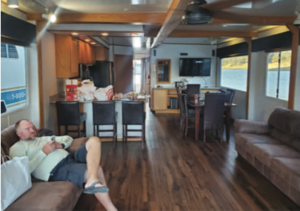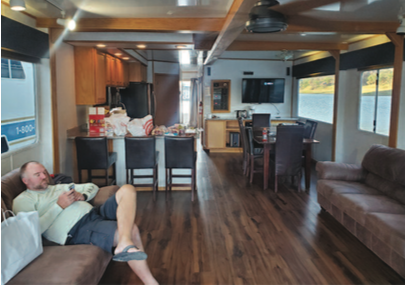 It was instantly clear upon stepping aboard that we were in for accommodations far above the likes of tent camping. A spacious bottom deck with two nice pull-out sofas, a full kitchen and full-sized refrigerator, two bathrooms both with showers and four individual staterooms were clear evidence of that — not to mention the warming hot tub, wet bar and water slide on the top deck. With a generator providing all the power you need along with high-powered air conditioning during the summer months, you'd be hard pressed to find a more comfortable and awesome setting to spend a few days on the water.
We loaded up all our gear, tucked the bass boats into an adjoining slip and settled in for the night. We woke the next morning in the pre-dawn to find balls of baitfish under a few lit docks near the houseboat, silhouetted largemouth and spot shadows lurking with heads poked out from under those docks waiting to pounce. All three of our first casts resulted in immediate hook-ups, and we had two dozen bass in the bag before the sun even came up or we launched a boat. Pretty, pretty good.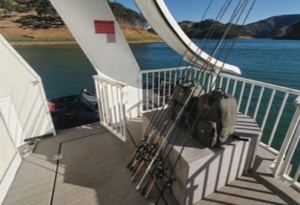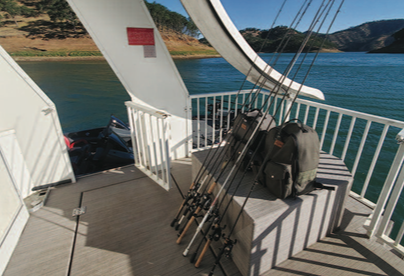 We fished the morning in and around Putah Creek, about an eight- or nine-mile run to the other end of the lake, working through a wide variety of different baits in an attempt to establish some sort of a pattern that would serve us well for the next couple days. Picking up a few nuggets here and there to store away for later, we headed back to the marina for our houseboat orientation and set out from the docks to post up for the back half of the week, ultimately settling on a big cove just about a mile and a half from Pleasure Cove.
Just beach the boat on a flat-ish bank in a wind-protected cove, pound in some metal stakes into the shoreline and tie the back mooring lines to 'em, secure those with a pair of front mooring lines and two more stakes and you're all set to go for a few days of no-hassle fun on one of NorCal's true gems. Dock up your bass boat(s) to the stern for the evening and the early morning/pre-dawn bite is only a few steps away.
The four of us caught 'em pretty good that afternoon and evening in a handful of different ways, Berryessa showing off its unique ability to kick out a pretty fair ratio of quality largemouth, smallmouth and spotted bass, and in pretty darned good numbers to boot. And the best part about it all was that it was all on nothing but a variety of reaction baits — not a worm, Ned rig or Senko to be found on the deck. For a Southern California guy in our highly-pressured, often highly-clear reservoirs, this definitely is an actual a grass- IS-greener scenario, especially so with the possibility of hooking a big spot or smallie along with largemouth, something not usually even possible at the majority of our SoCal lakes.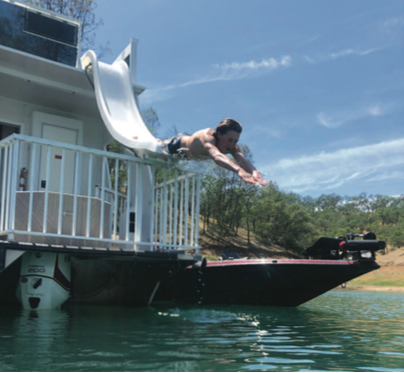 The sheer relief from getting away from having to shake a 4.5-inch worm on a drop-shot to get bit was palpable. It was straight chuck-and-wind from the get go, with just about every bite coming inside 8 or 9 feet of water on strictly reaction baits. Jerkbaits, Coolbaits underspins, Keitechs rigged on ballheads, Whopper Ploppers, buzzbaits… just about everything we threw was getting at least some attention from the black bass of Berryessa.
After stacking up somewhere in the neighborhood of 50-or-so fish to 4 pounds between our two boats, it was back to our floating home base for burgers and brats for the evening, motoring back to the houseboat with the sun now tucked well behind the Napa foothills and giving way to a star-filled sky. Speaking of which, you could find much worse ways to wind down after a long day on the water and a thousand casts than dipping into a well-heated hot tub under an array of starlight with your favorite beverage of choice after a hearty feast. It was Elon Musk of all people who provided us with our nightcap on the first night aboard the Monticello, as what seemed like hundreds of Space X satellites fired across the sky in a long, single-file procession like something out of Star Wars as we sipped the last of our last beers for the day and called it a night once the sky show came to a close.
We woke up the first morning in our cove under the cover of darkness, made some coffee and packed a few snacks, and took just the few steps it required to get to the decks of our bass boats with our gear. Within a matter of minutes, we were buzzing back across Berryessa at grey light at 60 miles per hour to the other end of the lake near Putah Creek, where we'd found the previous day's success and still had plenty of fishy-looking spots left to hit throughout the area.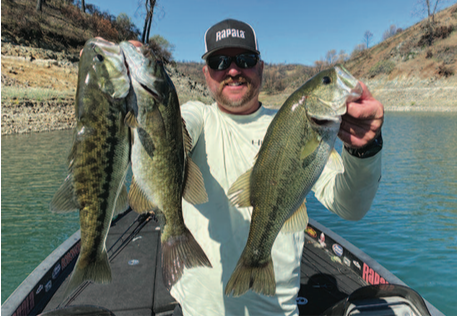 On the ride out, we reveled in the fact that there was no 3 a.m. wake-up or early morning boat launches required on this trip — just wake up, get a cup of Joe, grab your tackle and go. It doesn't get any more convenient than having a houseboat serve as your mothership for a few days. Made-to-order bassin' at its finest, to be sure. Step off one boat and on to another, and you're making your first cast in mere minutes depending on where you run to.
We picked up right where we left off the morning prior in and around Putah Creek, plenty of biting bass still on the menu and hitting a smorgasbord of reaction baits thrown their way along the banks. Even a couple slab crappie got in on the action slamming underspins. After another highly fruitful morning session with big numbers yet again, the wind started howling off the faces of the foothills and we navigated the somewhat bumpy ride back to the Monticello — great timing as we'd maximized our morning and made it back before it got to blowing even harder as the afternoon progressed.
Prior to the winds kicking up air temperatures were touching 90 degrees, so we opted to make good use of the top deck water slide to cool down in the cove. Not a bad way to spend some time between fishing sessions.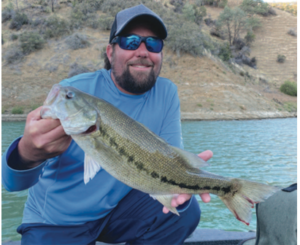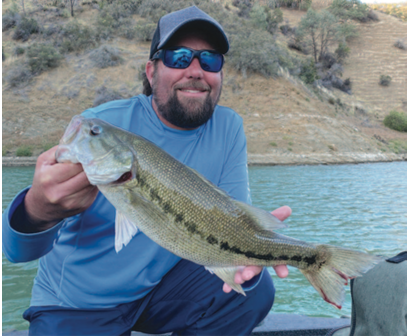 Just a couple of hours later, Billy ran to pick up Jeremy at the marina, who had just finished a shift on duty with the Santa Rosa Fire Department. Much to our delight Jeremy had brought a cavalcade of food for the next couple days and starting that evening we would eat like the Monticello was his firehouse, starting with a pair of delicious tri-tips along with pasta and a Caesar salad to boot. With our full-sized refrigerator stocked to the gills, a full kitchen and a big barbecue on the front deck at our disposal, it was all feast and zero famine for the rest of the way. Anything you can whip up at home you can whip up just as easily aboard the houseboat, yet another sweet perk of making the Monticello your home for a few days.
After loading up on our huge early dinner it was back out for another late afternoon run, this time hitting primary and secondary points in the main lake. The results would be similar to our first few runs along the banks, only this time with the wind still up it was jerkbaits and spinnerbaits that lead the charge, coaxing a healthy 3-pound spotted bass and a few 3.5- to 4-pound bucketmouths from their haunts prior to sundown. After beefing up our overall bass numbers some more through the sunset, it was back to the Monticello for our new nightly routine of top deck beers and the hot tub before turning in.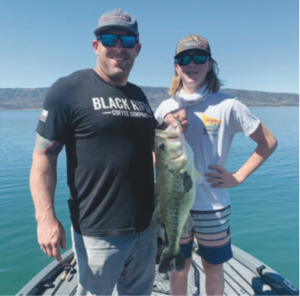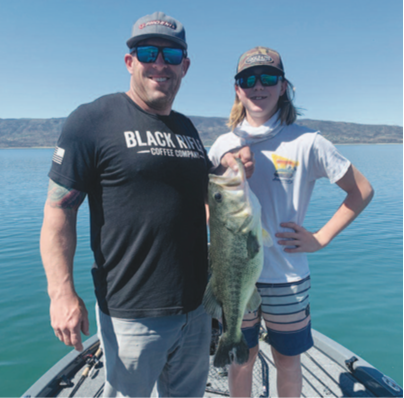 The final day of fishing wound up being a little slower going than the first few days, the bass seemingly having pulled off the banks for one reason or another and gone a tad deeper. Making slight adjustments to deeper-diving baits paid some decent dividends and we padded the overall counts even further both in the morning and the evening, rounding out the action and putting a nice bookend on the trip. It was back to the mother ship for one more feast, this go-round being beer can chicken and bratwurst as the main courses.
We woke to heavy winds on our final morning and passed on one last fishing session, opting to clean up a bit and get packed up and ready to go early instead. With the winds really kicked up, a few Suntex staffers kindly made their way out to our cove in a pontoon and kindly helped us untie, pull the stakes and putt out of the cove and get the 70-footer on its way back to the fuel dock at the marina, where we would cart all our gear off the houseboat and load up our vehicles for the long trip back to SoCal.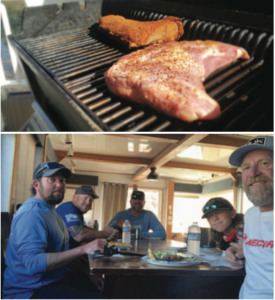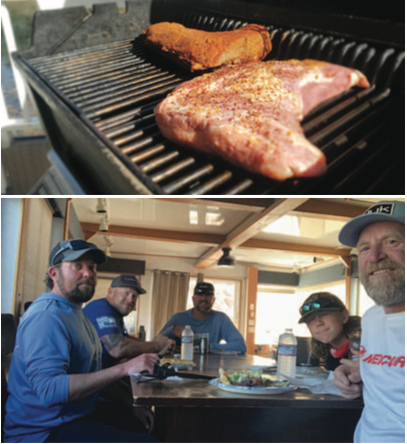 All in all it was an absolutely epic trip, and the Suntex Marinas staff couldn't have been any friendlier or more accommodating and helpful throughout the four days from start to finish. For Southern California bass anglers and fishing families this is "must add" experience on every bucket list. It's one heck of a change in scenery with rolling, pine-littered foothills, a huge lake that boasts an extremely healthy and ripe bass fishery and comfortable and spacious houseboats armed and ready for just about anything you'd want to do while out on the water. Throw in plenty of wildlife, including gobbling turkeys, bald eagles and grazing deer among others, and it's one heck of a way to spend a few days getting away from it all, and some lucky WON readers are going to get to find out first-hand thanks to Suntex and their generous donation of a free houseboat trip to one lucky team in the Early Bird Raffle this coming Sunday at the Lake Havasu Striper Derby awards ceremony.
With mid-spring being the prime time to make summer vacation plans, a Suntex Marinas houseboat rental would be at the top of this writer's list. Between the beautiful setting on a gem of a lake, stylish and fully-loaded accommodations as some of the best houseboats in the country, an incredibly helpful staff and no shortage of biting bass of all three species, it's a one-of-a-kind experience no one could ever forget.