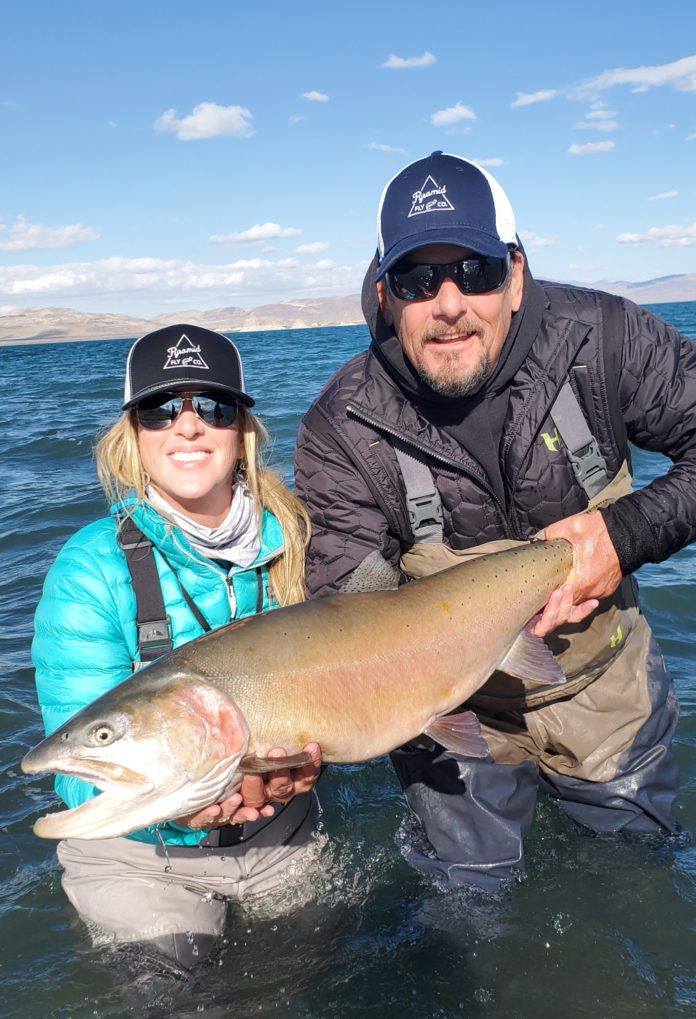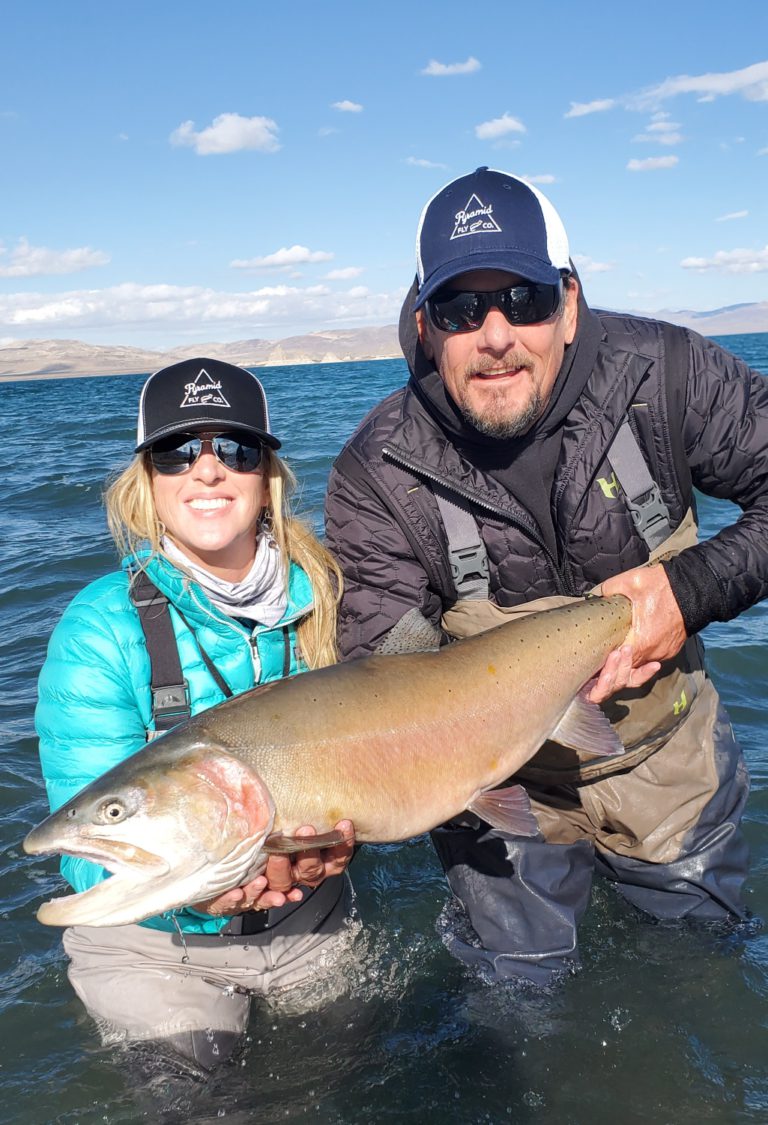 SUTCLIFFE, Nevada – The Pyramid Lake Paiute tribe announced early last week the legendary Lahontan cutthroat trout lake will open to fishing and camping Nov. 2 for the 2020-2021 season. Between the regular summer closure and an extended off-limits period due to COVID control measures, Pyramid has been off-limits to fishing for 8 months.
That lengthy break has been hard on anglers, but the fish haven't seen a hook for a long time, and that has Robert Hagerty of Pyramid Fly Company fired up. "That's three quarters of a year!" he said. "These fish have been able to enjoy the summer off from the recreational crowd and they have gotten to pack on countless pounds sharking through bait balls gorging on Tui chub without a fisherman in sight. That right there is something special. We all know how much fun the opener is in the Eastern Sierra. Magnify that by 1000% for this coming opener at Pyramid Lake. Our spouses and girlfriends are already sick of us talking about the opener, It's the only thing on our mind. With all the factors listed above, you don't miss out, especially at this trophy fishery. Who doesn't want a chance to catch a 10 to 20-pound fish or multiple fish in this size range?"
Hagerty admits he's excited, like a little kid on Christmas eve, but better. Before long he'll come upon the empty, no name beach he favors, where he'll sit in his car wondering which rig to fish. "But after 8 months of rest does it really matter?" he wondered.
The time shore based anglers love is already in sight. "As we slide closer to winter and away from the warmer fall days the fish begin their transition into the shallower water," Hagerty said.  "This time of year, the fish just really enjoy a well presented fly. They are still keying in heavily on the bait fish patterns whether they are stripped of under an indicator. This year with the lack of pressure either method is going to produce fish. But until we are in the depth of winter and the water temps have really dropped a stripping set-up is going to be my go-to choice because we all know how intense fish can be caught while stripping flies.
"Imagine lobbing your flies out into the depth, out and over that large drop that goes into that dark water that you can't see into. Then retrieving those flies back up towards you, up and out of that dark water. Then just as you think your flies are about to become visible you see this large big flash, your line quickly jaunts tight and begins to tear line off your fly reel, drag screaming all the while you're wondering if said fish is ever going to slow down or turn to allow you to gain some line back onto your reel. That is one of the many reasons I love stripping flies over the big drop offs on Pyramid lake."
For the opener, Hagerty figures the fish will be in transition and still be keying on Tui chub patterns. He'll fish streamers, wooly buggers, balanced leeches as well as boobies and beetles in more natural colors. "Flies in greens, browns, golds, whites and blacks will entice these large lake-dwelling cutthroat.  One should vary their cadence when stripping until they find that movement and speed the fish are really keying in on. Some days they like it slow and sometimes they key in on a bit slower retrieve. While catching fish stripping is a blast we all know hanging flies under the indicator keeps our bugs in the strike zone longer.  So, if watching that bobber pull the disappearing act is something you love to see there is no place like Pyramid when it comes to bobber drops."
New fees and regulations
The new fishing season at Pyramid Lake is bringing some changes with it. User fees have increased, and permits are only available online. The permit website at PyramidLake.us will reopen Nov. 2 at 3 a.m. Daily fishing permits are now $24 per person, or $62 for 3 days. Youth fishing permits are half the adult price. A daily boating permit is $26. Overnight camping is $32 or $82 for 3 nights. No seasonal permits are available. A full listing of permit fees is available on the website.