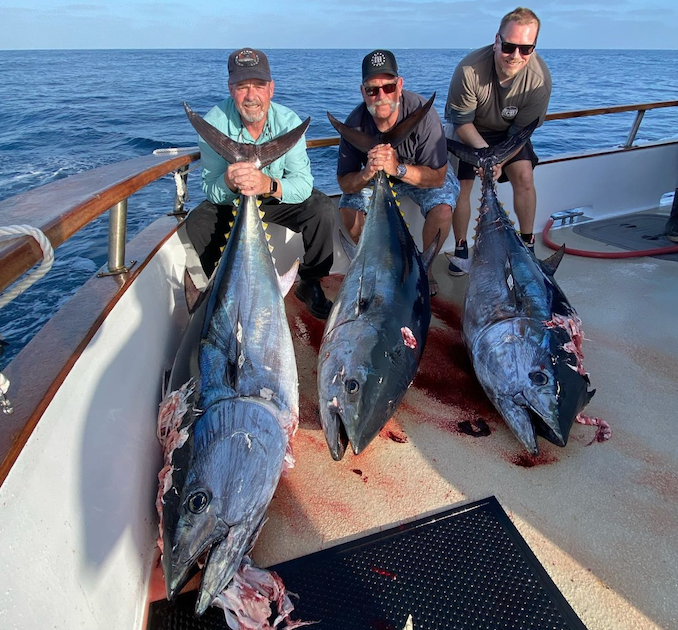 BY MERIT McCREA
SAN DIEGO — In an era where chances at 200-plus-pound tuna on a 1-day out of this state have become a daily event, the fleet turned in multiple full-limit scores once again. And while the focus of the bite has come as close as 30 miles from Point Loma, it's moved around a bit too. When the fish are past the century mark in size, it's taking a heck of a bite for anglers to land boat limits, but it's still being done.
What's happening is mixed sizes of fish, schools of 30 to 60 pounders, some mostly over 100 pounds and others even larger. Robert Tressler told a story of losing fish after fish to one failure or another, and seeing others suffer the same fate, while a few win and win big – a 240 pounder along with several others on deck in the high 100s.
Those who fill out boat limits luck into a batch of smaller fish along the way as well – that seemed to be the story. If everything that came your way was grade large, full limits wasn't usually in the cards, not even on 100-pound tackle.
The right gear for the bigger bluefin was 130-pound braid with 100 mono and 130 fluoro, or even heavier in the dark. "I retied with a heavy Trokar 2/0 circle (hook) and on the next stop hooked up again, and yes it was a good one, smoking 400-plus yards of 80-pound Spectra off my Penn international with heavy drag again, and the reel getting warm (again). Nick Zayac (Daiwa Pacific) saw the fish finning on the surface way out and Mike said it was a big one, looking to be over 200. After 1.5 hours I had my line back, and the fish circling at 200 feet on the bow. We went back and forth for another hour (mean fish!) and it got it within 60 to 100 feet when the leader snapped."
And while the main story was smaller fish on lighter tackle during daylight hours, with the best chances at the big boys after dark on the heavier knife jigs and heavier line, there were some stories of big-gear, big-fish success during daylight this past week.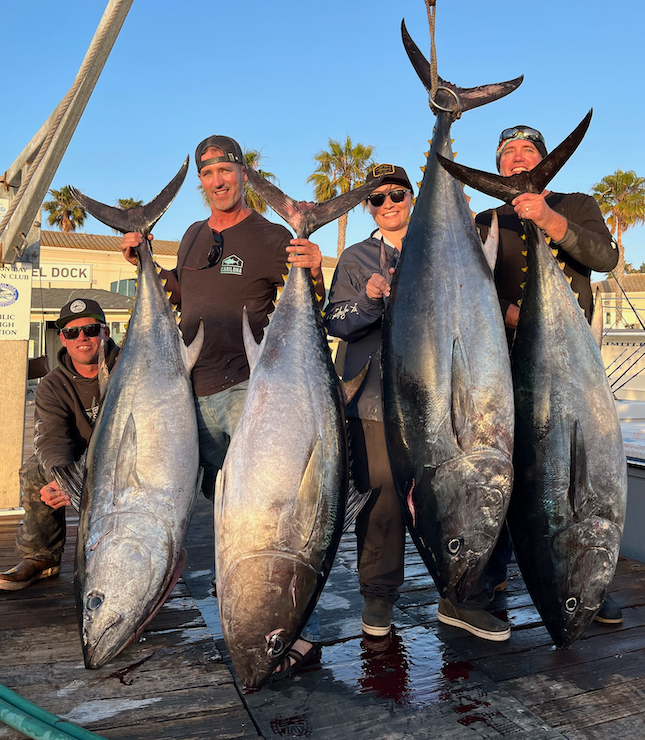 "Hi, Sean Owens here, a 15-plus-year subscriber… This trip was the result of my brother entering and winning a contest through Salty Crew for an all expense paid private charter with the man Duane "Diego" Muller and his fleet, Pinnacle. An epic day on the water fishing Daiwa jigs produced (a) PB for Jason Owens, his wife Amanda, and myself. Amanda with the biggest at 170 pounds, Jason and I with a couple 150s and 130. Duane said he had never seen 100-plus bluefin so eager to bite jigs midday."
Nevertheless, in addition to each boat reporting one or more fish past 140 pounds, these rigs managed to put full limits in the hold: The Legend, Grande, New Lo-An (twice), Intrepid, Pacific Queen (twice – a 1.5 and a 2-day), Liberty, Pegasus, Outrider, Pacific Voyager, Pacifica and Polaris Supreme, as well as others.
Those who didn't post large numbers often had their reasons. Here are a couple examples. "The Grande caught 19 bluefin tuna (18 of them were 100 to 200 pounds!!!)," and "The Excalibur is on a 1.5-day and called in with 12 bluefin tuna ranging from 160 to 205 lbs!!!"
Coming from Seaforth Landing, here are this week's full tackle recommendations: "25-pound outfit for yellowtail fishing, 40- to 60-pound outfits to fish smaller bluefin tuna under 80 pounds, and 80- to 130-pound outfits for nighttime fishing and sinker rigs. 2/0 to 4/0 ringed hooks. No thin wire hooks. 8- to 12-ounce sinkers with rubber bands. 150- to 250-gram Flat-Fall and knife jigs for daytime fishing. Color doesn't matter right now. Change the stock hooks. 300- to 400-gram Flat-Fall and knife jigs for nighttime fishing too."
Yes, that's 4 stock rigs minimum for a 1.5-dayer, even before considering a long rod in the bunch – 25, 40, 60, 100. Or maybe (mono/braid) 25/50, 40/65, 60/80, 80/100 and 100/130.
We did find at least one run to the Coronados in the mix, resulting in a catch of lots of calico bass, a few barracuda and shots at a yellowtail or two.
Local half-day boats found better bass fishing up until Sunday, with the New Seaforth putting up counts of over 250 bass for 27 folks on an afternoon run, and half of those kept! The Mission Bay turf was the best, with the San Diego Bay fleet coming close and the Oceanside local runs following on the bass bite.
In other news, The City of San Diego is changing the parking fee payment process and adding spaces. While rates will stay the same, payment can be made via credit card at kiosks, or by the Ace parking app.