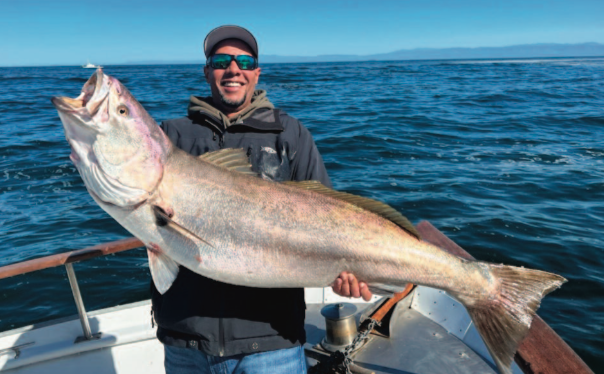 Overnight boat marks seabass
 BY MERIT McCREA
VENTURA/OXNARD — The past week saw just two days of outer island access due to strong west winds. On Thursday Capt Tucker McCoombs reported seeing some solid marks on the meter and turned in the first few Channel Island squid nest seabass of the season, with 12 anglers getting 7 fish up to nearly 60 pounds.
Sunday the winds backed off for a second time and he was able to get back to the zone. The result was limits for 24 anglers — 24 croaker with 3 tankers from 50 to 60 pounds.
Meanwhile, the inner islands boats continued to pick away at some huge seabass at the local islands too, with another fish over 60, Chris Luken's 62.8 pounder aboard the Aloha Spirit with Capt. Shawn Steward.
The windy weather played havoc on the week mostly, only allowing the fleet to fish Monday, Thursday and the weekend. But when weather allowed the bite was excellent.
The 3/4-day anglers out Thursday on the boat Gentleman ended up with limits of rockfish (190 for 19) and over 100 whitefish plus a few lings and others.
Saturday the Island Fox found barracuda and put on 45 skins.
Out of Santa Barbara Landing the Coral Sea and Stardust had rockfish limits more often than not, adding in bonus whitefish often, both when fishing coastal waters or on Sunday, across the Channel at Santa Rosa Island.
These boats ran with plenty of openings still, and there were spots available the morning of most trips.
At Hook, Line & Sinker in Santa Barbara, Capt. David Bacon said, "Fishing busted open on Sunday. Our PBers hit rockfish spots like the Slide, 12-Mile, Carrington and St. Augustine where they found reds willing to eat near the bottom and johnny bass and ocean whitefish above them. Jason Carrillo of Goleta pulled a limit of reds in the 4- to 8-pound class in deeper water at the 12-Mile. Of interest, there were some very large inshore bait balls which may attract salmon now and then surface gamesters in another couple of months."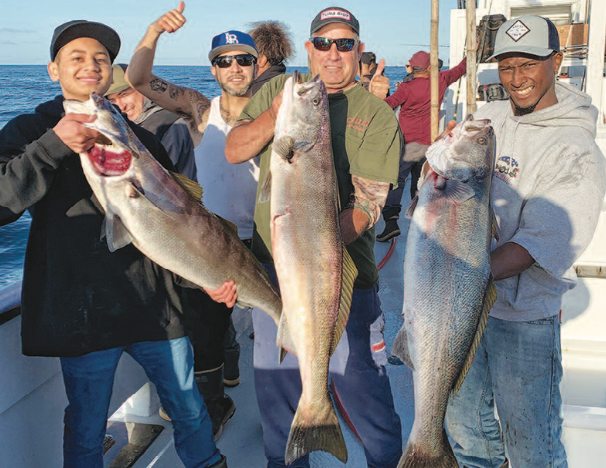 Freedom finds yellows, seabass
SAN PEDRO/LONG BEACH — The Freedom, overnight boat out of 22nd Street Landing Sportfishing, turned in 41 yellowtail, 5 seabass and a variety of rockfish plus whitefish Sunday.
According to Capt. Tino, the bite was not on live squid, but instead those fish wanted live sardines. They also had a thresher shark.
Saturday the Pride fished with 16 anglers and limited out on whitefish, adding 16 calico and a few dozen rockfish too.
Out at Catalina Island, 36 anglers aboard the Pursuit picked up 258 whitefish, 17 sheephead and 107 rockfish.
The scorpionfish arrived in force on to the edge of the Long Beach Shelf again. The Enterprise loaded on 150 for their 30 anglers Sunday.
At Long Beach Sportfishing Steve Phelps reported, "The wind kept our overnight boat…at the dock this week, and it also kept our 3/4-day boat Victory at the dock a few times as well."
He added, "The Eldorado did make it out last night (Friday) on a private charter, and will make it out tonight and Sunday night" and "will go back to San Nicolas Island/Island Freelance schedule until at least mid-May, as Captain TJ awaits the surface action to heat up and remain consistent."
Anglers ended up bagging mostly ocean whitefish, followed by rockfish Sunday.