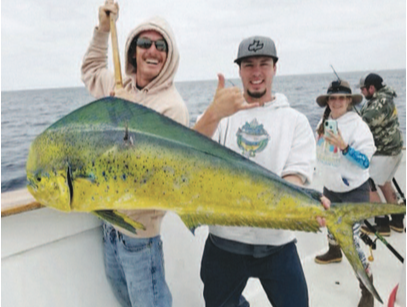 BY MERIT MCCREA
SAN DIEGO — For the San Diego fleet, it was Richer big kelp paddy yellows coupled with a chance at a dorado or yellowfin, which stole the spotlight from bluefin tuna watching this past week.
Bluefin being bluefin, finicky foamers and fish a bit too challenging for many anglers, when the yellows showed to the south, willing to chew the paint off the corner of the boat, the choice was easy — fish catching or fish watching.
The offshore fleet spread from just west of the Coronado Islands to the lower finger, all in search of the dream paddy. They found limit-style catching on 12- to 20-pound forktails.
According to Capt. Rick Slavkin of the Oceanside 95 out of Helgren's in O'side, the full moon had those kelps moving inshore quickly, making it a challenge to keep track of the special ones from day to day. However, it was clear skippers met that challenge.
By Sunday, the entire H&M Landing offshore fleet scored full limits of yellowtail plus 2 to  14 dorado each, a yellowfin or two and perhaps a handful of bluefin per boat. That included the Legend, the Sea Adventure 80, the Easter B, the Constitution and Ocean Odyssey — all with limits of yellowtail to 30 pounds, plus extras.
Sea Adventure 80 owner Capt. Scott McDaniels posted, "What a trip! We docked this morning with 140 yellowtail, 2 bluefin tuna, 2 yellowfin tuna, 2 dorado and 1 bonito for 28 happy anglers!"
At Point Loma Sportfishing, the El Capitan had limits of yellows, 6 bluefin, 14 yellowfin and 3 dorado for 18 anglers on a 2-dayer.
There were those groups that opted for the fish-of-a-lifetime bluefin fishing. While Capt. Meisel on the Condor said Sunday, "We had limits of yellowtail and a dorado and some of the bluefin and yellowfin popped up and we got one of each," Capt. Mike Loust on the Tomahawk checked in with, "We are surrounded by foamers. We have 3 bluefin on the boat so far. They haven't been biting so hot during the day but we are going to give it a shot."
Again, most if not all of Fisherman's Landing's offshore fleet fishing south called in full  limits of yellowtail Sunday. That bite had been ramping up since Friday.
At Seaforth Landing the Pride had limits for 17 anglers, 11 bluefin and 7 yellowfin. The Aztec and Pacifica had 30 limits each and the Cortez, 15 limits – each with a bluefin and yellowfin bonus included.
The San Diego fishing full-day picked off 29 bonito, 10 yellows, 6 bluefin and 3 yellowfin for 32 anglers.
Midweek the Point Loma fished the Coronados with 16 anglers on deck. The bite was barracuda, bonito, bass, bluefin and a yellow–soup to 4"B's."
Capt. Rick Slavkin said there was an upper and a lower area of kelps, with the lower being all the way south below and offshore of Ensenada, while the upper is within full-day range. One of those kelps kicked out a meaty 36.6-pound bull dorado for Slavkin's O95.
As for the bluefin, even down below, the fish tended to be quite inshore, just over 12 miles off the coast. In U.S. waters there were bluefin schools foaming from the 9-Mile to the back side of San Clemente Island, north along the coast to just offshore of Newport Bay,more found between the islands and even off the west end of Catalina Island to just south of Santa Barbara Island.
However, it was 90 percent foamer fish watching, 5 percent Heartbreak Hotel and just 5 percent catching for the most part.
As for the local bite, the bass fishing was fair to great and the Electra scored almost 80 keeper bass, mostly calico, plus a 31-pound yellowtail Sunday fishing half-day.
The New Seaforth also connected anglers to keeper calicos out of Mission Bay. Friday afternoon they had 62 keepers, releasing another 75 fish on a half day.