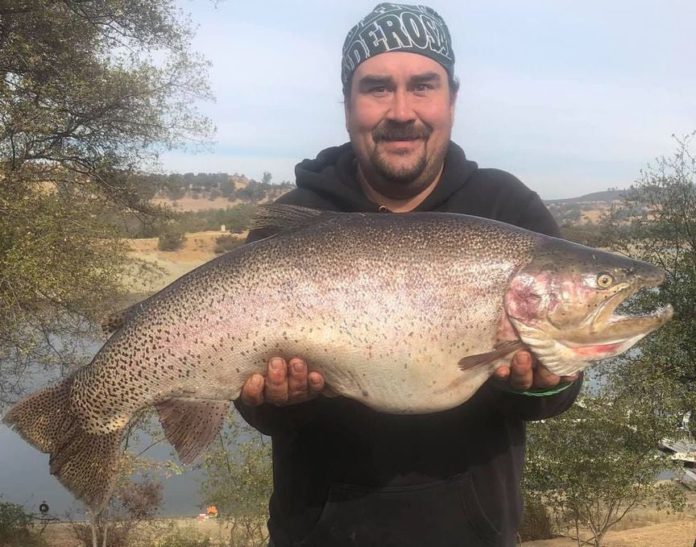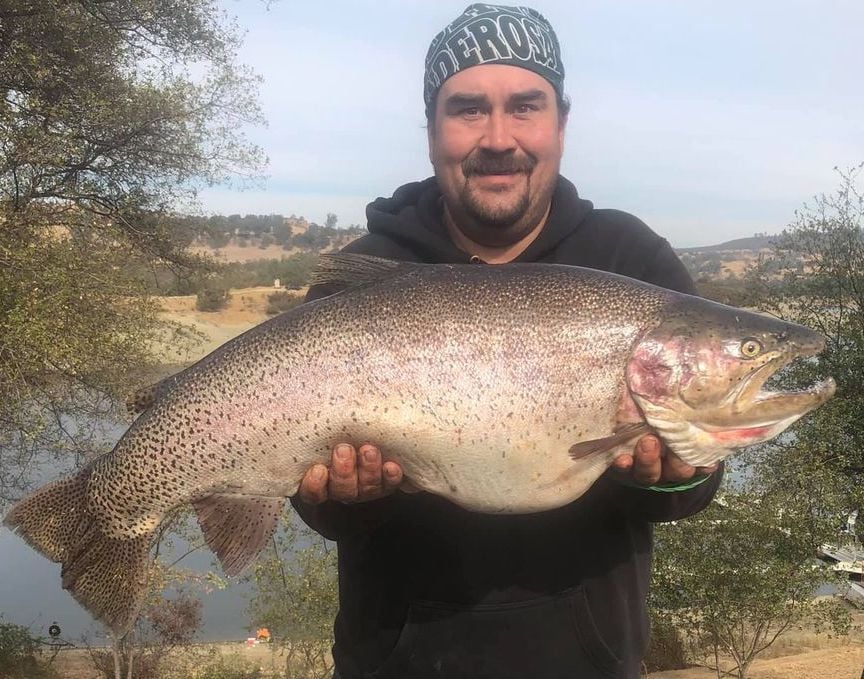 BY DAVE HURLEY
IONE – Trout plants continue at the Mother Lode reservoirs of Lake Camanche and Amador, and the plants are bringing out trollers and bank anglers in droves. Not to be ignored, rainbow trout trollers are scoring at both Don Pedro and New Melones by targeting the shad schools. However, the big story of the week came out of Lake Amador where the former lake record trout was smashed by 3 pounds, 6 ounces with a massive 20.12-pound hook-jawed male cutbow landed off of the bank near the dam by Juan Garcia of El Dorado on chartreuse trout dough bait on 4-pound test.
The massive fish was 32.5 inches in length with a 24-inch girth. The huge trout was landed within days of a plant of 800 pounds of trophies from 10 to 24 pounds released into the lake along with a small load of Amador Golds to bring the total to 1,000 pounds. Garcia isn't the only bank fishermen to score a trophy as Luke Bandbliet of Oakdale landed a 15.6-pound cutbow on a gold Kastmaster and Jacob Mercado of Milpitas landed an 11.28-pound rainbow trout on a Panther Martin. If you are thinking about the 24 pounder having the opportunity to break the record, the huge Amabow didn't survive the stress of the plant, and it is in the smoker.
For the second week in a row, Lake Camanche received a plant of 3,600 pounds of Mt. Lassen Hatchery rainbows released into the lake split between the North Shore Marina, the South Shore Marina, and the South Shore Pond. Robbie Dunham of Koke Machine Guide Service was working Speedy Shiners in open water for just shy of two limits of rainbows for his clients, but the big fish weighed in at 8.2 pounds.
The lake normally plants between 2,400 and 3,600 pounds on a weekly basis through the late fall/winter months, and the plants traditionally continue until the water temperature rises over 70 degrees, normally around mid-May.
Robbie Dunham of Koke Machine Guide Service has been looking forward to the trout plants as the supply of holdover rainbows had dwindled in the past weeks since the lake wasn't planted since early March. Dunham is known as the top troller on the lake as he has perfected his technique with hours of practice.
Camanche has been extremely quiet for largemouth bass fishermen for months, but there is hope. Bass fishermen have been concentrating on main lake points where the bass are feeding on the bait schools, and 1/2-ounce brown Bass Union jigs with a Yamamoto Twin Tail trailer, ½-ounce spoons or 4-inch worms in green pumpkin on the drop-shot.
Now that the trout are in, both lakes are two of the best locations for shore anglers in northern California, and additional plants will be added on a weekly basis.