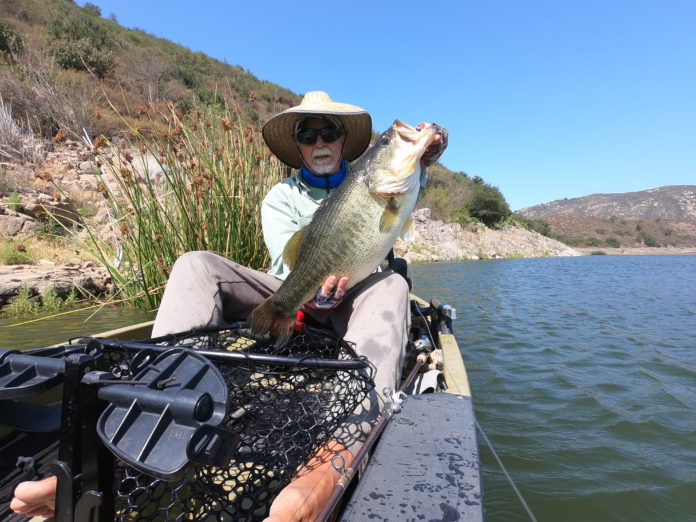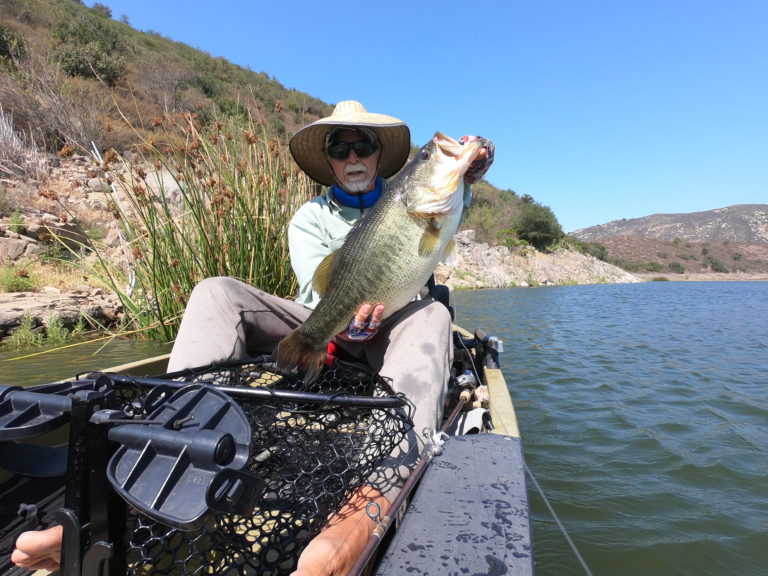 BY MIKE STEVENS
ESCONDIDO – Fishing for largemouth bass has come back strong after things slowed down significantly for several weeks at Lake Hodges. The bulk of the activity has shifted back to where it started, and the double-digit bell was finally rung for the first time in a relatively-long stretch.
That wall-hanger was a 10-pound, 10-ounce largemouth that ate an Ika that was flipped into some tules in the Narrows by kayak angler and lake regular, Sam Bush, who set a new personal high mark for bass. Another familiar face at Hodges, Clem Miner of Escondido was the one who reached out to Western Outdoor News regarding that fish, and he ran into some solid bass fishing of his own with "15 cookie cutters from 3 to 5 (pounds) with on occasional 7 pounder thrown in."
He was back at it on Sunday and had the same type of day with Texas rigs workling best followed by crankbaits and Senkos for 15-plus fish in the 2- to 5-pound range. He said the lake level is up to the point water is starting to get back behind the tules, and while he wasn't able to hook a frog fish, he did get one on a popper.
According to lake staffer Laina Ruiz-Doan, there was also a 10.7 pounder reported, but that was it for the details. She did say "a lot more people caught fish than didn't. It was a very good week," and from what she's been hearing, drop-shots are a bigger slice of the pie right now.
After spending a good chunk of early summer guiding in lakes further north than his regular haunts including Isabella and Berryessa, Rusty Brown is back to putting clients on biters in Southern California waters. Hodges is among his favorites, and that's where took Katie St. Peters who was visiting from Boston to catch her first bass ever. That also went down in the Narrows where she was drop-shotting a 4.5-inch Roboworm in MMIII in 8 feet of water. Upon this return to the Southland, Brown had nothing but good to say about the big picture at Lake Hodges.
"Hodges looks great right now with brush, tules and rock piles that were out of water now have a little around them," said Brown (RustyBassHook.com). "With drought conditions getting worse, it's nice to see a few feet of fresh water go into this beautiful trophy bass lake. It's not a lot of water, but it helps, and I can't wait to see how the summer unfolds and how the early-fall bite is before they close and reopen in early spring. The bass are healthy right now, and it's an exciting fishery."
The low water level Brown is referring to is that which caused the launch ramp to close on May 29. The level was lowered intentionally to allow for repairs to be made, but the resulting ramp closure slammed the door on launching private boats not only for Memorial Day weekend, but until the ramp reopened on June 18. The bass fishing was outstanding right up until the day the ramp closure was announced, but when private boats were able to get back to it, fishing was very slow. Part of that can be pinned on the fact that many anglers were unaware the ramp was back in action, which was obvious for the first two weeks when barely any private boats were back on Hodges.
For the last couple weeks, reports on Hodges in WON have mentioned how reports from regular sources said huge numbers of bass are being metered offshore in 20 feet of water, and while they weren't biting, there still were a few being caught up shallow. The hope was those deeper largemouth would shallow up (or start biting where they were), and based on the intel gathered this week, it looks like that just might have started.
It's also notable that much of the recent activity has come out of the Narrows. That was the hot zone through spring but it started to taper off prior to the ramp closure when more bass started to bite throughout the Del Dios Arm. While both areas are worth checking out during a day on Lake Hodges, it looks like things are starting to swing back toward the Narrows as far as the hotspot right now.