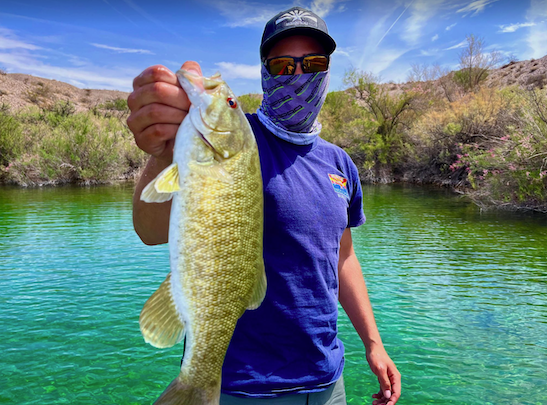 BULLHEAD CITY, Ariz. – Lake Mohave is featuring very good smallmouth and largemouth bass fishing as tournament anglers creep closer to the 40th annual WON BASS U.S. Open which will erupt out of Katherine Landing Oct. 10-12.
"I cannot stress enough, even with the wind the smallmouth bass bite is on fire," said Mike Huseman of River King Tackle in Bullhead City. "We've been getting them drop-shotting, Ned rigging, all finesse fishing is the way to go. We're getting a couple on crankbaits, but the big thing is finesse fishing with long casts off primary and secondary points at the openings of coves and rocky bottoms in 20 feet of water."
Huseman and his guide staff have been hammering smallmouth pretty consistently for a while now, but it definitely sounds like largemouth bass are becoming a bigger slice of the pie.
"We're getting them every single day," said Huseman. "We are starting to see them in the main stem of the lake but also in the backs of coves in the reeds, but mostly in the main lake, deep water coming up to those cliffs where you see that nice turquoise water with the little ledges. That's where you're going to find those largemouth biting. We've been getting them on 10-inch worms on a drop-shot. I know that sounds weird, but it's working."
Not long after this recent fishing report, Huseman made a big announcement just months after WON BASS Tournament Director Billy Egan made it official that the U.S. Open would be moving to Lake Mohave for its 40th installment.
"Elijah (his son who guides out of River King) and I are competing in the U.S. Open at Lake Mohave," said Huseman. "I have made the huge jump and will be competing as a pro with the big boys, and Elijah has also made a huge leap and will be competing as a AAA. This is a huge commitment both financially and time wise, and we were on the fence about making the jump when it was being held at Lake Mead, however, once the news came that it would be held at our home lake, for the first time and on its 40th anniversary, that was enough for us to go for it. This why you are seeing very little striped bass content on our YouTube channel lately. We are literally fishing Mohave every single day and putting all of our focus on this challenge. You have to dream big to live big!"
They might not be targeting stripers, but they still have the pulse the bite based on intel from clients and shop customers as well as from just spending that much time on the lake. Huseman said they're starting to see linesides being caught, primarily at night and very early in the mornings.
"A lot of people get skunked, but some are getting them in the 5- to 8-pound range trolling swimbaits or just waiting it out with anchovies," said Huseman. Most guys are getting out there at 3 in the morning with the bite lasting until 6 in the morning. It hasn't kicked in to gear, but there's starting to be a little hope."