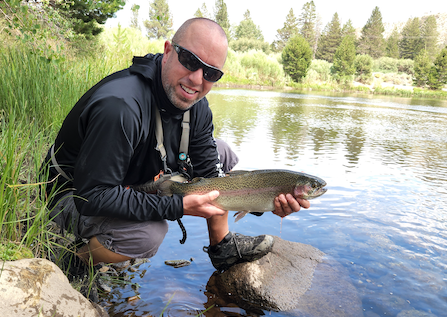 BY MIKE STEVENS
LEE VINING – Normally, you won't find me in the Eastern Sierra after June – until October anyway – but late July was my only summer window this year. I knew what we were getting into in terms of crowds and fishing for trout in water temps in lakes better suited for targeting largemouth on topwater. My game plan primarily consisted of heading uphill both in the Great White Buffalo (my truck) as well as on foot, and dedicating much more time to creeks.
Like most of my Sierra missions, my brother and I headed straight up Bishop Creek Canyon on drive-up day where we were stoked to find respectable flows, cool water and aggressive rainbows on the South Fork of Bishop Creek. It's nice to get on the board that early, and it made me feel more confident in my "more creeks" approach to a particularly hot final week of July.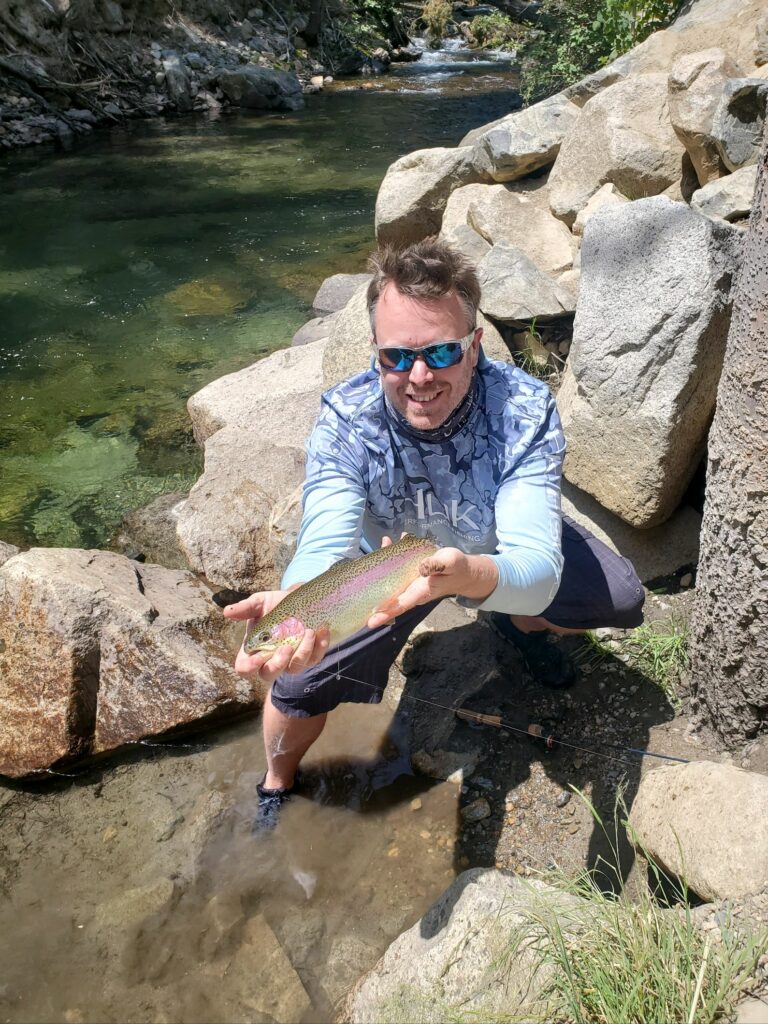 After attempting to fish the bathwater in Tioga, Saddlebag and Ellery lakes up on Tioga Pass, we dropped in to Lee Vining Creek which is always in our starting rotation regardless of time of year. In editing Ernie Cowan's weekly Eastern Sierra reports on a year-round basis, I've picked up on the fact that as the small creeks between Bishop and Bridgeport go, Lee Vining Creek tends to punch above its weight class in terms of the size of the trout coming out of there. It's also a just a cool creek with three distinct runs, so an angler can really pick his poison.
Starting from the top down, water spilling out of Ellery Lake off the cliff in a setting that looks perfect for a nail-biting scene in a Mission Impossible movie drops off Tioga Pass into a lower, valley section of Lee Vining Creek. Technically, Lee Vining Creek starts in the Saddlebag Lake backcountry (20 Lakes Basin) before that dramatic decline in altitude, but it's the lower section being profiled here.
The creek winds through some pretty thick-wooded country before tumbling past a power plant before reaching a huge pool where the creek crosses under the road through a pipe you could stand in. This is a primary stocking location, and it's also no secret. Still, it's worth at least a fly-by to see if anyone is on it, because there are usually some biggies hugging the bottom of that hole.
Once you get over the disappointment that you were not first to that spot, you can start working downstream as Lee Vining Creek winds through multiple campgrounds (also prime stocking locations), and it's makeup consists of a mix of small waterfalls and plunge pools, straight runs, slow sections and endless logjams, mid-creek boulders and overhanging greenery to target.
My brother and I hit one of our favorite spots in this stretch and spotted a couple larger trout in a deep hole ahead of a logjam, and our first casts revealed several more of the same class that came out of the woodworks to see what all the commotion was about. After some tinkering with lures and presentations, I finally got one of the better ones to inhale a minijig with a heavier-than-usual 1/16-ounce leadhead to get it down. It was a real looker and clearly a product of Desert Springs Trout Farm in Oregon which supplies most of the premium, bigger trout all over the Eastern Sierra. My brother eventually connected on his favorite CD3 Rapala in the brook trout pattern, but it came unbuttoned resultine in "a tapestry of profanity" being woven at 7,800 feet.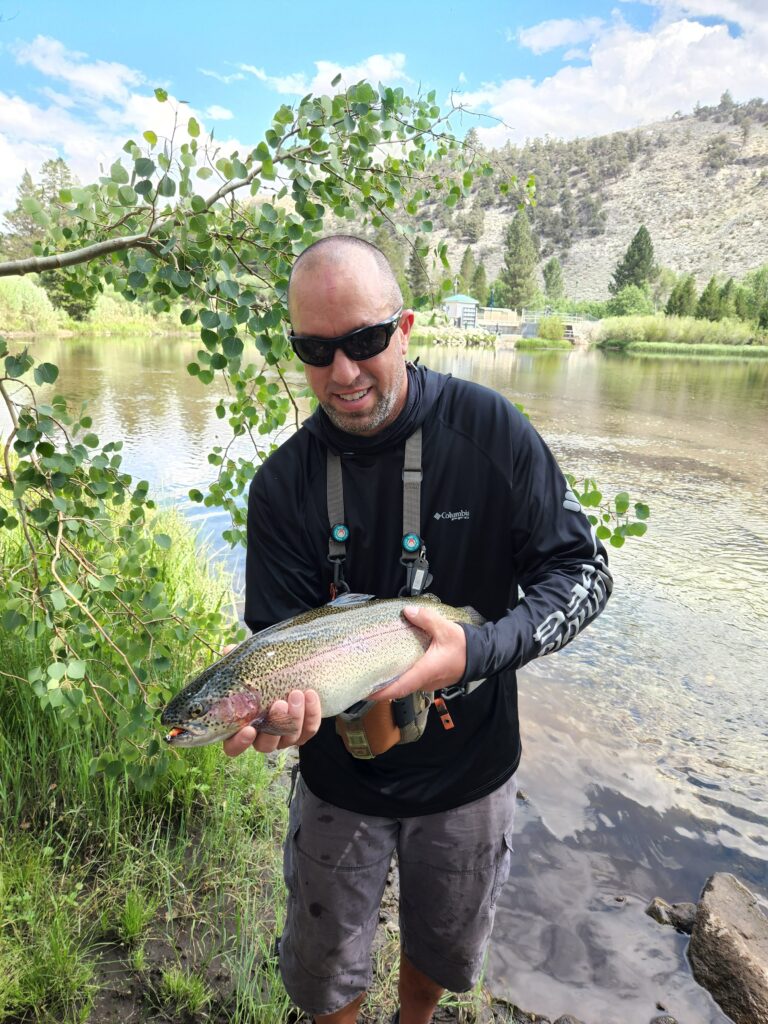 I'd later find out in a conversation with Jeremy Ross who now owns Ernie's Tackle in June Lake that Beaver's Sporting Goods in Lee Vining collects and provides the funds for stocking those bigger rainbows in Lee Vining Creek in particular.
We tried a few other spots downstream that have produced for us in the past with no luck. We took a hard look in the Aspen campground which unofficially stands as the end of that brand of whitewater, waterfall, pool, logjam and repeat creek. Below that, Lee Vining Creek morphs into more of a slower, deeper creek that meanders through a picturesque meadow, kind of like the Upper Owens River only not as wide, twice as slow and thrice as windy. In this stretch, brown trout and smaller stocked rainbows can be easily spotted mobbed up out in the open but along the bottom of the slowest sections, but the better fish are hanging under grass-lined overhanging banks and trees that that extend that protective canopy even further.
Getting in and around that stuff is what it takes to get the bigger trout out of this section with spinners or jigs retrieved downstream or Rapalas or Thomas Bouyants thrown down and retrieved up along all things overhanging. If you're losing lures, you're doing it right.
Time was an issue, so we skipped that section and drove down to where the creek ponds up at a Southern California Edison concrete spillway just like the ones that create the intakes on Bishop Creek. It's not the most scenic part of the creek, but there are always trout that are easy to spot, although they're not always wiling to bite. I snuck up on more good-sized rainbows and worked my jig to no avail. Then I heard my brother yell my name along with "get the net."
I ran toward him and realized it would have taken me much longer to run up to my truck where the net was inconveniently left while the clock was ticking on this fish he was fighting. So instead I ran straight to him. I got about knee deep in the creek while he fought what would turn out to be a 3- to 4-pound (we release everything so, we don't even own a scale) rainbow that spun on his Rapala that had been blind casted upstream. I corralled the fish into a "harbor" of sorts where it could be unhooked without taking it out of the water.
A few photos and adios.