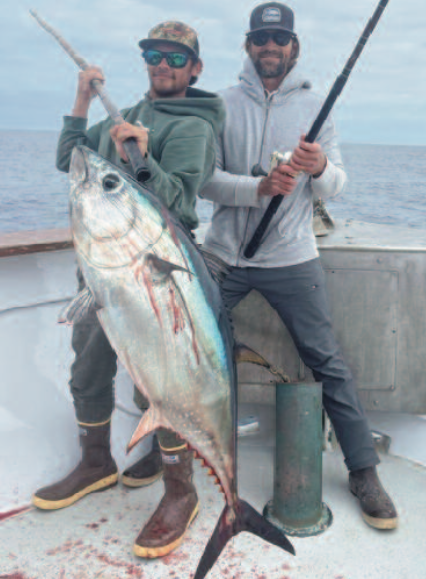 BY MERIT McCREA
OCEANSIDE/SAN DIEGO — Almost all the weekend's 1.5-day and longer offshore trips pulled limits of bluefin tuna or close to it – many limited out by daylight or soon after as the fish went wild on the heavy iron. Lighter knife jigs were the hottest ticket. Most of the catch was fish of 20 to 50 pounds with a mix of larger tuna to over 100 pounds.
A 2-dayer on the New Lo-An resulted in 26 anglers icing 104 bluefin up to 80 pounds and 54 yellowtail to around 15 pounds.
At Fisherman's Landing the Pacific Queen, Fortune and Outrider all returned with full limits of bluefin tuna. Aboard the Pacific Queen the report was limits before sunrise on their first fishing day of the year, 70 for 35 anglers. They would add 84 yellowtail to their catch before heading home.
Seaforth Landing Sportfishing posted, "The Pacifica and the Tribute had good bluefin fishing on their 1.5-day trips this weekend. The Pacifica ended their trip just shy of limits with 49 bluefin for their 28 anglers and the Tribute wrapped up their 1.5-day with 20 bluefin and 39 Yellowtail. The bluefin were in the 20- to 40-pound range and lighter knife/flutter jigs were the hot ticket to getting a bite."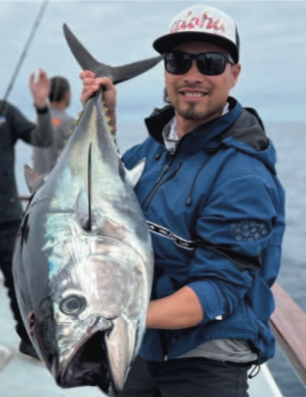 It was a great night bite on the iron offshore.
The Pacific Voyager had fished their 2-day down the coast targeting rockfish and also made the run to the tuna grounds. Their 18 anglers ended up catching 30 bluefin tuna to go with 50 lingcod, 100 rockfish and a yellowtail.
For the boats fishing the Coronado Islands, there were plenty of yellowtail to try for but getting them to bite was a challenge. The full-day boat San Diego managed 11 yellowtail Friday and ended up putting some time on the grabbers for 75 rockfish.
The Liberty tried too and ended up with 65 rockfish, 7 sculpin, a ling and 60 whitefish for their just 13 anglers Sunday. The Grande had 7 yellows and 32 rockfish for their 13 anglers.
Local fishing provided a few bass in the mix but still found rockfish and whitefish spots the best bet as anglers picked up 3- or 4-fish averages on half-day trips, more on 3/4-day.
In Oceanside, Captain Joey Helgren reported, "38 people today Sunday, 69 jumbo sculpin, short depth, didn't have to grind from 200, plus a hand full of rockfish." He ran the Electra on a half-day run.
Sunday's 3/4-day run on the Chubasco II had 11 anglers aboard and turned in limits of rockfish, a sheephead and 40 whitefish. Most half-day runs averaged catches of about half that.