Fleet sees some of the best signs on the bank in recent seasons
BY GUNDY GUNDERSON
SAN DIEGO—After several seasons of lukewarm fishing on the traditional winter cow grounds of the Hurricane Bank and the buffer zone, the long-range fleet has been encouraged by the volume of quality fish showing early in the campaign. Just about every trip has made an excellent catch of yellowfin tuna putting lots of fish in the teens and a handful of cows on the deck every trip. There has been a nice show of fish in the mid 200s with some landed and many lost. The wahoo fishing has been decent but with the big tuna around, there has been limited wahoo forays.
Intrepid scores
The Intrepid was out of Wi-Fi range for a number of days on a 15-day trip. Finally, the boat was able to report as the boat headed up the line. Capt, Bill Cavanaugh summed up a good trip in this way, "It is Friday mid-day. We are wrapping up a 15-day trip and we have had spotty Wi-Fii the whole trip. We ended up having a really good trip. We spent our entire time at the Hurricane Bank. We had good shots at bigger fish every day. Probably the best sign of fish in a number of years."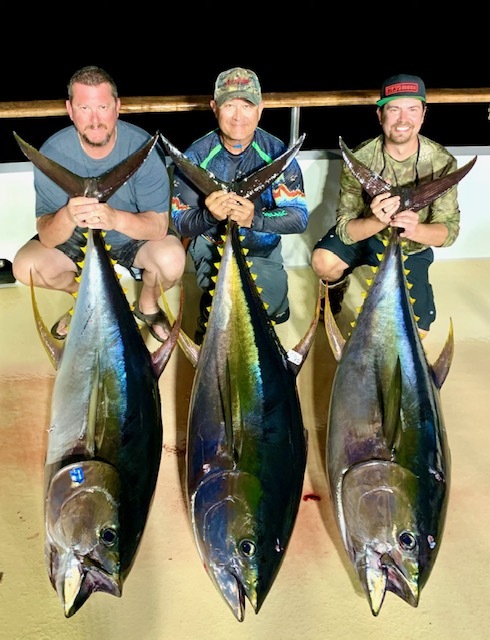 The report continued, "We fished with 23 people and ended up with 225 yellowfin tuna with tags on them. Most of the fish are 50- to 80- pounds. We have 58 fish over 100 a lot are 130 to 160. We had 2 or 3 cows with the biggest taping out a 234. We have a number of fish in the 150- to 180-pound range. Overall we had a great trip. The kite was working really well. Everyone got three kite fish for the trip. Most of our fish came on the fly-lined sardine or sinker rig set-ups on straight tied 100-pound. For the guys who worked hard, it was easy to limits. We even got 30 wahoo on the way."
"Our jackpot winners are as follows: third place went to Rich Rose with a 201.6-pound yellowfin, second place went to Ben Barnes with a 216.1-pound yellowfin, and first place goes to Dee Jay Owens with a 253.6- pound yellowfin tuna. Honorable mention goes to Bret Rapozo with a 197.1-pound yellowfin. The big fish of the trip landed on a United Composites rod goes to Rich Rose with a 148-pound yellowfin tuna."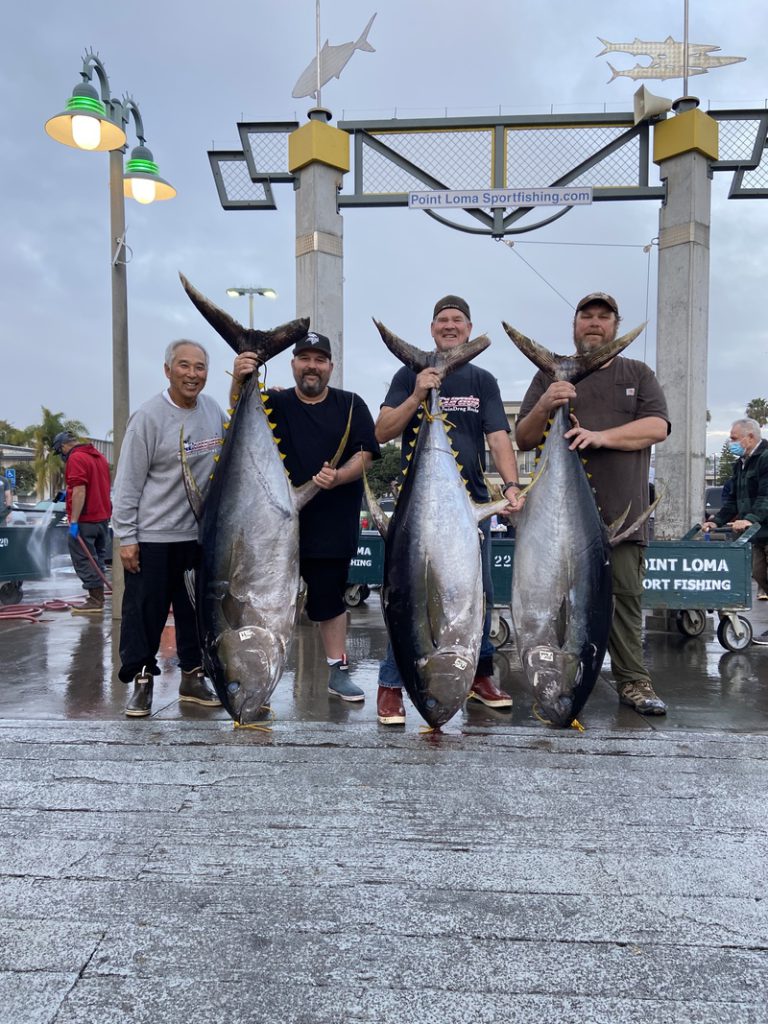 Angler returns
The American Angler returned from the winter cow grounds with a nice catch of trophy yellowfin tuna. The boat also was in and out of communications. Upon return, the boat posted this brief message, "The guys returned with a beautiful catch of yellowfin tuna and a smattering of wahoo in the mix. A huge thanks to Gary Teraoka who makes every day feel like Christmas with his spread of giveaways. Congratulation to the jackpot winners, 1st place, Minnesota Joe with a 248-pound yellowfin tuna, a personal best, 2nd place, Galen Steward with a 188-pound yellowfin tuna and 3rd place, Chris Burbach also with a personal best 175.5-pound yellowfin tuna.
Indy reports
The Independence was also on the grounds in and out of Wi-Fi range. The boat sent this brief report, 'We lost communication for a bit but just wanted to let everyone know we are okay and are traveling up the line from excellent fishing the last few days. The guys put in a lot of effort to catch what we caught. The majority of the fish are 100- to 160-pound yellowfin tuna with a few bigger and lots of mid-grade tuna 40 to 70 pounds. Wahoo fishing was on the tough side but we managed to catch 50 for our trip. We've had decent weather so far and making great speed."
Excel arrives
The Excel arrived on the cow ground on the Team Hoo Cow Hunt. The boat sent this first report, "The 16-day Team Hoo Cow Hunt is off and running. We made it to the bank late yesterday and we had steady action on tuna up to 160-pounds. The weather was a bit choppy yesterday, but the forecast looks good and should enjoy nice weather for the rest of our time down here."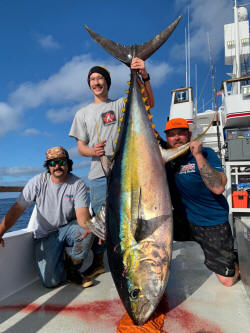 Rooster returns
The Red Rooster returned to Point Loma with another good catch from the Hurricane Bank. The boat also had communication issues. The jackpot winners were as follows, 1st  Place Bill Benson with a 282-pound yellowfin tuna, 2nd  place, Eddie Kitahara with a 257-pound yellowfin tuna and 3rd place, Robert Frank with a 245-pound yellowfin tuna. Three chunky fish.