Fleet decks trophy yellowfin on the lower banks; supercows and cows
BY GUNDY GUNDERSON
It is not your typical fishing. It is big game hunting. The chances are finite and the opportunities can often go awry. Hard work and dogged determination and preserverence are the hallmarks of success. Nobody can target, find and land these giant west coast yellowfin tuna like the San Diego long range fleet. The window is short with the fish foraging on the lower banks in late fall and early winter. It takes at least a ten day to get there and those on one of these trips will,most likely, get shot. Meanwhile Guadalupe fishing remained solid.
Star lands big ones
The Royal Star made haste to the lower banks beginning the trip with just one trophy fish for the day. The boat with Capt. Tim Ekstrom sent this report, "The right sign and ideal weather set the stage for a full day of hard fishing. As is the case 99.9% of the time, effort is the key to results. Jumbos did not show in abundance preferring to skulk in the deeps and leave the acrobatics to their mega-abundant smaller brethren. Though production was limited to a single, giant, that one was enough to lock us in this zone at least another day. Veteran Royal Star angler, Ken Mushinski landed an incredibly robust 294."
Another day, more big ones, "Making good on the majority of our chances we chalked up a few more wins. Triumph of the day and big shout out goes to perhaps the most dedicated giant yellowfin tuna angler we know, Chris Yamada, landed a personal best today. Tipping the scales at a legitimate 343 the beautiful behemoth was a sight to behold. Settled in and ready to push hard tomorrow high hope for a continuation of our good fortunes prevails."
The following day The veteran skipper described the banks this way, "Land of giants. The image of this estimated 390-pound fish tells the tale far better than any description I can draft. What a beautiful fish; and catch of a lifetime. Long time Royal Star veteran and friend Dr. Andy Cooperman triumphed over this behemoth yellowfin using the right gear for the occasion. Today's second big fish of the day, that tipped the scales at a robust 256, looked like a shrimp in comparison. A couple other shots ended in defeat but no one was/is deflated. This setting, while far from gang busters, is a trophy hunting anglers paradise. Great weather, good fishing conditions, and a real deal shot at 'The One' has all focused and working hard. Andy's giant yellowfin is the largest landed to date on Royal Star."
Indy returns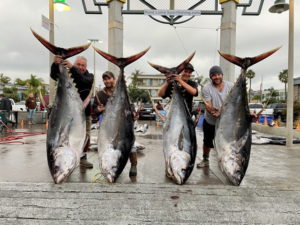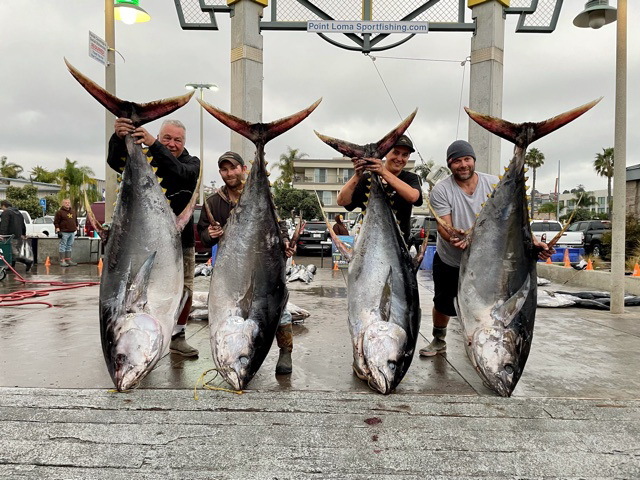 The Independence returned from the annual Brandon Miller 11 Day with a covey of big trophy lower banks yellowfin tuna. The impressive jackpot winners were as follows, 1st place, Brandon Miller with a 287-pound yellowfin tuna, 2nd place, Ben Hyter with a 281 yellowfin tuna and 3rd place, John Wehrly with a 271-pound yellowfin tuna. Honorable mention goes to Bart Hyter with a 341 yellowfin tuna.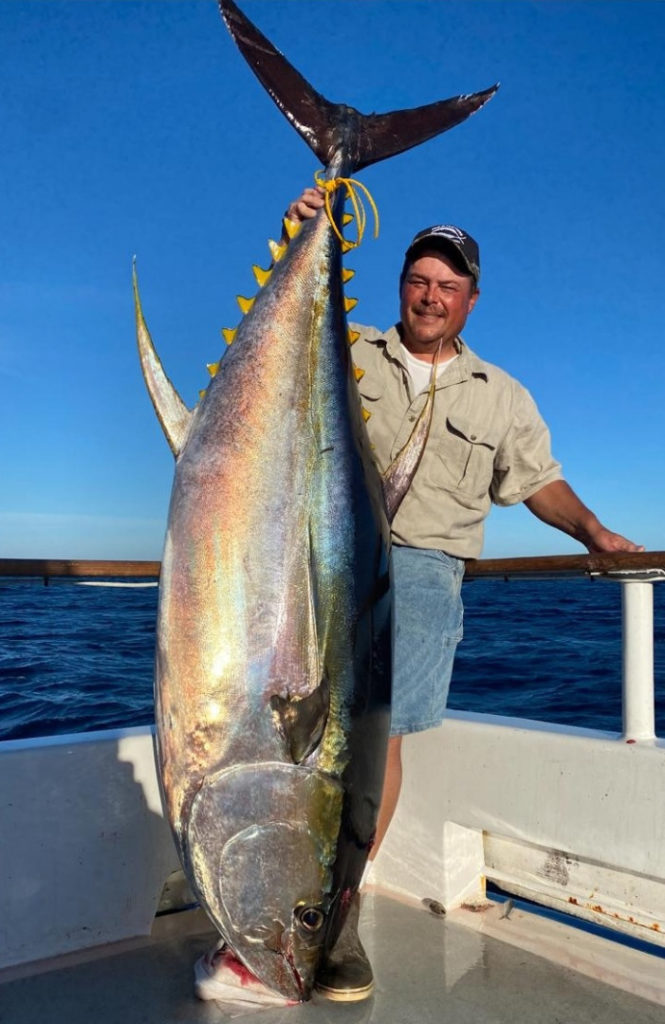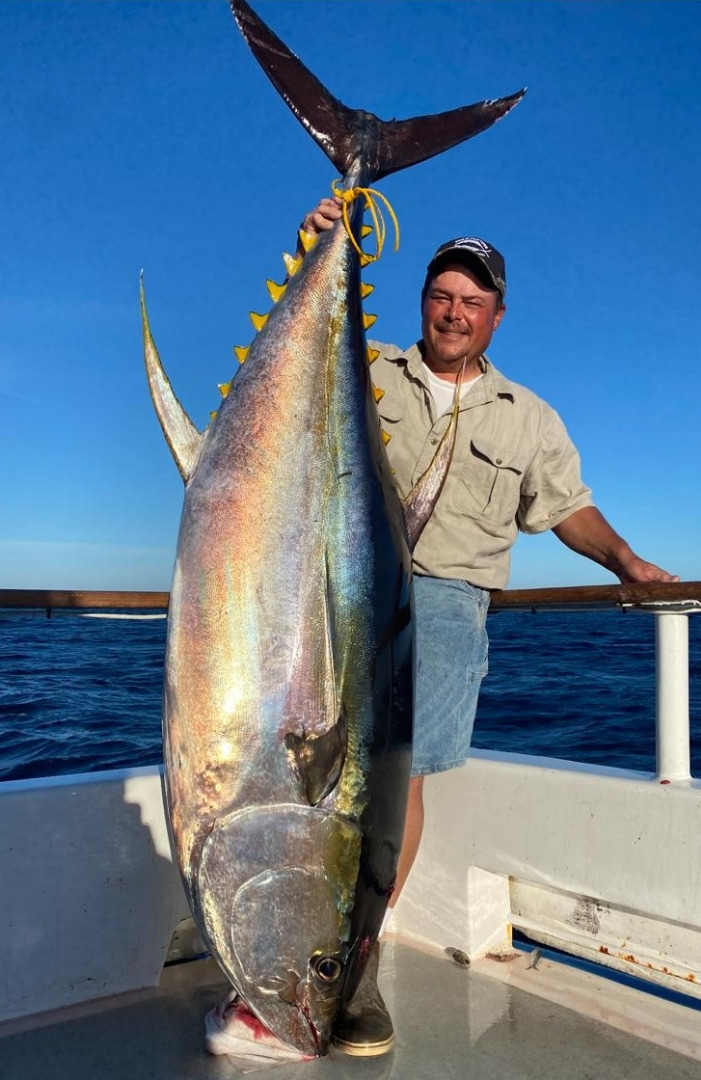 Big X returns
            The Excel was also down on the lower banks on the annual Fin and Feathers trip. The boat had excellent fishing with a shot at some jumbos landing a supercow. The boat sent this wrap, "We are currently wrapping up our Fins-
N-Feathers 11-Day Trip. The group was able to check off a lot of boxes with good fishing on yellowfin tuna, wahoo, dorado, yellowtail, and grouper. Even caught a few giants including this 319.8 pounder caught by Scott Carbajal on the chunk! What a great trip. The boat turns around tomorrow for 6 days."
The ensuing 6-day started fast, "We are just starting our Guadalupe Express #1 6-Day Trip. So far we like what we see. Excellent fishing on tuna from 40-to 130-pound plus yellowfin tuna."
The next day, more good fishing, "Big Girls are out again today. The good fishing continues. Top fish went 133."
Angler at the big island
The American Angler finished up a 10-day with a fine catch from down below and jackpot fish from Guadalupe Island. The boat described the island bite like this, "Plenty of action. Flurry fishing on 50- to100-pound yellowfin tuna.
The boat returned to Point Loma and posted this message "The gang returned with a nice catch of yellowfin tuna, assorted sizes including some island beauties, 55 wahoo and also nice island yellowtail. Congrats to jackpot winners, 1st place, Steve Ahlgrim with a 110-pound yellowfin, 2nd place, Mark Thompson with a 108 and 3rd place, Dan Bell with a105-pound yellowfin tuna. See you next season and Happy Holidays!"