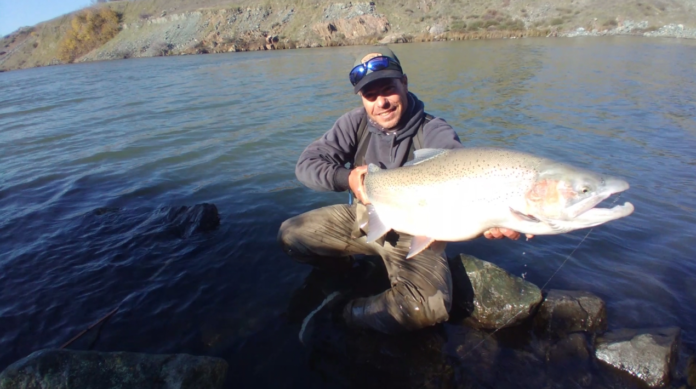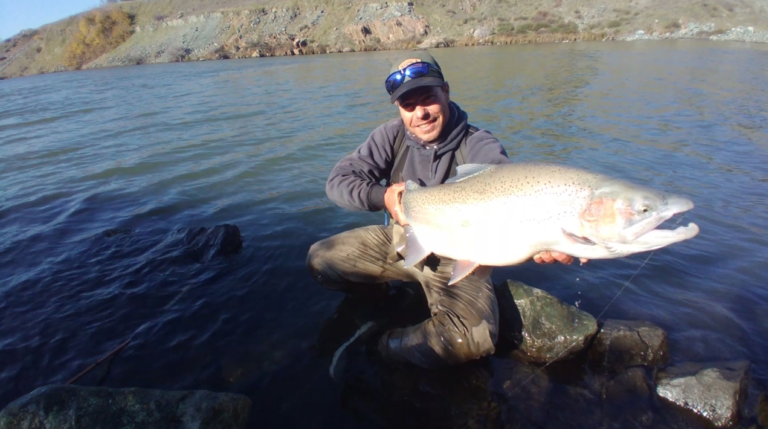 BY ANDREW MACK
OROVILLE — Buzz surrounding an absolute monster trout caught by Bangor angler Josh Giordano was sweeping through the California angling community in the middle of last week, and Western Outdoor News was able to secure the key details.
Taping out at 42 inches long with a 27-inch of girth and the math works out to an estimated 38.2 pounds. When asked why he didn't weigh the fish, Giordano said, "my main concern was doing everything in my power to release this fish healthy and unharmed."
He fooled the tanker trout with an unconventional swimbait and slip-bobber setup, and at first glance, one might put this fish in the class of rainbows from New Zealand or other world-class destination for trophy trout.
"I've fishrf for trout all over the world in search of giant fish," said Giordano. "I was able to hook this fish only a short drive away from home in the Thermalito Diversion Pool. This area is on the Feather River just below the Oroville Dam."
He was hesitant to post pictures on social media, and he made it very clear that he's not interested in a record but would love it if some younger anglers were able to go out there and connect with one of these fish-of-a-lifetime caliber trout.
The current state record rainbow sits at 27 pounds, and this would have had a very strong chance of breaking it. But to register a record, the fish has to be weighed on a certified scale and be examined by a CDFW biologist. That being said, this fish would not have been able to be released.
Once Gioradno got to the spot, he started throwing the swimbait, and as he was reeling it in, something smacked his lure about 50 feet from shore and immediately took off like a rocket.
"Everything happened so fast, within just 20 seconds there was more than 150 yards of line gone," he said. "The entire fight lasted for more than 45 minutes of what I thought was a never ending game of tug of war. As the fish came closer, I almost landed it, but it shot back out 100 yards or so and all the work I just did to get it close was for nothing."
Giordano said during the battle, he noticed another fish next to his that looked even bigger, and after what he said was more than an hour of work, he reached out and was able to grab it and bring it to his feet.
"My main concern was to handle this fish as little as possible because my goal is to always let the bigger fish go," said Giordano. "I already have a few trophy trout under my belt at 28 pounds and a 25 pounder, so being my new personal best, I took extra precaution. I am definitely not after chasing records. I just do it for the pure thrill and excitement I have for catching these true fish of a lifetime, and in my own backyard. Does it get any better?"