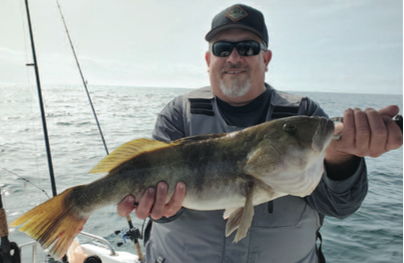 BY BLAKE WARREN
Despite the past year of countless uncertainties and dodging curveballs, the Saltwater Bass Series continues to grow and thrive in Southern California. Now in the midst of its tenth season, the SBS continues to draw sizeable fields of anglers from throughout the Southland to each event, largely due to its inclusive nature, generous payouts, friendly competitiveness and ever-growing sponsor support, with the majority of its events now drawing over 50 boats — up considerably from the first couple years after its inception in November 2011 as the popularity of the Series keeps trending upward.
Aside from being well organized, well run and just a whole lot of fun, a big reason for the continued growth of the SBS is the emergence of the Rookie/ Family Division, which Tournament Director Gerry Mahieu implemented back in 2018 in hopes of drawing new anglers and fresh faces into the tournament scene. And it's certainly done just that — in a big way. "I got the idea a few years back from seeing the Anglers Marine format and what (owner) Rick Grover does with his championship," Mahieu said. "The whole idea behind it was to get more anglers involved and fishing the Series without them feeling too intimidated by the level of competition or feeling like they were in over their heads, along with getting more families involved. It's been a huge success so far and a huge learning deal for the Rookie teams, who are seeing what the Masters guys are doing, where they're fishing. It's really brought the learning curve way down for a lot of guys."
"First and foremost the Series is about comraderie and having fun," he continued. "If it ever stops being fun, I'll stop doing it. We just want any and everybody to just come out and fish, keep learning and just have fun. That's what it's all about."
Inclusiveness and affordability are the keys to the Series' success. Basic entry fees of just $100 for the Rookie/Family Division and $150 for the Masters
Division allow anybody to jump in the game. Seventy percent of that entry money is paid back to the teams. Another part of the uniqueness of the circuit is its diversity, with events ranging from no boundaries to inside the bay, to species-specific tournaments like spotted bay, calico or sand bass-only events, a tournament format sure to make all who fish the Series more versatile and all-around better anglers in terms of scope and technique, as well as better honing in on a number of different fisheries up and down the SoCal coast from the bays to the islands.
The 2021 regular season just crossed the halfway point this past Saturday with its third event out of Shelter Island. Teams will be slugging it out on the water the next two months — a night event out of Long Beach on April 10 and a calico-only tourney May 15 out of Dana Landing in Mission Bay — before the season culminates with the two-day Championship set for June 12-13 back in Long Beach, after which the Anglers of the Year will be crowned and lots of great sponsor product will be dished out, highlighted by the grand prize of a Mercury 115hp 4-stroke outboard going to one lucky team courtesy of the SBS title sponsor.
The fun doesn't stop there, however. Upon completion of the regular season, Mahieu has another trio of events slated for the back half of the year, starting with the July 10 Hardbait-Only Open Tournament, a no-boundaries event limited strictly to hardbaits and a maximum of three rods per angler staged out of Long Beach. That will be followed by a veterans event Sept. 18 — also out of Long Beach
TOAD SAND BASS have played a large role on the Saltwater Bass Series tournament scene so far this year, accounting for many of the top teams' heaviest weights through the first three events of the season. This grumpy sandie was part of a big 5-fish, 25.55-pound limit for Bryan Davis (pictured) and partner Whitney Uyeda in February's event out of Long Beach, all caught on Alabama rigs armed with Big Hammer swimbaits.
— and a two-day island event based out of Two Harbors, Catalina come Nov. 12-13. Also on the docket is a Holiday Hookup Toy Drive set for Dec. 11.
As for the saltwater bass scene itself, things are everevolving heading into the meat of a new season. So far in the first half of the season it's been the local sand bass that have been stand-out catches and that are playing a prominent role in dictating the early tournament results, with lots of big grumpies making their way to the scales thus far in the game.
"There's been a lot more sand bass this year," said Mahieu the eve before the Series' most recent event this past Saturday, continuing a trend that started in earnest a year ago. "But what's been noticeable is that a lot of these sandies are open water, roaming fish with a lot of fish suspending. Part of that is an increased squid presence and there's also lots of finbait. Our tournaments so far, a lot of guys have been chasing bird schools to get their fish, as there's been lots of finbait that those sand bass are on and chasing."
One needn't go all too far in the past to see this particular trend and Mahieu's words would ultimately prove somewhat prophetic when the dust settled after Saturday's Shelter Island-based All 3-Species event, as it was indeed a hefty bag of sand bass tipping the scales at nearly 20 pounds and bookended by a big 7.39-pound sandie that claimed the second Masters Division victory of the season for the team of Josh Marquard and Shannon Perkins out of Shelter Island. How did the duo put their big bag of grumpies together on a day when many anglers experienced tougher fishing, you ask? You guessed it, open-water sand bass in the middle of the channel that fell victim to Alabama rigs and underspins as the bass were keyed in on the finbait.
We shall see if the heavy sand bass trend continues to play out when the SBS shifts to next month's night tournament out of Long Beach, but here's guessing we'll see a few more of the chunky grumps under the moonlight come April 10, along with lots of competitive teams out relentlessly chasing them…
For more information about the Saltwater Bass Series and all its events, visit saltwater- bassseries.com or contact SBS Tournament Director Gerry Mahieu at gerryjig@gmail.com.