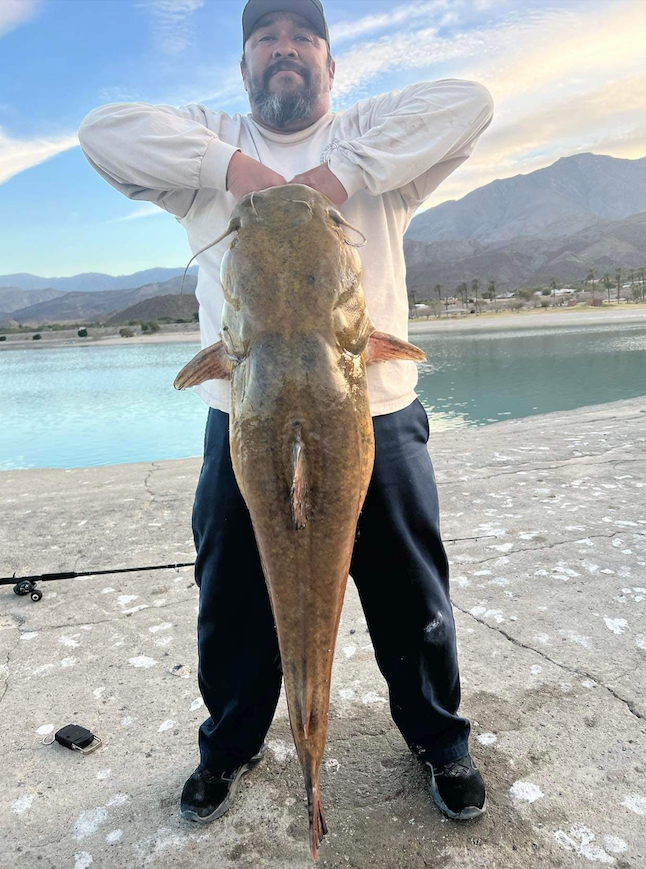 BY MIKE STEVENS
LA QUINTA – Trout fishing at Lake Cahuilla has tapered off quite a bit since the heavy stocking prior to the Mark Aldama Memorial Trout Derby, but there are still a few being caught and a monster catfish catch is directing even more attention to an upcoming catfish event that's currently in the planning stages.
Julian "DVO Warden" Rangel of Yellowmart and Desert Valley Outdoors (DVO) hit his home lake after spearheading that trout derby and promptly whacked a 36.5-pound flathead catfish. Flatheads are rare in Lake Cahuilla, but catching them in there is not unheard of and the ones that do fall for hooked offerings tend to be big ones.
In the wake of the successful trout derby, DVO is planning an overnight catfish event as the group continues to direct attention to the recreational oasis Lake Cahuilla is while its future remains uncertain. Catfish stocking are not slated to start until early May, but there is an excellent holdover population along with more that get in via the aqueduct that make the lake a legitimate year-round catfish fishery.
The trout that are biting are almost all falling for PowerBait,  inflated nightcrawlers and other floating baits. There is a stock scheduled for March 8, and that will be the final plant of trout season.
According to Rangel, bass action has been slow, but they should start getting into spawn mode earlier than many Southern California lakes as things tend to warm up quicker in the desert.