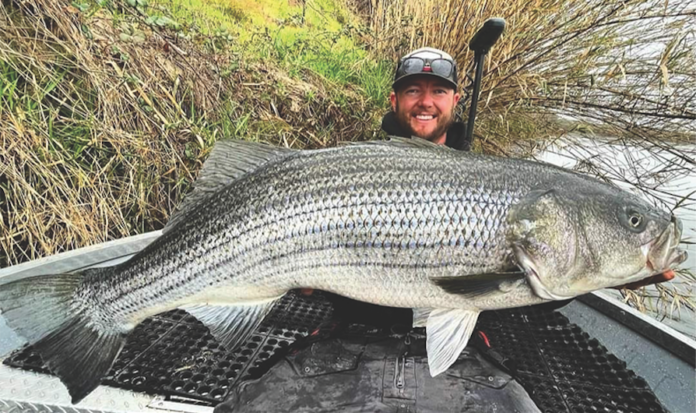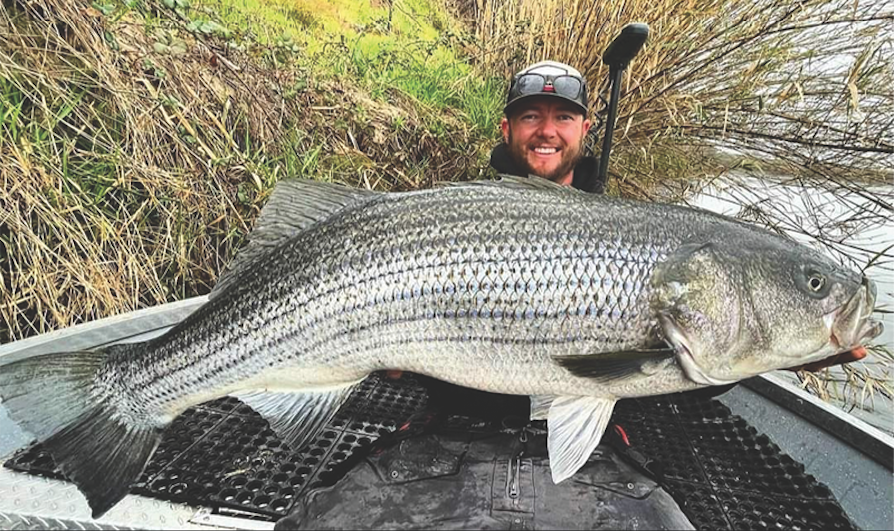 BY ANDREW MACK
CHICO— Chico angler Thomas Fitzpatrick bagged a fish of a lifetime in the Sacramento River last week, he recently broke down the experience for Western Outdoor News.
"My father Harry Fitzpatrick came to Chico for a 2-day endeavor on the Sacramento River, and we were throwing 10- to 12-inch glides in search of his first trophy-class striper. On Day 1 we fished from dark-to-dark in anticipation of the next cast being the one that produces one of these amazing creatures, but we only left with sore arms from chucking big baits for miles of river. The following day, we shook our ruffled feathers at the launch with a cup of coffee and went for seconds. My dad had a 10-inch Rafa as his flavor of the day while I chose a 12.5-inch Sly Guy. We motored in the dark to the first hole where I whispered to my dad to cast at a snag mid river in 20 feet of water, and on his very first cast it happened, my father had landed his first ever 30-pound striper."
The father-and-son angling duo celebrated the "explosive battle" and released the big fish before moving downriver to the next hole. On Thomas' first cast, he saw the water behind his bait as another big fish closed in.
"This 52-pound behemoth striper inhaled my Sly Guy and the battle was on," said Thomas. "With the Lamiglas x11 bent to the cork we were towed down river and around the bend when she gave up the fight and turned at the boat where my father scooped her safely into the net keeping the tail out of the mesh. We let out war cries as the day couldn't have gone any better. A fish of a lifetime sat pumping its gills, and after struggling to hold the fish for a fast picture we both watched her swim back into the river. By this time the rain had started and we were both soaked to the bone, cold and tired but so extremely thankful for the few brief moments we had with such a fish. We sat and went over the experience again and again, and I would like to take a moment to appreciate the fishery that myself and so many others get to share on the Sacramento River. It is nothing short of an epic experience practicing catch-and-release on these larger-than-life females, ensuring someone else days weeks or years from now will get to experience what I did with my father that day. Having the man who spent his life raising me in this fishing environment in my boat that day couldn't have been more powerful."