BY MIKE STEVENS
SAN CLEMENTE – With the Pacific Coast Sportfishing (PCS) Tackle, Boat, Travel and Outdoors Show less than a month away, Western Outdoor News connected with a very busy Bill DePriest for a question-and-answer session on the dramatically expanded 2023 show that runs March 2-5. This is a great primer for the show that is already creating a huge buzz among Southern California anglers with insight directly from its founder.
The PCS show grew quite a bit last year only to have it really blow up leading into the 2023 installment. Take us through some of that growth.
We originally started the show as a private boater/saltwater show. We had the best seminars around and some of the best products in the industry. The show was one building but it didn't have the filler booths, just straight sportfishing products. Last year we had a special wave of support by the industry and we went larger with many new vendors such as Turner's Outdoorsman, PENN Reels and many more, and we needed another couple of halls.
Last year show was amazing with three halls, and the aisles were as crowded as they could be. When we ushered out the last person Sunday evening, we knew we needed to go much larger. We also needed new dates that would allow us to rent out the entire OC Fairgrounds as well as get off of the holiday weekend, so without a show occupying March 2-5, we jumped in all the way and rented the whole thing. We had so much interest from the sportboat fleet as well as freshwater fishing vendors we felt that we could fill the whole grounds and still keep the show very pure.
This year we have seven halls, 217,000 square feet, 5 acres of the best fresh- and saltwater fishing tackle, boats, travel and outdoors products anywhere, without the filler booths. We are very proud and humbled by the industry support and we are very excited for the public to experience the best outdoor show experience SoCal has ever seen.
It used to be just a saltwater show, but that's no longer the case. Are you expecting a big freshwater crowd? 
The freshwater element of the show is big and we have a full stage to support it as well. We will have a large bass tank for the seminars and we have some amazing speakers coming. Butch Brown, the big bass king, is one of those great speakers. Lots of brands will be representing freshwater anglers.
We will also cover trout with lots of guides, lodges, as well as the High Sierra being well represented as well as local trout and catfish with the addition of Santa Ana River Lakes. We will continue to have our free kid's trout pond as well for the little ones to catch their first fish.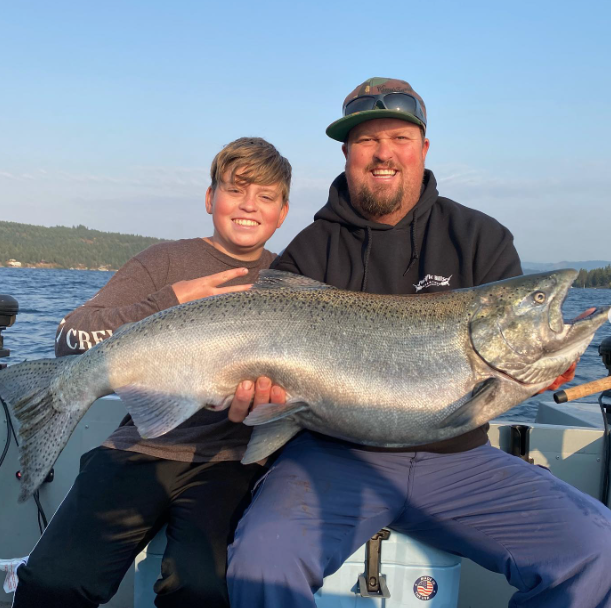 How has the last year been for you and your team?
It has been crazy, but when you are selling a show that is on so many brand's hit lists, it's actually fun. It's so nice when you call a company in our industry and they are excited to hear from you and get set up for the show, that is something we can really get used to. The show has come together so nicely that it hasn't been as stressful as many years, but again a joy to put together.
  What is it about the PCS show that makes it special?
There are a few things that make our show special, one being the location. The O.C. Fair and Event Center is centrally located, right off the freeway and is easily accessed from Los Angeles, the Inland Empire and San Diego. Folks can come out and experience all the great stuff you would want to see at a show all in one location. One and done.
We have a huge collection of retailers to go with the great manufacturers which means great deals for the attendees. What has differentiated us in the past is also the quality of our seminars. Our seminars have well-known skippers that do not do seminars anywhere but at our show. They are in-depth, and you really can change your fishing outcome by spending some time in them.
It seems like you and your team have been regularly announcing new exhibitors jumping aboard, and it has yet to slow down. Do you expect that to remain the case almost up to show time?
We have a very large list that we are announcing off of and we expect to be sold out completely within the next few weeks or so. I have been announcing two a day for four months and we just will not get to them all. The list of vendors is amazing and will be released soon.
 Who are some of the most notable new additions to the 2023 exhibitor list?
One standout is the addition of Cutwater Spirits as our new presenting sponsor, which we are very proud of. We have hundreds of new exhibitors for 2023, too many to just mention one or two. We are proud that we have the best fresh and saltwater brands from the local family owned all the way up to the largest brands in the industry joining us this year.
I would say that one of our greatest accomplishments this year is gathering so many of the great industry brands in one place, with a huge amount of retailers which just makes for an amazing buying experience.
What about some PCS regulars who have been around a while – or even if last year was their first year – who significantly increased their footprint for the 2023 show?
We are seeing an amazing amount of increase in display sizes amongst our regular vendors for 2023. Many of our vendors stepped up the size of their booths. For example, Ketcham Tackle, Turner's, Daiwa, PENN, Berkley, Shimano, Lowrance/Simrad and so many more doubled the size of booths! Turner's went from a 3,200-square-foot retail space to a 6,400-square-foot spot! 
What kind of advice would you give someone who is attending the PCS show for the first time so they maximize their time and don't miss anything?
The layout of the buildings will be a horseshoe, and you will want to start either to the left leg of the horseshoe or the right and work your way all the way around and back to the front again. You may need two days to see it all, especially if you are going to take in a seminar or two. Bring the family, there will be great food, a free kids trout pond and lots of entertainment including live bands.
 What are the long-term goals for the PCS show?
The long-term goal for the show is to continue to produce the most-pure fresh- and saltwater fishing tackle, boat, travel and outdoors show that SoCal has ever seen. In short, this year will blow your minds!
This article appears in the February 3, 2023 print edition of Western Outdoor News. If you enjoyed this article and would like to get early access to every info and feature-packed issue of the West Coast's biggest outdoor sporting newspaper, click here.