BY MIKE STEVENS 
PERRIS – Bass fishing at Lake Perris got off to a hot start when winter arrived, and the bite was hot for several weeks for anglers who knew the particulars of what was going on. James Montes and Kenny Baldwin were among those who caught on to the pattern and took advantage of it, resulting in a flurry of impressive photos landing in the pages of WON in a short period of time.  That hot bite eventually fell off, and it's been a grind for the last couple weeks, but Montes and Baldwin recently made the most of the few bites they were getting by each bagging a double-digit bucketmouth at Perris within days of each other. This time, they were not in the same boat.

"I have been fishing the fly for giants, but it's slow," said Montes.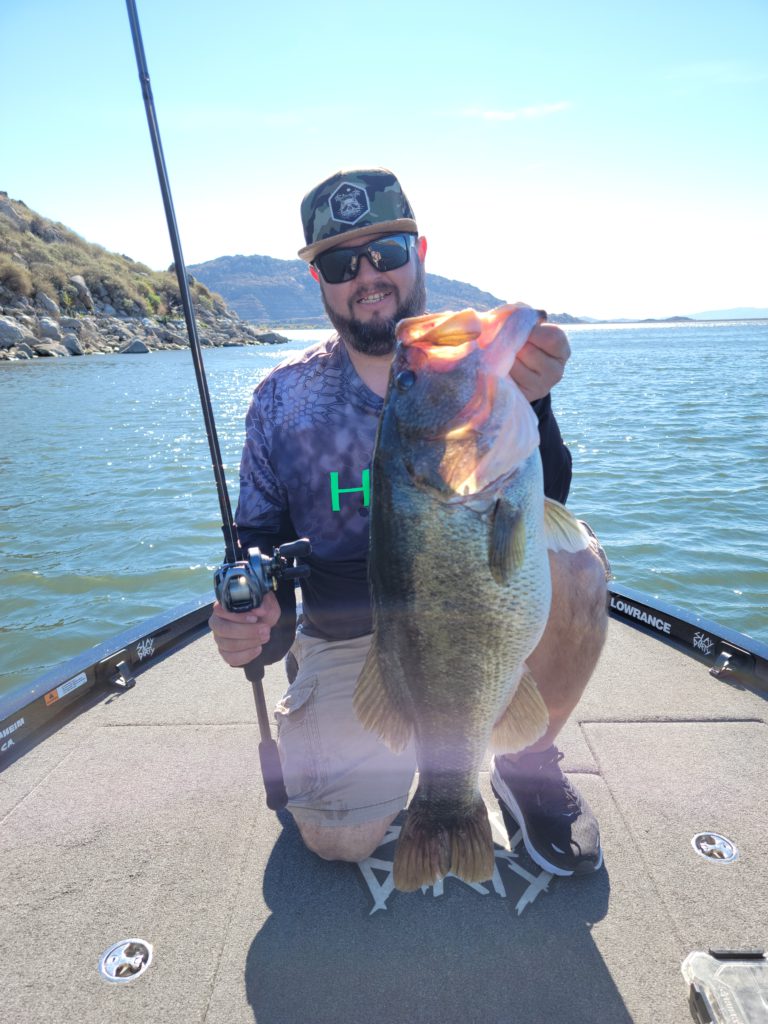 "So the other day, I fished craw baits on a rock pile and hammered three in 20 minutes. My wife and dogs went with me, so I told her we would fish slow, and that fish was where I though it would be."
Montes told WON he was targeting bass holding close to rocks by dragging a Texas-rigged plastic craw "super slow" (he said each retrieve took 10 minutes) when a trophy female that would tip the scale at 11 pounds, 14 ounces decided to "play ball."
"The fish are being weird because the water is 56 to 58 in the dead of winter, so they don't know what the hell to do," he said. "So they sit on rock because it stays warm and they can eat stuff that comes by. The fish earlier this week were all spitting up crawdad pieces."
According to Montes, that was the second-biggest largemouth he's ever caught (his personal best went 12-8), and he said he also once caught a 10 pounder in the same spot on Perris. He was working with a Nameless Custom Rod matched with a Shimano Curado DC loaded with 12-pound Seaguar InvizX.
When Montes said he's been "fishing the fly for giants" he was referring to trolling/stripping Producer Flies around these deeper structure spots. He's been doing that with Kenny Baldwin of Producer Plugs (maker of the flies, too) who was doing exactly that when he popped a double-digit bass of his own just days later.
"I started stripping the Producer Fly around my typical zone for this time of year, which is 35 to 45 feet of water, but I couldn't find them," said Baldwin. "I decided to look up shallower in 20 to 25 feet, and the third fish I hooked didn't want to move. After I finally broke its will, it headed straight to the surface and attempted to jump a couple times. That's when I knew it was a big one. My third bass of 2022 weighed 10 pounds, 8 ounces, and it might be tough to beat over the next 11 months!"