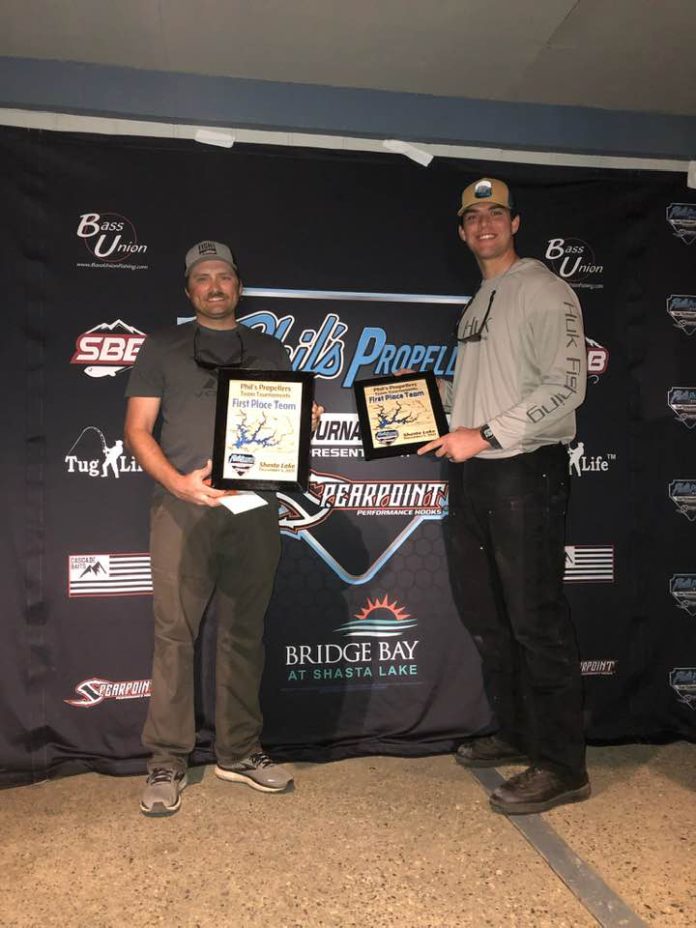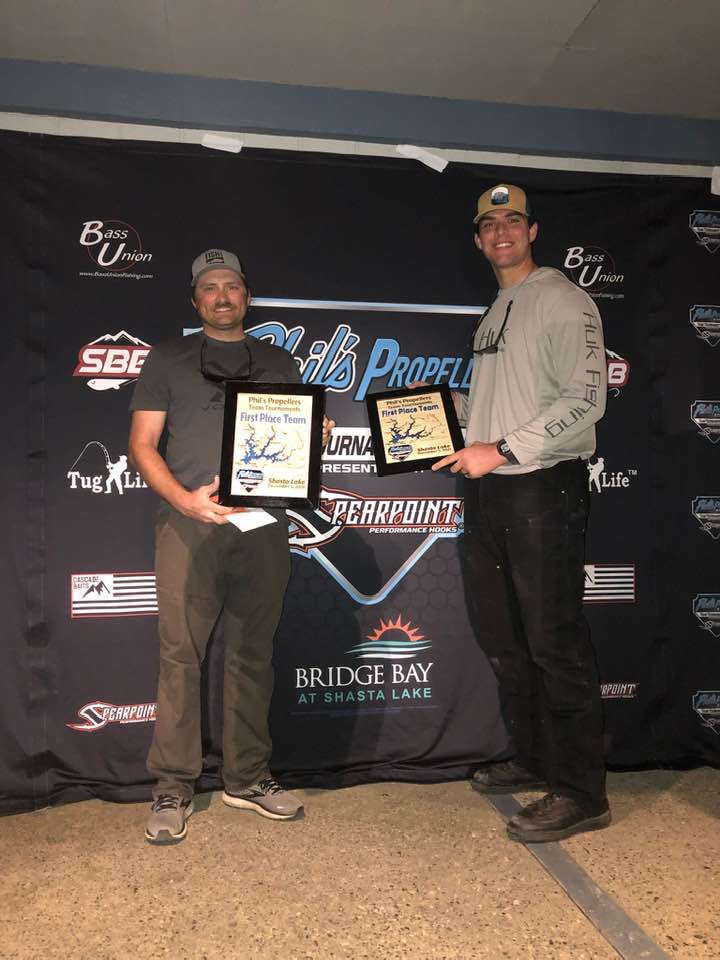 BY CHUCK WOLF
REDDING – Lake Shasta is the go-to lake during the end of the year into the first few months of the New Year as a number of large tournaments are scheduled after January 1. Tournaments on Shasta routinely attract over 100 boats, and Rich Stone and Phil's Propellers in Redding have been raising the bar with their circuit over the past few years. Phil's has been a mainstay in Northern California bass tournaments for years and this year will prove to be no exception. After the seasonal interruptions of last year, enthusiasm has come on strong for the 2021-22 season, and the first two of the five season series have been as popular and successful as ever.
On Sunday November 14, during the lowest water levels in Northern California history, Phil's hosted the first of their 5-event tournament season out of the Lake Shasta Bridge Bay Marina and Resort. Despite some tough conditions including low water, a tough bite, some major congestion at the ramp, and weather that shut the tourney down after the first day, 92 boats still made the start. 1st place went to Paul Zadons and Mike Lepori with a bag weight of 16.37 pounds. Second place went to Jason Remmers and Alex Niapas with a bag weight of 15.73 pounds and a big fish weight of 9.38 pounds by Shasta swimbait specialist, Niapas. Third place went to Jason Sherman and Bill McLaughlin with a bag weight of 15.53 pounds.
Phil's hosted their second tournament December 5, also out of Bridge Bay. Conditions were much better, but the big fish just were not active. There were plenty of smaller fish, and they were eager to eat but as a result bag weights were a bit low. All in all, 117 boats registered and to a team, and most were pleased with the tournament and how it had been organized. 1st place went to Jordan Rossow and Jared Zambrana with a bag weight of 12.15 pounds for a $4,515 pay out. Second place went to J.R. Wright and Steve Flanders with a bag weight of 12.02 pounds for a $2,440 payout. Third went to Philip Garcia and Roy Desmangles Jr. with an 11.17-pound bag weight and big fish at 3.83 pounds for a $3,170 payout.
Phil's will host their next tournament January 16 out of Bridge Bay with additional Lake Shasta tournaments on February 13 and March 6. Phil's will also host two one-day tournaments at Trinity Lake at the Trinity Alps Marina on April 9-10 on and again on May 14-15.
When Phil's is not a direct sponsor of a tournament, they remain pivotal in support of other regional events and tournaments including the Shasta Cascade Bass Anglers, American Bass, and Wild West Bass Trails along with local memorials, college, and high school fund raisers. Wild West Bass Trails will be holding two huge events during the month of January – the January 15 Northern California Teams and the three-day Pro/Am from January 28/30. They are authorized sales agent for Shasta Recreational Company Launch passes, CDF&W licenses and about any piece of fishing equipment or repair that you or your boat may need. For additional information, and a complete list of tournament sponsors, please visit Phil's at: https://www.philsprop.com/