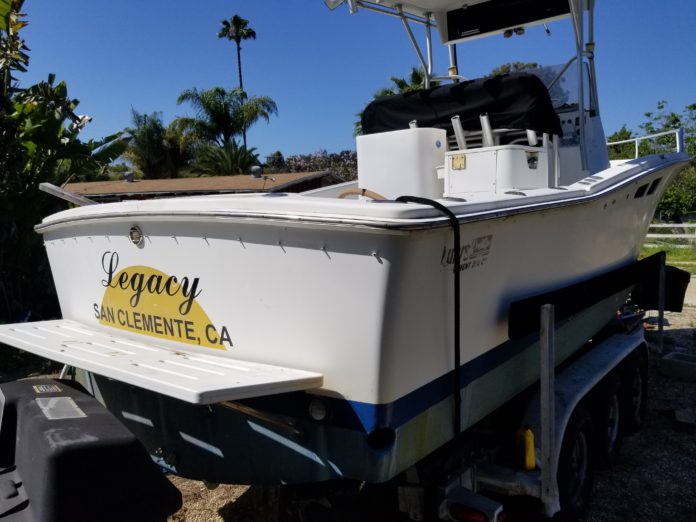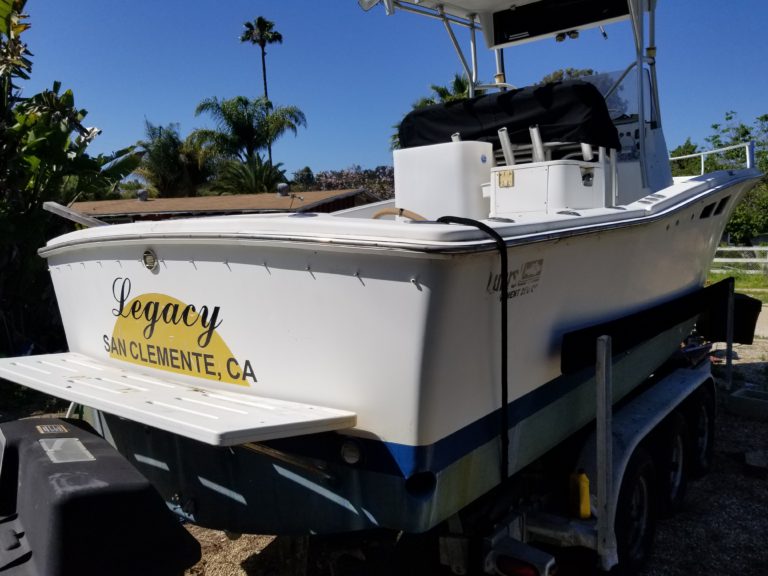 BY MIKE STEVENS
SAN CLEMENTE – There's a 25-foot Luhrs sportfisher undergoing a major facelift so it can continue its legacy as a "family boat" tasked with comfortably delivering passengers to prime Southern California fishing and diving spots out of Dana Harbor, to Catalina and beyond.
Every private boater knows tinkering and tune-ups are a never-ending part of the deal, but this particular vessel — aptly named Legacy — has a cool storyline powering her captain's efforts to make key upgrades in anticipation of the upcoming season and the years to come.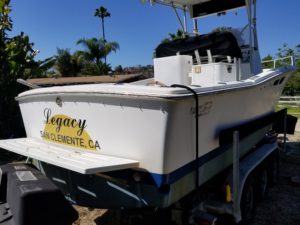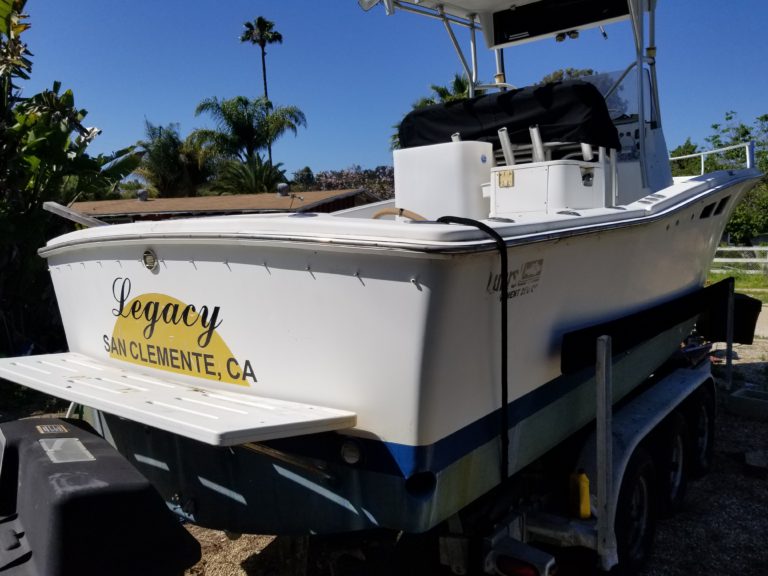 Scott Hunt of San Clemente lost his father and mother within the last two years, and his dad, Bob, made it clear that he wanted the Legacy to continue filling the same role it's had in the family since it was purchased 16 years ago. "It's the family boat, but I was completely in charge of it," said Hunt. "We shared the boat, but he wanted to save it for all the grandkids so all of them could keep going fishing."
He's not just talking about a couple of kids either. There are 11 grandkids in total, and not only have they all fished on Legacy at the same time, but they've done it headache free. "What's bitchin' about the thing is it's a complete walkaround," said Hunt. "The seating is great, and I've taken 11 kids under 12-years-old and three adults sand bass fishing without a tangle."
Luhrs was a Florida-based company known more for cranking out much bigger yachts than the Legacy, and at one point they were building over 1,200 boats per year. The company was hit hard by the recession in 2008, and by 2021 Luhrs was out of business.
The bigger boats had a reputation of outperforming their price points, and there's no doubt the classic design elements that went into the larger boats trickled down into the smaller rigs like the 25-foot (the smallest Luhrs platform) Legacy and allowed them to function so admirably, even with nearly 20 passengers on board. "It's like the biggest little boat you can have," said Hunt.
One of the challenges of making upgrades, let alone basic repairs to a boat engineered by a manufacturer that's no longer in business, is there's no more support from the company when needed, and parts aren't available other than used ones. But Hunt is no stranger to owning and operating boats. He's a licensed captain who's fished commercial and ran charter boats in Hawaii and out of Dana Wharf, and he still does some commercial lobster fishing.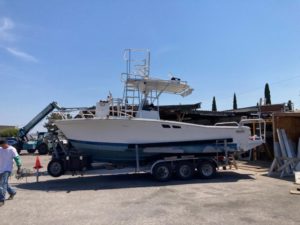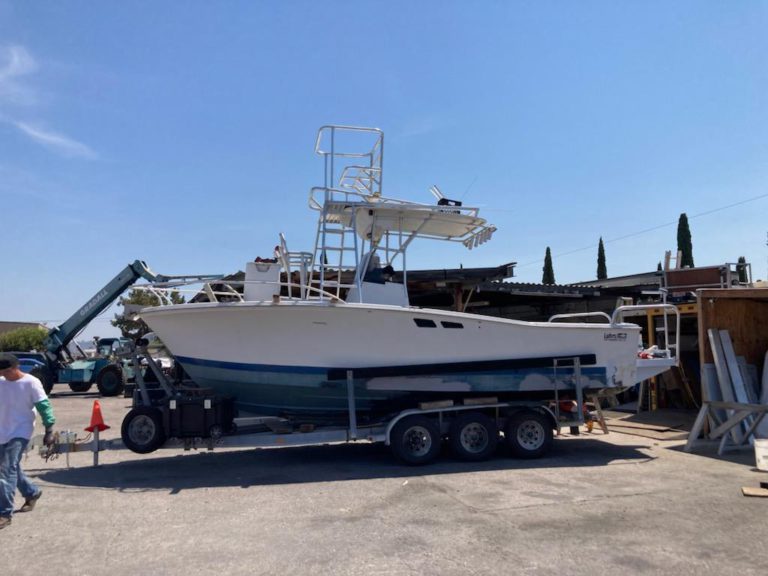 One of his first moves to get the rebuild started was hauling the Legacy to Bluewater Marine in Santee, where Jim Booth fabricated and installed an all-new, beefed-up bracket that will soon play host to a pair of brand-new Suzuki 200-horse outboards. That's when Hunt got an outside-the-box idea to add a personal and functional touch specific to his group's needs.
"I thought, why not split the motors apart like on a catamaran so there can be a swim step in the middle?" he told Western Outdoor News. "It would be harder to maneuver if one (outboard) goes down, but they're Suzukis. They're not going to go down."
As someone who lives in and operates out of coastal Southern California, has recreational and professional boating experience in Hawaii and Baja and runs a boat made in Florida, Hunt is drawing from all that experience in customizing the Legacy for a family of anglers and divers spanning a wide age range, all of whom consider the boat their own at some level. A huge part of that was his decision to go with Suzuki outboards for the repower. He told WON it's the  "number one engine on the East Coast," where private boaters are equally as demanding when it comes to performance and reliability.
Hunt is relying on the expertise of the father-and-son team of Derrick and Nicholas Pregler at Cal-Kona Marine for the install of that pair of Gen 4 Suzuki DF200s and a laundry list of other technical tasks. Those guys met Hunt through WON and Dean Corbiser of Suzuki Marine, and they were off and running.
"Suzuki has been a phenomenal engine for us," said Derrick Pregler. "We have them on most of the whale watching boats in Dana Point and Oceanside, and we've had really good reviews on them. On top of that, they're probably the only motor you can get your hands on right now."
Oh yeah, there's that too.
Pregler went on to say one of the "big motors" from Suzuki are only requiring about a 6-month lead time right now, and that's pretty respectable considering motors from several other major brands are over 54 weeks out. Cal-Kona now has Hunt's outboards on hand, they're just waiting for a few more components to arrive before pinning them to the stern of the Legacy.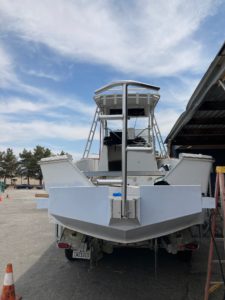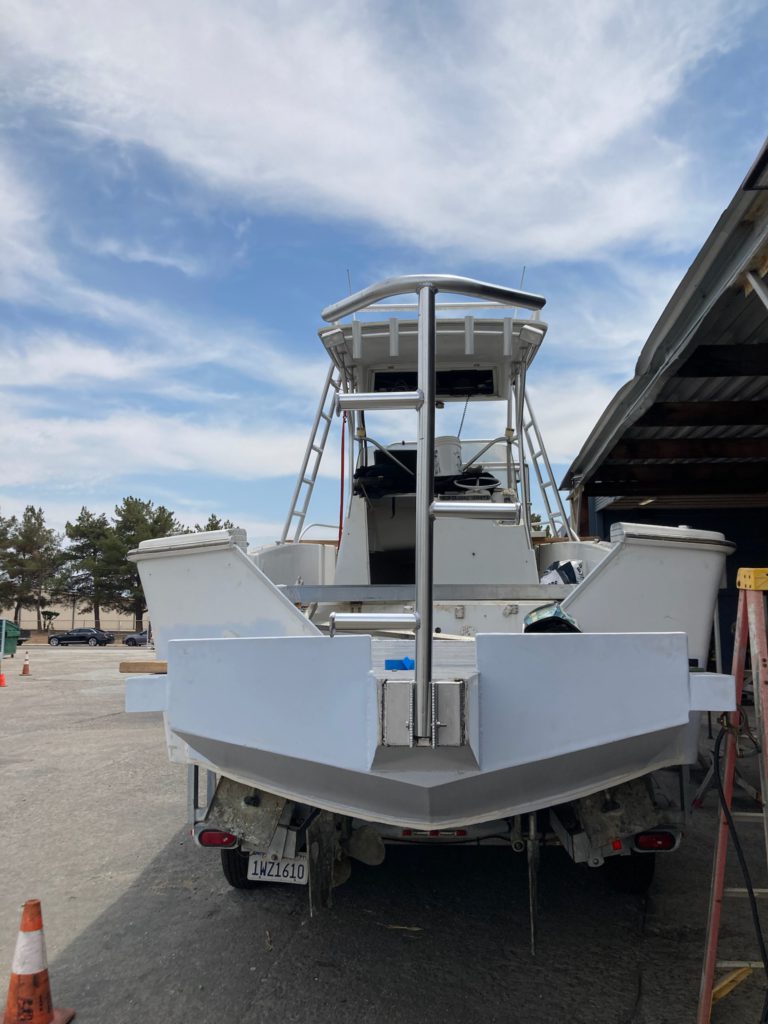 Prior to moving on to repower mode, Hunt replaced the 80-gallon fuel tank (with two 40-gallon side saddles) with a 150-gallon double-feed tank. The whole rear deck of the Legacy was reframed with aluminum, which was "way heavier duty than what it had." Batteries were repositioned from the back to the front, and along with the previous engines being ripped out, the rudders were removed as part of a through-hull revamp.
"I wanted it worry-free," said Hunt. "Engines up and out of saltwater when done, and no water dripping inside when it's parked in the harbor." The captain and "crew" of the Legacy can feel it getting close, but it's hard to put a hard timeline on things these days.
"I'm so Covid-behind," said Hunt. "I thought I'd be at Catalina for Buccaneer Days in October, but I just got the engines in December." Both Hunt and the guys at Cal-Kona Marine have promised WON photos once the Suzukis are in place, and of the final product. Look for those in a future issue, including in WON's regular Suzuki Repower Report.
How to fight saltwater corrosion, stern-to-stern
Boats that are used and stored in saltwater environments are under constant attack from a variety of corrosive elements.  Every metal component on your boat, right down to the smallest screw or hose clamp, is susceptible to corrosion related damage.
Sometimes it's simply a cosmetic issue, like a pitted railing or orange streaks wherever finish screws meet gelcoat. Corrosion damage can also result in much worse problems, including mechanical breakdowns and engine issues that can ruin a day on the water and/or put a big dent in your bank account.
You aren't powerless against corrosion, however. Even though it's a persistent foe, boaters who fight the good fight against corrosion can keep their vessels running well and looking good.
Here are five key ways to battle corrosion in all areas of your boat:
Keep it Clean — Wash your boat thoroughly with soap and fresh water after every trip.   Don't stop with just quickly hosing down the deck — wash and scrub from bow to stern, paying special attention to metal components like railings, rod holders and hinges (hint: use a soft-bristle brush on everything other than the cockpit sole).  Then thoroughly flush your engine with fresh water to remove any traces of saltwater from  the cooling system. If you keep your boat on a trailer, wash the trailer thoroughly with soap and water as well, making sure to rinse all of the salt off of the brakes.
Keep it Protected — If your boat is stored in its slip, make sure to tilt the outboard or I/O lower unit to its highest position, so your running gear isn't constantly bathed in saltwater.  It's also important to always keep your boat covered, whether in a slip or on the trailer. Towel-dry your boat after washing and install a full cover after every trip. Custom-made covers are a worthwhile investment because they are made to fit your boat securely and prevent pooling of rainwater or condensation.
Watch Your Zincs — Make sure you know where all of the sacrificial zinc anodes are throughout your boat and replace them if they are degraded.  These zinc "tabs" are commonly found on the engine lower unit and transom, but they can also be found inside the engine compartment, as part of your running gear and elsewhere. Check your boat and engine owner's manual to confirm how many there are and where they are. Zincs are made to be eaten away over time; by doing so they "sacrifice" themselves to protect other metallic components against galvanic corrosion. If they are neglected and wear away, they cannot perform this protective function.
Lubricate the Little Things — Lubrication doesn't just keep things moving, it also protects against water intrusion and rust.  Apply marine grease to the fittings on your outboard steering tilt tube and engine trim mechanism. On sterndrive boats, hit the gimbal bearing and engine coupler. Periodically go around the boat and apply a light coat of moisture-displacing lubricant to the myriad moving metal parts such as latches, hinges, linkages, bow rollers and the like. If it's metal and it moves, treat it. Check your boat and engine owner's manual to ensure you've identified all recommended lubrication points.
Protect Your Engine & Fuel System — Regardless how meticulously you treat corrosion on the outside your boat, it's most painful in places where it can't be seen — like inside your boat's fuel system and engine. Techron Marine Protection Plus Fuel System Treatment from Chevron is scientifically formulated to provide best-in-class corrosion protection in the harshest marine environments for the entire fuel system.  Adding just one ounce per 10 gallons of fuel with every fill up will help keep any gasoline-powered boat running clean and strong all season long. Techron Marine also stabilizes fuel for an impressive 24 months. Additionally, store your boat with a full tank of fuel (95% or more) and take care of fuel system components you can see, by inspecting fuel lines, fittings, hose clamps, inline fuel filters and water-separating fuel filters.  Clean or replace as needed.
It's true that rust never sleeps. It can, however, be kept at bay by boaters who battle corrosion as an important part of their maintenance routine.