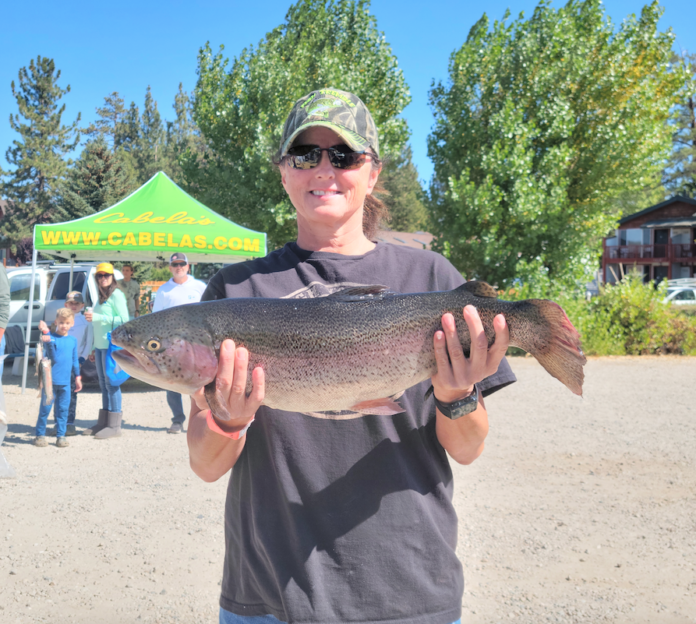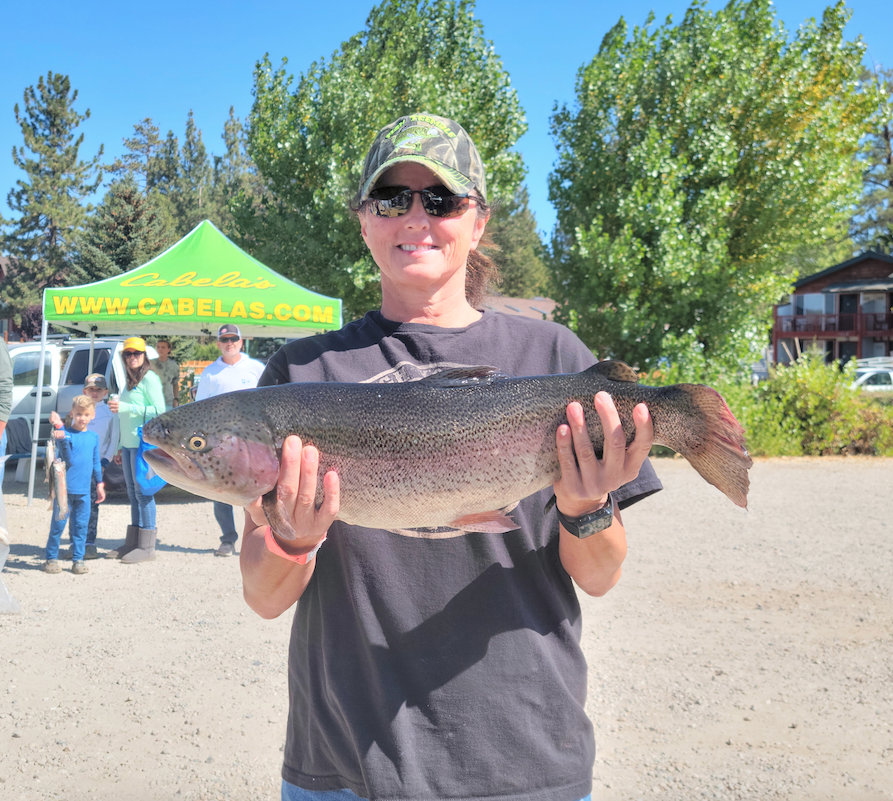 Hefty stockings prior to event pay dividends during two-day derby
BY BLAKE WARREN
BIG BEAR LAKE – The always popular Western Outdoor News Big Bear Lake Troutfest made its triumphant return to the "Blue Jewel" the first weekend of October after a one-year hiatus due to the pandemic, and what a return it was. Anglers were clearly eager to get back into the derby spirit as attendance was up by nearly 50 fisher folk compared to the 2019 event, with all anglers checking in at Friday's registration and collecting their goodie bags, which consisted of custom Thomas Buoyant and Rooster Tail lures, a jar of PowerBait, 6-pound mono and an official 2021 Troutfest hat all stuffed in a waterproof Frogg Toggs bag. Furthermore, the stage was nicely set for some fishing fireworks by a trio of hefty stockings of quality trout from Calaveras Trout Farm in the weeks leading up to the tourney.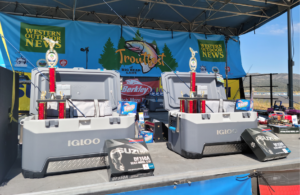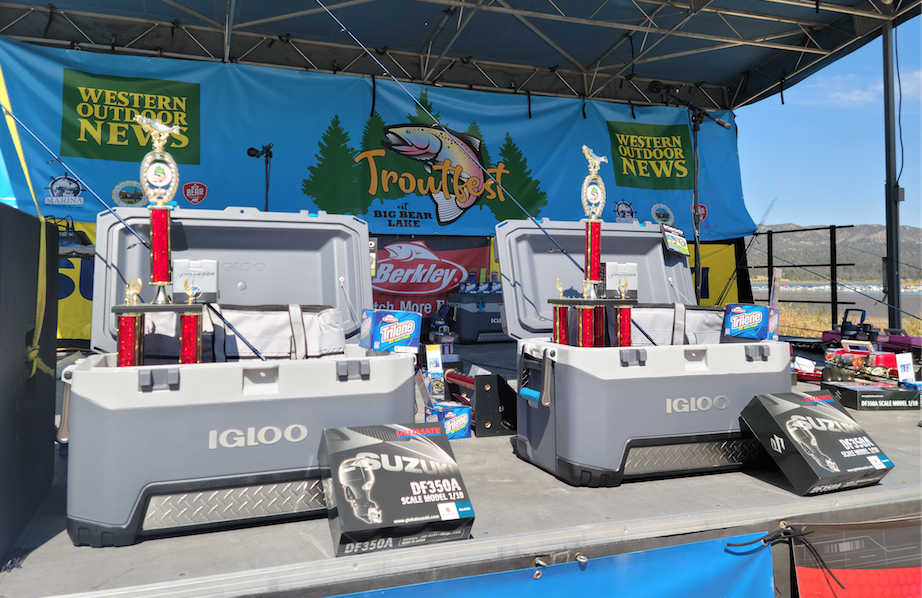 It didn't take long to start seeing dividends from those three big plants as soon as the weigh-ins opened up at noon on Saturday, as quality trout going 3 pounds and bigger steadily began making their way to the scales along with healthy numbers of 5-fish limits to boot. The show stopper of day one came fairly early in the weigh-in process when Valerie Valle brought in a whopper rainbow at 8.46 pounds that would ultimately hold up as the big catch of the day.
By the time the scales closed for the day, nearly 620 fish were weighed for a total of over 523 pounds. Day one turned out to belong to the ladies. Besides Valle's lunker trout, Saturday's stand-out catch was made by another lady angler, Laurie Yocum, who stacked up a 13.13-pound limit anchored by a 6½ pounder.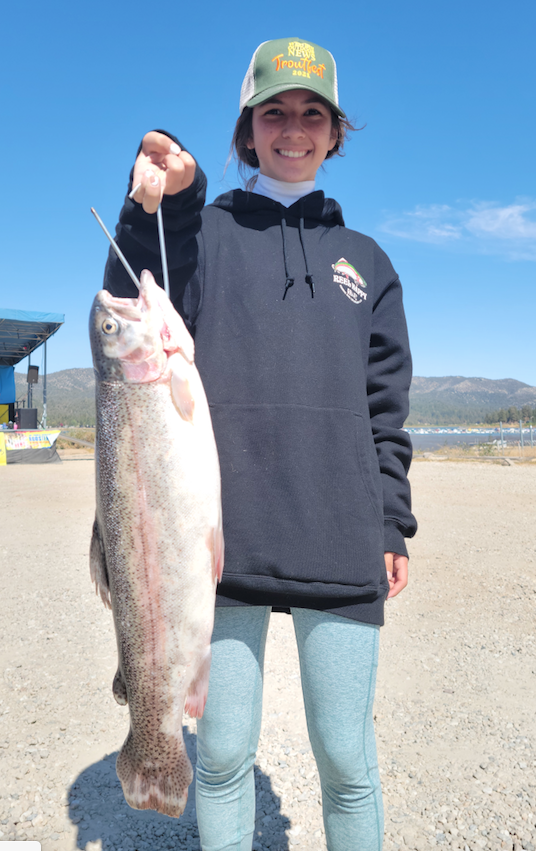 Long known as an excellent lake for trolling, Big Bear's reputation held true on day one as the majority of the bigger trout caught came via trolled Rapalas, Flicker Shads and nightcrawlers on wedding rings. With lake temperatures having dropped significantly in the weeks prior the trout had spread out considerably and anglers reported catching fish throughout the lake in numerous spots and areas.
Day two brought windier conditions on Sunday but most Troutfest anglers continued to grind it out in an attempt to flush out their limits and try to find that one big bite. With Sunday's weigh-ins being a little earlier than the day prior, most anglers employed their most trusted tactics throughout the morning ahead of the 11 a.m. opening of the scales in hopes of adding to their total weights.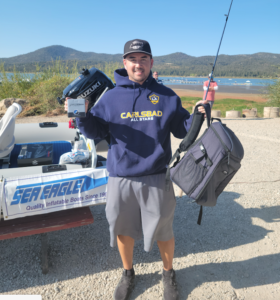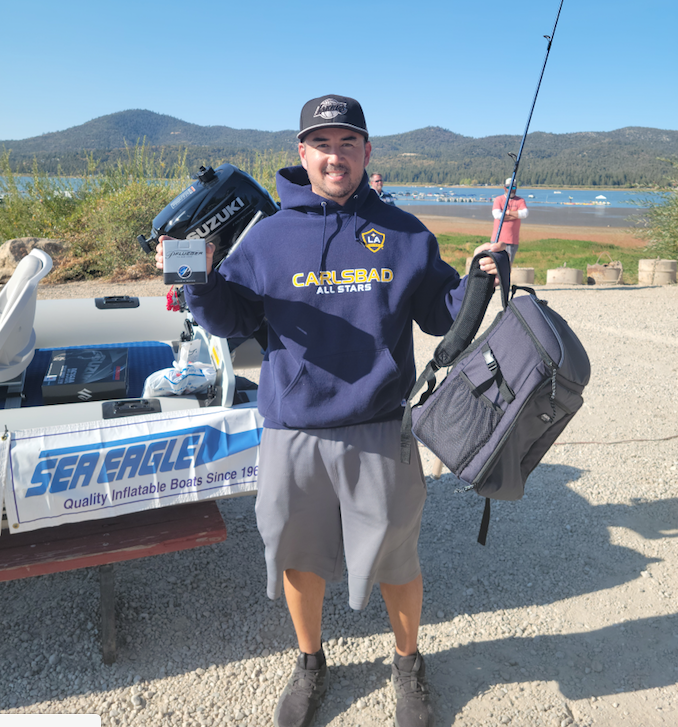 Fishing proved to be a little tougher on Sunday, but nonetheless there were still plenty of 4- and 5-fish stringers brought to the scales along with a handful more big fish running 4 pounds and bigger. A few 6-plus pounders were checked in as Valerie Valle lingered around the scales for the final hour and a half to see if her 8½-pound trout caught the day prior would hold up for the duration.
"I've been so nervous since last night," she said. "So much anxiety just having to wait it out."
A couple more nerve-racking moments for Valle came during the final hour of weigh-ins as the trend of ladies making a strong showing continued on the second day of competition. Valle watched closely as a pair of hulking rainbows were laid on the scale by Pam Carillo and Laurie Yocum as time was ticking, only to be immensely relieved when the two fish settled on the scale at 7.15 and 7.82, respectively. Phew, dodged two last bullets…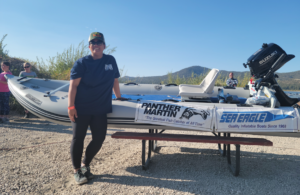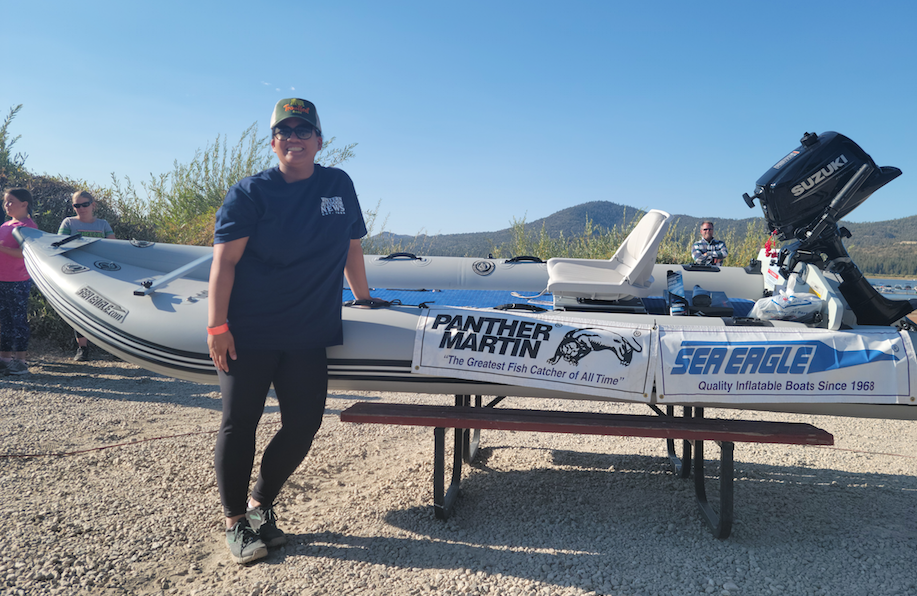 Again, most of the day two catches came via the troll, although anglers did report a little better bite on PowerBait and nightcrawlers than the day before. The final limits of the day were weighed in before the scales closed at 2 p.m., and the focus and anticipation turned toward the mid-afternoon awards ceremony to see who would be crowned 2021 Troutfest winners in each of the four divisions, along with all the prizes that were set to be awarded and raffled off. Not long after weigh-ins were over, the Troutfest crowd began filling in and finding their preferred spots with their chairs in front of the main stage as music rang out and WON staff prepared to dish out all the sought after goods.
The ceremony kicked off with tournament director Billy Egan welcoming the large crowd to the return of Troutfest, and said crowd responded with a loud roar and cheers all around. First up was the Junior Female and Junior Male winners, divisions in which drew a lot of interest at this year's event and were well attended.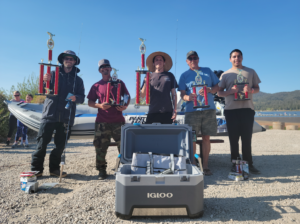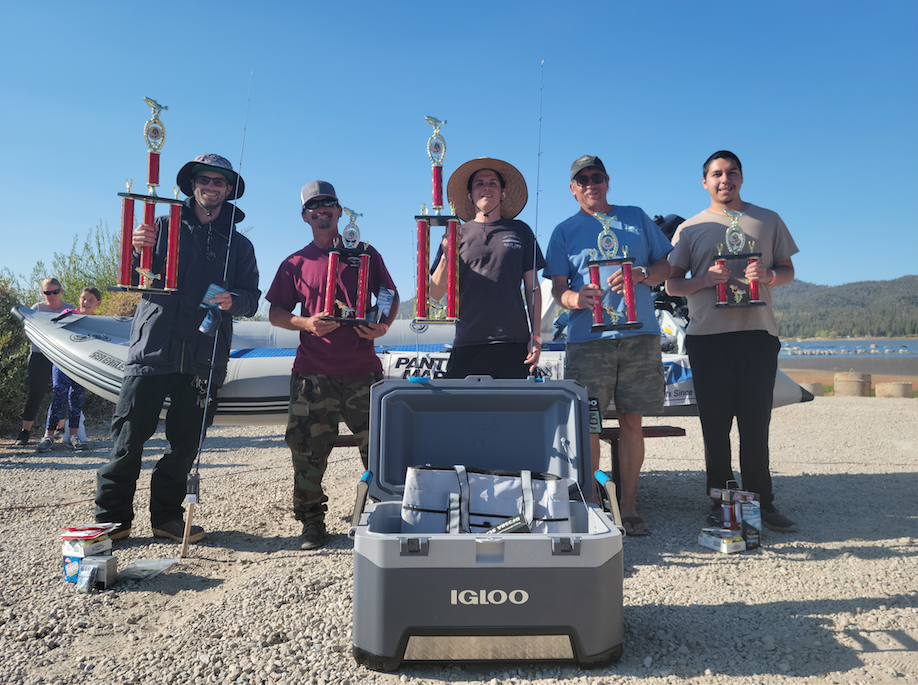 Weighing in with over 6 pounds of trout on each day of the derby, it was Giana Gomez who claimed the Junior Female title with a total weight of 13.14 pounds, just barely edging out Troutfest veteran Sierra Harris who posted a solid total of 12.97. Third place went to Marylin Amorso (7.38), followed by Samantha Hensley (5.76) and Samantha White (3.29).         All the girls went home with a slew of prizes for their strong efforts.
It was Christian Briceno's steady 5-fish limits on both days of fishing that provided the narrow margin to victory as the Junior Male champion with 9.03 pounds over runner-up Tobias Valenzuela with 8.83. Following the two top spots were Logan Weaton in third with 6.09, Bode Johnson with 5.96 and Nick Amorso Jr.'s 5.44 pounds. The boys, too, went home with plenty of swag as well.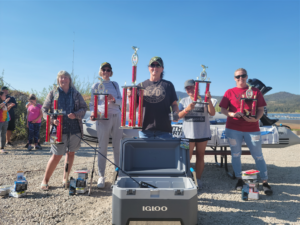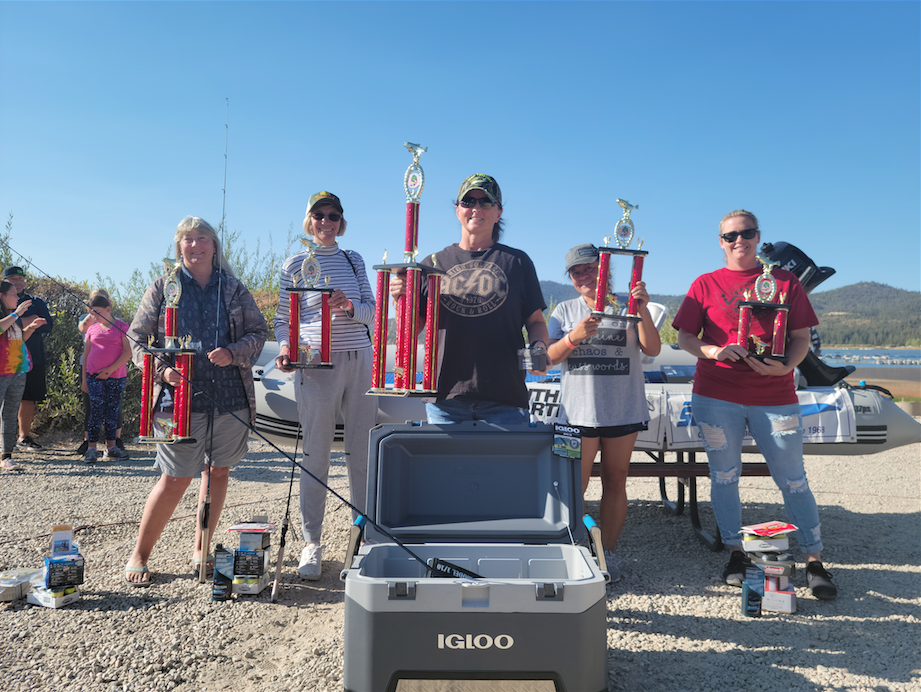 General raffles then followed and saw lucky anglers claim their fair share of prizes as well, as director Egan doled out hard and soft-side Igloo coolers, Fenwick rods, Pfleuger reels, $250 Huk Performance Gear gift cards, Berkley bulk spools of monofilament, Panther Martin lure kits, free pontoon rentals from Pleasure Point Marina and much more.
Next up was the Blind Bogey winners, and 20 anglers scored nearly $100 apiece when Egan called out the randomly pre-selected weights and correlating names who came closest to those weights without going over.
It was then the adults turn for the spotlight. It was beyond a no doubter in the Adult Female Division as Laurie Yocum dominated the competition — both the men and women — with a whopping 27.03 pounds of trout over two days, clearing the next heaviest weight by 10½ pounds. Runner-up in the division went to Erin Bougie with a rock solid 14.76, followed by Pamela Carillo (13.75), Judy Palma (13.57) and Bobby Blacksher (8.98).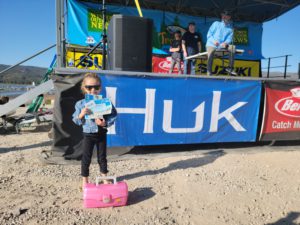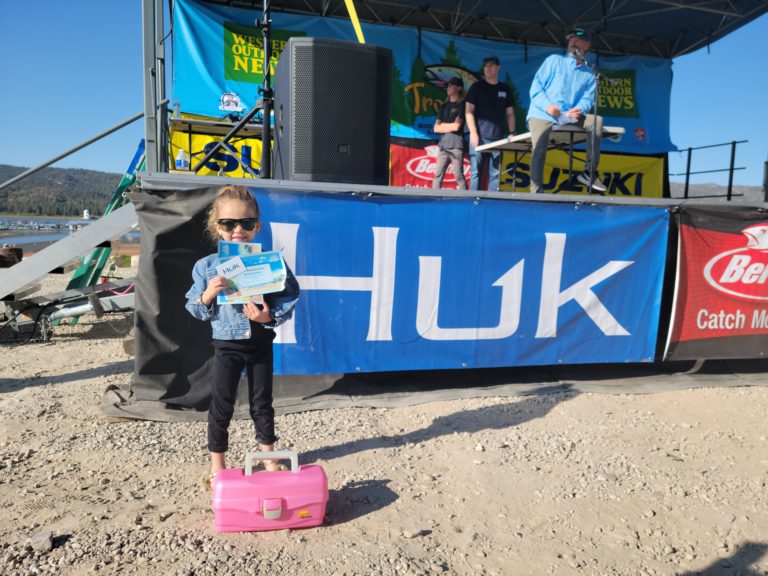 For the guys, it was Daniel White edging out Sean Kinney 16.54 to 14.09 pounds in the Adult Male Division. Third place went to Richard Keijner with 13.56. He was followed by Philip Bougie (13.52) and Juan Gonzales (12.85) to round out the top 5 in the division.
After all the winners were announced and another round of raffle prizes were dished out, it was on to the big-ticket items: the Biggest Overall Fish winner and the Grand Raffle Prize — a 15-foot Klamath Advantage aluminum boat armed with a 20hp Suzuki outboard valued at $14,000.
The 8½ pounder Valerie Valle brought in early on day one ultimately held up as the heaviest trout of the two-day tournament, and she could finally breathe easy and let her nervousness blow away in the afternoon Big Bear breeze. Prevailing with Troutfest's overall big fish earned the lady angler a brand new Sea Eagle 437PS Paddleski inflatable and Suzuki 6hp outboard valued at over $4,500, along with an extremely life-like replica of her trophy catch courtesy of Global Fish Mounts — certainly quite the score for that one big, early October weekend bite.
Anticipation was high as Egan revved up the crowd and thanked all involved for attending the event in preparation for the big announcement of the Grand Raffle Prize winner. One lucky raffle ticket was pulled from the hopper and called out to the crowd… Seconds later longtime Troutfest angler Robert Gerardi raised his hand, stood up and started making his way to the stage to claim his prize.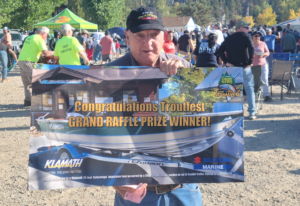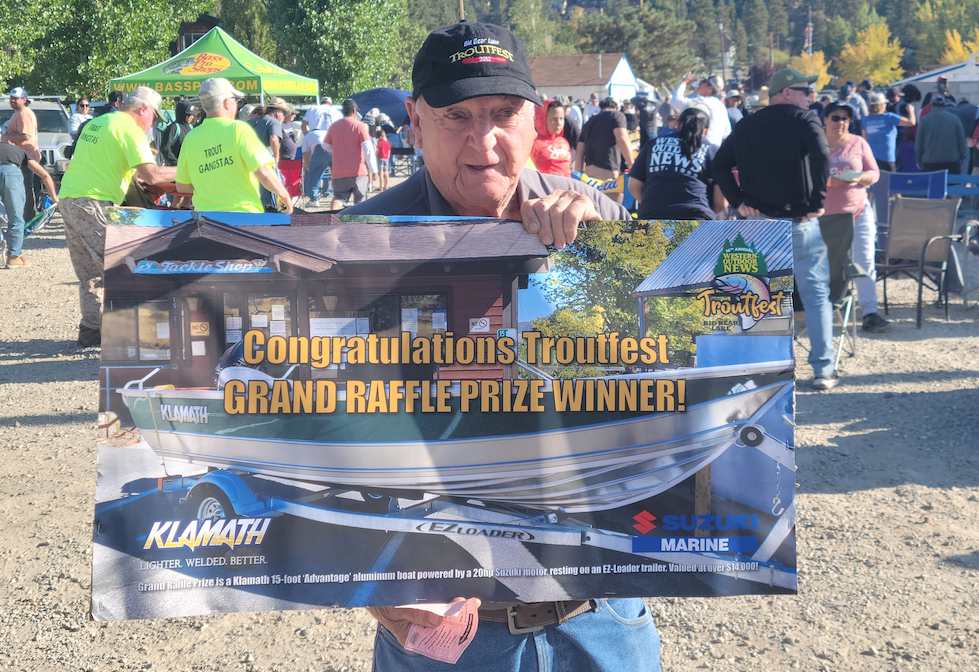 "I can't believe it," Gerardi said with a stunned smile. "Isn't this something? I've been fishing this tournament for years but I never expected this."
And with that, everyone gathered up their prizes and got ready to head back down the hill. Sure enough, yet another successful Troutfest in the books.
See everyone next October for the 17th annual installment of Big Bear Lake Troutfest!
Western Outdoor News would like to thank all of its great Troutfest sponsors that make this terrific event possible: Klamath Boats, Suzuki, Berkley, Huk Performance Gear, Sea Eagle, Fenwick, Pfleuger, Panther Martin, Thomas Buoyant, Rooster Tail, Frogg Toggs, Igloo, Global Fish Mounts, Big Bear Marina and Pleasure Point Marina.