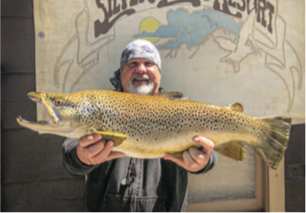 JUNE LAKE — It might be a coincidence or maybe on schedule, but just like last year, an early June monster brown trout has come from the waters of Silver Lake.
Last June it was a 19-pound, 3-ounce behemoth, and this year, Kelly Carlisle from Big Bear boated a beautiful 10-pound hookjaw after a battle on 4-pound line that lasted nearly 90 minutes. Sadly, after a heroic attempt to revive and release the fish, it did not survive.
"He tried to release it. I watched him," said Andrew Jones at Silver Lake Resort.
The big brown set the tone of fishing in the Eastern Sierra as anglers continue to connect with bigger fish, despite an overall slowdown in the numbers being caught. There are a couple of reasons for this.
Typically, trout dive for cooler water as summer temperatures climb. This means successful anglers know where the deep holes or cooler underwater springs are located. The second reason is the reduction in stocked pan-sized rainbows by the California Department of Fish and Wildlife because of a disease outbreak at local hatcheries.
Local stocking efforts have ramped up to bring in the bigger trophy rainbows, but a light winter snowpack will also mean less water as the season plugs along. So, here's a digest of the season ahead.
Overall, fewer fish, but still plenty to keep anglers happy. Lower water flows and lake levels will also mean anglers will
have to adapt sooner to summer tactics and not expect easy limits on pan-sized rainbows.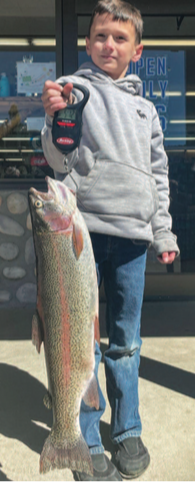 One bright spot will be the wild, backcountry lakes. WON Staff Editor Mike Stevens just returned from a week in the Sierra and reported a good bite for wild brook and rainbow trout in open backcountry waters. These are not big fish, but they are scrappy and aggressive because they have a short feeding season and will react quickly to just about any fly on the water.
My favorite rig for backcountry is a barbless fly and bubble combo or a light fly rod. You don't need a huge tackle box and with a couple of extra flies in your pocket it's not uncommon hook up and release 60 to 100 fish on any short hike.
The big Silver Lake brown was not the only bragging fish this week, however.
Lower Twin Lake in Bridgeport kicked out an 8-pound brown for Mammoth resident Jose Ballesteros, who was trolling a custom painted lure. Upper Twin Lake was also in the game with a hefty 5-pound, 12- ounce rainbow landed by young Logan Garner, who was not much bigger than the fish. Logan was dunking Power Eggs from shore. At Bridgeport Reservoir, guide Ken Hoffman reported a 6-pound, 1-ounce rainbow landed by Karl Ganz from Henderson, Nev., who was trolling a worm.
Maybe the best story of the week was from Chris and Ashley Szayer, who came up from Corona to get married at Convict Lake. At least that's their story.
After a quick ceremony the newlyweds headed to the water where the competition began.
Chris ended with big-fish honors, catching a 6-pound rainbow with a nightcrawler at Lake Mary, but wisely admitted that Ashley, "out fished me by catching the most fish."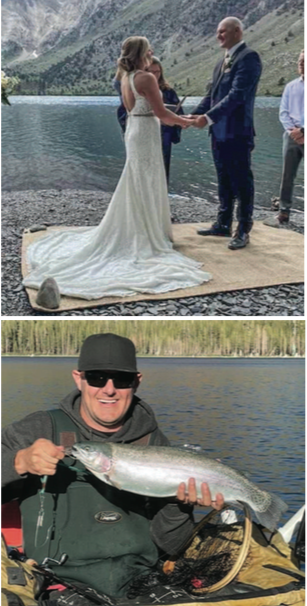 In most other waters, there were lots of stringers with 2- to 4-pound fish, and even some full limits of pan-sized rainbows. C.K. Cervantes from La Verne was one of those who seemed to be a fish magnet. He was in a boat at Convict Lake where he caught and released 19 rainbows during his outing.
In Bishop Creek Basin, a low water level at South Lake means boats are not out yet, but Jared Smith at South Lake Landing is hoping levels will rise enough by June 25. In the meantime, anglers are doing well at Boiler Cove at the inlet, but don't overlook the creeks.
"There is plenty of stream to wet a line in and working pool to pool will get you a chance at some stockers and some wild brown and brookies," Smith said. Both forks of Bishop Creek have been stocked and Smith suggests anglers keep moving and covering water.
"If you don't see any fish or get bit within the first 30 minutes, probably best to move along to the next hole," he said. Salmon eggs have been the best producer.
Weir Pond, downstream from South Lake has been good for small brookies along with the occasional rainbow and brown, according to Smith
Patti Apted at Lake Sabrina reports that water levels continue to rise and boats can be launched. Additionally, the lake has been stocked with larger Oregon trophy rainbows and
they are being caught, including a 5-pound, 12-ounce rainbow taken with a Mice Tail and a 4-pound rainbow that liked PowerBait.
Campgrounds in Rock Creek Canyon are all open now and anglers are reporting a good bite in the creek with salmon eggs working best. At Rock Creek Lake, Dan Gould from San Clemente reported a day with very little wind, "and they were biting. Nothing big, but a lot of fun." A big draw in Rock Creek Canyon is easy access to wild trout like beyond the Mosquito Flats trailhead. The lakes back there are a short hike to reach and filled with wild rainbows and brookies.
Convict Lake continues to be one of the most active fishing holes in the Eastern Sierra, with both good numbers and larger fish being caught. The best action has been on inflated nightcrawlers, Pinched Crawlers and garlic PowerBait, with the south shore an inlet the hot spots.
"The weather has been a bit warmer and the fish have gone a little deeper, so going down 30 to 40 feet has been productive for trolling and bait fishing," according to the Convict Lake report.
The guides who work Crowley Lake are calling this big water "the best game in town right now." Winds have died down, weather has been ideal, but most importantly the bite has been on.
Doug Rodricks of Sierra Drifters Guide Service says there have been enormous midge hatches on the warmer days and hungry fish have been eagerly feeding. Guides at Shon E guide service say water temperatures are rising and fish are feeding all over the lake, with McGee Bay, Alligator and Sandy points and Hilton the most productive areas. Fishing in 22 to 28 feet of water has been best. Find drop offs and sit on the edges with nightcrawlers, Pinched Crawlers or Gulp! On a 10- to 16-inch leader is a good bet.
Depending on the temperature, fish are up and down at lakes in Mammoth Basin. The best bet is a boat or float tube to get into deeper water where the bigs are holding and that will be an even better tactic as summer heat continues. Early and late are also good bets.
While the big brown was top news in the June Lake Loop, there were some other nice fish being caught as well. At June Lake, Brett Harper from Long Beach hauled in a 7-pound cutthroat using chartreuse Power-Bait tossed from shore below the highway. June Lake has been the premiere cutty source this season.
Gull Lake continue to produce some larger rainbows in deeper water, and the brown bite continues at Grant Lake, especially in the evenings with trolled Rapalas or Needlefish.
The stocking of Lee Vining Creek with trophy trout, thanks to the local Chamber of Commerce, continues to bring smiles to anglers reeling in rainbows to 6 pounds. This might be one of the best "secret spots" in the Sierra right now. The road into Yosemite from Lee Vining is now open, providing access to Tioga, Ellery and Saddlebag lakes. Water at Lundy Lake remains quite low, but anglers are reporting some nice fish being caught for both shore and tube fishermen.
At Virginia Lakes a total of 1,200 pounds of DFW and Oregon trophy rainbows went in last week, so summer anglers should expect some bigger tugs. In the meantime, big fish of the week was a 4-pound rainbow hauled in at Big Virginia by Justin Lee from Santa Clara using an orange PowerWorm. Little Virginia Lake also produced several 2- to 4-pound-plus rain- bows last week.
Bridgeport area waters continue to be a good destination for anglers looking for bigger fish. Guide Ken Hoffman has been putting clients into some nice fish, including a 6-pound, 1-ounce rainbow for Karl Ganz from Henderson, Nev. who was trolling a worm. Jim Reid at Ken's said the best fishing has been from boats, although the has been some shore action. At Twin Lakes, both Upper and Lower Twin are yielding some bigger fish as reported above. Reid said early and late has been better, which veteran trout hunters know is the trend as summer heats up.