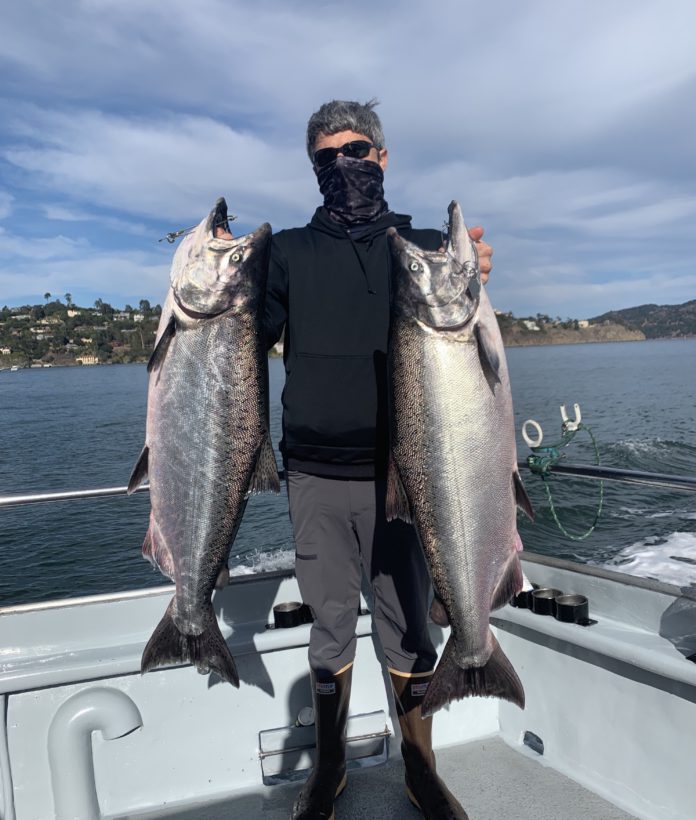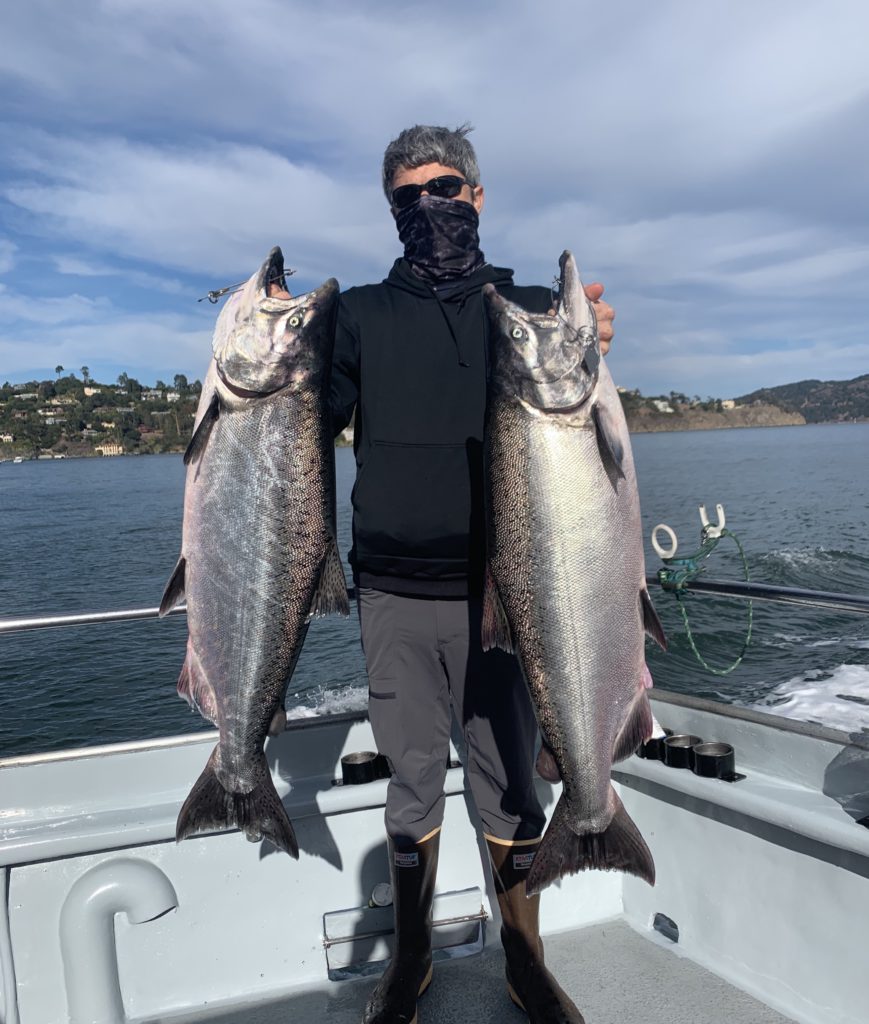 BY CAPT. DAVID BACON
SAN FRANCISCO BAY and SAN PABLO BAY – The exceptional late season salmon bonanza continued for the Bay Area salmon fleet. Superb quality fish hit the decks all week, ranging from 14-18 pounds with a few jackpot fish surpassing the 30-pound mark. Mid-week passenger loads were light and both Tigerfish and Pacific Pearl from Fish Emeryville scored limits of bright fish on consecutive days. The Marin Coast remained the area of choice and boats found calm fall weather all week. El Dorado and New Easy Rider from Berkeley Charter Boats fished salmon nearby. Jerry Christianson from Newark caught a 27-pound salmon above Duxbury while fishing on El Dorado. On New Easy Rider, Luis Palermo boated a 33-pound beauty trolling off Muir Beach.
Numerous other boats found good salmon action. On Salty Lady out of Sausalito, Capt. Jared Davis said, "Somewhat hit and miss with full grown adult spawner salmon moving through in waves, but hit it on a good day and the potential for scores of a fish per rod up to limits of huge fish is very real". Kyle Blount from Mountain View was photographed with his 24- and 26-pound salmon caught at Rocky Point. James McNear from San Rafael had 26 and 29-pound salmon. These guys used 6-foot mono leaders behind UV flashers with premium bait tray anchovies threaded onto custom wire hooks. Outer Limits and New Rayann also out of Sausalito had a salmon per rod. Lovely Martha from Fisherman's Wharf had better than a fish per rod.
Rockfish anglers enjoyed some of the best fishing of the year as the fleet took advantage of the calm weather and made the trek to the Farallon Islands daily. Tigerfish, Sea Wolf and New Huck Finn from Fish Emeryville collectively reported in 59 limits of rockfish and 41 lingcod to 24 pounds. School fish were a mixed of quality yellows, widows and vermilion. Happy Hooker and other Smith family boats like California Dawn and Pacific Dream fished rockfish on the weekends at the islands thanks to great weekend weather. California Dawn had 3 consecutive days with identical reports of 17 limits of both rockfish and lingcod.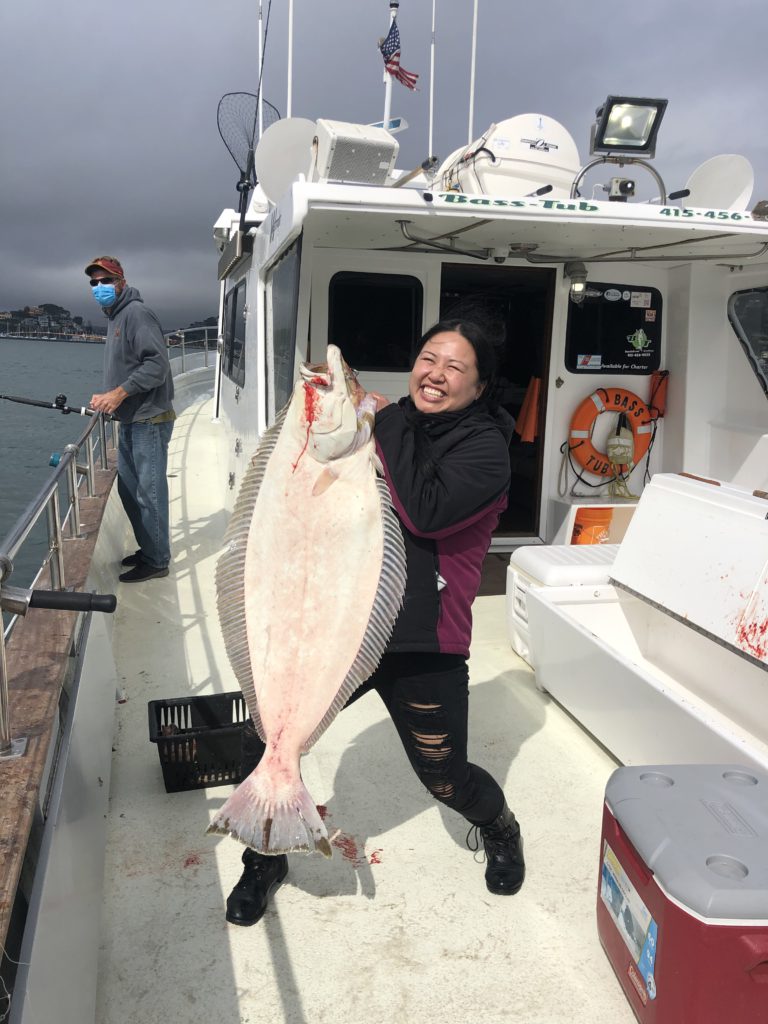 The Smith family of captains and crew all took a trip together to San Diego for a 3.5-day trip. Report from Capt. Chris Smith was that the group caught limits of dorado, yellowtail, yellowfin and a jumbo 260-pound bluefin tuna.
Halibut fishing continued, though the fishing pressure on them has declined seasonally. Bass Tub from Fisherman's Wharf was out over the weekend catching flatties in Central Bay where Michelle Kostick of Petaluma caught her first halibut, a 32 pounder which is a very nice first one. Striped bass slowed down except for up in San Pablo Bay where catches were reported from Loch Lomond Marina and all along the lower San Pablo Bay to the east end at Vallejo where striper action on the waterfront near Norm's bait & Tackle has been good. Capt. Bill Clapp on Dream Fisher ran halibut and bass Bay trips out of Richmond Marina Bay Yacht Harbor. He also ran for salmon on days when the counts were good.
Nearly every boat skipper who provided a report this week mentioned the importance of advance reservations for upcoming Dungeness crab/rockfish combo trips in November and December. Dungeness season opens November 7. Some boats are full for the first couple of weeks, for example, Salty Lady which moves from Sausalito to Emeryville Marina for the crab/rockfish combo season.