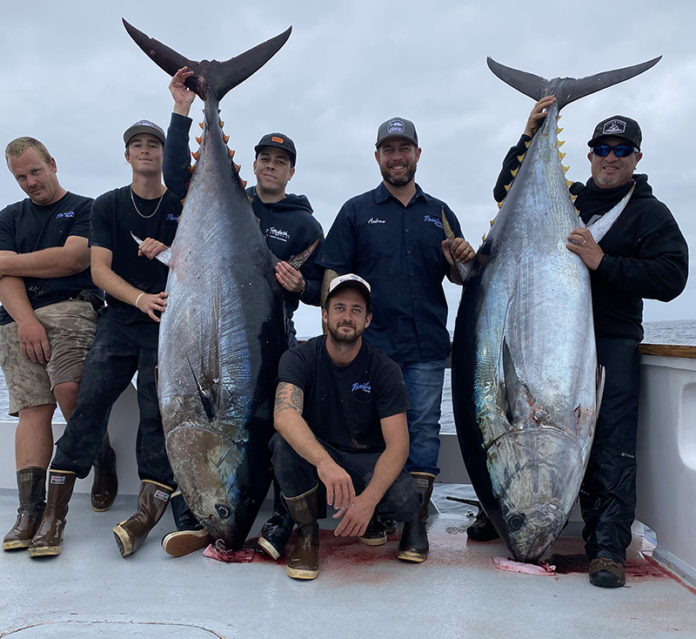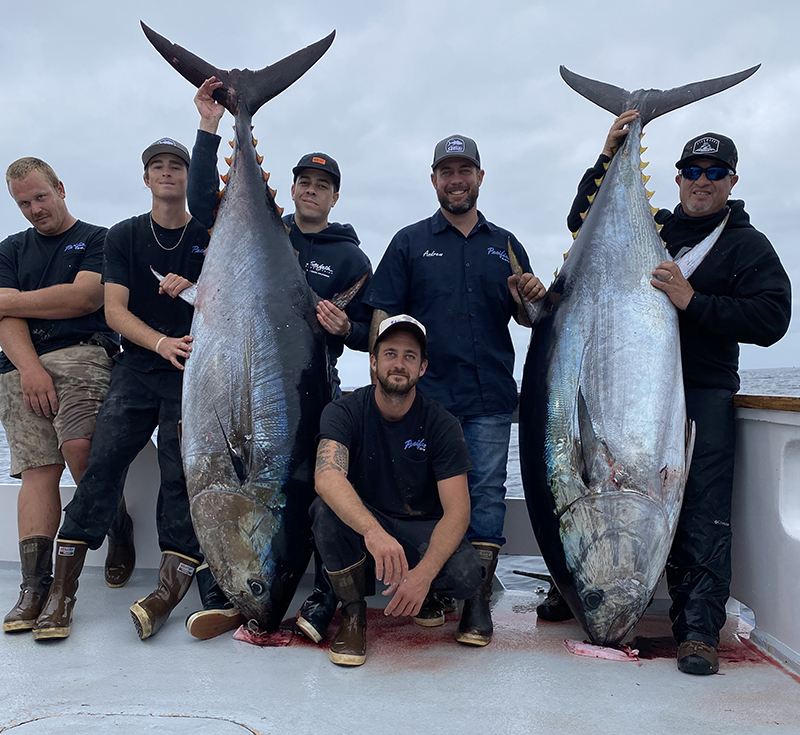 SAN DIEGO — Again this past week the offshore bite the San Diego fleet was into featured both limit-style fishing for yellowfin and skipjack tuna juxtaposed to mossback yellows and bluefin tuna from 30 to over 300 pounds. A lot of triple digit bluefin were hauled in as the bite included a solid dusk helping of those larger model tuna on the Flat-Fall style glow iron.
Starting with the southern bite just over the border and just outside the 12-mile line from the Coronado Islands in easy full-day range, the yellowfin involved were bigger being 12- to 18-pound class. There were a fair number of those between 20 and 30 pounds thrown in for good measure too.
Some stops the skipjack tuna would swarm too and while the recommended tackle was a 20- or 25- pound stick, fluoro leader and small hook the evidence of large to limits counts pointed to the fish eating the heavy line too at times – 40-pound tackle and maybe more.
This is not a circle hook bite and you'll need standard fly-lining hooks with crews standing by the old-school Mustad #4 and #2 on the lighter set-ups. Heavier line will require larger hooks of course, or you'll just tear out to pull that hard.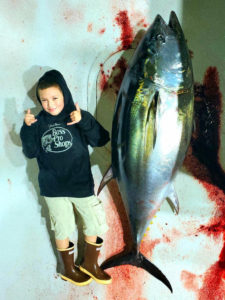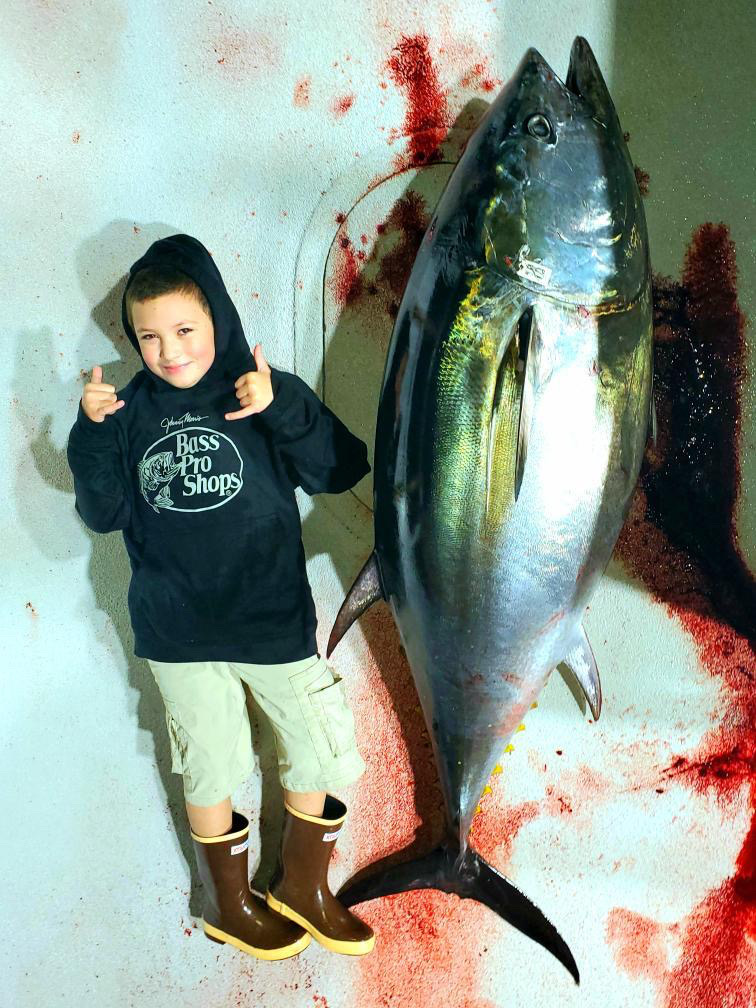 H&M Landing's Heather Ferrari relayed, "(Capt.) Steve Gawitt owner/operator of Mustang Sportfishing recommends that you change your bait almost immediately (30- 60 seconds) if you notice that its not swimming well or heading back to the boat. It's all about bait selection. Steve has been limiting by mid morning. He states the weather has been flat calm. Weather is supposed to come up again on Monday."
Regarding the bluefin bite on and near the outer banks, Tanner/Cortes, Ferrari said, "Rick Scott operator of the Ocean Odyssey returned home from his 1.5 day trip. They are fishing in US waters. Make sure you bring your fishing license. He stated 80% of the fish were caught on the Flat-Fall. Bring your heavy tackle. A passenger who landed a 176-pound bluefin sent me what his exact set-up was – 280g Flat-Fall, 200-pound fluoro, 150-pound braid, Makaira 20 on a Okuma 150- to 200-pound rod with a 12 minute fight."
And Ferrari provided the following accounts: "The Top Gun 80 returned from their 3.5-day trip with 70 bluefin – 20 over 100 pounds. One standout was angler Mike Reader who caught a 248-pound bluefin tuna on a Shimano Flat-Fall. Great trip for them."
"The Sea Adventure 80 kicked things off midweek with 15 bluefin and 5 over 150. After this trip the fishing went into high gear with multiple boats scoring bluefin."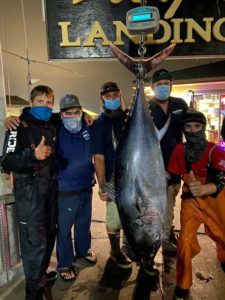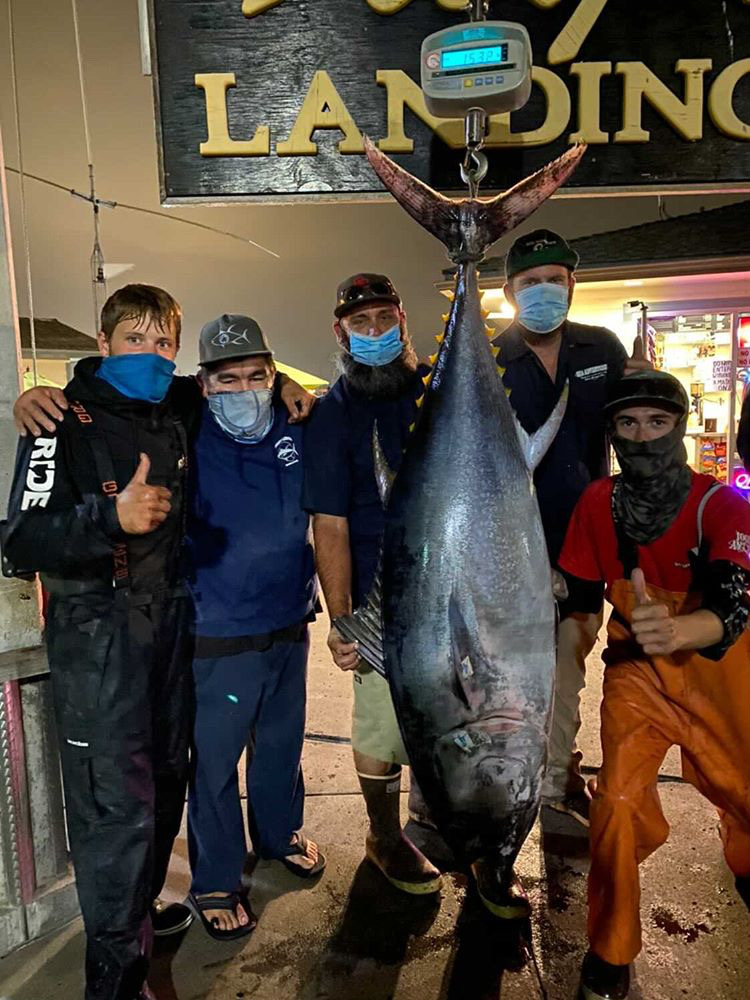 Angler Andrew Mack was aboard the Ocean Odyssey. His words were, "We had 5 going at one time, first one hit the deck 185 pounds by Ron Hester – smoked him in 20 minutes. Then another 100 pounder, then 180, then 2 140s then 2 others in the 80-100 pound range were going. It was awesome. And just like that they left. We lost a few fish that spit the hook. Flat-Falls definitely got eaten that's fer sure."
He said he was bit and sawed off as others sat down to dinner, then went to eat and the bite just took off. He too noted the dusk bite was solid on even the heavy line, 100- to 300-pound leaders.
As for the Mexican waters bite, trip after trip this past week rolled in with full limits – more than could possibly be enumerated here. It was fun fishing and ideal for the less experienced groups – easy fly-lining, maybe a small egg or other sinker.
More on the highlights and big bluefin: From Point Loma Sportfishing, the Pacific Islander on a 1.5-day had 12 triple digit bluefin along with 118 mossback yellows, the larges an awesome 274 pounder.
The Game Changer luxury 6-pack was out on a 4-day and had 30 bluefin in the hold including 2 over 200, and the rest from 60 to 190 pounds apiece.
The New Lo-An was back from a 3-day with 20 anglers aboard. They decked 60 bluefin with most weighing in at 90 to 130 pounds, and 40 yellows.
Over at Fisherman's Landing the Pacific Dawn reported landing 46 bluefin, with 14 between 35 and 50 pounds and 32 from 90 to 306 pounds. The 19 anglers participating in the Pegasus' 1.5-day had their 2-fish limits of bluefin including 22 over the century mark, 2 cows besting the 200-pound mark with the larger one at 267, 8 fish between 60 and 80, 6 from 40 to 50 pounds.
The Pacific Queen was back from a 1.5-day with 42 bluefin. There were 12 over 100 and 2 cows over 200. The Outrider had fish to 190 pounds.
The Tomahawk's 1.5-day resulted in 52 bluefin with 6 from 40 to 90, 4 from 210 o 220, a 245 and a 250.
Crews recommended a 25-pound outfit for fishing yellowfin, a 40- to 60-pound rig and a third heavier 2-speed rig filled with large braid from 80- to 100-pound for fishing the Flat-Fall.
Circle hooks were recommended for bait fishing bluefin – No. 1 to 2/0. The fish bit fly-line, sinker rigs and the iron.
Over at Seaforth Sportfishing the Pacifica and Capt. Andrew Viola had a pair of super cows among their weekend catch – tuna over 300 pounds, one at 353 and the other at 356, a new boat best.