BY MERIT McCREA
SAN DIEGO — Capt. Jason Coz put his 22 half-day anglers on nearly 100 bass Sunday morning, with a final score of 93 sandies, 3 calico and 17 sculpin. That's some solid local wintertime bass catching. The action has been down the beach recently and it's been steady. But Sunday's score was a definite boost bass-wise.
The sandies were nicer models from 14-inch keepers to 6-plus pounds, mostly on leadhead and squid with some on the plastics, including Hookup Baits. Also in the mix were 1-ounce
slider and squid.
Several 1.5-day boats made the run south to fish Colonet's deep reefs. As always, results included some heavy catches of nice reds and other rockfish. A few yellowtail on the yo-yo iron added some string-pulling action.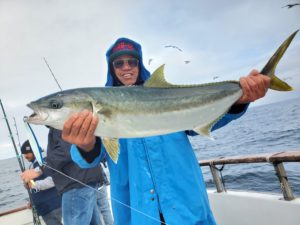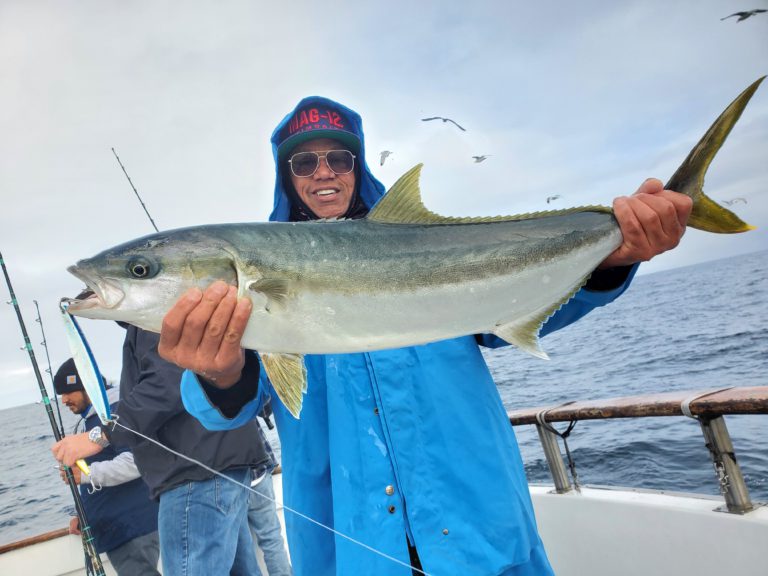 The Pacific Queen was back Sunday morning with her 22 anglers landing 5 yellowtail to go with 9 lings, 13 big bonito and 238 rockfish, including 68 reds. Kevrette Johnson fished and landed 1 of 4 yellows he hooked on the yo-yo. He filled out his limit with rockfish.
The Tribute crushed the ocean whitefish with her 30 anglers putting on 112 of the razorgills to go with 151 rockfish with 58 reds, 21 lings and 6 bonito.
From H&M Landing, the Relentless was back early last week from a 2.5-day Monday morning with 15 anglers getting 2-day limits on the fish, which included 150 reds along with 125 rockfish of other types, 19 lings and 6 yellowtail.
This past weekend the Ocean Odyssey took 17 anglers down the line on a 1.75-day to take 92 fat reds, 216 other rockfish, a pair of yellowtail and 15 bonito, plus 19 lings.
That landing had the Alicia out fishing hoop-nets for lobster. Lots of lobster under the minimum size limit arrived in the floodlights each evening. A few keepers allowed pullers to average a lobster each for their efforts.
Anglers looking to get aboard a Colonet trip booked for Friday departures, fishing Saturday and arriving back dockside early Sunday morning. The 1.75-day trips left Friday 11 a.m. while the 1.5-day trips left that evening.
Oceanside saw the Oceanside SEA Center put the Chubasco II out on 4 half-day trips last week. Catches were mostly tasty sculpin, with Monday's crew of 21 landing boat limits — 105 scorpions.