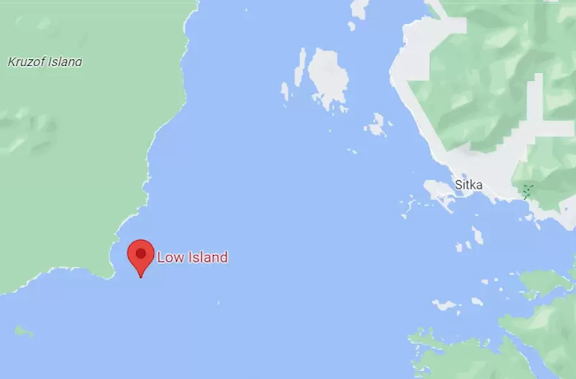 BY MIKE STEVENS
SITKA, AK. – The U.S. Coast Guard (USCG) suspended its search at sunset Monday, May 29, for four missing individuals in the water near Sitka, Alaska. The search was initiated by USCG staffers at Sector Juneau after Kingfisher Charters called and said a 30-foot boat with five people (a captain and four passengers) aboard did not arrive at its destination.
The vessel was found partially submerged near Low Island, approximately 1 mile east of Shoals Point, Kruzof Island, and it was last seen underway on the afternoon of May 28 in the vicinity of Cape Edgecumbe, near Sitka Sound. The USCG recovered one deceased individual the following evening.
"There are currently so many unknowns, we are thankful for the coordination efforts from several municipal agencies including the Sitka Fire Department and Good Samaritan vessels on scene." said Lt. Trevor Layman, Command Duty Officer.
Coast Guard crews searched a total of approximately 825 square miles over the course of more than 20 hours utilizing both air and vessel search crews.
"Despite our best efforts and those of several partner agencies, we were not able to find the four remaining individuals, " said Capt. Darwin Jensen, Captain of the Port Southeast Alaska. "Suspending a search is never an easy decision. We extend our deepest sympathy to the loved ones during this difficult time. Our sincere thanks to community partners and the good Samaritan vessels who rapidly responded to help in the search." 
Sources close to Western Outdoor News and the sportfishing scene out of Sitka, in particular, said there was no distress call made from the vessel itself, and the recovered victim was not wearing a life jacket. That suggests whatever caused the boat to capsize was a sudden incident that occurred with little or no warning.