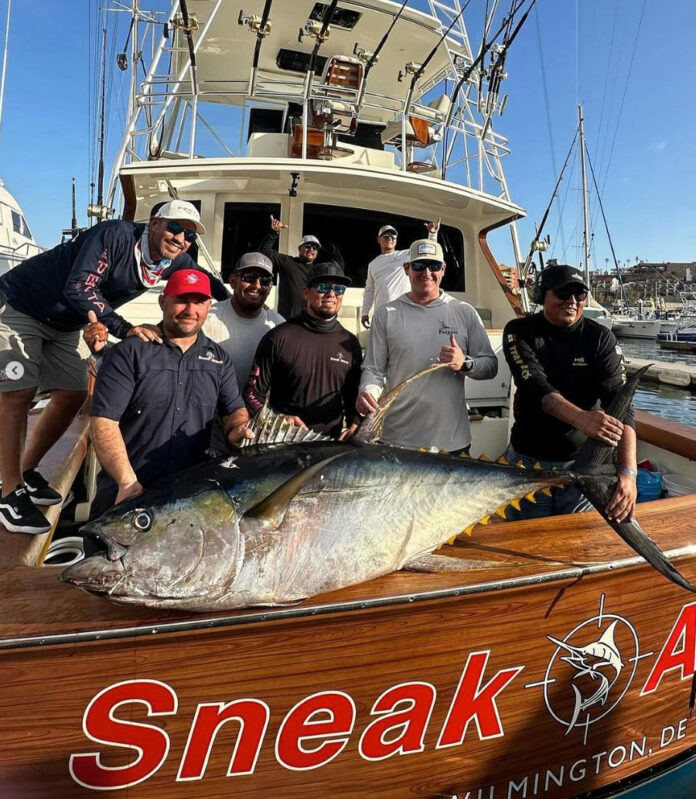 Total tournament payout just shy of $ 1.5 million
BY MIKE STEVENS
CABO SAN LUCAS— A 284.65-pound yellowfin tuna brought to the Western Outdoor News Cabo Tuna Jackpot (CTJ) weigh-in stage on Day 1 of the two-day event was able to hold off all every fish that followed and secure the overall victory in the richest tuna tournament in the world. The total payout for the 2023 installment the CTJ was $1,469,900.
Before the second day of fishing, that fish earned over a half million dollars for Sneak Attack which was "all in" across seven levels of tuna optionals (side pots) that paid between $17,800 and $153,000 each. Sneak Attack swept the Day 1 tuna optionals, and as the overall winner they grabbed another $57,375 for a total payout of $585,775.
Team North Star similarly mopped up in Day 2 with a 102.75-pound yellowfin that scored the same all-in payout, and they would finish second overall.
In the dorado optionals, Overtime locked up both the $1,000 and $3,000 optionals on Day 1 for a total of $100,400 thanks to a monster 52.45-pound bull. The Magnetic earned the same paycheck on Day 2 with their 47.30-pound dorado.
Four teams got paid in the wahoo optionals including Lands End Charters who bagged a 26.6 pounder and grabbed the $1,000 Day 1 optional worth $36,400. Stormbird did it on Day 2 with a 36.05-pound 'hoo. In the $3,000 wahoo optional, it was Stormbird and a 24.95-pound wahoo worth $36,000. On Day 2, team Retriever earned a $36,000 check of their own with a big 39.85 pounder.
Finishing in third place overall behind Sneak Attack and North Star was Castro's Tournament Team who brought a 95.10-pound yellowfin to the weigh-in stage nestled between Captain Tony's and Solomon's Landing on the waterfront a short walk from CTJ host hotel, Tesoro Los Cabos.
Full coverage of the 2023 WON Cabo Tuna Jackpot will appear in the next issue of Western Outdoor News.