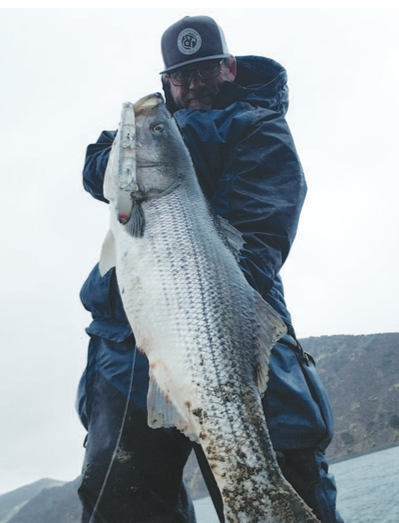 BY BLAKE WARREN AND ANDREW MACK
GORMAN – Area anglers "in the know" have been going at it for a few weeks now at Pyramid Lake. Chucking and winding big swim and glide baits from the banks and connecting with large striped bass that've been putting their aggressive predatory nature on full display, all while trying to contain their excitement and keep the rare bite going for at least one more day, and hopefully, yet another and another after that.
To that point, the collective Pyramid shore brigade has done a pretty good job of that too these last few winter weeks, popping quality jailbird after quality jailbird as quietly as hu- manly possible for an avid angler, with just an occasional photo and minimal details slip ping through the cracks here and there in attempts to keep the proverbial cat in the bag and keep it rolling. However, this past week, that cat has scratched, clawed and meowed its way right on out of its weeks-long confinement in a loud way.
A string of DFW trout plants in recent weeks, along with some "actual winter weather" here in SoCal and a low water level created the perfect storm for shore pounders, who have been taking prime advantage of the conditions the last few weeks and connecting with some big linesides. It was trophy hunter Rob Flatta of Canyon Country who capitalized big time midweek, scoring a 37-pound jailbird from the banks just a day after heart- breakingly coming unbuttoned to a behemoth in the 50-pound class.
Throwing a 14-inch Finnbait Customs Great Grandpa trout imitation, Flatta had covered a mile or two of shoreline with countless casts when a violent blowup engulfed the big bait. Having a 47.8-pound Castaic striper on his resume' already along with a handful of trophy Willow Beach jailbirds, Flatta was well aware he had a true giant on the business end of the swimbait and that was confirmed after about a 10-minute fight and getting the behemoth fish just a few feet from the bank. The lineside's final run proved costly, however, as the big fish managed to spit the hook in the final moments for the ultimate heartbreak.
His resolve only strengthened by the loss, the angler returned the following day with the same game plan: big bait, countless casts and covering lots of shoreline. A few hundred casts in, Flatta again had his trout imitation slammed, but this time after a few drag-peeling runs he managed to beach the 37 pounder — not too shabby of a consolation prize after the previous day's hook-spitting tragedy.
"The water is down almost 40 feet in some areas, so there's a lot of new access on the shore that usally isn't available," he told WON.