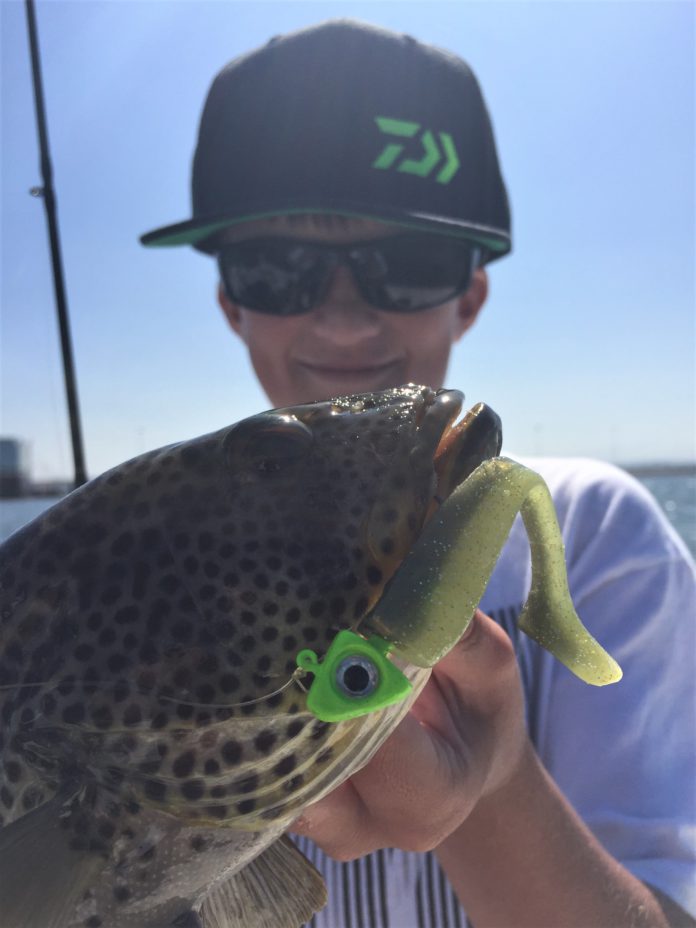 BY CAPT. BILL SCHAEFER
SAN DIEGO – With all the great fishing going on right now the choice of what to chase can be hard. But, weather can change in an instant or sometimes your schedule doesn't permit an all day tuna trip, yet you need to have a tug on your line and catch some fish. Bay bass fishing can be that outlet for you and San Diego's Mission Bay is red hot right now. There is a ton of bait in the bay and the bass as well as other species are attacking lures.
With 5 different launch ramps, it's easy to get in and out of the water quickly and back to that appointment you may have. Check the tides and as long as there is moving water you should catch fish. The types of fishing you can do in Mission Bay are endless. There are a lot of docks to flip, rocky shorelines, sandy beaches and weed beds that go on forever. We found on a recent outing to the bay that the bass are really schooled up in the thicker weeds. Watch for the beds on your meter and fish those areas thoroughly.
Freshwater techniques really work well in this bay. Light tackle, spinning gear or casting gear will do the trick; a 6 ½- to 7 ½-foot rod with braid and a fluorocarbon leader. I like my Daiwa Back Bay setups for the two bays I fish most. For jigheads, ¼-ounce is all you will need most of the time, for most of the bay is only 10 to 12 feet deep. Straight jigheads or underspins will do well with your choice of 3- to 3½-inch swimbaits or grubs. For colors, experiment with different colors and size tails, but variations with chartreuse are a favorite of many Mission Bay anglers.
Don't leave your crankbaits at home either, they work well in this bay for the bass. I like floating ones better than neutral buoyancy ones as, on the pause of your crank, they will float up in an erratic motion. Nine times out of ten you will be bit on the pause or just as you start up winding again. It takes a little practice to learn to bring the bait in just above the weeds, but once you get it, the fish will bite hard.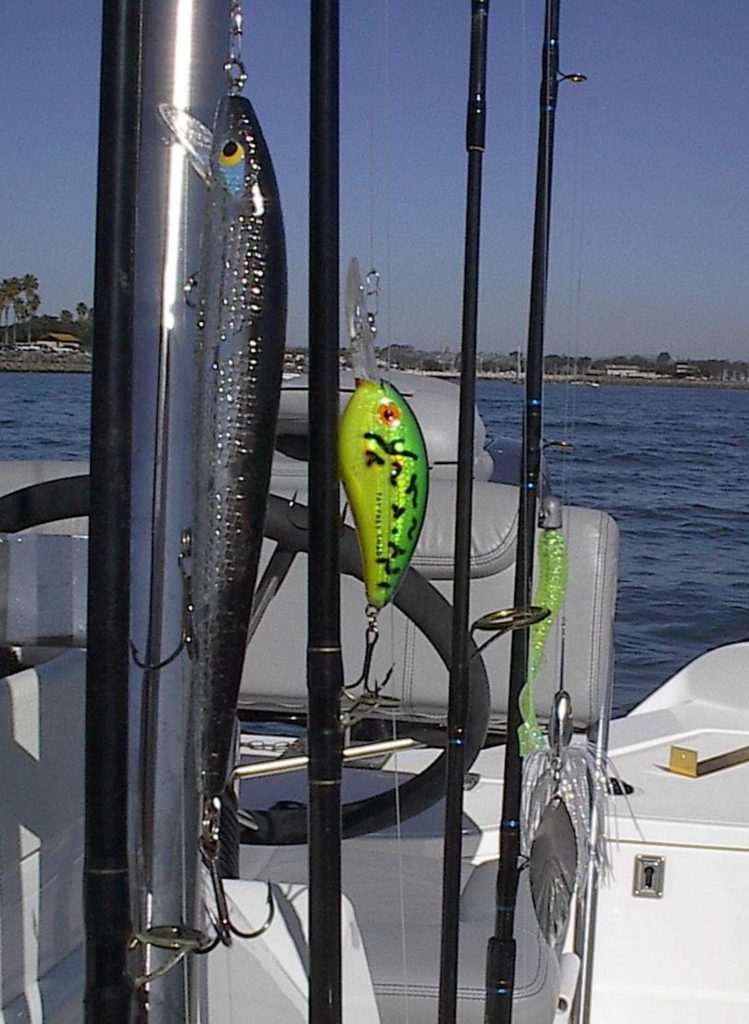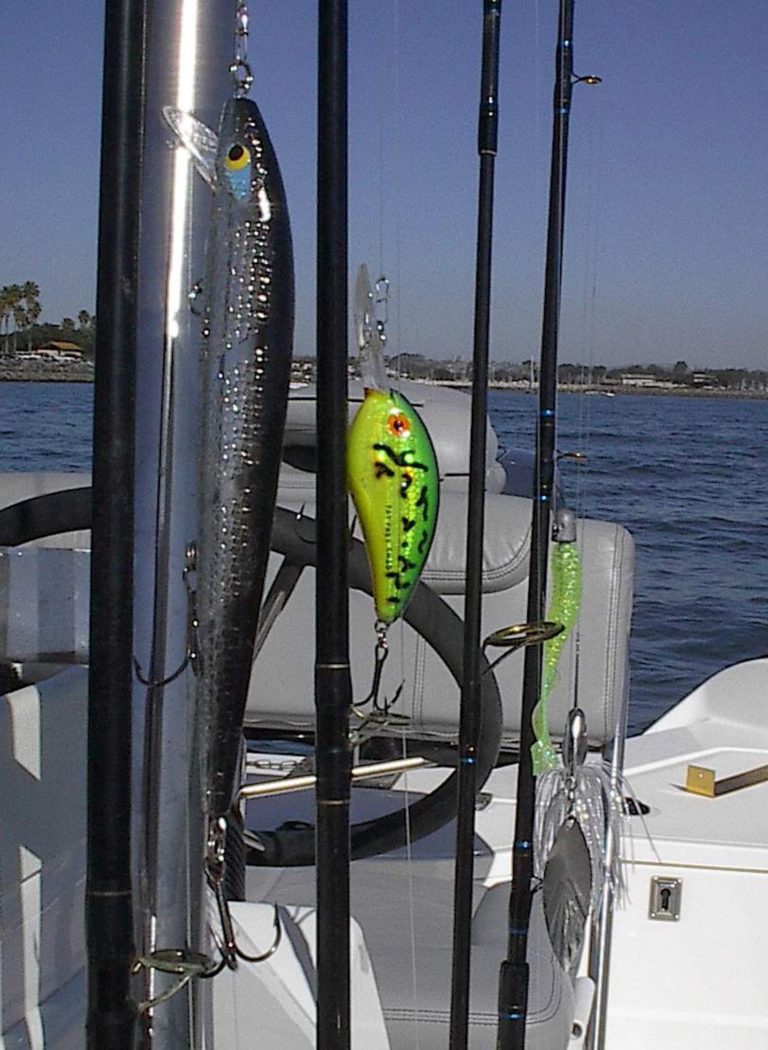 The hard jerkbait, a cousin of crankbaits will also do well in the bays as it looks almost exactly like an anchovy if you get it in silver with a black back. It can be red hot at times. It also takes practice to work well, but once you get it down the bass will come as well as halibut and shortfin corvina. The soft jerkbait will also do well over thick weed beds when the tide is up. Its random floating and darting action drives the bass nuts and into biting it.
Spinnerbaits are another favorite of the anglers on Mission Bay for the bay bass. The bay, as I mentioned, is full of giant weed beds and a spinnerbait run just over the top of the weeds can attract some giant spotted bay bass. Willow or Colorado blades will work well. I actually run a large willow and small Colorado blades on my favorite spinnerbaits. You might want to even build your own and experiment. Nothing like catching a bass on a lure you built.
One of the lures that has been red hot lately is the umbrella rig. I use the Yumbrella rig and along with the baits it has small spinnerbait willow blades that add to the illusion of a small group of anchovy swimming along. For the bay, you will definitely want to keep the weight of your jigheads down to 1/8- or ¼-ounce because you don't want the total of 4 or 5 jigheads to be too heavy for you to stay out of the weeds. Tails are usually the standard 3- to 3 ½-inch swimbaits, but some anglers will dress them with curl tail grubs. This rig in 10 to 12 feet of water must be retrieved perfectly over the weeds, but if done correctly will score some giant spotties.
Finally, let's talk flipping. Attacking the docks and their pilings can be a lot of fun and produce giant bass. Don't forget that Paul Weintraub's IGFA record spotty came from Mission Bay and weighed in at a whopping 4 pounds 15 ounces. And, Paul was flipping docks from his kayak. You may want to go a bit heavier in line size and some anglers feel that you should also go up in lure size. I like to use the lightest head I can get away with to get it to the bottom. The slow fluttering sink of the bait, I feel, attracts more bites.
Mission Bay Park is like a giant lake and you can almost fish it like one. The center of the bay and main area is no speed limit and can get crazy in the summer, and there is a section of Sail Bay and a small bay behind Fiesta Island that has water skiing and is marked with signs, but the rest of the entire bay is 5 miles per hour or no wake speed limit. Early mornings are usually quiet and you can explore a lot more areas, but as the crowd grows, be careful of all the boats and jet skis.