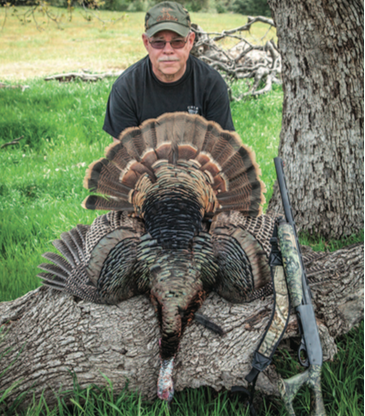 BY ERNIE COWAN
SAN DIEGO – The first shots will likely ring out shortly after first light March 27 as eager turkey hunters get their first crack at a healthy crop of big spring Toms.
"I'm seeing more birds than I have in several years," said Gary White with My Country Club sportsman's club, based in the heart of turkey country around Santa Ysabel. This is likely the result of lots of rain last spring, creating ideal range conditions for turkey, including food, water and cover.
The spring turkey hunt opens March 27 and continues until May 2 with a daily bag limit of one bearded bird, three for the season. Since being reintroduced with the release of nearly 300 birds in 1993, San Diego County has become a turkey hot spot, with both spring and fall seasons allowed.
The imported wild birds quickly adopted their new home and thrived. Today the turkey population in San Diego County has been estimated to be as high as 50,000 birds and extends from the U.S.-Mexico border to the Riverside County line and from the desert fringe into the avocado groves of Oceanside.
A popular event to help hunters prepare for turkey season is the annual SoCal Turkey Tune-Up, sponsored by the San Diego Chapter of the Wild Turkey Federation. This year the event is planned from 8 a.m. until noon on March 6 and will be held in the campground at Lake Henshaw Resort where hunters are invited to join in sem- inars, displays, equipment show, archery shoot and shotgun patterning. A popular seminar will be about turkey calling presented by Josh Kettl from Fly Down Custom Calls in Fallbrook. Cost of the event is $10 and that includes entry into a drawing for guided turkey hunts. There will also be additional raffle tickets on sale for a chance to win shotguns, optics, hunting gear and guided pig hunt and turkey hunts.
Even a casual drive through San Diego's back country will give you a clue to bird numbers this season. It's not uncommon to see flocks of turkey around Palomar Mountain, Lake Henshaw, Warner Springs, Julian, Cuyamaca, Mt. Laguna, Ramona, Campo and Pine Valley.
Steve Turigliatto is well known in San Diego County for his knowledge of local turkey hunting and support of youth hunting. He's a go-to guy for good information.
"We had a very good recruitment year in 2020 and I've seen flocks of over 60 birds, and some over 100, in a number of areas, along with lots of Jakes," he said. The higher bird numbers reflect a healthy habitat following last year's plentiful rainfall and resulting hefty acorn crop.
"Most water sources and springs have water and that bodes well for this year's breeding season," Turigliatto said. If there is any downside to turkey hunting in San Diego it might be the fact that many of the flocks are on private property. "But much of those private parcels abut public land and when the spring dispersal starts those Jakes and Toms will be roaming," Turigliatto said.
It's also a good reason to become proficient at turkey calling so birds can be lured off of private property. Some of those prime, public hunting lands are in Cleveland National Forest around Mt. Laguna, Julian, Warner Springs and Palomar Mountain and state wildlife lands in San Felipe, north of Julian.
Hunters who have spent time scouting to determine the location of roost trees, feed areas and turkey travel routes will be best prepared to tag a Tom. Forest Service maps can also identify public lands open to hunting and preseason scouting should focus of finding roost trees, water and food sources. Being out early and listening for locator calls can also help hunters learn the habits of local flocks.
Additionally, My Country Club(WWW.mycountryclubinc.c om) offers membership hunting on nearly 50,000 acres that includes some of the best deer, turkey and quail habitat in Southern California.
Turkeys have incredible eyesight, so this is one reason hunters go to great lengths to wear good camouflage and find hunting stands that offer plenty of cover as well as visibility. If approaching flocks or a strutting Tom spots you, they will vanish. Turkey hunting is not like deer hunting. Don't stalk them. You
can't do it without being seen or heard and it's a good way of chasing them out of an area completely. In areas with heavy hunting pressure, the well-hidden and patient hunter will often be the one tagging a bird because other hunters will be spooking the birds and they will be on the move.
Learning to call correctly is a critical element of successful turkey hunting. Most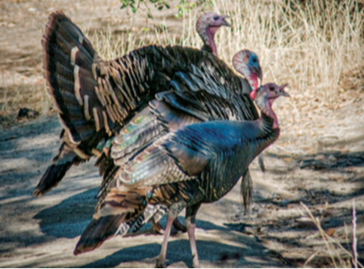 hunters call too much, too loud and with no idea of what calls to use, or when. There are plenty of good online videos available that teach proper calling technique and different call types and when they should be used. In addition to calling, add blind location, decoys, cover and patience and you have the complete formula for success in turkey hunting.
Many hunters are in the field before dawn but abandon their blinds mid-morning when they have not seen birds. Veteran hunters will tell you that flocks are generally on the move all day, and unless disturbed they will often cover large areas. The patient hunter is just as likely to bring in birds at 2 p.m. if they keep still, call cautiously and be patient.
Turkey hunters in San Diego County have a lot to be excited about for the 2021 spring opener.
"It should be a great season," Turigliatto concluded.