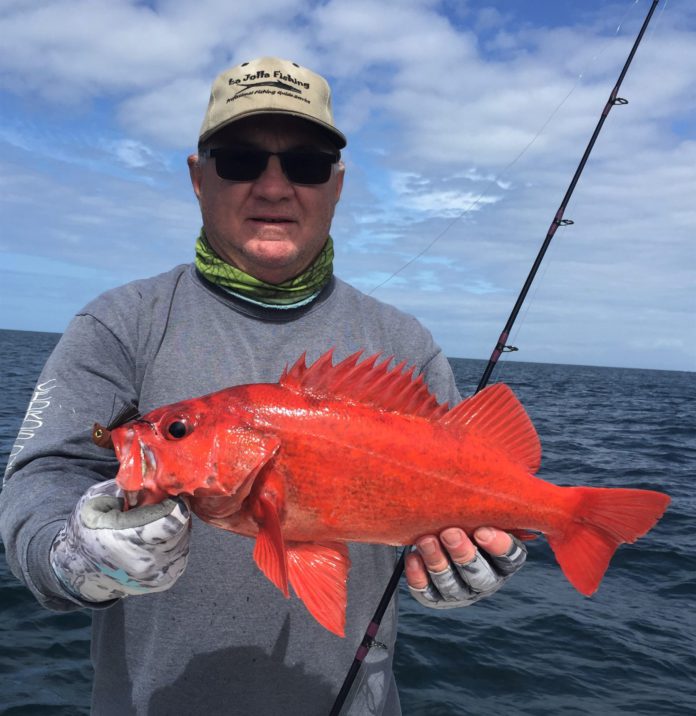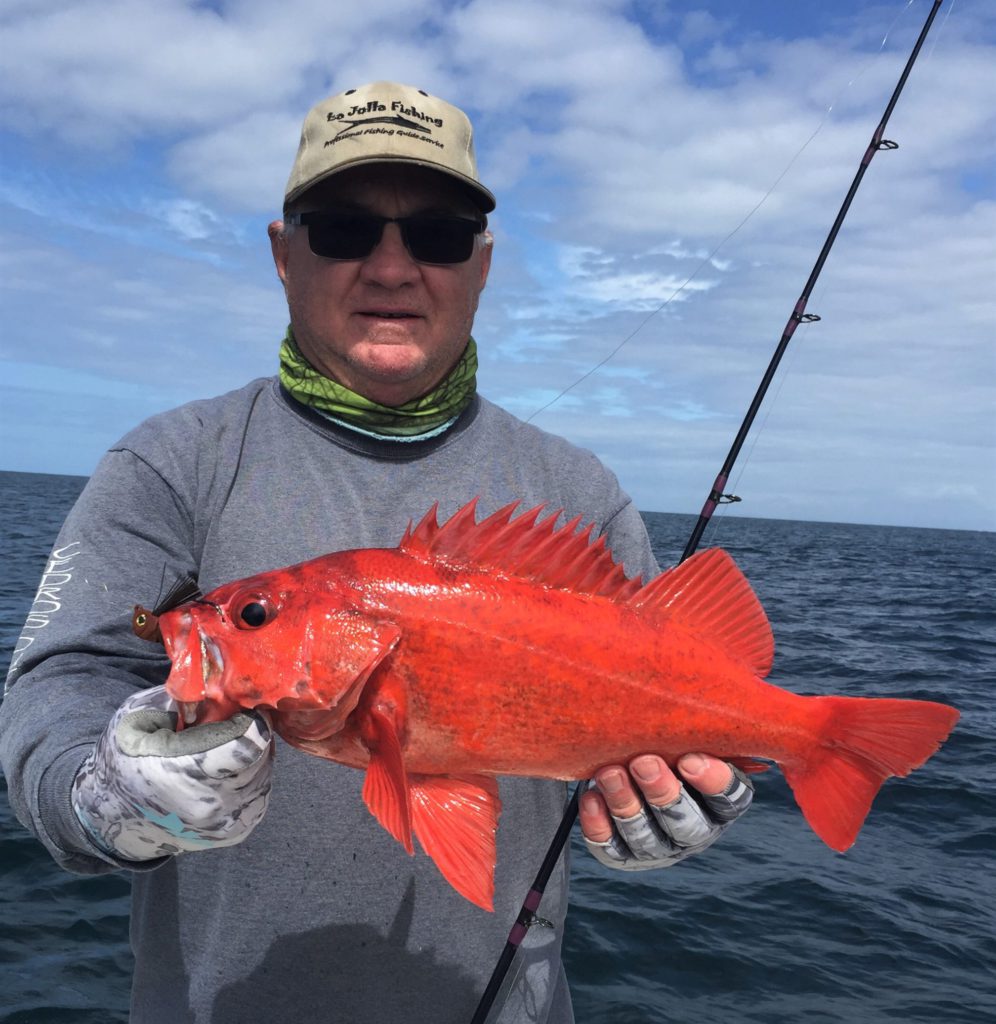 BY CAPT. BILL SCHAEFER
It's November and the waters off southern California are cooling. Shallow water rockcod season, that is under 75 fathoms, is coming to an end on December 31, 2020, although a lot of anglers wish it was just beginning. It is time to fill your freezers and bide your time for the next few months until the season reopens on March 1, 2021. Many fishermen ignore rockfish for the pelagic fish and inshore bass fishing during a lot of the season but turn now to them to stock up on the prime white meat of the ocean.
The waters can start getting rough this time of year as well with passing storms starting to arrive. But the good news is that with shallow water rockfishing, you may only be a mile or two outside the safety of your home harbor. If it looks like it's going to get wild out there, play it safe and run for port. But, clear, crisp, fall and winter days can be a nice fishing getaway on the ocean and a fun relaxing experience, especially if you are catching fish.
Right now you can slide out to man-made reefs, piles of old concrete bridge pilings, old research platforms that have fallen over in storms, sunken ships, rocks dumped to form reefs, outlet pipes covered with large granite boulders to protect them and now covered with the entire food chain, natural drop-offs and contours in the bottom, and deep rock structure. There are usually some fish on these structures year round, and the entire food chain holds them there, but numbers should increase as waters cool.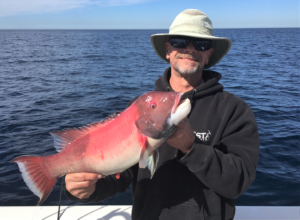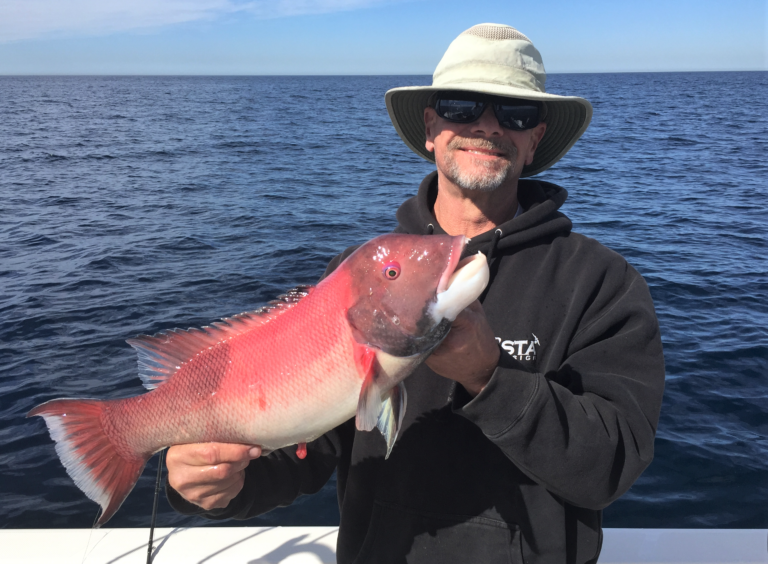 Short shallow water trips to maybe 100 to 200 feet deep can produce right now as other species fade away. With the cooling waters the rockfish move into these areas of structure along with the resident fish. The good news is you can use your saltwater bass gear for many of these spots, maybe just going to one of the 300 or 400 model reels for a little extra line capacity. And, with most bass fishermen using braid nowadays, it just works out without having to refill the line on your reel. The braid definitely helps with bite detection and setting the hook so deep.
There are a million different rockfish out there to be had and some really interesting other fish that live with them that the Department of Fish and Wildlife has lumped into the same category. First make sure of the open dates for rockfish. Yes, they are regulated and the open season for fishing for them from boats is usually March 1 through December 31 in the SoCal Bight, but make sure you always check the rules at the DFW website first as they have been known to change with little notice. They have even changed during the season, so checking right before you go is best. One other note is that there are some species with sub-limits within the regulations. I always try to carry a new Fish and Wildlife booklet with me each season.
The list of rockfish and their cousins is endless, at about 90 species according to DFW, but the beautiful white meat you get from these fish is great no matter the prep or recipe. Probably the most common fish taken is the red rockcod. This fish is great eating as well as all the others that fall into the rockfish or ground fish category. Also in the category, but you might not know of, is the cabezon, the lingcod, scorpion fish or sculpin, and the California sheephead. It is not out of the norm to have a lingcod eat your rockfish on the way up. You fight and fight, only to see it spit the shredded fish out a few feet under the surface. But score a nice ling and you're in for some great eating. Sheephead are also a great bonus to a day's fishing. Steaming them and dipping in hot butter is a great poor man's lobster recipe.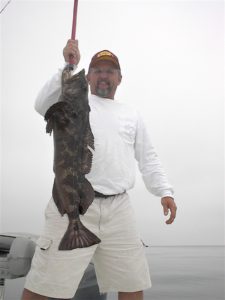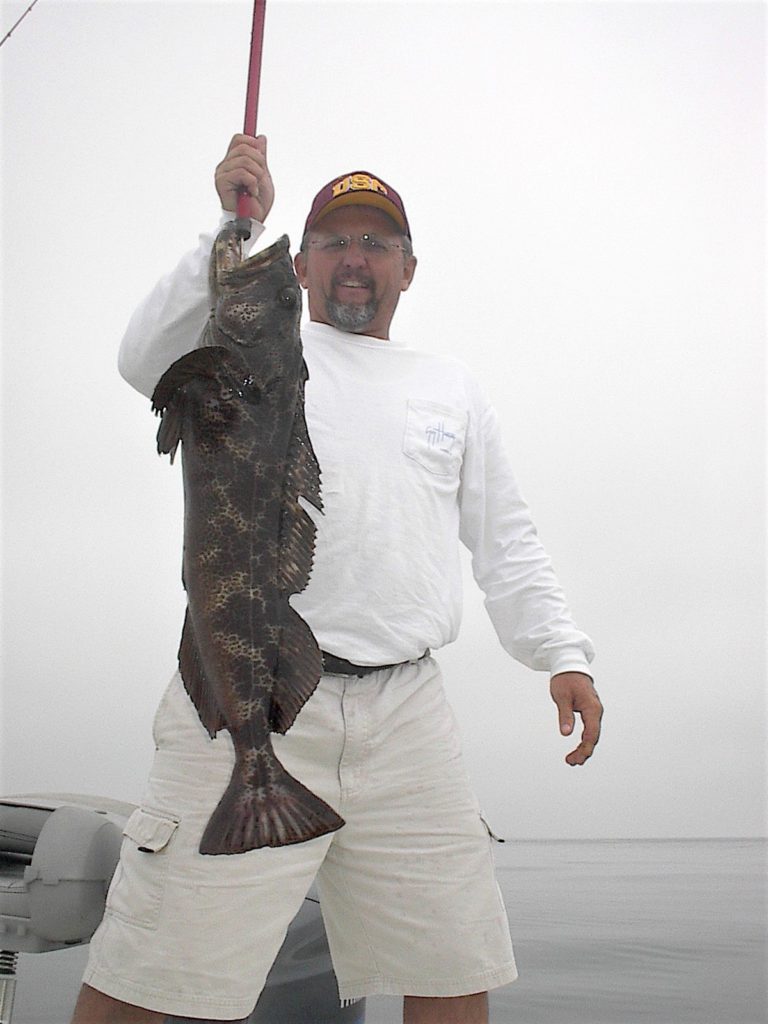 Finding them now is up to you. As I mentioned, with cooling waters, they are starting to gather on deeper spots. Some are there year round, but other fish take our attention during the summer. A good fish finder with mapping can be a key to this type of fishing. The high resolution helps you find more details on the bottom and the mapping lets you mark the spot with a waypoint to return to in future years. When looking for a new area, meter around starting at the visible kelp and work out into to deeper water. A zig-zag pattern will help cover ground when searching.
Rockfish look like thick clouds on the bottom or on structure, usually thicker looking marks then sand bass or calicos, who if feeding look more like streaks on the screen or elongated hooks. You can rely on reefs, both artificial and natural, but finding your own area and marking it for future use can be fun as well, especially when you score limits. When setting up for a drift, go upwind and drift over the spot, either long-lining your bait or vertical jigging. If the wind or swell is pushing you along too quickly, cast to the spot ahead of the boat and by the time you arrive the bait should be on the bottom. If you are lucky enough to have a trolling motor with Anchor or Spot Lock, you can hold yourself right over the area.
As I mentioned, you can get away with using your bass gear for many areas. Nowadays with everyone stringing up with braided line, and with the no stretch characteristics, this will help with feeling deep water bites and setting the hook. For example, I use a Daiwa Proteus WN trigger stick rod with a Lexa 300 or 400 reel loaded with 50- to 60-pound Daiwa or Maxima braided line and a Maxima fluorocarbon leader. You can of course use various baits, like squid, anchovy, or sardines, but plastic swimbaits and large grubs will work just as well.
For those baits, your favorite swimbaits or extra large curltail grubs from Big Hammer, MC Swimbaits, Reyes Swimbaits, Big Pancho, Reebs Lures, or LK Lures will do. You may need 1- to 3-ounce jigheads to reach the bottom, depending on the depth or the current, but I'm talking 80 to 160 feet of water on average. Heavy iron jigs, spoons, and rock cod jigs will also work well as long as they can make the trip to the fish. Tipping any of the above with a squid strip or a coating of Uni-Butter can also help attract fish.
There can be a ton of incidental catches as well with shallow water rock fishing. Calicos, sand bass, halibut and even yellowtail can be taken and make for a big surprise. Shallow water rockcod can be a lot of fun. You never know what you're going to pull up from down there. Searching them out, finding a cloud of fish, and dropping down to get bit, then the anticipation of what you will bring up. The eating can be out of this world too.