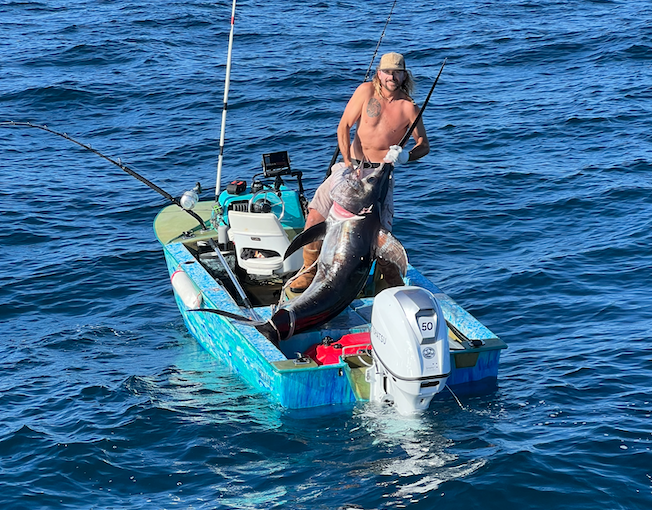 Bight Sportfishing Captain subdues sword on 14-foot Mexicat
BY MIKE STEVENS 
SAN DIEGO – Anyone who may have seen a 14-foot boat motoring into San Diego Bay with a swordfish on it may have assumed it was just some guy who had the stars align and got lucky with a fish of a lifetime, but for Dylan Reed, this catch was very much by design.
Reed is a Captain who does swordfish charters with Bight Sportfishing (BightSportfishing.com) who's been ushered into the Southern California swordfish scene by Bight founder, Brandon Hayward. Reed took to it quickly, and he's no stranger to bagging swords — by himself — in a small boat.
"Brandon got me into deep dropping a few years ago, and it took a while to understand the technique and accept the intricacies of it," said Reed. "Then I saw the effectiveness of it and have been really passionate about it over the last couple years."
Last year, Reed noticed there were a lot of good weather days in the fall which got the gears spinning in his head with the idea of running out solo for swordies. The issue was, the offshore fishing was so solid at this time that the Bight Sportfishing boats were always chartered, so it was a simple matter of not having a boat to do it in when the time was right.
Reed eventually would get a couple solo swordfish under his belt out of the Bight Sportfishing Parkers, but he wanted to take these missions to the next level by eliminating the risk of not having a boat when it's go-time.
He connected with Edward van Os of Mexicat who's better known as "Pinchi Frondo". Mexicats are custom-built, highly-customizable small boats that pack a ton of fishability into a miniscule platform. As luck would have it, "Frondo" had a 14 footer available that Reed snatched up and went to work on, making it his own and gearing it toward solo swordfish hunting.
"I bought this boat from Frondo specifically to do this, and as reckless as that may seem, I outfitted the boat all spring and spent countless hours setting up to deal with that style of deep-drop fishing and the end game of boating a large predatory gamefish, and I'm happy at how it all turned out," Reed told Western Outdoor News. "He builds some really cool boats, and this is a great solo deep-drop boat."
It may have come off as "reckless" to a casual observer, but as swordfish skipper for Bight Sportfishing with a 1,600-ton Captain License, Reed is as up to the task as possible, and he knows the limitations of his boat. "I keep a very prudent eye on the weather and have a lot of safety precautions in place," he added.
This particular fish was hooked near the 9 Mile Bank, and Reed closed the deal using one of the rods he built out of "old, obscure blanks" matched with a straight Avet 50 reel. That's right, no electric reels on this boat. He said it took about an hour to get the fish to the boat, and it sounded like it was relatively easy to lock this one up once it got there. "It was perfect at the end," said Reed.
"This was my third solo fish. The others came on Parkers, and it was difficult to come out of the wheelhouse and fight the fish while driving the boat. This was easier with the rod holders at the console because I could fight the fish and drive the boat. Everything was right there, and it made the end game good. It was a learning experience."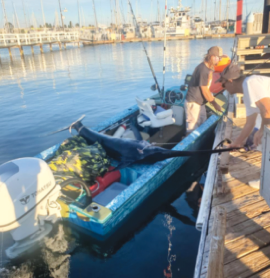 Of course, the crew at Mexicat is also stoked to say the least. "It's a giant feat by Dylan who told me he was going to fish swordfish with this boat when he bought it, and I kind of smiled," said Frondo. "A lot of people say it, but Dylan actually did it. He's really dialed in on that boat."
As for Dylan's charter boss, Hayward, — the two worked together on the Producer over 20 years back — he had nothing but praise for Reed's swordfish prowess. "Absolute and total dedication," Hayward told WON over the weekend. "He's spent at least six months gearing up the boat to do exactly that, and he's pretty much got it dialed. He's our best swordfish guy (at Bight) and he just proved why he is again."