BY DYLAN DEPRES
The second Western Outdoor News charter aboard the 6-pack vessel Fin Fetish was another huge success. Owner/operator Brian Norris was at the helm with the help of his second captain, Johnny Boktor. Together they escorted our group of six anglers aboard the 31-foot Bertram Fin Fetish to the outer islands, and everybody scored on trophy yellowtail. Before making the run through some sporting weather to the yellowtail grounds, we departed at 10 a.m. and Norris opted to knock out limits of rockfish at a local spot they'd been very successful at.
Of course, on an outer-islands trip, it seemed a little curious that we'd be doing our rockfishing locally. Our captain explained to us that, "they'd been fishing this 500-foot deep spot this week that hadn't been hit in 20 years. It was loaded with big reds, boscos and Mexican rockfish." He wanted to knock out rockfish, so once we reached our outer-island destination, we could concentrate on gamefish. We deployed six rods at a time, each boasting a double-dropper loop rig. First the two stern rods would drop, followed by mid-ship, then the bow rods. This kept everybody fishing rather than untangling lines. Every drop resulted in an instant bite on the stripped squid, plenty of doubles, and in short order we had a kill bag full of 1-day limits of Reds and mixed rockfish. It was around noon and we began our trek to our initial gamefish destination.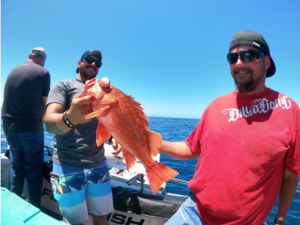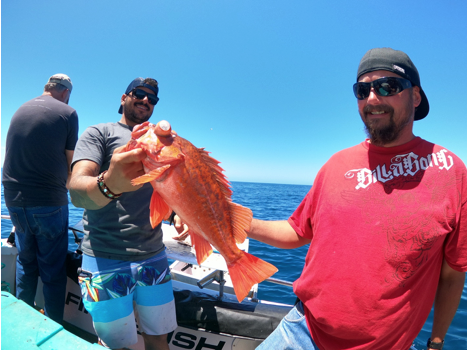 After a few hours through an uphill swell, which included this author's first real seasickness experience, we reached our destination. This was a small price to pay for the results to come. Captain Norris had a general read on the zone where the squid have been nesting. He diligently scanned through a 1-mile area to find the area with the best signal of squid before we first dropped anchor around 4:30 p.m. Six new rods were rigged up with a long single dropper loop and deployed in a similar fashion to before, but with whole fresh dead squid instead of strips. Thirty minutes into the soak, our epic yellowtail fishing began.
David Muller from Tehachapi was the first lucky angler to hook up. This was his first yellowtail ever; Norris was hands-on in coaching him to fight the fish. After some fierce runs and over-unders around the anchor rope, our first forktail was brought aboard – a beautiful model which was easily over 30 pounds.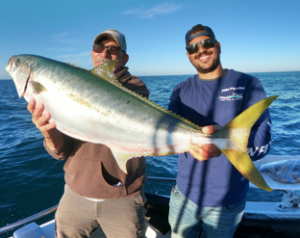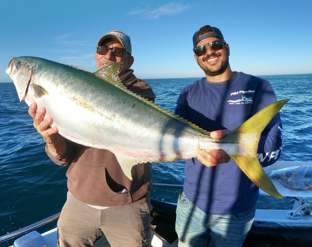 We continued to fish and periodically reset baits. Around 6 p.m., a huge birdschool of 1,000-plus gulls came up a half-mile off our starboard bow. It was impressive enough to pull anchor and wind in all the rigs and give it a look. Second captain Boktor and I stood on the bow, ready to deploy surface irons under the birds. On my first cast, to our surprise, a big barracuda followed the jig to the boat. Captain Norris announced he was marking fish at 50 feet. Boktor and I landed a few just-short cuda on the bow and our anglers in the stern got short bit on their squid rigs. No love from the right kind. We headed back to our previous position, re-anchored, and redeployed the dropper rigs. At 6:45 p.m., as Boktor reset one of our bowlines, the dropper rig was bit in his hand. The rod was getting his fish to the boat, showing the younger folks how it's done.
When the second rod got bit, I immediately walked over to check out what the fishfinder looked like. When we got bit, a medium-sized school had swam right under the boat. This was enough to convince me to replace my surface iron with a yo-yo jig. I haven't done much squid bed fishing, but this was one of those fisherman's intuition moments and I went with my gut. I tied up a scrambled egg / green edge Salas 6x JR. Just after 7 p.m, a good-sized spot of birds were acting funky right off our bow while we were anchored. I ran up there, bombed the 6x JR below the birds and sunk it down ¾ of the way. My jig was stopped in its tracks as I burned it back to the boat. BITER! I could instantly tell it was a big fish. I fought the brute and as it neared the boat, a giant sea lion came into the equation and I had to earn the victory. The dog grabbed our fish by the tail once or twice but I managed to pull it away, and Captain Norris stuck him and heaved the 35-pound iron eater over the rail.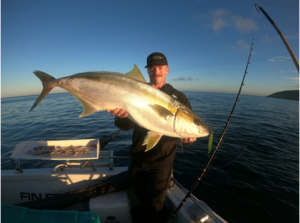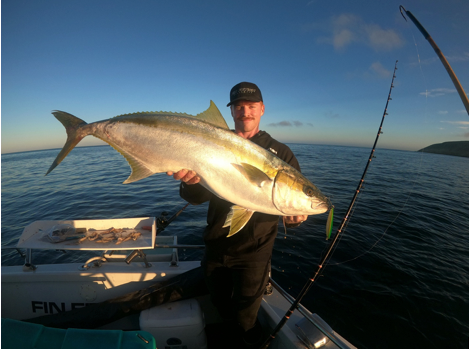 Full of confidence and adrenaline, I stuck to the yo-yo jigging. The rewards were handsome. Right as the sun was setting, I hooked the biggest yellowtail that I have ever caught – this fish was mean. It dumped my entire spool of 40-poundtest and I had about 70 yards of line left before I could turn the beast. After breaking its will, the fish started to behave and came the right direction. Color. Gaff. And it was over. My personal best was crushed with a giant yellowtail which would later weigh in at 42 pounds. This was our fourth and last fish of Day 1. It was just after 8 p.m., we all crushed some pizza for dinner, and began on our next pursuit: catching live squid for the next day.
The squid-making was a fun process that had several hands at work. Lights were deployed off the side of the boat and shortly after some life began to build around the boat. Second Captain Boktor manned the dip net. When the sea lions got thick, the squid would stop floating immediately so we did our best to keep them at bay. Over a few hours we were able to make a couple hundred pieces which would be more than enough squirts for the next day's fishing. We were told to get up dark and early to set out lines around 4:30 a.m.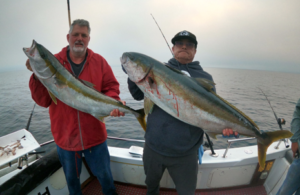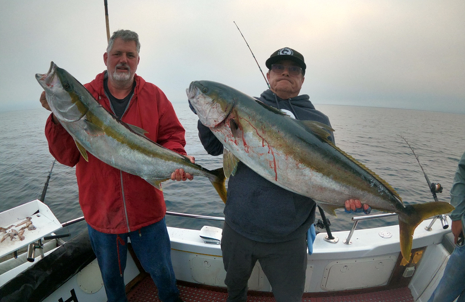 The live squid made a big difference and we were able to capitalize on a very good bite window in the early hours. Captain Norris and I woke up and got down and dirty getting the lines set up. It wasn't long before the first bite came – in fact almost everybody was still asleep. We set the hook on the fish and found a lucky angler to take their shot. Unfortunately, after a short but dramatic battle with what we assumed was another giant, we got reefed. All was not lost, because about 20 minutes later we got a triple hookup. Two dropper loop squid rods went off, and amidst the frenzy I dropped a yo-yo and got bit again. My fish broke off but anglers Jim Worden and Chris Powell got the day started off right with a couple bruisers. These fish were smart and practically tangled every line on the boat, so after some re-rigging we set out some more squid rigs.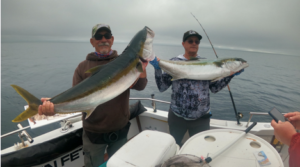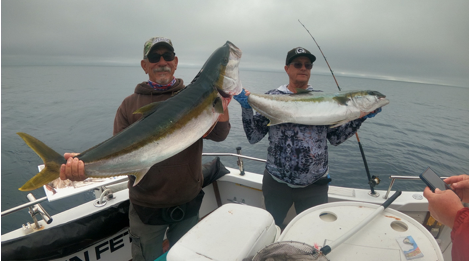 After resetting, it wasn't long before we had another double hookup. Marvin Kobold managed to land our biggest fish of the trip as one of the two fish; his 44 pounder dwarfed the 30 pound model that came up with it. We continued to periodically reset baits and around mid-morning, the current was absolutely ripping. We needed to check the baits more often due to the floating pyrosomes (sea cucumber-like creatures) getting stuck on the line. Norris made the call to wind 'em up, and we'd spend the midday lull looking around for halibut before resetting in the yellowtail zone for the afternoon bite. After bouncing around a few spots, we found backwards conditions with wind against current. After an hour or so of searching around, a few uncomfortable drifts in the slop, we moved on and anchored on a reef to see if we could find some different surface action on some calico bass. I managed to catch one on the yo-yo iron, but the ripping current didn't allow us to properly fish it. We ended up moving back to the yellowtail zone to eat lunch and get ready for the afternoon.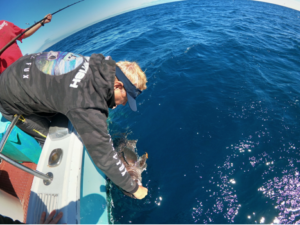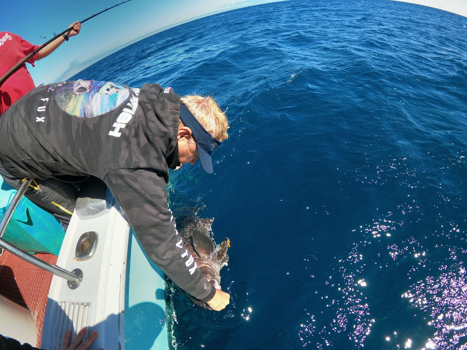 After resetting in the same zone, we had a nice afternoon snap which began around the tide change at 1 pm. We nabbed a single fish in the 30-pound class. An hour passes, sandwiches are consumed, camaraderie and goofing around occurs. Then I got to boat a squid fish that was in the upper 20s. We get another nice double including some more fish in the mid to upper 30s, and give up a slug 40 pounder to a sea lion at gaff. And to end our day we managed a bycatch black seabass which was a fun wildcard for David Muller of Tehachapi. We ended up with 1-day limits of reds and rockfish plus 12 trophy yellowtail from 28 to 44 pounds for our group of six anglers. Another epic voyage on the Fin Fetish completed.