BY GUNDY GUNDERSON
Better your chances at catching a coveted Southern California gamefish at the beach this season
Catching a striped bass in the surf is on the bucket list of every surf angler who fishes Southern California waters along the coast. It is what you might call an "exotic" catch. Striped bass catches are much more common in Northern California waters, but on Southland beaches the fish is much more elusive and to catch one takes dedication, preparation, surf fishing prowess, opportunity and even a little luck. These tips may not guarantee you catch one, but if you follow the mindset, you will increase your chances and ultimately, that will result in a striped bass catch if you stay committed to it.
Striped bass are a unique gamefish in that they can flourish in both fresh and saltwater. They are spawned in fresh water and much like a salmon, go out to sea to fatten up, then return to spawn back in the freshwater. The fish along the Southern California bight are believed to come from two groups. One, is Northern California native fish — mostly from the California Delta and San Francisco Bay — that have followed anchovy and sardine schools down the coast, usually in cooler waters. Where and when and to what degree they show is usually dictated by the bait movement in a given season. The second batch of fish are homeguard stripers, and they are believed to spawn in a few Southern California backwaters. These fish may have originated from several attempted plants of striped bass executed by the California Department of Fish and Game in 1974. Juvenile fish were planted in Anaheim Bay, Newport Harbor, Mission Bay and San Diego Bay. The most-healthy native population in SoCal is typically found in and around L.A. Harbor. These fish may be progeny of the original planted fish. Today, during the fall, winter and early spring months, striped bass catches are reported from Point Conception to the Mexican border. To catch a fish that can be so fleeting is challenging. The tactical approach goes like this: fish the spots, the methods and the times that give you the best chance at getting one. If you put yourself in these better chance scenarios, you will get a shot. Here are 10 tips to put you in that spot to get a shot at this bucket list fish from the surf.
1) Know where they live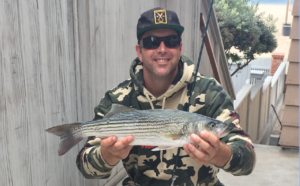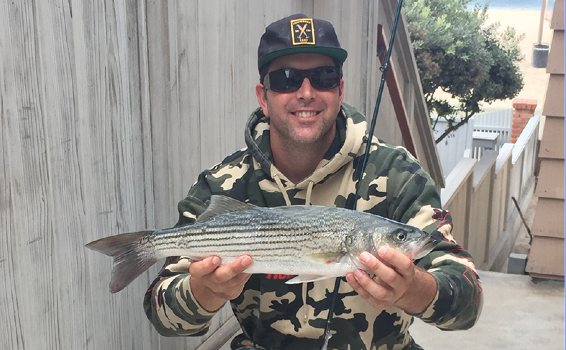 Due to their natural life cycle, striped bass always have an affinity for freshwater. Even asthey swim in the saltwater, they can often be found during certain times of the year near creek, river, lagoon and harbor mouths. These spots are transition zones from fresh to saltwater and waters that striped bass will comfortably feed in. Tidal currents are also influential on these spots, as the movement of water spurs schools of anchovy, sardine and smelt to feed in the current. After winter storms, freshwater runs off, producing off-color water that has lots of forage for baitfish. The combination of all these elements makes for ideal waters to target linesides. Striped bass often relate to structure and will orient around piers, jetties, reefs and inside kelp edges. Here, feeding opportunities are often greater. Beaches inside offshore canyons also tend to hold more fish than others.
2) Know when to fish them
The best times to catch a striped bass on Southern California beaches are late fall, winter and early spring months. These are the months with cooler water when small baitfish like sardines, anchovy and herring are most prolific. Since the goal of an ocean excursion is to bulk up in preparation for the spring spawn, striped bass are all about feeding. The fish are almost always caught in association with bait. When ocean conditions are most ideal for the proliferation of bait schools, then they are also ideal for striped bass. With that said, there are fish caught in the summer months and usually in the concentrations of bait. Are these summer fish native Southern California fish that do not migrate? Or are they Northern California migrating fish staying with the bait. Good questions. Perhaps both?
3) Catch them once, catch them twice
There is one undeniable fact about striped bass: if you catch them on a spot one time, you'll probably catch them again another time. Filing surf fishing reports over the years, most striped bass catches occur on the same spots on the same beaches. These are those more ideal spots that we have earlier defined that consistently kick out catches. Year in, year out, these spots produce fish. A list of these spots includes Goleta Beach, Carpinteria, Ventura River mouth, Zuma, Dockweiler, Hermosa Pier, San Gabriel River mouth, 72nd place jetty, Bolsa Chica Inlet, River Jetties, Newport Harbor Mouth, Doheny State Beach, Oceanside Harbor Jetty, Del Mar, Ponto, La Jolla and Mission Bay. Fishing these go-to spots will put you in areas where you stand a better chance at hooking one.
4) React to dope
This can be the difference between success and failure. There is no better tip-off than hearing an actual report of a catch. The quicker you can react to this information and act on it, the better your chances. Striped bass feeding activity can often be fleeting. The fish feed actively on the moon cycles and the stronger tides and nocturnal moonlight also influence feeding patterns. Any changes can shut down bites or cause the fish to move on. It is imperative to react to any fresh intel as quickly as possible. This is where local beach tackle shops are indispensable. They hear reports from anglers on a daily basis. You can learn important information like spots, bait selection, best rig, sinker weight, hook size, time of day or tide and other valuable information. It is important to support these small shops because they get the best fishing dope and life (and fishing) would be more difficult without them. It is vetted and trusted info in most cases, and it certainly gives you a starting point for success.
5) Follow the bait
The dual-track of bait and striped bass cannot be understated. These aggressive, fast-growing gamefish are prolific feeders. Their bellicose nature and high metabolism demand constant feeding. Secondly, ocean feeding stripers are bulking up in preparation for the spawn. These fish may spend a season or two in saltwater gaining size and weight, only to return to the freshwater to spawn. Ocean-going stripers are most always on the feed bag. As a surf angler, it's a matter of keeping your eyes on the water. Here, you will get clues as to the presence of bait. Find the bait, find the fish. Look for the birds. The tern birds are the most adroit. Concentrations of gulls and pelicans can be meaningful at times, but the tern birds will often tip you off to the exact spots of actively-feeding gamefish. In general, however, the presence of these birds tell you that the bait is there. Other signs of bait are breezers, flippers or surface boils. Any signs of active bait on any of the "better spots" are the ideal scenario for a shot at a saltwater striped bass.
6) The importance of the "witching hour"
I call the "witching hour" the first hour of daylight or the last hour of daylight. These are hours of low light and an advantage for any ambush feeder, especially striped bass. The gamefish is notorious for explosive feeding at this hour of the day and many of the best striper catches are made during these short windows. The fish will activate at the very first signs of light using the low light to ambush forage. At the end of a day, the fish will feed as things darken and when the moon is strong, often feeding into the night. Again, the recurring theme is putting yourself on the right spot at the most opportune time. Despite the baseline trend, however, good striped bass catches can be made at any time of the day. If other elements combine, day bites will also happen.
7) Long rods rule
Long rods are indispensable in targeting and catching surf striped bass. They serve an important purpose for both lure casters and bait soakers. Striped bass tend to be found outside the breakers between surfline and natural bottom. They often coral the bait in schools, pushing it into the breakers. Casting to the fish or fish zone involves longer casts, and long rods are the tool to deliver your presentation, whether it's lure or bait. Be familiar and adept at using 8- to 12-foot rods. Anglers throwing swimbaits, hard jerkbaits and poppers can use 8- and 9-foot rods to make long accurate casts. Bait soakers can utilize a 9- to 12-foot rod to deliver a long cast outside the breakers or along a pier or jetty. The larger rods can also accommodate the necessary heavier sinkers. Casting distance is important when targeting surf stripers.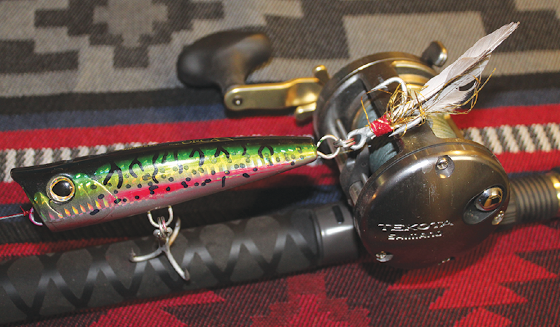 8) Stick with proven baits
Targeting Southern California stripers in the surf is a game with limited chances. It is not a time to experiment with new baits. Throw your proven baits and baits you fish with confidence. Use time-tested lures that are known striper catchers. Better yet, use lures you have that have been striper-bitten before. For example, 5- to 7-inch swimbaits, 110- to 130- size hard jerkbaits, Krocodiles and feathered Kastmasters and Cotton Cordell Pencil Poppers are all money striped bass baits for me. Depending on conditions, these will be my go-to baits. Since you are familiar with these lures, rod, reel and line class choices have generally been optimized so there will be no down time dialing in unfamiliar lures. When you get down to the beach there is only one thing you want to do, and that is fish. The more time spent casting or bait fishing, the better chance at a positive result.
9) Avoid light tackle
Most hooked stripers lost on the beach were lost prior to hooking the fish. How's that? Well, mostly by fishing light tackle. Surf striped bass can range up to 30 pounds or better in the surfline. If you fish anything less than 15-pound test, you can likely be headed for heartbreak. A heavy fish will make hard runs with reef, jetty or pier piling nearby. The swell and surge in the surf zone will also put maximum pressure on your line and drag. Fish the right-size rods and right-sized reels. Throw most lures on at least 17- to 20-pound test. Some smaller profile baits may require 15-pound line and a few heavier spoons or lures may be best fished on 25-pound test. Bait soakers should center on 25-pound test moving lower to 20-pound or higher to 30-pound depending on sinker weight and conditions. For braid fishers, these pound classes translate to leader sizes. Mainline braid line class can vary from 50- to 80-pound test.
10) Don't forget bait
Many striper catches on the beach are associated with lures. Lures are versatile, cover lots of water and are effective in a variety of situations. But there are times when the lure bite is off. The fish won't strike them. This is where it is important to have a bait strategy. Striped bass love cut anchovy. Stripers also react to chum. Bait fishing a stretch of beach known for striped bass catches is a smart and often, overlooked tactic. I've fished spots on freshwater lakes or rivers where you wouldn't know there was a striped bass around if you were throwing lures. But if you put a piece of cut anchovy out, the bite is sometimes instant. Despite their reputation as an aggressive feeder, there are times when stripers are more measured, and this is where bait shines. If you flip a few chunks of anchovy in the water as you bait fish, you can draw fish to your bait, as striped bass generally react well to chum. Catching a striped bass on a Southern California beach is not a simple task. The fish can be fleeting and elusive. The best tactic is to better your chances and opportunities by putting yourself in a place where the striped bass show and utilize tried-and-true tactics to get that coveted and often elusive bite. Fish hard and do the smart work, and it will just be a matter of time before you connect with a surfline jailbird.