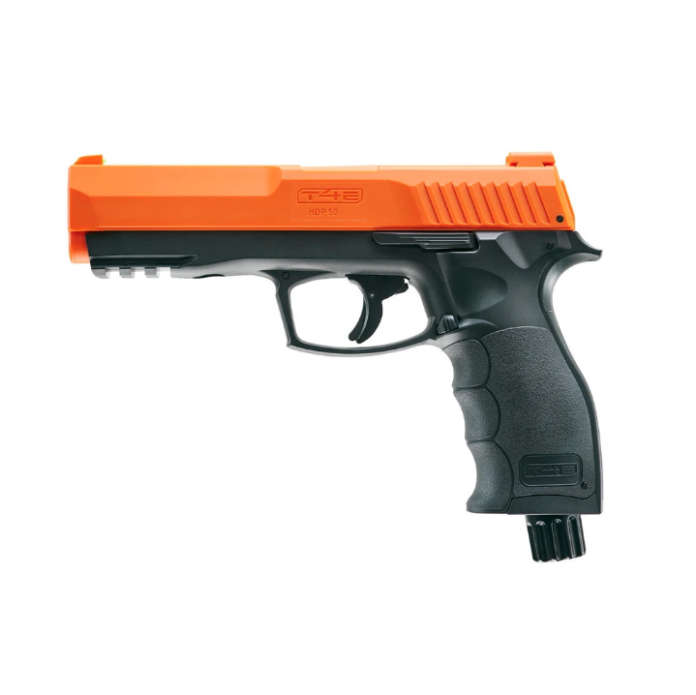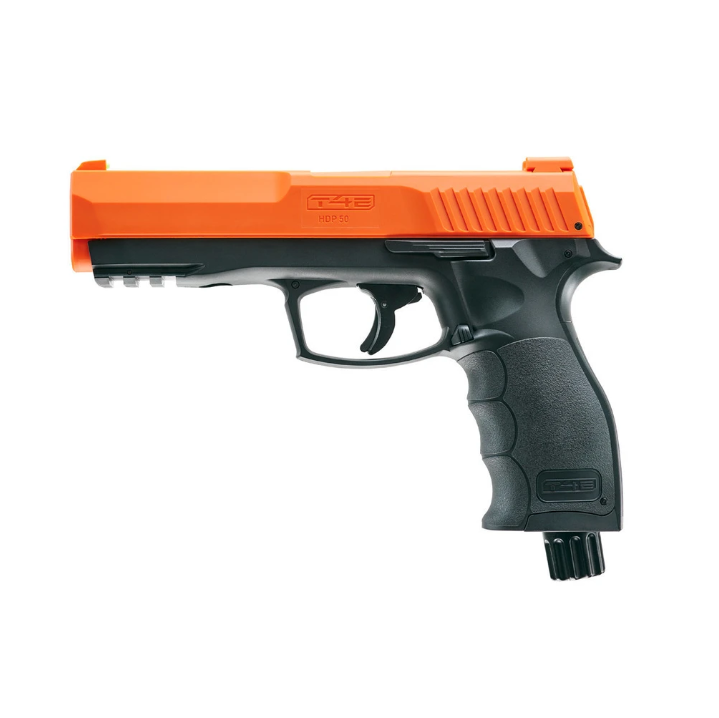 T4E, a brand of UMAREX, a family-owned company and expert in air-powered rifles and pistols recently announced the release of a less-than-lethal self defense training pistol. The new product is labeled as the Prepared 2 Protect HDP 50, a .50 caliber pistol engineered to shoot the included spherical rubber or inert powder training rounds.
The new Prepared 2 Protect HDP 50 pistol is an incredibly effective less-than-lethal self-defense training tool for men and women of varying ages and abilities. It is powered by readily available compressed air in the form of a single 12-gram CO2 cartridge. With a fresh CO2 capsule installed in the grip, the HDP 50 is always ready to go with its innovative and reliable Quick Pierce System (QPS). When the bottom of the grip is purposefully tapped it charges the pistol in a split-second. It shoots .50 caliber round projectiles such as rubber balls, powder rounds, or pepper rounds. The HDP 50 has an internal 6-round magazine that, unlike other less-than-lethal devices such as sprays, provides multiple rounds with an effective range at two times that of the most commonly sold pepper sprays.
Simple to operate, the HDP 50 places projectiles on target with zero felt recoil, and minimizes some of the hazards of self-defense trainers inside a home or business such as over penetration or misidentification of a threat. There is no waiting period to own a P2P HDP 50. You can buy it and own it on the same day. Some states and municipalities regulate the use and possession of tools like the HDP 50. Due to constantly changing regulations, consumers are responsible for checking the laws and ordinances in their own state and municipality that govern the use, ownership, and safe storage of air-powered devices.
Each Prepared 2 Protect HDP 50 includes a sealed tube of 10 inert powder training projectiles and a tube of 10 solid rubber ball projectiles. Using the provided rubber and powder rounds, a new owner of an HDP 50 can easily train, practice and become proficient with its effective and reliable operation.
A Prepared 2 Protect HDP 50 sells for a very reasonable MSRP of $129.99. Umarex 12-gram CO2 capsules, inert P2P powder training rounds and additional rubber balls for training and practice as well as pepper rounds are sold separately where allowed.
For more information about T4E and the Prepared 2 Protect HDP 50 please visit: Prepared2Protect.Life.
—
About UMAREX USA
Umarex USA, Incorporated is one of North America's fastest growing family-owned outdoor sport and recreation companies. Umarex USA innovates, develops and markets products under brands owned or licensed by its parent company, UMAREX GmbH & Co. KG. Such brands include Axeon® Optics, Beretta®, Browning®, Colt®, Elite Force® Airsoft, Exude™ Lights, GLOCK®, Heckler & Koch®, Hornady®, IWI®, REKT®, Ruger®, RWS®, Smith & Wesson®, T4E™, UMAREX®, Walther® and others. For additional information regarding Umarex USA visit UmarexUSA.com.