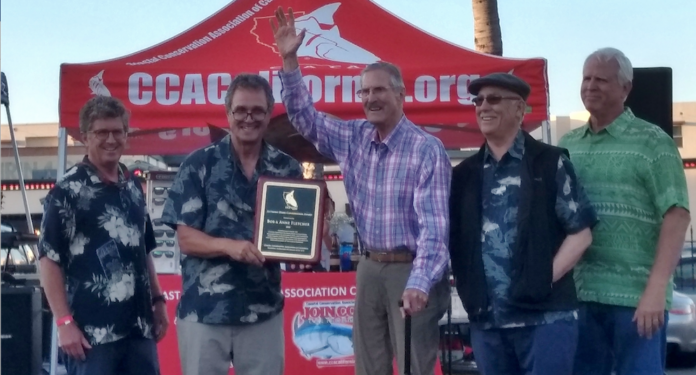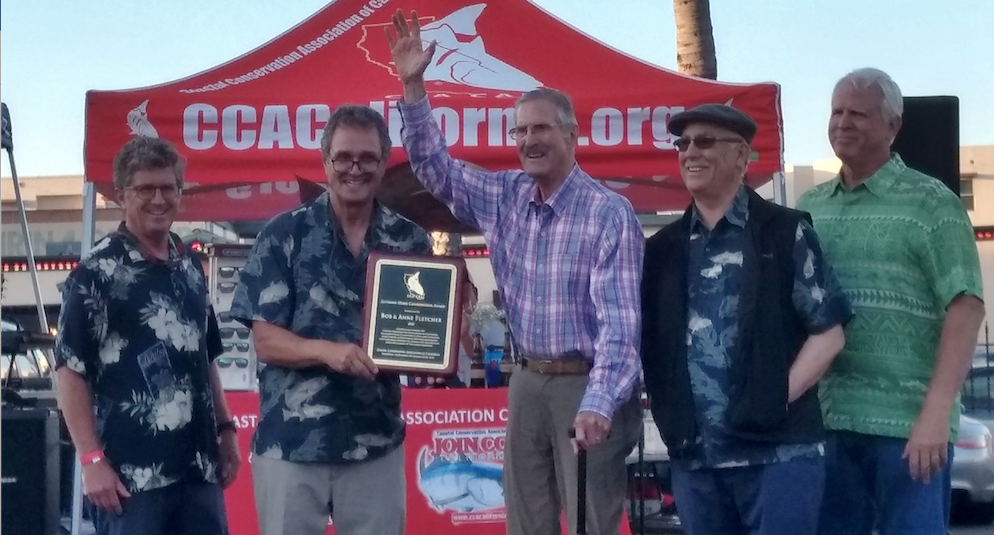 Each year the Coastal Conservation Association names it's recipient of the prestigious Anthony Hsieh Conservation Award. Named for its first recipient, it honors "an individual who has supported sportfishing in California and has made meaningful contributions toward the protection, restoration, and enhancement of our marine resource."
Past honorees are Hsieh, John Ballotti and Capt. Don Hansen.
This past Sunday, Capt. Bob Fletcher and his wife Anne were presented with this year's award, the centerpiece of the San Diego CCA-Cal chapter's Apps & Taps Fundraiser event.
A local San Diegan and angler from childhood, he graduated from Stanford in 1965 with a law degree, then serving in the U.S. Air Force he was awarded a bronze star. Returning to San Diego, he owned and operated the Cat Special, building a successor vessel of the same name. Custom built to accommodate Fletcher's tall stature, it has uniquely high overhead space throughout and is the Tomahawk today.
With over a decade as a party boat skipper, he was appointed as Deputy Director of the California Department of Fish and Game, ultimately Chief Deputy Director. He also served on the Pacific Fisheries Management Council which he took a turn as Chair. This was one of several fisheries management appointments.
In 1979 he and wife Anne took the helm of the Sportfishing Association of California, representing Southern California fleet. This followed Bill and Winn Nott's tenure.
He and I would serve on both SoCal Marine Protected Area advisory panels, first the Channel Islands Marine Reserve Working Group, then several years later, the Marine Life Protection Act Initiative's Southern California Regional Stakeholder Group (MRWG.
There we worked to preserve access to those areas most important to the state's recreational anglers. It was a challenging time as science advisory groups set up guidelines and grading schemes that drove larger closed areas with a focus on limited inshore kelp beds and rocky shoreline habitats.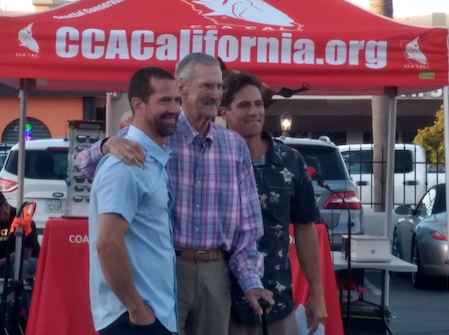 MPA proponents took to branding the much more prevalent beaches and soft bottom coastal areas of the Bight "shabitat." Group-2 co-leads, Fletcher, Santa Barbara Harbor Manager Mick Kronman and I ultimately presented the "fisherman's option" to the DFG Commission at the completion of the MRWG process. It was uniquely the only of the 3 final proposals to come with solid support from the fishing community while forwarding the goals of the Marine Life Protection Act and science guidance.
After serving 10 years as President of SAC, "Dart" and Anne retired to travel the Pacific Northwest. Capt. Ken Franke took the reins of SAC.
Fletcher spends time at home fishing aboard the fleet as well as locally with good friend Capt. Louie Zimm aboard his private boat.
The event was a hit, and if you missed the opportunity you missed a chance to mingle with some greats in the recreational fishing industry. In addition to CCA Director Wayne Kotow and Asst. Director Chris Arechaederra, AFTCO President Bill Shed was there to present the award.
Notables included Bart Hall with wife Ginny, Mike Shane and Mark Drawbridge from Hubbs Sea World Research Institute, Okuma Fishing Tackle President Doug Lasko, Capt. Louie Zimm, Donna Kalez owner and manager at Dana Wharf Sportfishing and Whale Watching, Mike and Susan Thompson — Newport Landing, Wendy Tochihara with Izorline, Dina Grivetto with the Ocean Odyssey, MC Swimbaits owner Corey Sanden, Hookup Baits Chad and Jojo Gierlich, Bill Boyce, Ken Franke, Harold Davis from Morro Bay — past builder of Davis Boats, President of Friends of Rollo, and many others.
The Portuguese Hall yard was lined with booths and the center packed with tables loaded with raffle items.
It was a fun time, with representatives from many of San Diego's craft breweries and others offering tastings, including AleSmith, BNS Brewery, Cutwater, Ippig, Julian Beer, Little Miss Brewery & Distillery, McIlhenney Brewing Company, Salty Crew with Coronado Brewing Company — Papa's Pilar in the house too.
T.B. Metal Art had amazing pieces, alive with true-to-life colors. Fishing Syndicate, The Spot Nutrition, and of course, Hubbs-Seaworld Research Institute was there. Mike Shane had tiny white seabass, about the size of rice grains in an aquarium, just a few days old.
The food by Island Life Foods, Jenn and Chef Maui was fantastic and live music by the band Old Guys Rule was excellent.
S.D. Chapter President David Chavez with VPs Steve Mote and Arnie Seko put together a great event, with Kevin Nakada as MC.
CCA-Cal ED Wayne Kotow said, "So many great and dedicated Volunteers. Had U.S. Navy Volunteers too. Bob and Anne Fletcher, as well as the whole CCA-CAL SD board got California Senate Proclamations from staffer from Senator Brian Jones' office."
Merit McCrea is saltwater editor for Western Outdoor News. A veteran Southern California party boat captain, he is a marine research scientist with the Dr. Milton Love Lab at the University of California at Santa Barbara's Marine Science Institute. He serves on the Groundfish Advisory sub-Panel of the Pacific Fisheries Management Council, the Santa Barbara Harbor Commission, The Channel Islands National Marine Sanctuary Advisory Council and the CCA-Cal State Board. He can be reached at: merit@wonews.com.