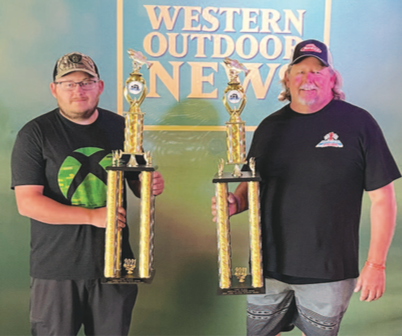 BY MIKE STEVENS
LAKE HAVASU CITY, ARIZ. – Wind played a role on both days of the 2021 WON Lake Havasu Striper Derby, but conditions were enough of an upgrade on Day 2 of the 39th-annual event to remind all participating anglers why it's perfectly placed in the month of May. Most participants knew that aspect of the weather was going to be a challenge, but it didn't deter the 148 teams from hitting the water and chasing the title of Striper Derby Champion.
The first day of the Derby featured 95-plus-degree temperatures and sustained winds including gusts to over 25 mph. This resulted in many teams having to make adjustments either in tactics or location, or both, but when it was all said and done there were a lot of respectable bags weighed in and a tight race on for the top spot. On Day 2, the winds subsided substantially but still were a major part of the picture and the daytime high of 87 degrees (and that was reached after weigh-ins closed at 1 p.m.), which was a nice break not only from the day before, but for those who fished in the 2020 event that was pushed back into June and executed under scorching heat.
When the dust settled, the title was locked up by long-time Striper Derby competitors Kyle and Jerry Thergesen of Orange County. Consistency resulted in a Day 1 bag consisting of 10 fish for 39.3 pounds followed by 40.74 pounds on Day 2. Their 80.04-pound total weight included a 5.45-pound kicker, and their recipe included chumming with anchovies but also mixing in cut sardines among their hooked baits.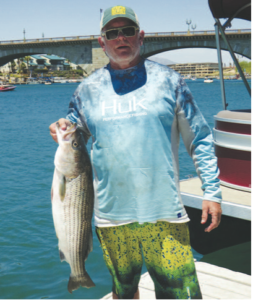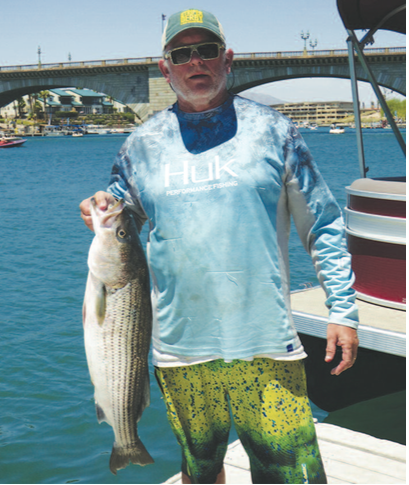 Second place went to a team very familiar to the winners, and that was Todd Thergesen and Cameron Longacre, who teamed up for 77.95 pounds. "Swimbait Junkies" Eric and Chris Norgard took third with 75.44 pounds of anchovy eaters followed by Ryan and Roger Asplin, who teamed up for 72.01 pounds earning them fourth place. A quick look at the Top-4 shows just how much of a family event Striper Derby has always been.
Rounding out the Top-10 and their total weights, fifth place went to Bill McFarland and Steve Methey (71.84 pounds), followed by former Striper Derby champ Kenny Baldwin and Noah Kokkinias (71.42) who landed in sixth. John DiFederico and Mark Bosak (69.27) finished in seventh place edging out Scott and Sandra Green (68.65) who finished eighth but likely got the last laugh (more on that later). The ninth and tenth spots went to Brandon Fox and Michael Brown (68.54) and James Padilla and Vince Ramirez (68.01).
There were only a little over 12 pounds separating first and tenth place, and a lot of familiar names showed up in the top 10 along with some new blood. Among the prize haul for the Top-5 finishers was Abu Garcia Veritas rods, gift cards for Huk Performance Fishing apparel — which is right at home on Lake Havasu — Berkley X5 Braid, Chevron-Techron Fuel System Treatment and trophies, and that is to say nothing of Big Fish and Blind Bogey Cash or drawing prizes they may have picked up.
For the most impressive showing on the Big Fish front, look no further than the show put on by eighth-place finisher Scott Green, who was fishing in his 20th Striper Derby. After securing the Big Fish on Day 1 with an 8.86-pound striper, he followed up with a 12.09 pounder that stood as the overall Big Fish of the Derby. Those fish earned him $966 and $690, respectively, for the general big fish payouts, but as a high-roller entrant, Green also brought picked up $2,600 and $1,560 for those two jailbirds. It's kind of hard to imagine a better way to finish in eighth place.
As for the other Big Fish win- ners, Danny Garcia's 8-pound striped bass netted him $414 plus an additional $1,040 as a high roller. Robert Costello's 6.89-pound fish was worth $414, and the 6.7-pound striper landed by Mark Bosak was good for a $266 payday. Blind Bogey cash prizes were also awarded to the teams landing closest to the 10 randomly generated bag weights on both Day 1 and 2 of the 2021 Striper Derby meaning another 39 anglers (there was a "team of one" in the mix) also went home with a check.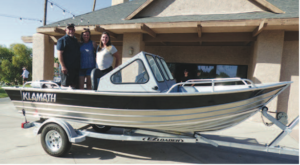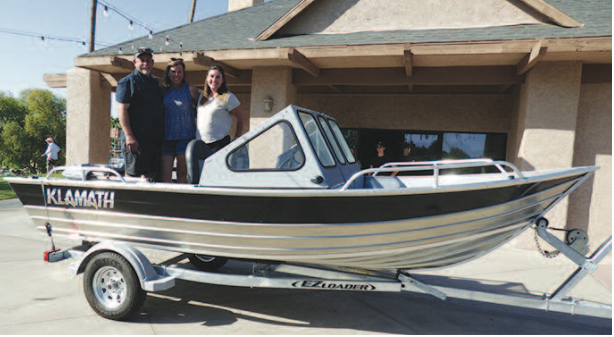 The most popular aspect of Striper Derby is when the Grand Raffle Prize boat and motor package is awarded to the angler who simply has the number on his wristband called at the awards ceremony. Each participating angler is in the drawing, so the top prize of the event can (and has) gone home with an angler who doesn't even catch a fish in the tournament.
That lucky fisherman in 2021 was Monty Walker of Cherry Valley, Calif., who was fishing as a solo angler in his 14th Lake Havasu Striper Derby, and his new toy is a Klamath 16 EXW boat paired with a Suzuki 40 hp motor valued at over $18,000 for the boat, motor and trailer package.
Another major raffle prize was a Sea Eagle Fast Cat 16 inflatable fishing boat packing a Suzuki 6 hp motor. Sea Eagle has provided one of it's top-notch portable, storable and transportable fishing platforms for Striper Derby for a long time now, and this one was hauled away by young Ryan Asplin who made up half of Team 48 with Roger Asplin who finished fourth overall. As far as his prize haul, it would not end here for Asplin.
Someone winning somethin' after catching nothin' is nothing new at Striper Derby which, perhaps more than any other Western Outdoor News fishing event, finds a ton of ways to spread the wealth among its participants. This year's prize for the Early Bird Raffle was an incredible 3-day houseboat stay at either Pleasure Cove Marina at Lake Berryessa or Lake Don Pedro Marina valued at $2,000 compliments of supporting sponsor, Suntex Marinas. That score went to Team 82, James Binns and Anthony Fracasso, both of Landers, Calif.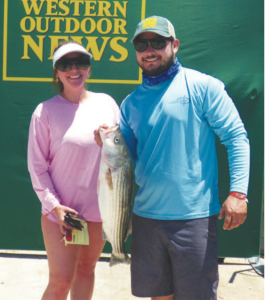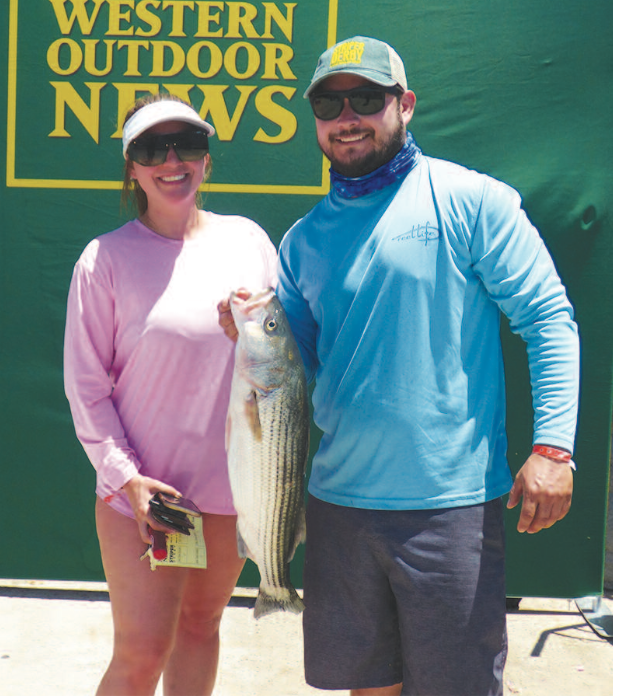 A costume contest was plugged in to the 2021 Striper Derby festivities and it was won by Ryan and Kyrsten Asplin of Flagstaff, Arizona, earning them a $500 gift card for Huk Performance Fishing apparel. The other winner of the costume contest was Randy Marzano who was participating as part of the Team Reel Warriors Foundation program. The 99-Cent Store costume picked up for him by his wife earned them a stay at London Bridge Resort which was back as Derby headquarters.
Lake Havasu Striper Derby is powered by its sponsors and supporting companies that provide everything from prizes and giveaways to venues and local volunteer support. They include: Klamath boats, Suzuki, Abu-Garcia, Berkley, Sea Eagle, Huk, Maurer Marine, Frogg Toggs, Anderson Toyota, Lake Havasu City, London Bridge Resort, Chevron/Techron, Pleasure Cove Marina at Lake Berryessa and Lake Don Pedro Marina, Global Fish Mounts and Anglers United.
As for the fishing, the general consensus was conditions were better on Day 2, but the white-cap-inducing winds were present throughout. Some anglers found the area near the rivermouth to provide some shelter from the blow, but the field really was spread out all over the lake. Cut baits clearly ruled the event, but there were some caught on topwater, trolled flies and swimbaits on some level, and some participants indicated they did land some on the Berkley Hit Stik baits included in this year's Derby goodie bag.
Last year's winner and the only angler who has fished in all 39 WON Lake Havasu Striper Derbies, Bobby Jones along with Mike Jones of Team 39 (Next year, Team 40) did finish respectably in this year's event. The duo came in with 32.83 pounds of striped bass on Day 1 (including a 7.37-pound big fish) and another 40.2 pounds on Day 2 for a total weight of 73.03 pounds.
When asked by WON if he was going to participate next year, he said, "As long as it doesn't snow."