Hector Gracia Claims AAA Crown
BY DAN O'SULLIVAN
Las Vegas – October 14, 2020 – When the smoke had cleared on one of the toughest U.S. Open Championships to date, one man stood free of the flames; that man was Tim Klinger of Boulder City, Nev., a local pro and former FLW Tour Champion who has faced fires of his own in the fickle sport that is professional bass fishing.
Klinger started the final day of the 2020 Bass Cat Boats / Mercury Marine WON BASS U.S. Open with 21.15 pounds; less than a pound off the pace set by Las Vegas' Cody Steckel who showed consistency over the first two days, posting a total of 22.03 pounds.
Klinger started the tournament with a 7.66-pound limit on day one that found him in 42nd place for the day. However, he brought the heaviest five fish limit of the tournament to the scales on day two; a 13.49-pound effort that included a five-pounder, to move to second place. On the final day, when it counted the most, he posted the only double-digit limit of the day, a 10.92-pound bag, bringing his three-day total to 32.07 pounds, claiming his first U.S. Open Championship.
With that victory, he earned the $100,000 cash prize and the keys to a 2021 Bass Cat Puma FTD, powered by a 250 horsepower Mercury ProXS outboard valued at $64,000 presented to him by Rick Pierce, president of Bass Cat Boats.
Klinger was visibly moved as he was named the champion. "I've wanted to win this tournament for a lot of years, and I've been close before, but this is especially sweet," he said.  "To be able to win this while my Dad is still with us means the world to me; I could never win another tournament again and be happy that he got to see it."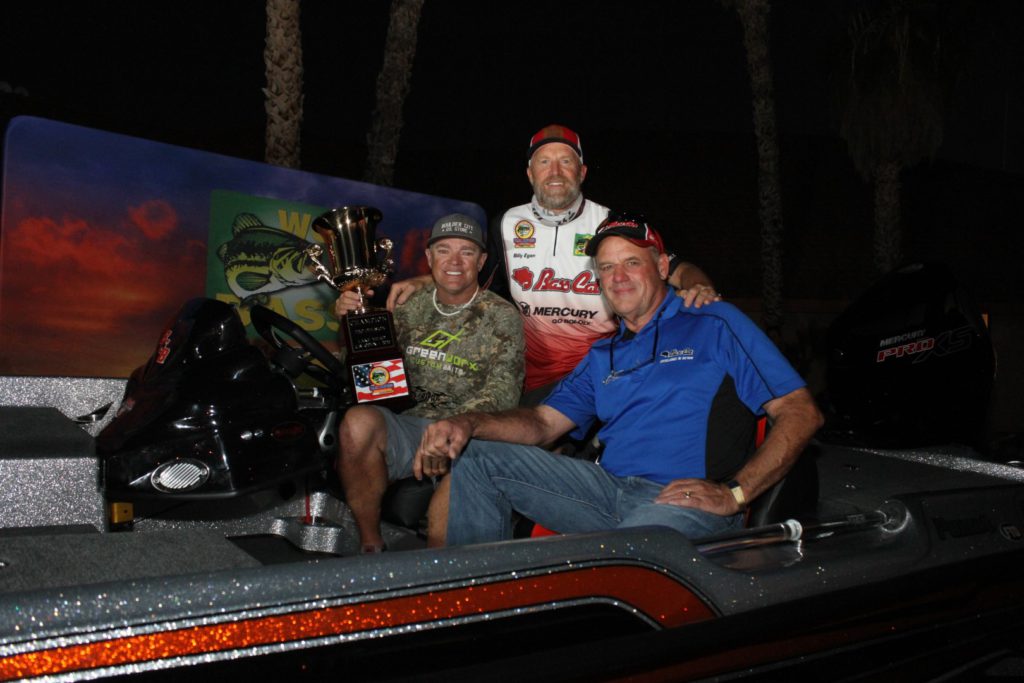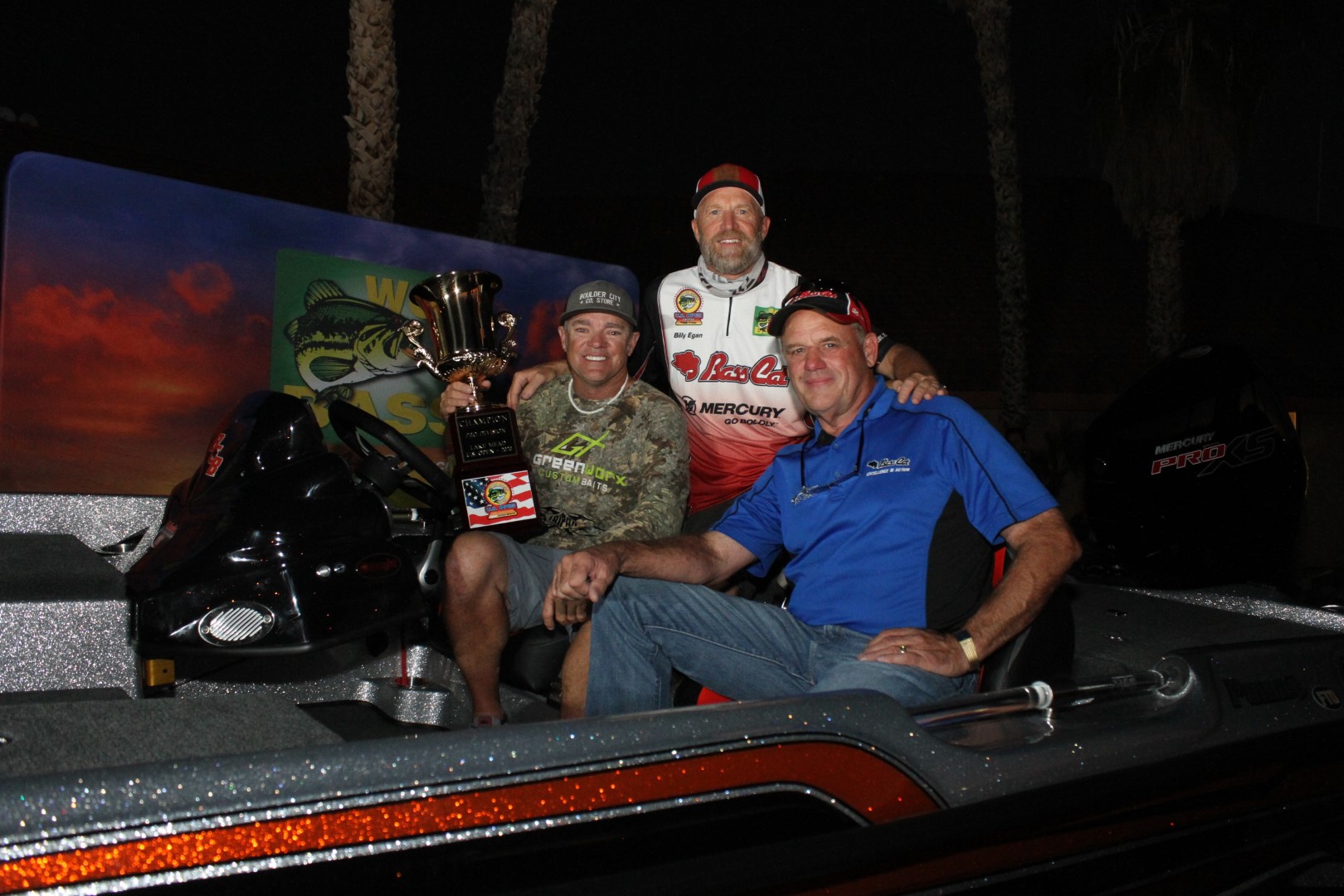 Klinger said that his winning combination was an 8.5-inch Berkley PowerBait curlytail worm on 5/16- to 1/2-ounce tungsten weights and a 4/0 Hayabusa worm HD Worm Hook in two colors, motor oil and green pumpkin. He also mixed in a PowerBait Chigger Craw to add a few fish.
He spent half of the first day in the Vegas Wash area but ran to a backup area in the Overton arm. "I found a spot that had some deep trees on it many years ago when the lake was low, and I visited it several times, they finally showed up on it late yesterday," he said. "I was fishing in 18 feet of water and had it all to myself, there wasn't a boat within a half mile of me; I still can't believe this is real."
Former U.S. Open Champion Roy Hawk, from Lake Havasu City, Ariz., posted a 9.60-pound limit on day three to leap two spots to finish second for the event with 29.01 pounds, and claim $22,000 in cash. He said he fished the Vegas Wash, targeting schooling fish early, then turned to jigs, worms and dropshot rigs to fill his limits each day. "I used an Evergreen Showerblows and a Duo Realis Pencil 110 – both in shad patterns," he said."I really wanted to win, but I am absolutely pleased to finish second to Timmy; he really deserves it, and I'm really happy for him."
Steckel stumbled for the first time this week, posting 6.32 pounds to bring his total to 28.35 pounds, finishing in third place. Fourth place went to Whittier, Calif. pro Scott Helleson with 25.06 pounds, and Dennis Kolender, of Santee, Calif. finished fifth with 24.30 pounds.
The AAA division winner was Hector Gracia from Poway, Calif.  He posted a three-day total of 24.09 pounds to earn the title of WON BASS U.S. Open Champion and $10,600 in cash and prizes valued at more than $5,000. "This is amazing to win because the U.S. Open is such a grind," he said. "I want to thank my boaters for a great week, I lost my dad recently, this is for him."
Second place in the AAA Division ended in a tie, Folsom, Calif. angler Westly Gritts and Kevin Burgess of Kingman, Ariz. with 23.76 pounds each. Fourth place went to day one leader Luke Spreitzer of Phoenix, Ariz. with 23.51 pounds, and rounding out the top five was Clearlake, Calif. angler Dylan Watson with 23.32 pounds.
Complete day three standings can be found below.
The 2020 Bass Cat Boats / Mercury Marine WON BASS US Open is complete. The pro winner received $100,000 cash and the keys to a 2020 Bass Cat Puma FTD powered by a Mercury Pro XS 250 Four Stroke outboard valued at $64,000. The live broadcast was presented by KUIU and Phenix Rods.
The sponsors of the 2020 U.S. Open were: Bass Cat Boats, Mercury, KUIU, Phenix Rods, Daiwa, Berkley, Abu Garcia, Seaguar Fluorocarbon, Lew's, Power Pole, Life Source Water Systems, A&M Graphics, Gamakatsu, St. Croix Rods, Century Marine, Costa, Anglers Marine, Ben Green Insurance, Eagle Claw TroKar, San Juan Marine, Huntington Beach Honda, Strike King, Boatmasters, Sure Life, SKB, DD26 and Access Parks.
2020 WON Bass U.S. Open Day One Pro Standings
| | | | | | | |
| --- | --- | --- | --- | --- | --- | --- |
| Place | Name | Hometown | Weight | Penalty | Big Fish | Total |
| 1 | Tim Klinger | Boulder City NV | 32.07 | | 5.06 | 32.07 |
| 2 | Roy Hawk | Lake Havasu City AZ | 29.01 | | 3.73 | 29.01 |
| 3 | Cody Steckel | Las Vegas NV | 28.35 | | 3.93 | 28.35 |
| 4 | Scott Hellesen | Whittier CA | 25.06 | | 2.63 | 25.06 |
| 5 | Dennis Kolender | Santee CA | 24.30 | | 3.24 | 24.30 |
| 6 | John Morrow | Kingman | 23.93 | | 2.13 | 23.93 |
| 7 | Carl Limbrick, Jr. | Bonita CA | 23.57 | | 3.22 | 23.57 |
| 8 | Ray Arbesu | Henderson NV | 23.36 | | 2.12 | 23.36 |
| 8 | Tom Leedom | Escondido CA | 23.36 | | 2.83 | 23.36 |
| 10 | Jared Lintner | Arroyo Grande CA | 23.20 | | 2.50 | 23.20 |
| 11 | Kyle Grover | RCHO STA MARG CA | 22.81 | | | 22.81 |
| 12 | Brett Hite | Phoenix AZ | 22.71 | | 3.09 | 22.71 |
| 13 | Garrett Howard | Riverside CA | 22.60 | | 3.53 | 22.60 |
| 14 | Jay Guterding | Redding CA | 22.15 | | 4.17 | 22.15 |
| 15 | Mark Dotterer | Phoenix AZ | 21.97 | | | 21.97 |
| 16 | Tai Au | Glendale AZ | 21.78 | | | 21.78 |
| 17 | Josh Bertrand | San Tan Valley AZ | 21.76 | | | 21.76 |
| 18 | Kevin Caruso | Glendale AZ | 21.30 | 0.20 | | 21.10 |
| 19 | Mike Williams | Lake Havasu City AZ | 20.69 | | | 20.69 |
| 20 | Paul Hodges | Glendale AZ | 20.42 | | | 20.42 |
| 21 | Kevin Hugo | Canyon Lake CA | 20.29 | | | 20.29 |
| 22 | Patrick Touey | Nipomo CA | 20.16 | | 2.57 | 20.16 |
| 23 | Levi Samz | Green River WY | 20.13 | | 2.72 | 20.13 |
| 24 | Jeff Martineau | Phoenix AZ | 20.08 | | 2.64 | 20.08 |
| 25 | Greg Miser | Spring Valley CA | 20.21 | 0.20 | | 20.01 |
| 26 | Bryan Grier | Hollister CA | 19.89 | | 3.38 | 19.89 |
| 27 | Moses Mokuahi | West Richland WA | 19.77 | | 2.75 | 19.77 |
| 28 | Aaron Martens | Leeds AL | 19.71 | | 2.94 | 19.71 |
| 29 | Micah Jones | Kingman AZ | 19.61 | | 2.79 | 19.61 |
| 30 | Jacob Lute | Yuma AZ | 19.41 | | 2.69 | 19.41 |
| 31 | DeeJay Evans | Las Vegas NV | 19.28 | | | 19.28 |
| 32 | John Stewart | Peoria AZ | 19.13 | | 2.54 | 19.13 |
| 33 | Marco Fenelli | San Diego CA | 19.07 | | 2.50 | 19.07 |
| 34 | David Baca | Prescott Valley AZ | 19.01 | | 2.47 | 19.01 |
| 35 | Guy Savidan | NORCO CA | 18.93 | | 2.87 | 18.93 |
| 36 | Cliff King | Ione CA | 18.91 | | 4.18 | 18.91 |
| 36 | Sean Torgrude | Henderson NV | 19.11 | 0.20 | | 18.91 |
| 38 | Matthew Adamson | Farmington NM | 19.10 | 0.20 | 2.29 | 18.90 |
| 38 | Austin Bonjour | Atascadero CA | 19.10 | 0.20 | 2.35 | 18.90 |
| 40 | Jeff Michels | Lakehead CA | 18.86 | | | 18.86 |
| 41 | Cody Spetz | Menifee CA | 18.80 | | 2.31 | 18.80 |
| 42 | Ken Whalen | Lompoc CA | 18.74 | | 2.76 | 18.74 |
| 43 | Robert Maddox | Henderson NV | 18.70 | 0.20 | 3.29 | 18.50 |
| 44 | Billy Hines | Vacaville CA | 18.43 | | | 18.43 |
| 45 | Clayton Meyer | Henderson NV | 18.41 | | 2.95 | 18.41 |
| 46 | Kyle Georgi | Descanso CA | 18.17 | | 2.34 | 18.17 |
| 46 | Kevin Wiggins | Las Vegas NV | 18.57 | 0.40 | | 18.17 |
| 48 | Andrew Napoleon | Mesa AZ | 18.13 | | 2.67 | 18.13 |
| 49 | John Fuqua | Payson AZ | 18.05 | | 2.61 | 18.05 |
| 50 | Kona Borja | Las Vegas NV | 18.04 | | 1.83 | 18.04 |
| 51 | Gunnar Stanton | Boulder City NV | 17.97 | | | 17.97 |
| 52 | Danny Clark | San Tan Valley AZ | 17.85 | | | 17.85 |
| 52 | John Murray | Spring City TN | 17.85 | | 2.61 | 17.85 |
| 54 | Nick Young | Nyssa OR | 17.71 | | | 17.71 |
| 55 | Tom Nokes | Riverton UT | 17.68 | | 2.98 | 17.68 |
| 56 | Jim Wells | New Plymouth ID | 17.86 | 0.20 | | 17.66 |
| 57 | Robert Ostercamp | Chandler AZ | 17.99 | 0.40 | | 17.59 |
| 58 | Julius Mazy | Phoenix AZ | 17.57 | | | 17.57 |
| 58 | Andrew Upshaw | Tulsa OK | 17.57 | | 3.15 | 17.57 |
| 60 | Byron Velvick | San Antonio TX | 17.41 | | | 17.41 |
| 61 | Jay Cranney | Sandy UT | 17.36 | | 2.15 | 17.36 |
| 62 | Brent Becker | Boulder City NV | 17.23 | | 2.99 | 17.23 |
| 63 | Douglas Jones | North Las vegas NV | 17.16 | | 3.20 | 17.16 |
| 64 | Gabe Thomas | Tuscon AZ | 17.11 | | 3.46 | 17.11 |
| 65 | Tommy Jonovich | Phoenix AZ | 17.05 | | | 17.05 |
| 66 | James Fenney Jr | Murrieta CA | 16.82 | | 3.95 | 16.82 |
| 67 | Pete Marino | Moreno Valley CA | 16.77 | | 2.16 | 16.77 |
| 68 | Justin Kerr | Simi Valley CA | 16.54 | | | 16.54 |
| 69 | Vincent Melkus | Billings MT | 16.43 | | 2.48 | 16.43 |
| 70 | Zack Holwerda | Maricopa AZ | 16.40 | 0.20 | 2.62 | 16.20 |
| 71 | Travis Jewell | Sandy UT | 16.30 | 0.20 | | 16.10 |
| 72 | Ryan Yamagata | Las Vegas NV | 16.28 | 0.20 | | 16.08 |
| 73 | Miles Howe | San Juan Capistrano CA | 15.97 | | 4.19 | 15.97 |
| 74 | Gary Martlage | Pheonix AZ | 15.73 | | 2.05 | 15.73 |
| 75 | Doug Gaskill | Las Vegas NV | 16.27 | 0.60 | 2.81 | 15.67 |
| 75 | Spencer Lazara | Las Vegas NV | 15.67 | | | 15.67 |
| 77 | Tom White Jr. | Costa Mesa CA | 15.66 | | | 15.66 |
| 78 | Eric Schook | Scottsdale AZ | 15.56 | | 4.22 | 15.56 |
| 79 | Scott Frazier | San Diego CA | 15.55 | | 3.16 | 15.55 |
| 80 | Shane Spinning | Canyon Lake CA | 15.63 | 0.20 | 5.48 | 15.43 |
| 81 | Brent Shores | Boise ID | 15.31 | | | 15.31 |
| 82 | John Basmadjian | Fullerton CA | 15.27 | | | 15.27 |
| 83 | Andy Manahl | Mesa AZ | 15.23 | | | 15.23 |
| 83 | Devin McDonald | Rio Ranch NM | 15.23 | | 2.34 | 15.23 |
| 85 | Jiggs Benn | Myrtle Creek OR | 15.21 | | | 15.21 |
| 86 | Rick Jarakian | St George UT | 14.97 | | | 14.97 |
| 87 | Johnny Johnson | Lakeside AZ | 14.96 | | | 14.96 |
| 87 | Patrick Whitaker | Gilbert AZ | 14.96 | | 4.06 | 14.96 |
| 89 | Frankie Mueller | Kingman AZ | 14.93 | | 2.62 | 14.93 |
| 89 | Ron Raynor | Henderson NV | 14.93 | | 2.34 | 14.93 |
| 91 | Dean Kreuzer | Mesa AZ | 14.91 | | 2.90 | 14.91 |
| 92 | Phil Dutra | Antioch CA | 14.82 | | | 14.82 |
| 93 | Keegan Graves | Meridian ID | 14.73 | | 2.65 | 14.73 |
| 94 | Brian Nunn | Bakersfield CA | 14.90 | 0.20 | | 14.70 |
| 95 | Christian Ostrander | Turlock CA | 14.61 | | | 14.61 |
| 96 | Joe Uribe, Jr. | Surprise AZ | 14.39 | | 2.15 | 14.39 |
| 97 | Bryant Smith | Roseville CA | 14.48 | 0.20 | | 14.28 |
| 98 | Gary Wasson | Visalia CA | 14.23 | | 3.24 | 14.23 |
| 99 | Lane Olson | Sherwood OR | 14.20 | | | 14.20 |
| 100 | Steve Molinari | Waddell AZ | 13.95 | | | 13.95 |
| 101 | Kurt Dove | Del Rio TX | 13.91 | | 4.67 | 13.91 |
| 102 | Matt Shura | Gilbert AZ | 13.87 | | | 13.87 |
| 103 | Scooter Griffith | Mesa AZ | 13.82 | | 3.29 | 13.82 |
| 104 | Travis Pitt | Henderson NV | 13.78 | | 2.84 | 13.78 |
| 105 | Bobby Lanham | Cave Creek AZ | 13.66 | | 2.10 | 13.66 |
| 106 | Raymond Archer | Greeley CO | 13.40 | | | 13.40 |
| 107 | Ben Byrd | Moab UT | 13.37 | | | 13.37 |
| 108 | Shannon Abbott | Oceanside CA | 13.26 | | | 13.26 |
| 109 | Todd Woods | Los Angeles CA | 13.16 | | | 13.16 |
| 110 | Matthew Williams | Lake Havasu City AZ | 13.12 | | 3.36 | 13.12 |
| 111 | Jordan Collom | Temecula CA | 13.07 | | 3.08 | 13.07 |
| 112 | Kyle Richins | Washington UT | 12.99 | | | 12.99 |
| 113 | Chip Gilbert | San Marcos CA | 12.95 | 0.20 | 2.34 | 12.75 |
| 114 | Rick Cedano | Pomona CA | 12.72 | | 2.23 | 12.72 |
| 115 | Louis Fernandes | Santa Maria CA | 12.71 | | | 12.71 |
| 116 | Scott Davis | Preston ID | 12.70 | | 3.96 | 12.70 |
| 117 | Lester Hawkins | Pagosa Springs CO | 12.66 | | | 12.66 |
| 117 | Terrence Rath | Lake Havasu City AZ | 12.66 | | | 12.66 |
| 119 | Sean Coffey | Mesa AZ | 12.50 | | 2.59 | 12.50 |
| 120 | Jimmy Savoini | Prescott AZ | 12.31 | | | 12.31 |
| 121 | Kevin Finley | Phoenix AZ | 12.23 | | | 12.23 |
| 122 | Jerren Slaton | Afton TX | 12.41 | 0.20 | | 12.21 |
| 123 | Zach Richard | Suisun CA | 12.16 | | | 12.16 |
| 124 | Trevor Reis | Alpine CA | 12.15 | | 2.75 | 12.15 |
| 124 | Eddie Rodriguez | Wheat Ridge CO | 12.15 | | 1.52 | 12.15 |
| 126 | Tyler Brinks | Spokane WA | 12.08 | | 2.11 | 12.08 |
| 127 | James Ramer | Santee CA | 12.03 | | | 12.03 |
| 128 | Gary Moore | Hemet CA | 11.85 | | 2.24 | 11.85 |
| 129 | Max Hernandez | Queen Creek AZ | 11.79 | 0.20 | | 11.59 |
| 130 | Shaun Bailey | Lake Havasu City AZ | 11.54 | | | 11.54 |
| 131 | Jamie Shaw | Coolidge AZ | 11.46 | | | 11.46 |
| 132 | Bill Brown | Grand Junction CO | 11.40 | | | 11.40 |
| 133 | Kent Stoker | Boulder City NV | 11.39 | | | 11.39 |
| 134 | Kyle Greenlaw | Morro Bay CA | 11.31 | | 2.45 | 11.31 |
| 135 | Mark Williams | Lake Havasu City AZ | 11.26 | | | 11.26 |
| 136 | David Raynor | Henderson NV | 11.25 | | 2.87 | 11.25 |
| 137 | Bub Tosh | Modesto CA | 11.07 | | | 11.07 |
| 138 | Vince Borges | Salida CA | 11.06 | | 3.90 | 11.06 |
| 139 | Kevin Short | Mayflower AR | 11.02 | | | 11.02 |
| 140 | Darius Arberry | Las Vegas NV | 10.89 | | | 10.89 |
| 140 | Ryan Scott | El Dorado Hills CA | 10.89 | | 2.43 | 10.89 |
| 142 | Tony Lain | Lake Havasu City AZ | 10.79 | | | 10.79 |
| 143 | Chris Kinley | Lake Havasu City AZ | 10.75 | | | 10.75 |
| 143 | Justin Patti | Peoria AZ | 10.75 | | | 10.75 |
| 145 | Brent James | St George UT | 10.68 | | | 10.68 |
| 146 | Rich Vincent | Wildomar CA | 10.65 | | 2.15 | 10.65 |
| 147 | Gary Freeman | Las Vegas NV | 10.57 | | 2.19 | 10.57 |
| 148 | Carlos Garcia | Murrieta CA | 10.53 | | | 10.53 |
| 149 | Stephen Tauriello | Las Vegas CA | 10.65 | 0.20 | 2.14 | 10.45 |
| 150 | Chris Nickerson | Hemet CA | 10.33 | | 2.19 | 10.33 |
| 151 | Steve Lee | Burbank WA | 10.27 | | | 10.27 |
| 152 | Rob Sanford | San Diego CA | 10.43 | 0.20 | 2.84 | 10.23 |
| 153 | Jason Bradshaw | Sacramento CA | 10.03 | | | 10.03 |
| 154 | Adam Brister | Green River WY | 9.98 | | 2.98 | 9.98 |
| 155 | Jonathan Wdowiak | Winchester CA | 9.97 | | | 9.97 |
| 156 | Randall Bruce | Las Vegas NV | 9.89 | | | 9.89 |
| 157 | Ron Ratlief | Lake Havasu City AZ | 9.85 | 0.20 | | 9.65 |
| 158 | Trace Myers | Santaquin UT | 9.62 | | | 9.62 |
| 159 | Jesse A. Marquez | Brea CA | 9.57 | | | 9.57 |
| 160 | Aaron Hill | Santa Clarita CA | 9.23 | | | 9.23 |
| 161 | Russ Barger | Boise ID | 9.18 | | 2.38 | 9.18 |
| 162 | Brett Leber | Dixon CA | 9.09 | | | 9.09 |
| 162 | Kirk McKinney | Phoenix AZ | 9.09 | | | 9.09 |
| 164 | Wade Strelic | El Cajon CA | 9.06 | | | 9.06 |
| 165 | Keith Bridges | Mission Viejo CA | 9.01 | | 2.19 | 9.01 |
| 166 | Steve F. Garcia | Anaheim CA | 9.07 | 0.20 | | 8.87 |
| 167 | Matt Frazier | Denair CA | 8.81 | | | 8.81 |
| 167 | Marty Lawrence | Mesa AZ | 8.81 | | | 8.81 |
| 169 | Jeff Bias | Las Vegas NV | 8.80 | | | 8.80 |
| 170 | Shawn Cooley | Qual Valley CA | 8.96 | 0.20 | 2.49 | 8.76 |
| 171 | David Naugle | Las Vegas NV | 8.71 | | | 8.71 |
| 172 | Victor Azevedo | Filer ID | 8.68 | | 2.80 | 8.68 |
| 173 | Mag Gimbel | Las Vegas NV | 8.81 | 0.20 | 1.91 | 8.61 |
| 174 | Todd Kline | San Clemente CA | 8.59 | | 2.56 | 8.59 |
| 175 | Joe Cole | Coalville UT | 8.56 | | 2.19 | 8.56 |
| 176 | Ed Webb | Stanwood WA | 8.41 | | | 8.41 |
| 177 | Sonny Gibson | Las Vegas NV | 8.35 | | 2.51 | 8.35 |
| 178 | Roy J. Jones | Henderson NV | 8.34 | | 1.98 | 8.34 |
| 179 | Laythe Moore | Banning CA | 8.22 | | | 8.22 |
| 180 | Hobby Nelson | Peoria AZ | 8.07 | | | 8.07 |
| 181 | Dan Frazier | Arroyo Grande CA | 8.06 | | | 8.06 |
| 182 | Rick Melead | Yorba Linda CA | 7.98 | | | 7.98 |
| 183 | Anthony Salazar | Henderson NV | 7.90 | | | 7.90 |
| 184 | Daniel Elias | Phoenix AZ | 7.86 | | | 7.86 |
| 185 | Todd Holverson | San Diego CA | 7.76 | | | 7.76 |
| 186 | Ricky Shabazz | La Mesa CA | 7.84 | 0.20 | | 7.64 |
| 187 | Cameron Rodriguez | San Diego CA | 7.56 | | 1.98 | 7.56 |
| 188 | James Scott | Lancaster CA | 7.35 | | | 7.35 |
| 189 | Allen Clark | Florence AZ | 7.19 | | | 7.19 |
| 190 | Ken Mah | Elk Grove CA | 7.10 | | | 7.10 |
| 191 | Benjamin Green | Pasadena CA | 6.99 | | | 6.99 |
| 192 | Bobby Sandberg | Henderson NV | 6.96 | | | 6.96 |
| 193 | Jason Hickey | Weiser ID | 6.93 | | | 6.93 |
| 194 | Jeff Hudson | Las Vegas NV | 6.77 | | 2.39 | 6.77 |
| 195 | Derek Spetz | Menifee CA | 6.74 | | | 6.74 |
| 196 | Christopher Marso | Oceanside CA | 6.69 | | | 6.69 |
| 197 | Angelo Aliotti | Aguanga CA | 6.53 | | | 6.53 |
| 198 | Chase Colby | St. George UT | 6.48 | | | 6.48 |
| 199 | Bill O'Shinn | Auburn CA | 6.39 | | | 6.39 |
| 200 | Randy Estrada, M.D. | Corona CA | 6.38 | 0.20 | | 6.18 |
| 201 | David Kemper | Tempe AZ | 6.13 | | 2.22 | 6.13 |
| 202 | Larry Warren | La Verkin UT | 6.12 | | | 6.12 |
| 203 | David Gliebe | Manteca CA | 6.11 | | | 6.11 |
| 204 | Dylan Denny | Prescott Valley AZ | 6.05 | | 1.76 | 6.05 |
| 205 | Mike Menne | Cottonwood CA | 5.89 | | | 5.89 |
| 206 | Dane Lawrence | Tillamook OR | 5.85 | | 3.32 | 5.85 |
| 207 | Mike Walsh | El Cajon CA | 5.80 | | | 5.80 |
| 208 | Jonathan Schuyler | Henderson NV | 5.73 | | | 5.73 |
| 209 | Melvin Williams | Chula Vista CA | 5.62 | | | 5.62 |
| 210 | Randy Austin | Cedar City UT | 5.56 | | | 5.56 |
| 211 | Oscar Lopez | Santa Paula CA | 5.55 | | | 5.55 |
| 212 | Cory Hoopes | Malad ID | 5.50 | | | 5.50 |
| 212 | Shawn Lee | Arroyo Grande CA | 5.50 | | | 5.50 |
| 214 | Jay Wright | Seal Beach CA | 5.42 | | | 5.42 |
| 215 | Mike Wood | Bayfield CO | 5.35 | | | 5.35 |
| 216 | Dan Merchant | Canyon Lake CA | 5.27 | | | 5.27 |
| 217 | Greg Halliman | Littlerock CA | 5.43 | 0.20 | 2.47 | 5.23 |
| 218 | Stephen Pike | Las Vegas NV | 5.08 | | | 5.08 |
| 219 | Junior Mora | Fresno CA | 4.90 | | | 4.90 |
| 220 | Rusty Salewske | Alpine CA | 4.89 | | | 4.89 |
| 221 | Mike Rennie | Pioche NV | 4.87 | | | 4.87 |
| 222 | Mark Mitchell | Mesquite TX | 4.86 | | | 4.86 |
| 223 | Greg Garcia | LA CA | 5.22 | 0.40 | | 4.82 |
| 224 | Gil Valdez | Fullerton CA | 4.56 | | | 4.56 |
| 225 | Brandon Morton | San Tan Valley AZ | 4.42 | | | 4.42 |
| 226 | Nick Salvucci | Paso Robles CA | 4.35 | | | 4.35 |
| 227 | George Fedor | Yucaipa CA | 4.28 | | | 4.28 |
| 228 | Danny Ruettiger | Henderson NV | 4.11 | | | 4.11 |
| 229 | Marvin Finley | Peoria AZ | 3.83 | | | 3.83 |
| 230 | Daniel Devries | Page AZ | 3.67 | | | 3.67 |
| 230 | Lowell Mickelson | Anahiem CA | 3.67 | | | 3.67 |
| 232 | Dick Watson | Alta Loma CA | 3.65 | | | 3.65 |
| 233 | Shawn Carnahan | Gilbert AZ | 3.45 | | | 3.45 |
| 234 | Joe Ahrens | San Diego CA | 2.59 | | | 2.59 |
| 235 | Steven Bowlin | Coolidge AZ | 2.57 | | | 2.57 |
| 236 | Mike Tafoya | La Plata NM | 2.29 | | | 2.29 |
| 237 | Kyle Coppinger | Pheonix AZ | 2.18 | | | 2.18 |
| 237 | Ron Hammett | La Mesa CA | 2.18 | | | 2.18 |
| 239 | Dylan Maxon | Phoenix AZ | 1.96 | | | 1.96 |
| 240 | Aaron Scott | Vacaville CA | 1.68 | | | 1.68 |
| 241 | Joshua Glenn | Ridgecrest CA | 1.66 | | 1.66 | 1.66 |
| 242 | George Kramer | Lake Elsinore CA | 1.48 | | 1.48 | 1.48 |
| 243 | Delaney Dwyer | Scottsdale AZ | 1.13 | | | 1.13 |
| 244 | Filler Pro | | 0.00 | | | 0.00 |
2020 WON Bass U.S. Day One Final AAA Standings
| | | | | | | |
| --- | --- | --- | --- | --- | --- | --- |
| Place | Name | Hometown | Weight | Penalty | Big Fish | Total |
| 1 | Hector Gracia | Poway CA | 24.09 | 0.20 | 3.14 | 23.89 |
| 2 | Westly Gritts | Folsom CA | 23.76 | | 3.16 | 23.76 |
| 2 | Kevin Burgess | Kingman AZ | 23.76 | | | 23.76 |
| 4 | Luke Spreitzer | Phoenix AZ | 23.51 | | 2.78 | 23.51 |
| 5 | Dylan Watson | Clearlake CA | 23.32 | | 2.15 | 23.32 |
| 6 | Bo McNeely | Rancho Cucamunga CA | 22.90 | | 2.93 | 22.90 |
| 7 | Chris Thatcher | Tuscon AZ | 21.97 | | 2.29 | 21.97 |
| 8 | Paul Reutlinger | Mineola TX | 21.40 | | 2.79 | 21.40 |
| 9 | Kyle Graham | North Ogden UT | 21.17 | | | 21.17 |
| 10 | Coy Mott | Fruitland ID | 21.02 | | 2.63 | 21.02 |
| 11 | Nathan Hill | Las Vegas NV | 20.84 | | 2.57 | 20.84 |
| 12 | Aaron Bartelt | Grand Junction CO | 20.68 | | | 20.68 |
| 13 | David Swendseid | Bend OR | 20.44 | | | 20.44 |
| 14 | Clara Ricabal | Boulder Creek CA | 20.33 | | | 20.33 |
| 15 | Preston Smith | Cave Creek AZ | 20.27 | | | 20.27 |
| 16 | Mark Torrez | Camarillo CA | 20.17 | | 2.08 | 20.17 |
| 17 | Michael Smith | Spreckles CA | 20.10 | | | 20.10 |
| 18 | Freddy Aguero | Surprise AZ | 19.99 | | | 19.99 |
| 19 | Steve Boyce | Phoenix AZ | 19.96 | | 2.51 | 19.96 |
| 20 | Kevin Gross | Claremont CA | 19.76 | | 2.21 | 19.76 |
| 21 | Adam Cacal | Las Vegas NV | 19.75 | | 2.17 | 19.75 |
| 22 | Kristian Puga | La Mirada CA | 19.68 | | | 19.68 |
| 23 | Rick Mason | Glendale AZ | 19.57 | | | 19.57 |
| 24 | William McAninch | Palos Verde Estates CA | 19.55 | | 3.95 | 19.55 |
| 25 | Tom Ormsby | Parowan UT | 19.31 | | 3.12 | 19.31 |
| 26 | Clifford Phipps | Trabuco Canyon CA | 19.27 | 0.20 | | 19.07 |
| 27 | Brian Kemp | Moreno Valley CA | 18.96 | | 3.54 | 18.96 |
| 28 | Todd Tobiasson | Las Vegas NV | 19.10 | 0.20 | | 18.90 |
| 29 | Thor Dusenberry | Pheonix CA | 18.89 | | | 18.89 |
| 30 | Tom Creasy | Covina CA | 18.85 | | | 18.85 |
| 31 | Glenn Wyatt | Fremont CA | 18.84 | | | 18.84 |
| 32 | Len Scinto | Valencia CA | 18.80 | | | 18.80 |
| 33 | Kyle Charles | Grand Junction CO | 18.99 | 0.20 | | 18.79 |
| 34 | Steve Watson | Phoenix AZ | 18.58 | | | 18.58 |
| 35 | Jeff Mabry | Phoenix AZ | 18.43 | | | 18.43 |
| 36 | Noah Sanford | San Diego CA | 18.33 | | 2.51 | 18.33 |
| 37 | Patrick S. Donoho | Las Vegas NV | 18.47 | 0.20 | | 18.27 |
| 38 | Geoff Peterson | Huntington Beach CA | 18.26 | | | 18.26 |
| 39 | Jackson Paluczak | El Cajon CA | 18.24 | | 1.68 | 18.24 |
| 40 | Anthony Souza | Turlock CA | 18.36 | 0.20 | 2.07 | 18.16 |
| 41 | Stephen Byrum | Avondale AZ | 18.12 | | 2.04 | 18.12 |
| 42 | Kevin Duncan | La Verne CA | 17.99 | | | 17.99 |
| 43 | Ted Romero | Lakewood CA | 17.84 | | 3.61 | 17.84 |
| 44 | Joe Patz | Surprise AZ | 17.83 | | 2.18 | 17.83 |
| 45 | Kenny Johnson | Eager AZ | 17.77 | | | 17.77 |
| 46 | Carol Martens | West Hills CA | 17.66 | | 2.07 | 17.66 |
| 47 | Dean Yamagata | Las Vegas NV | 17.54 | | 2.75 | 17.54 |
| 48 | Ron White | Perris CA | 17.45 | | | 17.45 |
| 49 | Russell Herring | Modesto CA | 17.61 | 0.20 | 2.62 | 17.41 |
| 50 | Liz Jones | Canoga Park CA | 17.19 | | | 17.19 |
| 51 | Teddy Snyder | Palo Cedro CA | 17.05 | | 2.40 | 17.05 |
| 52 | Vance Mitchell | Caldwell ID | 17.04 | | | 17.04 |
| 53 | Tom Kruse | Cayucos CA | 17.16 | 0.40 | | 16.76 |
| 54 | Tracy Kassman | Moses Lake WA | 16.93 | 0.20 | 3.88 | 16.73 |
| 55 | Ken Hromada | Chandler AZ | 16.64 | | 2.23 | 16.64 |
| 56 | Greg Prather | Mesa AZ | 16.61 | | 4.56 | 16.61 |
| 57 | Kevin A. Smith | Phoenix AZ | 16.59 | | | 16.59 |
| 58 | Gabe Romero | Henderson NV | 16.42 | | | 16.42 |
| 59 | Joe Ramos | Arvada CO | 16.39 | | | 16.39 |
| 60 | Chris Crawford | Sacramento CA | 16.29 | | | 16.29 |
| 61 | Ryan Furno | Aloha OR | 16.27 | | 3.22 | 16.27 |
| 61 | Robby Rogers | Redondo Beach CA | 16.27 | | 4.31 | 16.27 |
| 63 | James Robinson | Lake Havasu City CA | 16.26 | | 2.80 | 16.26 |
| 64 | Robert Neberman | Henderson NV | 16.13 | | 3.34 | 16.13 |
| 65 | Stephen Lamb | Poway CA | 16.09 | | 2.74 | 16.09 |
| 65 | Mandy Myers | Santaquin UT | 16.09 | | 2.33 | 16.09 |
| 67 | Jonathan Green | San Pablo CA | 16.27 | 0.20 | | 16.07 |
| 67 | Dave Kiesgen | Peorea AZ | 16.07 | | 2.13 | 16.07 |
| 69 | Darren Bowman | San Tan Valley AZ | 16.01 | | | 16.01 |
| 70 | John Hilland | Gilbert AZ | 16.39 | 0.40 | 1.97 | 15.99 |
| 71 | Russell Cranney | West Jordan UT | 15.90 | | 1.86 | 15.90 |
| 72 | Tim Rawlings | Malad ID | 15.81 | | 2.08 | 15.81 |
| 73 | Brandon Smith | Indio CA | 15.97 | 0.20 | 1.72 | 15.77 |
| 74 | Dave Cole | Coalville UT | 15.62 | | | 15.62 |
| 74 | Dominick Mohameds | Oakley CA | 15.82 | 0.20 | | 15.62 |
| 76 | Brian Presmyk | Prescott Valley AZ | 15.07 | | | 15.07 |
| 77 | Cody Cook | Ventura CA | 15.03 | | | 15.03 |
| 78 | Wade Goodwin | Wilton CA | 14.98 | | 2.29 | 14.98 |
| 79 | Michael Kuzara | Anaheim CA | 14.93 | | | 14.93 |
| 80 | Rick Harris | Del Rio TX | 14.92 | | | 14.92 |
| 81 | TJ Romano | New River AZ | 14.90 | | | 14.90 |
| 82 | Jeff Giffen | Phoenix AZ | 14.71 | | | 14.71 |
| 83 | John D. Helm | Tempe AZ | 14.68 | | | 14.68 |
| 84 | Patrick Mayer | | 14.67 | | | 14.67 |
| 85 | Brian Reaves | Covina CA | 14.66 | | 2.17 | 14.66 |
| 86 | Michael Fisher | Santee CA | 14.64 | | 2.21 | 14.64 |
| 87 | Steve Lund | Glendale AZ | 14.56 | | 2.83 | 14.56 |
| 88 | Stanley Hendrix | San Diego CA | 14.55 | | 2.10 | 14.55 |
| 89 | James Daugherty | Phoenix AZ | 14.47 | | | 14.47 |
| 90 | Tim Domingues | San Jose CA | 14.44 | | | 14.44 |
| 91 | Michael Augusto | Citrus Heights CA | 14.32 | | | 14.32 |
| 92 | J.D. Madden | Morgan Hill CA | 14.27 | | 1.94 | 14.27 |
| 93 | Michael Renteria | El Mirage AZ | 14.08 | | 2.24 | 14.08 |
| 94 | Brent Benish | LHC AZ | 14.07 | | | 14.07 |
| 95 | Dale Howard | Las Vegas NV | 14.03 | | 1.72 | 14.03 |
| 96 | Chad Smith | Hughson CA | 13.98 | | 2.72 | 13.98 |
| 97 | Joe Macchirella | Las Vegas NV | 13.95 | | 2.27 | 13.95 |
| 98 | Garrett Church | Oak Hills CA | 13.84 | | 2.79 | 13.84 |
| 99 | Dan Cranston | Visalia CA | 13.79 | | | 13.79 |
| 100 | Christopher Owens | Las Vegas NV | 13.67 | | 2.75 | 13.67 |
| 101 | Colin Parish | Tucson AZ | 13.65 | | 1.59 | 13.65 |
| 102 | Christopher Dix | Eureka MO | 13.51 | | | 13.51 |
| 103 | Tad Yellowhair | Surprise AZ | 13.50 | | 1.92 | 13.50 |
| 104 | David Bebawy | Gilbert AZ | 13.47 | | 2.97 | 13.47 |
| 105 | William Penrod | Salome AZ | 13.34 | | | 13.34 |
| 106 | Mark Bowman | San Dimas CA | 13.33 | | 1.96 | 13.33 |
| 107 | David Shearrer | Lake Forest CA | 13.28 | | | 13.28 |
| 108 | Ryan Gutierrez | Weiser ID | 13.27 | | | 13.27 |
| 109 | Hayden Metz | Eastvalle CA | 13.41 | 0.20 | | 13.21 |
| 110 | Brian Mills | Phoenix AZ | 13.13 | | | 13.13 |
| 111 | Willie Waller | Temecula CA | 13.32 | 0.20 | 2.32 | 13.12 |
| 112 | Christopher Neis | Lancaster CA | 12.93 | | | 12.93 |
| 113 | Kevin Miner | Saugus CA | 12.80 | | | 12.80 |
| 114 | Bret Felter | Malad ID | 12.63 | | 2.25 | 12.63 |
| 115 | John Hampel | Sparks NV | 12.77 | 0.20 | | 12.57 |
| 116 | Alex Mitchell | Herriman UT | 12.49 | | 1.90 | 12.49 |
| 117 | Dennis Chavez | | 12.43 | | | 12.43 |
| 118 | Melissa Nokes | Lehi UT | 12.36 | | 2.38 | 12.36 |
| 119 | David Peltier | Henderson NV | 12.25 | | 1.77 | 12.25 |
| 119 | Omar Ramirez-Nieves | Chula Vista CA | 12.25 | | 3.55 | 12.25 |
| 121 | Jacob Crawford | Long Beach CA | 12.23 | | 2.44 | 12.23 |
| 122 | Jeffrey Stone | Phoenix AZ | 12.29 | 0.20 | | 12.09 |
| 123 | Lauren Storla | Las Vegas NV | 12.08 | | | 12.08 |
| 124 | Eddie Kidd | El Paso TX | 12.06 | | 2.09 | 12.06 |
| 125 | John Browning | Surprise AZ | 12.04 | | 1.87 | 12.04 |
| 126 | Mike Gowey | Snowflake AZ | 11.81 | | 1.68 | 11.81 |
| 126 | Aaron Manning | Mesa AZ | 11.81 | | | 11.81 |
| 128 | Terry Putman | Las Vegas NV | 11.77 | | | 11.77 |
| 129 | David Mehrhoff | Las Vegas NV | 11.76 | | | 11.76 |
| 130 | Tyler Kuiper | San Lois Obispo CA | 11.86 | 0.20 | 1.82 | 11.66 |
| 131 | Jason Flaten | West Wendover CA | 11.65 | | | 11.65 |
| 132 | Robert Chor | San Pedro CA | 11.64 | | | 11.64 |
| 133 | Kelly Burns | Avondale AZ | 11.63 | | 2.11 | 11.63 |
| 134 | Bill Hart | Lincoln CA | 11.56 | | 2.22 | 11.56 |
| 135 | Jason Fox | Boulder City NV | 11.51 | | | 11.51 |
| 136 | Kevin McBean | Shafter CA | 11.49 | | | 11.49 |
| 137 | Steve Jeffries | Hemet CA | 11.40 | | | 11.40 |
| 138 | David King | Compton CA | 11.36 | | | 11.36 |
| 139 | Cole Wright | Alpine CA | 11.35 | | | 11.35 |
| 140 | Gale Fox Jr. | Shelton WA | 11.31 | | | 11.31 |
| 141 | Darren Wilson | Las Vegas NV | 11.27 | | | 11.27 |
| 142 | Rick Moore | Salinas CA | 11.22 | | | 11.22 |
| 143 | Casey Clendenen | Las Vegas NV | 11.16 | | 2.10 | 11.16 |
| 144 | Tom Karavites | Payson AZ | 11.11 | | 2.33 | 11.11 |
| 145 | Rich Henson | Redding CA | 10.98 | | | 10.98 |
| 146 | Matthew Delucia | South Pasadena CA | 10.89 | | | 10.89 |
| 147 | Eddie Spetz | Menifee CA | 10.84 | | | 10.84 |
| 148 | Ayaaz Ismail | Las Vegas NV | 10.83 | | | 10.83 |
| 149 | Russ Velasco | Vacaville CA | 10.91 | 0.20 | | 10.71 |
| 150 | Carter Doren | Las Vegas NV | 10.65 | | 1.65 | 10.65 |
| 151 | Dan Gumber | Grand Junction CO | 10.80 | 0.20 | 3.07 | 10.60 |
| 152 | Pat Hanning | Tucson AZ | 10.58 | | | 10.58 |
| 152 | Jeff Stuart | Las Vegas NV | 10.58 | | | 10.58 |
| 154 | Phil Eoff | Bella Vista CA | 10.51 | | | 10.51 |
| 155 | Zach VerBrugge | Lake Havasu AZ | 10.34 | | 1.78 | 10.34 |
| 156 | Jim Cadell | Escalon CA | 10.49 | 0.20 | | 10.29 |
| 157 | Nathan Foreman | Queen Creek AZ | 10.28 | | 2.17 | 10.28 |
| 158 | Joseph Verna | Atwater CA | 10.22 | | | 10.22 |
| 159 | Dallas Braun | Eagar AZ | 10.35 | 0.20 | 1.94 | 10.15 |
| 160 | Payton Lyndall | Kelseyville CA | 10.14 | | 2.52 | 10.14 |
| 161 | Robert Morales | Page AZ | 10.13 | | | 10.13 |
| 162 | Mike Hawkins | Boulder City NV | 10.06 | | | 10.06 |
| 163 | Collin McCay | Las Vegas NV | 10.00 | | 2.33 | 10.00 |
| 163 | Daniel Partida II | Las Vegas NV | 10.00 | | | 10.00 |
| 165 | Daymond Allen | Murrieta CA | 9.99 | | 2.54 | 9.99 |
| 166 | Juan Diaz | Surprise AZ | 9.82 | | | 9.82 |
| 167 | Patrick McLaren | Las Vegas NV | 9.77 | | | 9.77 |
| 168 | Dave Creal | Henderson NV | 9.75 | | | 9.75 |
| 169 | Wayne St. John | Henderson NV | 9.71 | | 2.47 | 9.71 |
| 170 | Steven Christensen | Ferron UT | 9.69 | | | 9.69 |
| 171 | Jesse Vargas | Murrieta CA | 9.63 | | | 9.63 |
| 172 | Jason Hackerd | Upland CA | 9.58 | | 2.25 | 9.58 |
| 173 | Jose Torres | Tucson AZ | 9.52 | | | 9.52 |
| 174 | Christian McKay | Prescott Valley AZ | 9.29 | | 3.29 | 9.29 |
| 174 | Juan Gabriel Ramirez | Prescott Valley AZ | 9.29 | | | 9.29 |
| 176 | Jeff Billings | Lake Havsua City AZ | 9.12 | | 3.08 | 9.12 |
| 177 | Austin Kubica | Peoria AZ | 9.06 | | 1.83 | 9.06 |
| 178 | Christopher Adams | Goodyear AZ | 9.05 | | | 9.05 |
| 179 | Jim McLaughlin | Bakersfield CA | 8.86 | | | 8.86 |
| 180 | Trevor Gray | Fresno CA | 8.80 | 0.20 | | 8.60 |
| 181 | Chuck LaVigne | San Diego CA | 8.55 | | | 8.55 |
| 182 | Danny Batinich | Canyon Lake CA | 8.72 | 0.20 | 1.92 | 8.52 |
| 183 | Brian Senter | Tuscon AZ | 8.49 | | 1.88 | 8.49 |
| 183 | Ralph Wells | Lake Havasu City AZ | 8.49 | | | 8.49 |
| 185 | Tom Warren | Maricopa AZ | 8.65 | 0.20 | | 8.45 |
| 186 | Scott Frost | Pheonix CA | 8.42 | | 2.08 | 8.42 |
| 187 | Robert A. Morris | Colorado Springs CO | 8.37 | | | 8.37 |
| 188 | Christopher Pilkerton | Lemon Grove CA | 8.35 | | | 8.35 |
| 189 | P.T. Carter | Williams AZ | 8.27 | | | 8.27 |
| 190 | Johnny Muniz | Glendale AZ | 8.11 | | | 8.11 |
| 191 | Tyler Madden | Morgan Hill CA | 8.29 | 0.20 | | 8.09 |
| 192 | Jeffrey Blackamore | Yorba Linda CA | 8.00 | | 2.44 | 8.00 |
| 193 | Dan Davis | Hurrican UT | 7.99 | | | 7.99 |
| 194 | John Bitting | Westminster CA | 7.94 | | | 7.94 |
| 195 | Frank Alvarado | Santa Ana CA | 7.91 | | | 7.91 |
| 195 | John Schramer | Phoenix AZ | 7.91 | | | 7.91 |
| 197 | Jim Vretzos | El Dorodo Hills CA | 7.89 | | | 7.89 |
| 198 | Lyle Valador | Boulder City AZ | 7.82 | | | 7.82 |
| 199 | Brian P. Day | San Diego CA | 7.67 | | | 7.67 |
| 200 | Ron Casner | Rosevelt AZ | 7.58 | | | 7.58 |
| 201 | John Garcia | Yucaipa CA | 7.38 | | | 7.38 |
| 202 | Steve Gibson | Las Vegas NV | 7.35 | | | 7.35 |
| 203 | Derek Hasenbeck | Poway CA | 7.39 | 0.20 | 1.92 | 7.19 |
| 204 | Dustin Noffsinger | Yoncalla OR | 7.17 | | 2.64 | 7.17 |
| 205 | Matt Thomas | Scottsdale AZ | 7.11 | | | 7.11 |
| 206 | Brian Mork | Pleasanton CA | 7.04 | | | 7.04 |
| 207 | Vincent Alcantara | Glendale AZ | 7.03 | | | 7.03 |
| 208 | Samuel Collins | Chino Valley AZ | 6.98 | | 1.89 | 6.98 |
| 209 | Douglas Bullard | Anaheim CA | 6.71 | | 1.55 | 6.71 |
| 209 | Mark Snitow | Lake Havasu City AZ | 6.91 | 0.20 | | 6.71 |
| 211 | Joe Leonard | Windsor CA | 6.63 | | | 6.63 |
| 212 | Rick Cofield | Las Vegas NV | 6.42 | | | 6.42 |
| 213 | Mark Chadeayne | Pomona CA | 6.33 | | 2.95 | 6.33 |
| 214 | Douglas Cole | Livermore CA | 6.21 | | | 6.21 |
| 215 | Michael Bidak | Phoenix AZ | 6.12 | | 1.32 | 6.12 |
| 216 | Yolanda Mativa | Long Beach CA | 6.06 | | | 6.06 |
| 217 | Dustin Barker | Paso Robles CA | 6.02 | | | 6.02 |
| 218 | Philip Bollam | Holladay UT | 5.92 | | | 5.92 |
| 219 | Hunter Miller | Oak Hills CA | 5.82 | | | 5.82 |
| 220 | Chuck Harrison | Fort Collins CO | 5.77 | | | 5.77 |
| 221 | Onelio J. Silva | Las Vegas NV | 5.70 | | 1.44 | 5.70 |
| 222 | Randy Maddux | Phoeinx AZ | 5.89 | 0.20 | | 5.69 |
| 223 | Ronald Zirpolo | Ojai CA | 5.50 | | | 5.50 |
| 224 | Ellison Hubbard | LAS VEGAS NV | 5.49 | | | 5.49 |
| 225 | Richard Crine | Columbine Valley CO | 5.68 | 0.20 | 2.40 | 5.48 |
| 226 | Mona Dunlap | Cottage Grove OR | 5.43 | | | 5.43 |
| 227 | William MacKenzie | Anthem AZ | 5.58 | 0.20 | | 5.38 |
| 228 | Terry Varden | Rockwall TX | 5.19 | | | 5.19 |
| 229 | Mike Romero | Las Vegas NV | 5.11 | | | 5.11 |
| 230 | Cory Sautter | Phoenix AZ | 5.01 | | | 5.01 |
| 231 | Gary Garren | Lebanon OH | 4.92 | | 1.69 | 4.92 |
| 232 | Timothy Gard | Clearlake CA | 4.49 | | | 4.49 |
| 233 | Szu Nien Yeh | Las Vegas NV | 4.34 | | | 4.34 |
| 234 | Steve W. Clark | Fresno CA | 4.20 | | | 4.20 |
| 235 | Andrew Packard | Fresno CA | 4.37 | 0.20 | | 4.17 |
| 236 | Steve Jenkins | Mesa AZ | 4.10 | | | 4.10 |
| 237 | Steve Larsen | Henderson NV | 4.04 | | | 4.04 |
| 238 | Mike Dailey | Overton NV | 4.03 | | | 4.03 |
| 239 | Mike Steckel | Las Vegas NV | 3.91 | | | 3.91 |
| 240 | Jeff Hodges | Grover Beach CA | 3.52 | | | 3.52 |
| 241 | Dylan Auschwitz | Henderson NV | 3.41 | | | 3.41 |
| 242 | Hermie Romero | Las Vegas NV | 2.17 | | | 2.17 |
| 243 | Corey Williams | Boulder City CA | 1.51 | | | 1.51 |
| 244 | Filler AAA | | 0.00 | | | 0.00 |