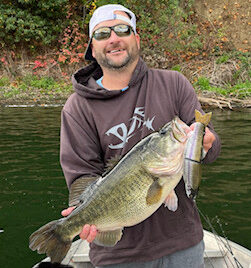 BY CHUCK WOLF
CASTRO VALLEY— Big baits take big fish, and that was absolutely the case for Ryan Reynolds who slammed an 11.6-pound largemouth while fishing Lake Chabot. No stranger to big fish, Reynolds has been targeting big bass for most of his life. Raised in Santa Maria, he was born with fishing in his blood. His father was a commercial fisherman along the central coast, and he grew up fishing rockcod, salmon, halibut, tuna and stripers, but he says bass fishing is definitely his passion.
This monster female was probably somewhere near 10 years old. On average, bass tend to live from 10 to 15 years. Generally shorter in warm water and longer in cooler, better-oxygenated water. Studies have shown that they grow fast initially and reach about 2 pounds by year three, then put on about a half pound per year. Bass that feed primarily on bluegill, tend to grow more slowly, while bass that have access to both trout and bluegill, will grow more quickly. Habitat, feed, and structure all play a part. Obviously, Lake Chabot satisfies many of these needs.
Reynolds was fishing from a rental boat and took this fish on a Dobyns Champion Series 908 XXH, and a Calcutta Conquest 400 spooled with 25-pound mono. The bait used was a Brock Hiroshima custom 11-inch, 9-ounce trout pattern glidebait. He throws Hinkle "soft tails" in 8.5, Negotiators, and 7- to 14-inch Slammers on a regular basis but for this fish, the Brock-11 had the mojo.
Weather is always a factor.
Reynolds was fishing a short cold spell after two days of temperatures up in the 90s, then they dropped into the 60s. It was slightly overcast with a west wind at 10 to 15 mph. He was fishing a shallow point and took her in about 8 feet of water. Action was slow overall and this was the only fish that he saw.
Reynolds described his relationship with big baits as "love-hate" and says that he's gone months without a sizable catch and then, on one cast…one day… everything changes! That's the day that gets you back on the water, and rain or shine, he's always waiting for that next big fish.
On October 28, 2016, almost seven years ago, Reynolds caught the lake record at Lake Chabot, a 19-pound, 2-ounce largemouth. That fish came on a jig which was very exciting at the time, but he says the fish caught this time was crazy. To be able to catch such a nice fish on a large glidebait, or any swimbait for that matter is very difficult, and for him it was a personal best.