BY ANDREW MACK
OXNARD – With the approaching full moon, squid thick around their beds and white seabass all over fish counts, WON's 2-day charter aboard the Pacific Islander was coming together with all the right conditions. With only 12 anglers on board, each angler could take two bunks if they wanted to which is to say nothing of all the room on deck.
Each angler on this one (and all other WON charters) received a waterproof Frog Toggs backpack with HI-SEAS fluorocarbon and a utility box from Gamakatsu. Another added bonus to the trip was a $100 gift card from Huk Peformance Fishing apparel for the jackpot winner.
The Pacific Islander headed for the squid grounds out of CISCOS in hopes of filling up the bait tank with fresh candy bait. With passengers all racked out, the motors backed down and they woke to the sound of the anchor chain going out.. So once they set up the light, it seemed like every squid in the area was under the boat, literally thousands of them jetting back and forth. They were caught on squid jigs as well as by the crew members who were netting them one scoop after another. It took a little over an hour to fill all three tanks, then it was off to the white seabass grounds.
Once we arrived, fish immediately showed up on the meter. Most anglers had dropper loops set up with a longer leaders that were sent down into 70 to 80 feet of water. Most rigs consisted of 30- to 40-pound line with 8 to 10 ounces of lead. Less than five minutes in, someone had a fish hanging, then another went off, then another.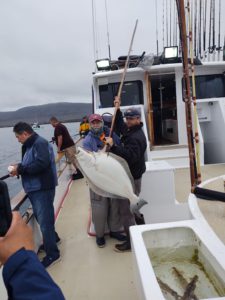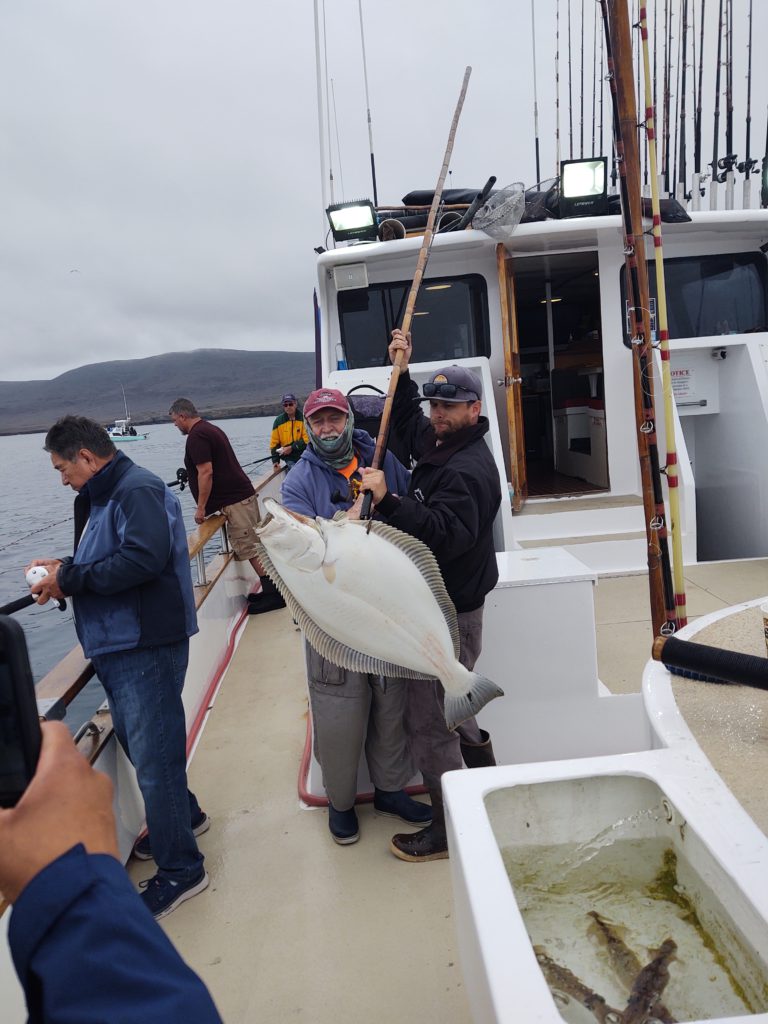 Some anglers using just a leadhead and squid started catching a variety of different species. There were many barracuda caught as well as a good amount of smaller sharks and around 22 bat rays mixed in. Then the halibut showed up, and at one time, there were three hooked at once on the Pacific Islander.
Once the sun came up, there were 18 white seabass and 9 halibut on deck. Captain Russell decided to make some drifts in a zone he thought the halibut would be in. That decision definitely paid off, as three drifts boated another 12 halibut. Russell grabbed a rod set up with a dropper loop, sent it out and got bit right away on what would turn out to be a 35-pound-class flattiue.
He jokingly said, "let me try again and get one bigger, after already putting the biggest of the day on board. Sure enough, he was bit as soon as the squid hit the bottom. This fish fought harder than the last, and once we saw the deep color, we knew this fish was definitely a larger specimen. The fish hit the deck and was well over 40 pounds, a new personal best for the Captain. One more drift and Doug Jurgensen from West Covina was bit. His fish hit the deck, and he immediately knew it was his personal best as well.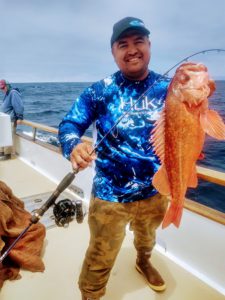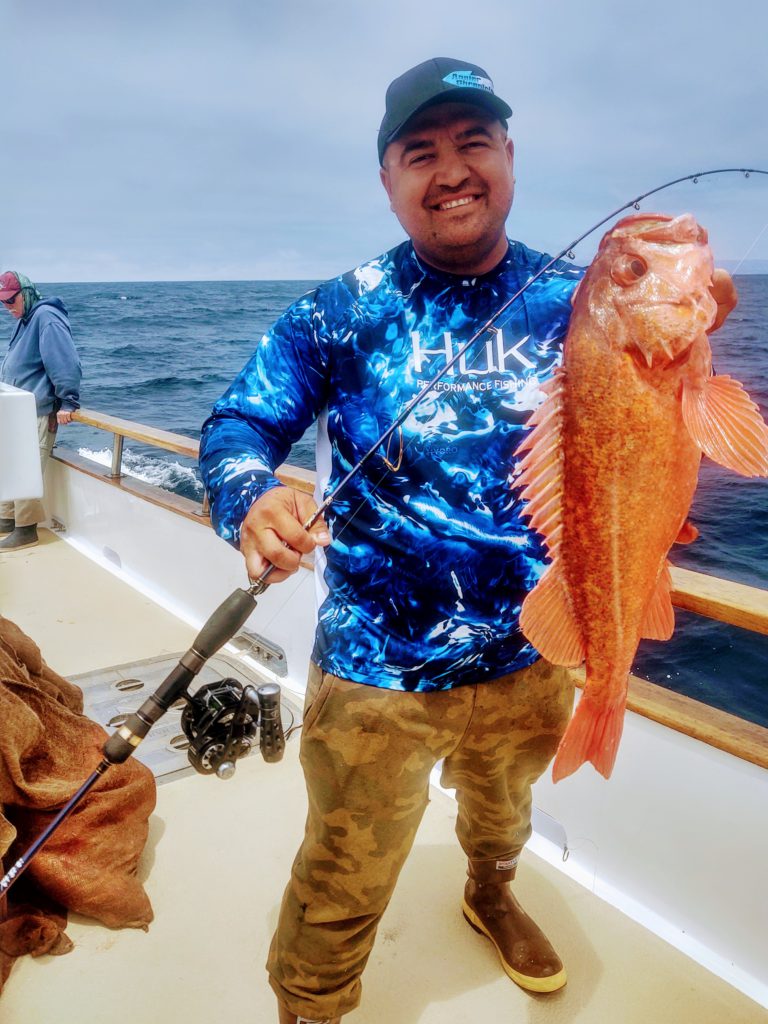 The Pacific Islander then made a 2-hour move to load up on rockfish, and that spot had nothing but quality reds and other rockfish with the averaging 4 to 6 pounds with a few close to the 10-pound range. Limits came quick, and we headed back to the first spot at another shot of seabass and halibut.
Once back at the morning spot, there was a bigger swell and the wind was blowing harder. It took multiple tries to set the anchor with the ripping current, but finally we were hung up and back to fishing. As the sun was setting, another halibut and a white seabass was brought on board, then it turned to nothing but barracuda again all night.
The following day with more wind, the bite was a lot tougher. Two seabass and a halibut for the morning, then a few more halibut later in the day at the last spot before heading home. The best part was when the crew started bringing the fish out of the hold because we all didn't realize how many fish we actually got until they were laying on the deck. The boat total for 12 anglers and crew was 2-day limits of rockfish, 21 white seabass to 40 pounds, 24 halibut  to 40-plus pounds, 35 barracuda and 3 black seabass to 300 pounds safely released. There was a jackpot for each day, and the winner of the $100 Huk gift card and Day 1 jackpot was Joey Clark from Ventura with a big seabass, and the Day 2 jackpot went to Alex Laui from Ontario with another tanker ghost.