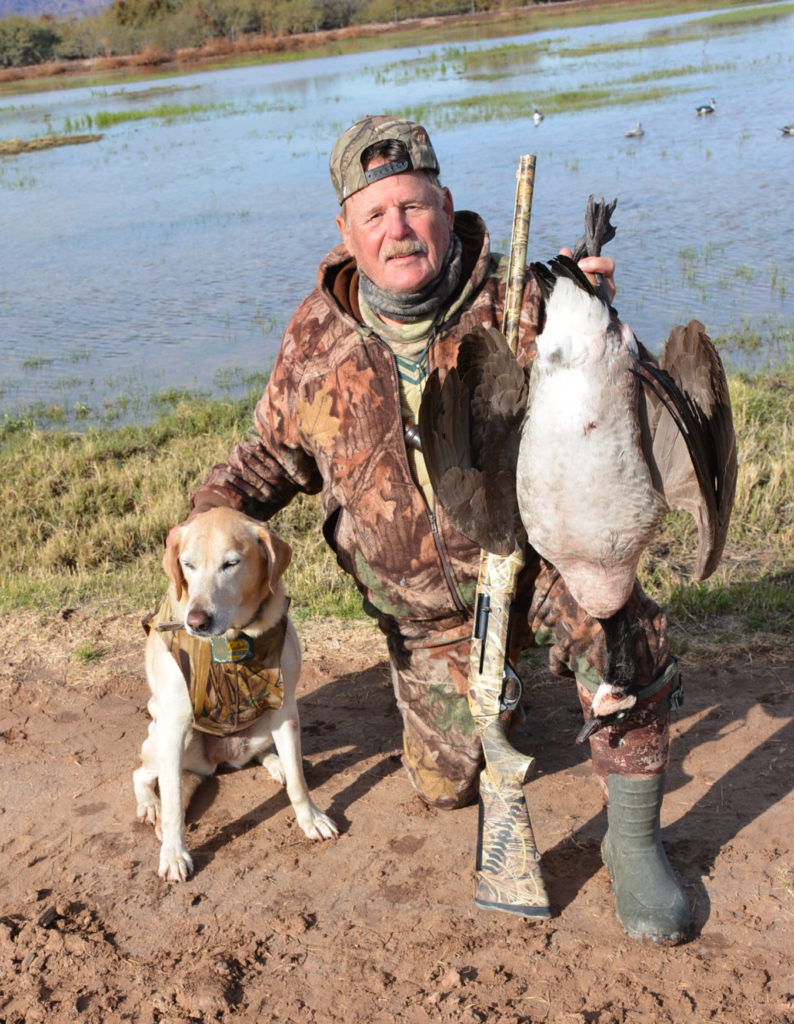 Flocks of new big duck arriving daily
BY JIM NIEMIEC
Scroll down for the DFW's statewide waterfowl count chart. 
RIVERSIDE – Finally, thanks to some freezing winter weather and a timely migration, new ducks have made it down into the Southern California part of the Pacific flyway. More pintail, gadwall and some big flocks of American widgeon winged down this past week and made up for some pretty poor gunning the prior week.
This WON hunting writer spent a couple of cold (10 degrees) days up flyfishing the upper Owens River and there were plenty of ducks on the river including a couple of flocks of widgeon numbering in excess of 30 birds each. Also, there were divers using the Long Valley flyway. A bit farther south flocks of honkers were spotted leaving what was left of an alfalfa field. WON received word on Sunday that a lot of new ducks arrived in the southern end of the San Joaquin Valley, which should improve hunting at Kern. All is looking pretty promising for continued good waterfowl hunting through the month of December.
Wister Wildlife Refuge – Duck and goose averages didn't come up all that much on hunts last week, but there were more big puddle ducks and divers bagged. Pintail and gadwall accounted for the most ducks harvested, but there were all good numbers posted on diving ducks. The snow goose hunt on Wed. was extremely slow, but those in goose blinds for the Sat. hunt killed 34 snows and one honker. Hunting was very slow on Sunday. The average for the week was just over 1 duck. This popular refuge shoots on Wednesday, Saturday and Sunday. For more details on hunting Wister Unit call the DFW on site office at (760) 359-0577.
Sonny Bono Salton Sea National Wildlife Refuge – Sat. offered up pretty good goose hunting with 23 white geese killed to go along with 18 ducks. On Wed. only 4 ducks and no geese were taken. The Sunday hunt was slow with only a few ducks and geese bagged. For more information on hunting this national refuge, which is managed by the Wister staff, call (760) 359-0577.
Finney-Ramer Unit – No report filed. Finney-Ramer is part of the Imperial Wildlife Area, located on the south end of the Salton Sea, and is open to hunters 7 days a week under a self-registration and self-reporting system. For more details on this refuge is also managed by the Wister Unit call (760) 359-0577.
San Jacinto Wildlife Area including Mystic Lake – Duck hunting was slow on both shoot days this past week with just about a 1-bird per gun average and no geese killed. Top birds taken were the widgeon, mallard and gadwall along with bufflehead and ruddy ducks. Shoot days are Wednesday and Saturday and draw time is 3 a.m. For information contact the wildlife office at (951) 928-0580.
Lake Perris – No word on when this lake will begin shooting ducks again. San Jacinto Wildlife Area manages this hunting/fishing lake.
Prado Basin – Santa Ana winds held off until Thanksgiving and only slight winds blew early Sat. morning. Hunting is showing signs of improving, but more winter like weather is needed to get ducks on the move. There are now a couple thousand Canada geese hanging out on old diaries and farms in the Inland Empire.
Lake Henshaw (My Country Club) – No report received. Reservations are a must and there will be a daily drawing for blind sites. For more information call (760) 782-3501.
San Diego City Reservoirs – Hunting was good again at Lake Barrett on both shoots last week. Sat. produced a 4-bird average with top duck taken being the widgeon, while on the Wed. hunt 13 hunters killed 43 ducks for a 3-bird average. Lots of ringneck ducks are staging at this lake.
Kern National Wildlife Refuge – No report for this past week due to a meltdown of their computer. For additional information on hunting Kern call (661) 725-2767 or for the hunter information hotline call (661) 725-6504, which is updated after each shoot day. A website is also available to access hunt results and other information about this popular southern San Joaquin Valley hunting refuge.
Cibola/Lower Colorado River – No reports were sent from Palo Verde Wildlife Preserve or Cibola National Wildlife Refuge this week. For information on booking a couple of days in a goose blind while staying in a South Ranch cabin call the Cibola Sportsman's Club at (702) 355-8784 or log on to their website. Contact the Cibola National Wildlife Refuge at (928) 857-3253 for shoot days and draw information on the Farm Fields and open hunting on the Island Unit.