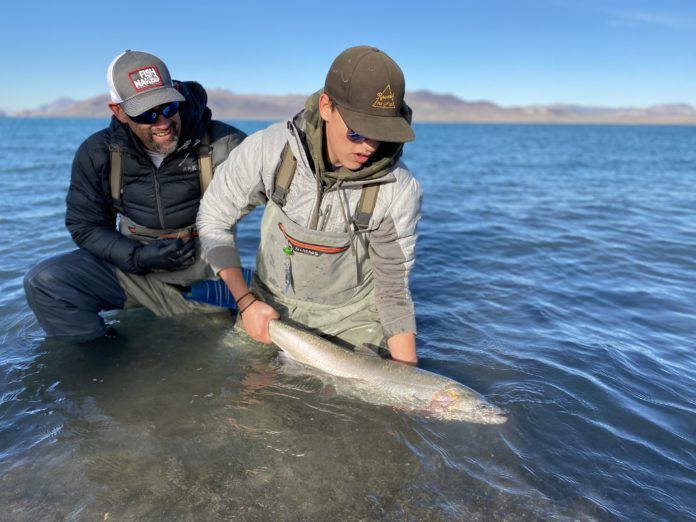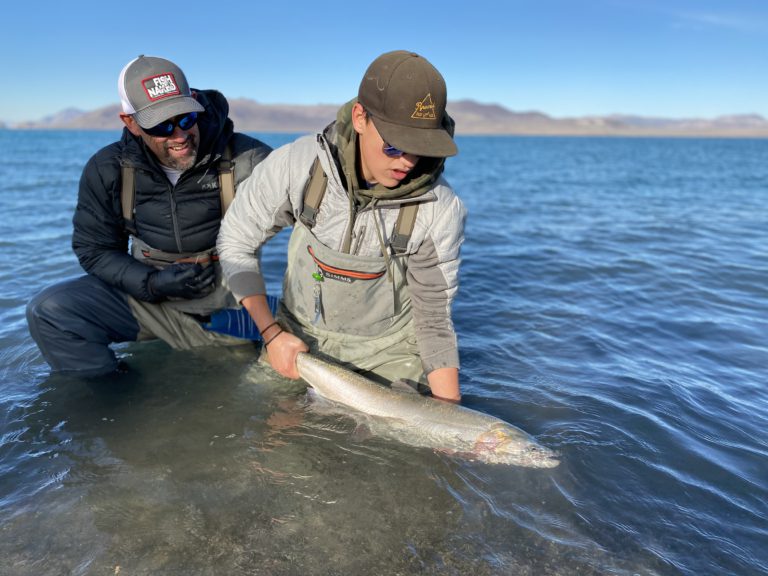 BY DAVE HURLEY
SUTCLIFFE, NV – The first major storm of the winter season roared through Nevada, and the upshot of the heavy rains and cold weather will be a bonus to the already 'red hot' fishing for trophy Lahontan cutthroat trout at Pyramid Lake. The re-introduction of the Pilot Peak-strain have drawn crowds to the northern Nevada lake to catch the fish-of-a-lifetime.
Morgan Kane, head guide for Pyramid Fishing Company in Reno, said, "With heavy storms pushing into our area, we are getting a much need boost in precipitation and the fish are loving it This large surge of water and cold weather is continuing to drop water temperatures, thus pushing more pods of fish into the shallows and reaches from shore. The bait balls are spreading out, and so are the fish.  The activity from shore has picked up and should continue to do so as the lakes water temperatures continue to drop making the shallows more inhabitable for their food source as well as the large monster cutthroat, we are all after.  November is an amazing month for shore anglers as these fish frequent the shallows often chasing tui chub as they pack on weight for winter.
Tui chub patterns are going to be the most consistent pattern these fish will be after for the next month or so as they feed on bait fish.  Natural colors like greens, browns, tan, and some blacks will help mimic the colors of the bait fish.  But as we all know, attractor colors often work well in those slow times. Switch it up and throw on something bright!  Chartreuse is a color that proves effective daily.  A great example of an amazing attractor pattern is Doug Oulette's popcorn beetle.  The rising of said fly as one pauses during retrieves is something that drives these trout crazy Time and time again Doug's popcorn beetle proves to be one not to be left out when stripping flies.
November is going to be a great time of season to focus on those low light hours as it gives the fish more cover and confidence to push into the shallows more frequently to feed.  These storm systems are also going to provide the same cover and often prove to be the better fishing days.  These fish are caught throughout the entire lake on a daily basis and one thing is for sure, you can't catch 'em from the couch."
There are special regulations at Pyramid, and anglers need to be aware of the regulations prior to visiting. All boaters must stop and receive a Watercraft Inspection in Sutcliffe at the Watercraft Inspection and Decontamination Station. In order to prevent the spread of Aquatic Invasive Species, boats are requested to be clean, drained, and dry. Tribal permits for fishing are available at https://plpt.nagfa.net/online/.
There is no fishing off of the docks, and areas closed to fishing and boating are a 1,000-foot radius around the mouth of Marble Bay Fish Way, the Sutcliffe Fishery spawning channel, and from the shoreline of Needles from Wizard Cove to Fox Bay, the Truckee River and delta, and boats need to stay 250 from shoreline fishermen.