BY MIKE STEVENS
Suzuki Marine also bringing back prize wheel for the event's 18th-annual running
BIG BEAR LAKE – The 18th-annual Big Bear Troutfest (Oct. 7-8) will be a special one as coming off the winter-of-all-winters, and the lake will be in tip-top shape this October. Big Bear Lake will be full of trout by then (it's actually featuring great summer trout fishing right now), and the Western Outdoor News prize haul will be equally filled to the brim.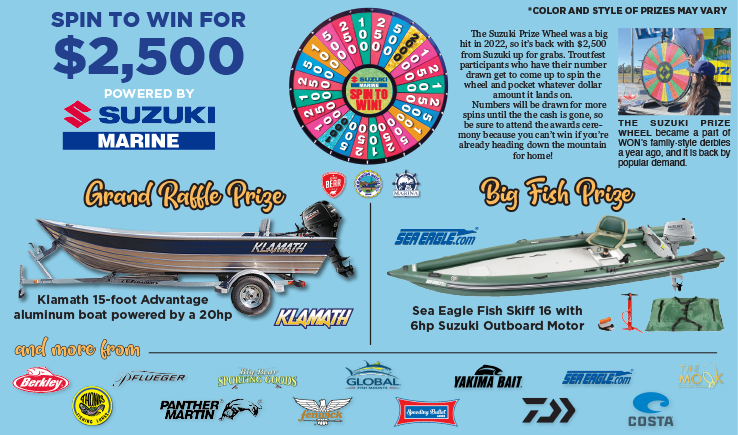 Anglers fishing the 2023 installment of one of WON's longest-running family events will welcome the return of the Klamath/Suzuki boat-and-motor package as the Grand Raffle prize. Prize boats were not part of the picture at Troutfest (and Striper Derby for that matter) due to supply-chain issues, but regulars at those events are pumped to have the centerpieces of the prize haul back. For Big Bear Troutfest, it will be the 15-foot Klamath advantage with a tiller-controlled 20hp Suzuki outboard that goes home with a lucky angler whose number gets pulled at the awards ceremony. Past winners of that rig enjoyed the free reign offered by that Klamath as far as how easy it was to accessorize and "make it their own." As the Grand Raffle prize, anyone registered in the event will automatically be entered into the drawing.
With last year's absence of boat prizes, Suzuki Marine stepped in with the Spin-to-Win prize wheel for cash prizes. Due to its overwhelming popularity at both the 2022 Troutfest and Lake Havasu Striper Derby, it was brought back to those events this year (as well as at Troutcast at Lake Cuyamaca) and will be part of the awards ceremony IN ADDITION TO the Grand Raffle! At this year's Troutfest, Suzuki has put up $2,500 for the prize wheel which will be spun until all that cash is gone. There is a spot on the wheel for all the marbles, and there has already been one-spin winners for the whole shebang.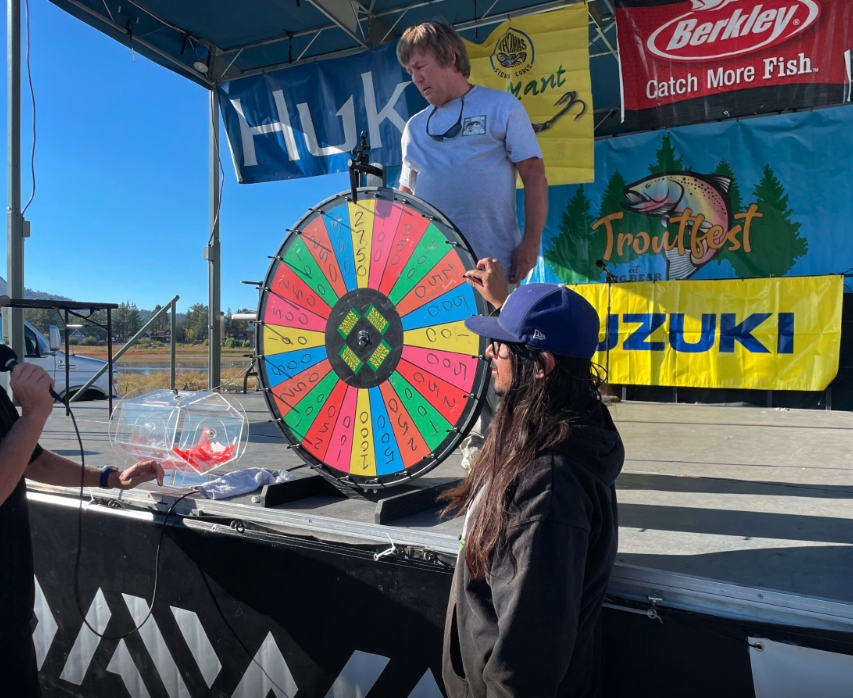 While anglers don't have to catch a single fish to win raffle prizes, there are also top-notch prizes for top finishers and 20 Blind Bogey cash awards going out to anglers who come closest to 20 randomly pre-selected weights without going over. Sea Eagle is also back with another inflatable, versatile and cool-as-all-get-out fishing platform for the angler who bags the biggest Big Bear Lake trout of Troutfest.
The FishSkiff 16 is Sea Eagle's best-selling inflatable fishing boat, and it's now lighter, stronger and more packable than ever. It requires no trailer, can carry up to three people, pack an outboard motor of up to 10 horsepower and get anglers where bigger boats can't. A Sea Eagle FishSkiff 16 will go home with the Troutfest angler who catches the biggest trout of the event along with a fiberglass reproduction of that catch from Global Fish Mounts.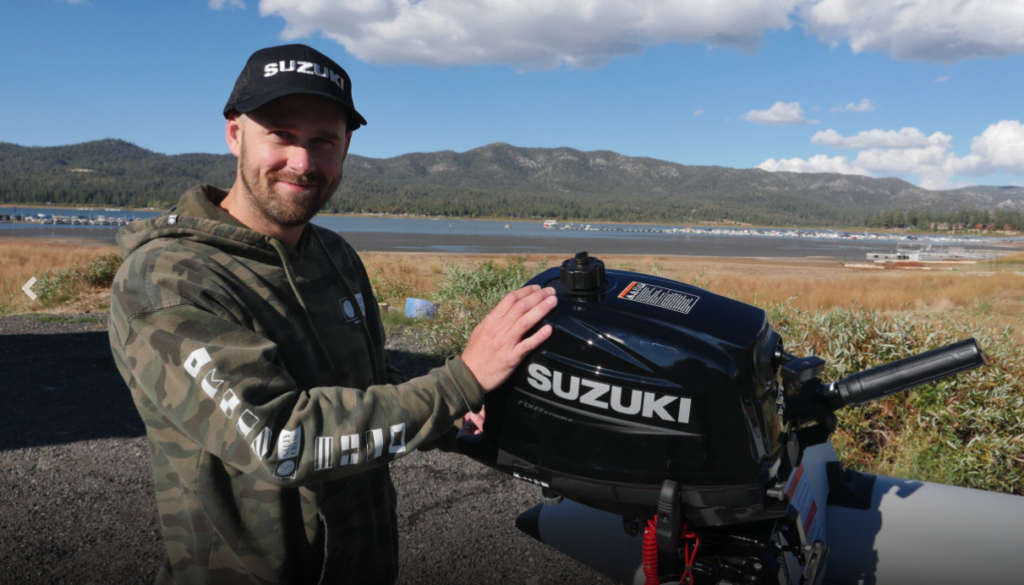 Berkley is also heavily involved again along with Daiwa, Costa, Thomas Lures, Speeding Bullet Lures and Yakima (Rooster Tails). Those industry giants are kicking in for prizes across the board, but also with the giveaway bag that contains over $50 worth of freebies as well as the 2023 Troutfest official hat. Everyone who signs up gets that bag, so you're already ahead of the game before you even make your first cast.
The Troutfest format is simple: anglers compete in one of four divisions — Adult Male, Adult
Female, Junior Male and Junior Female — for trophies and prizes for the top five heaviest total weights of trout caught over two days in each division. Each angler can weigh up to five trout per day.
Entry fees for Troutfest are just $75 for adults and $50 for juniors (14 and younger) and $5 from each entry goes into the Blind Bogey pot, with another $15 from each entry going to trout stocking at Big Bear Lake. To enter, visit WONews.com and click on the 'Tournaments' tab, or call WON tournament director Billy Egan at (949) 366-0248.