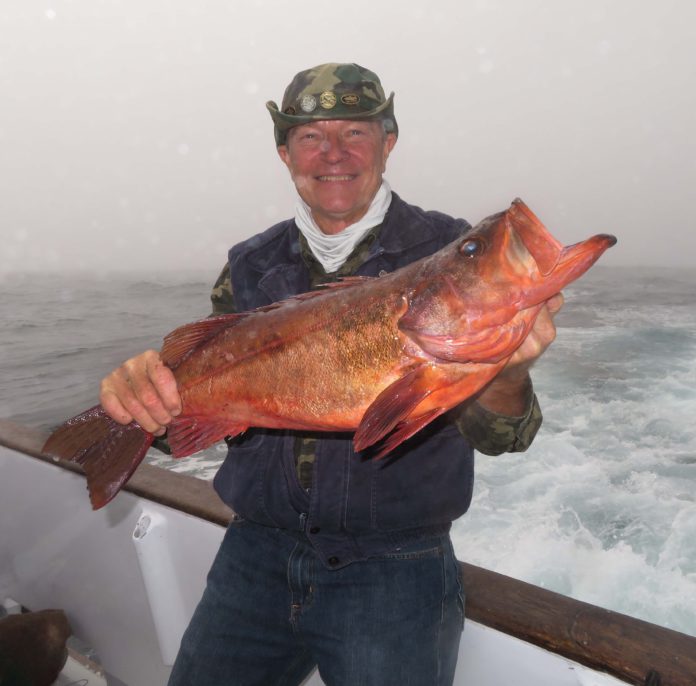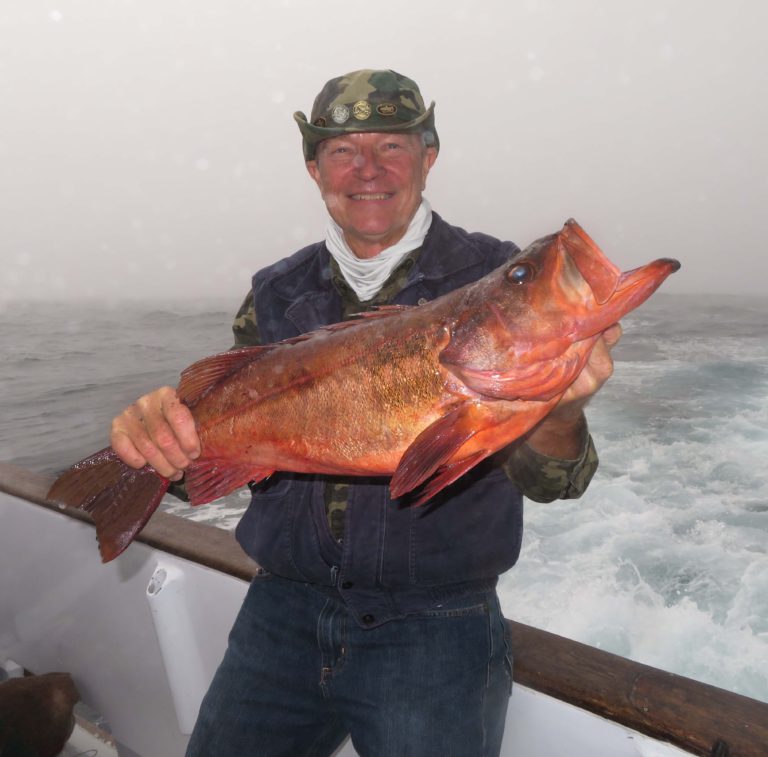 BY BOB SEMERAU
MORRO BAY — Just like coming home to Mom's after a little time away, boarding Black Pearl is both familiar and a little bit intimidating. You know Mom will have great food and a warm smile, but you need to be on your good behavior and be ready to get to work.
Lisa Tardif, owner, and operator of Black Pearl, operating out of legendary Virg's Landing in Morro Bay, works hard to make each angler feel at home aboard the 65-foot sportfisher.
Owner Tardif takes pride in making passengers feel at ease aboard the Pearl, whether newcomers with rental rods or seasoned anglers out for their limits on rockfish once again this season.
"We take pride in giving that extra measure to make each guest's trip something special," says Tardif while preparing tri-tip, egg and potato burritos before departure.
Check-ins began at 3:30 a.m. with Virg's Landing Manager Bruce Harwood and long-time staffer Bob Bodine, now in his 14th year at the landing, signing-in the anglers. WON distributed Frogg Toggs dry bags holding a spool of 30-pound Hi-Seas super premium fluorocarbon, a handy 3200 G-Box from Gamakatsu, and 20-percent off coupon for HUK Gear to each charter angler.
With dense fog and overcast skies, anglers loaded up just before the 5:00 a.m. departure time and began the trek northward over heavy seas and into winds blowing at 10 to 15 knots.
Charter sponsor HUK sent along a certificate for $100 that was awarded to the angler with the heaviest fish of the day.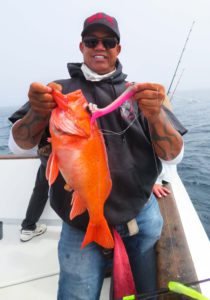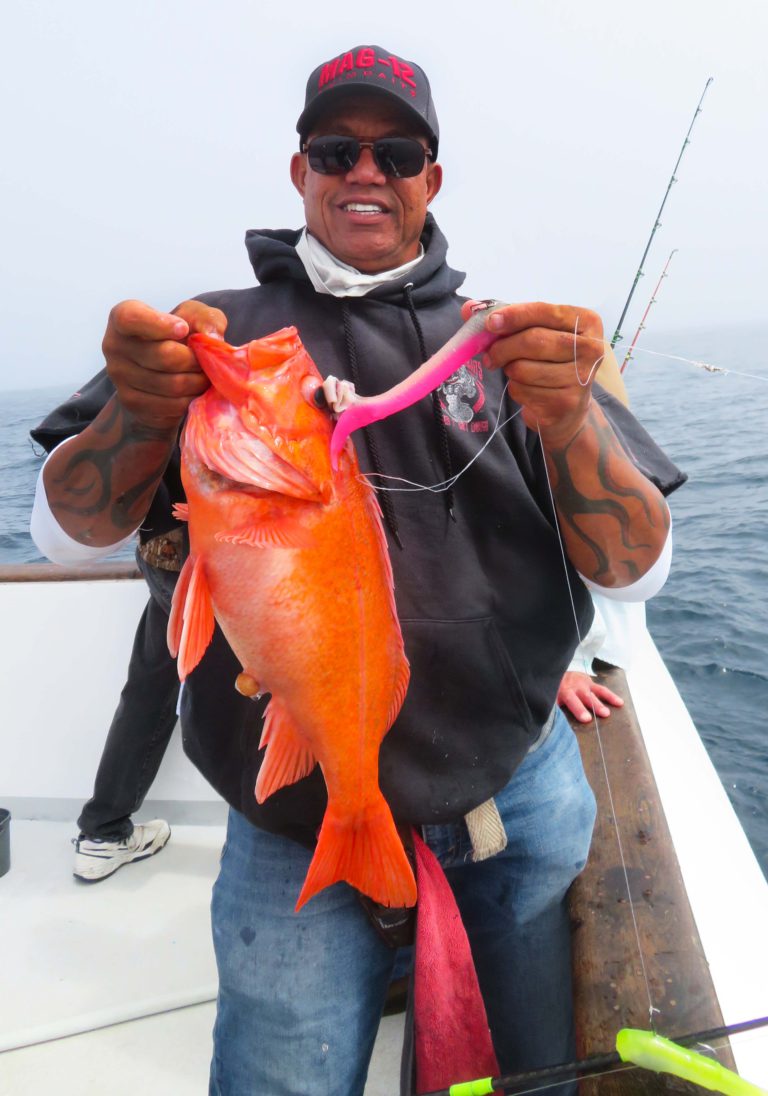 "We'll need everyone to stay off the deck as we head north," came the call from the wheelhouse. Captain Brian "Ahab" Walker warned that the rough seas and winds would be too dangerous during the four-hour journey up to the fishing grounds.
Some anglers took to the bunks below deck while others whiled away the time seated in the roomy galley salon, sharing stories with old friends and new.
Capt. Bud Birchfiel, second skipper for the 14-hour charter, spun out tales of his many years on the water, working sportfishing boats along the Southern California coast.
As Black Pearl approached an area near Ragged Point, the seas calmed and the wind subsided. Capt. "Ahab" got on the P.A. to let everyone know it was time to rig up for the coming day's fishing.
"Double dropper loop with a 16-ounce weight or a big heavyweight jig will work best here; the bottom is at 270 feet. Don't fish the trap rigs for lings, we'll do that later," called the skipper, who really takes his orders from Captain Cutter, the resident boat-dog.
Immediately, larger-model reds and rockfish began to bend rods in the bow and all around the boat. Black Pearl deckhand, Cody Doots, got an assist from Lisa Tardif as fish began to come over the rail.
Henri Williams had come out to fish the WON-Black Pearl extended day charter with his young daughter, Halii. The angler was one of the lucky first to bag a big red, and in the end, Williams took home limits of reds and rockfish for father and daughter.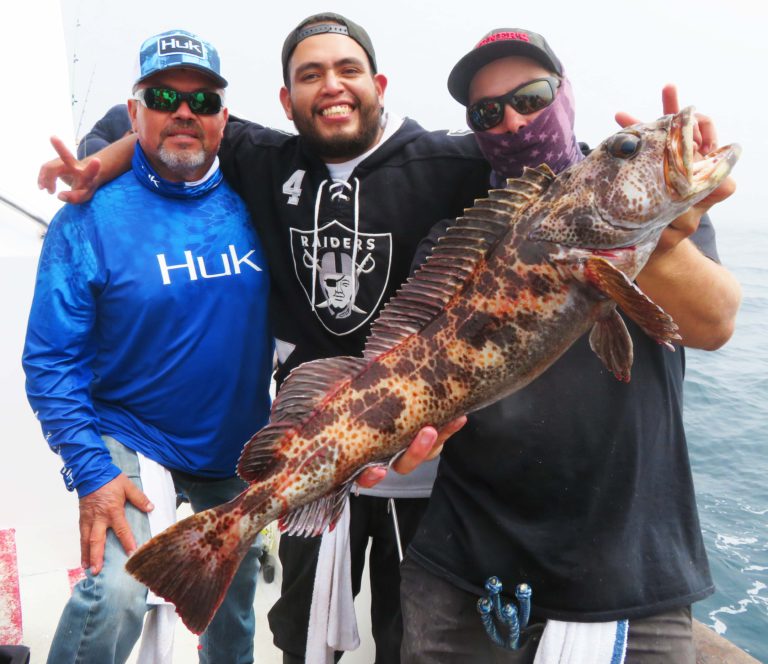 Rick Both fished alongside his father, Bill, and the two were finding success with a combination of jigs and squid, changing up their tactics as needed to get bit.
Kevrette "KJ" Johnson brought along his Magnum Swimbaits designed just for this type of fishing and not only used the glow soft swimbaits for limits on reds and rockfish but found willing ling cod to add to his bag.
WON charter regulars Bret and Lori Blaydes traveled down from Springville, California near Porterville, and the pair could be found near the bow with one or the other handling a bent rod for limits of their own.
Several drifts over a hot spot produced enough big reds to almost make a boat limit in the first two hours. Short moves in the surrounding waters brought Black Pearl to limits on rockfish and reds, at five-fish each for a total of ten-fish per angler.
"Let's reel up and make a big move to work on some lingcod," called the skipper just after noon. A half-hour later lines were let out and action underway once again.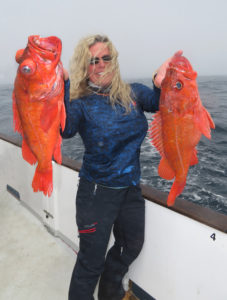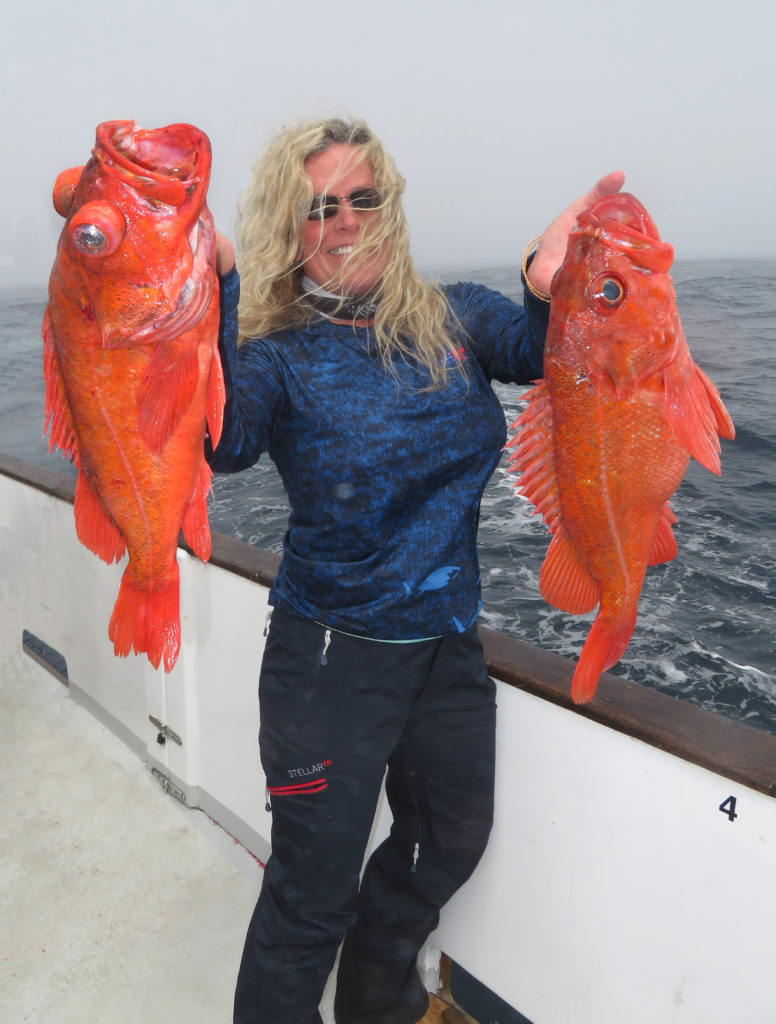 While Black Pearl was on the move into shallower waters near White Rock, Lisa Tardif worked with deckhand/galley helper Dave Kiel to prepare another delicious meal of fresh tacos. Each angler was offered three, in a tasty choice of carne asada, bluefin tuna and chicken. A hand-made fresh mango salsa was liberally applied to each.
During the move across to White Rock, one group of anglers expressed their excitement at being aboard the Pearl.
"We all work out at the Lompoc United States Penitentiary and getting out to fish with Western Outdoor News aboard Black Pearl is about the best way we have found to relax and have fun," explained the group's organizer, Pete Barajas.
The rest of the group included Bryan Roughton, William McNabb, Baltazar Magana, and USP Lompoc Medical Officer, Liza Hoen. The federal agents as a whole bagged limits of rockfish and reds, but Liza Hoen certainly did it with style.
The former World Champion Body Builder held the title of Ms. Universe and won the World Natural Body Building Federation competition, proudly stating, "and I never used any drugs to do it!"
Once the boat was set up, lines were let out in hopes of finding lingcod. A popular rig is the "lingcod special," using a large 5-0 sized hook snelled above a treble hook, some 6 inches behind as a stinger. A whole frozen mackerel or large sardine is pinned through the nose onto the single hook, and the treble hook worked into the underside of the bait. The whole rig is fished on a reverse dropper loop with 8 to 16 ounces of weight run out to the bottom, some 160 feet below.
Wade Wells and Mark Ginchereau fished the starboard rail most of the day and bagged limits, but it was Wells that had the best of it.
Wells landed the heaviest fish to be taken to the beam scale at days-end with an 8-pound-plus bocaccio, earning the $100 HUK Gear gift card, as well as the boat jackpot for the angler.
Another move, this time southward to a spot along the route home, gave twins Dennis and Donald Matthews an opportunity to finish out the day on a high note, looking for lingcod once again.
Each week the largest ling cod taken at Virg's Landing gives the lucky angler an entry into the annual John Rowley's Biggest-Baddest Ling Cod Competition 2021.
This December, the Black Pearl will host the final day of competition for the annual lingcod championship held by Virg's over the course of the rockfish season. Prize money will be up for grabs in the one-day shootout.
Making a few last-ditch drifts in the shallower water gave up a few lings to finish out the day, and it was time to head back to the docks for a 7:00 p.m. arrival.
Totals for 24 anglers on this extended day 14-hour charter: 10 bocaccio, 1 cabezon, 8 lingcod, 2 whitefish, 20 bonito, 100 rockfish and 120 vermilion rockfish.
Contact info:
Virg's Landing, 1169 Market Ave. Morro Bay, CA 93442 805-772-1222
Black Pearl, www.blackpearlgofish.com , 1-323-500-3085