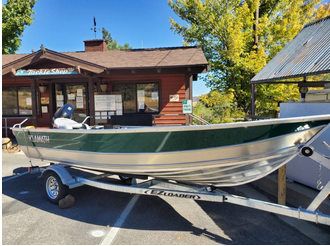 Bite holding steady with quality Lassen rainbows on the way
BY BLAKE WARREN
JULIAN – Things are looking good at Lake Cuyamaca with some big rainbows continuing to be caught, crappie and bluegill gradually turning on and largemouth inching into shallower waters. All that as anticipation builds toward the fast-approaching, inaugural Western Outdoor News Troutcast, just a few weeks out now slated for April 24-25. All those things plus a hefty delivery of Mt. Lassen trout going 3,000 pounds or better set to spill into the lake ahead of the first-ever event.
That should set the stage nicely for plenty of biting 'bows the last week of April, with the lake being closed from April 20 until the morning of the 24th to ensure there's no shortage of hungry trout come tournament day. Rental boats will be available on a first-come, first-serve basis, and anglers bringing their own boats are highly encouraged to get their boats out to Cuyamaca on Friday or earlier to have them inspected prior to the event, advised Supervising Ranger Butch Paddock. "That will help out big time and get everyone out on the water smoothly to do what they came here to do.. go fishing, and hopefully win some prizes."
The somewhat resurgent trout bite that started late last month is carrying over to a de- gree with the calendar flipping to April, with a handful more quality rainbows in the 3- to 8- pound range being landed along with fair overall numbers. Soaking brighter colored Power- Bait or inflated nightcrawlers on Carolina rigs along the north- east shoreline or in the Cham- bers Park area has been the best way to go in recent days.
Anglers are reporting more crappie and bluegill bites the last couple weeks on live worm offerings, while more bass are also making appearances in shallower water on mostly jigs and Texas rigs. Angler Chris Sprecco was drop-shotting a live nightcrawler in hopes of a trout bite at the south end of the lake when he tied into a surprise 8-pound largemouth on Saturday for what was the biggest reported bass of the week.