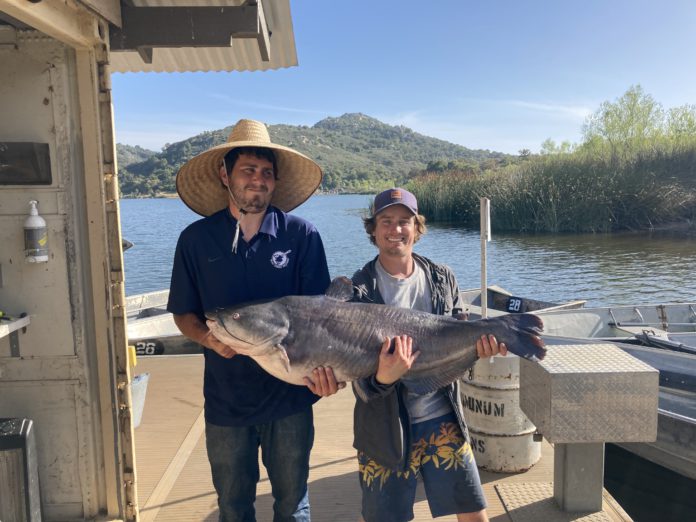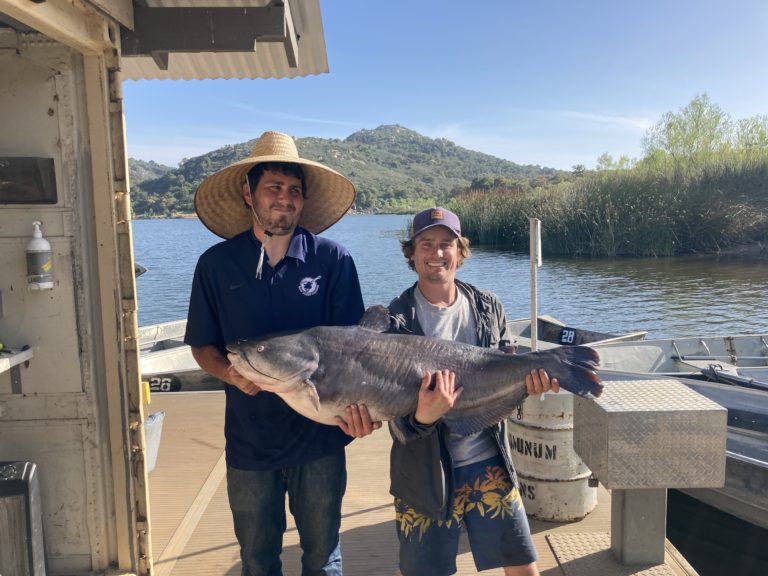 BY MIKE STEVENS
ESCONDIDO – Trout season is coming to an end at Lake Wohlford, but it's got at least the rest of the month left for producing rainbows while the bass needle starts to tick in the right direction and a new lake record catfish hit the scale.
Local catfish hunter Elliot Berquist of Escondido was working with mackerel in Willow Cove when he closed the deal on a 62.7-pound blue catfish that will stand as the new lake record at Wohlford. According to Ranger Specialist George Scalo, the avid catfish angler and his buddies have been actively pursuing the record for a few years, and they've ramped up their efforts over the last couple weeks resulting in several impressive catfish hauls prior to ultimately bragging the record breaker.
"The last few years have shown that Wohlford has a healthy population of blues that continue to grow in size," said Scalo. "Could Wohlford's murky waters be concealing a 100-pound catfish? Only time will tell, but two things are certain, it seems a good deal more plausible than it did last week, and Berquist and his crew of catfish hunters stand a better than average chance of being the ones to do it."
The "off-season" catfish bite at Wohlford is no secret to local anglers, and plenty of respectable stringers of channel cats have been piled up all winter and into early spring. Big blues pop up every year tat Lake Wohlford thanks in part to anglers releasing them after some photos.
Trout season will finish strong with 1,500-pound plants going in on back-to-back weeks, specifically, on April 7 and 14. All season long, the days right after a stock kick out plenty of minijig fish before the bite gives way to PowerBait, Mice Tails and nightcrawlers. Boaters drifting with PowerBait or trout worms on a split shot rig have also been picking up some open-water trout.
There hasn't been many bass anglers out there, but it's still obvious the bite is gradually picking up. A couple crankbait fish are showing up here and there along with structure fish on big worms or jigs, and some finesse-worm fish were caught from the Senior Shoreline near the tules. The crappie bite flashed a couple times last week but it's only been fair overall.