Looking forward to opening weekend and forecasting the 2021 trout season
BY ERNIE COWAN
BISHOP – A season that many missed last year, new regulations and the cloud of Covid will all be factors affecting the 2021 opening of the Eastern Sierra General Trout Season at some level. All the same, the buzz in the fishing world is loud as anglers anxiously look forward to returning to the high country in search of trout.
It will be a different opener, for sure, especially following a 2020 without Fishmas!
Last year went without a formal opening day as Covid concerns closed campgrounds, lodging and restaurants and pushed back opening day by nearly a month. Even when the season did open, crowds were slim because there was no place to stay.
The normal opening date of the last Saturday in April has returned this season, but with some changes.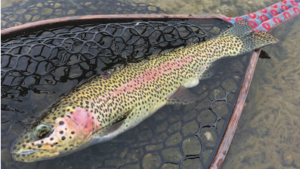 One of the first things anglers who take time to read the regulations is that some waters normally closed until opening day are open now. This might encourage trout hunters to head up early to kick off the rust and dust with a few casts before hitting the main areas on opening weekend. The new regs went into effect on March 1 and will offer anglers some additional waters prior to the general opening.
Now, with key exceptions, all Inyo and Mono County lakes will be open to year-round trout fishing with the usual five trout daily limit and 10 in possession.
Those exceptions include what DFW is calling "Resort Lakes," which are Bridgeport Reservoir and tributaries, Convict Lake, Crowley Lake, Lake George, Grant Lake, Gull Lake, Horseshoe Lake, June Lake, Lundy Lake, Lake Mamie, Lake Mary, Rock Creek Lake, Sabrina Lake, Silver Lake, South Lake, Twin Lakes Mammoth, Twin Lakes Bridgeport and Virginia Lake, Lower and Upper.
These popular trout waters will continue to see Fishmas on April 24 this year and a traditional season continuing through Nov. 15.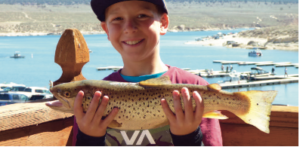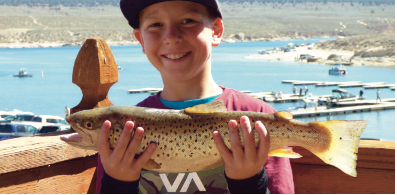 For those early birds, Intake II and North Lake in Bishop Canyon will be open along with the Owens River, and Pleasant Valley Reservoir. Getting to North Lake is always a challenge, because the one-mile, steep road is rarely plowed, so anglers would have to hike in and likely battle ice on the lake.
Ellery, Tioga, Saddlebag Lake and Lee Vining Creek are now open all year, along with all backcountry lakes and some creeks with restrictions, if you can get to them and auger through ice. If Highway 120 opens to Yosemite in time, anglers could fish those waters prior to opening weekend.
It should be noted that those lakes will have a barbless artificials-only limitation in the winter months.
Andre Nersesian with Eastern Sierra Sportfishing also highlighted how red-hot conditions are right now on the Lower Owens and reminded early arrivals that they can have some great fishing there, including warm water bass and catfish.
For the opener, Nersesian says Big Pine Creek is low and clear and the pools are holding fish.
"Some smaller browns move into the faster water mid-day but the bigger holdover rainbows from last season are holding in the pools that require a little bit of work to reach but can pay off," he said.
Baker Creek is also low and clear with a few holdovers from last season, but the ponds seemed pretty lifeless last check. Look for that to change for opener as this area is heavily stocked all season, with occasional broodstock fish running 3- to 6 pounds.
The Owens River just outside of Big Pine has been phenomenal all winter.
"Heavy plants along with wild fish have kept us plenty busy this winter and spring along with several fish in the 18- to 22-inch range. Look for action to remain good here for the opener even with rising water levels, typical of spring. The fish will definitely be there," Nersesian said.
The new Eastern Sierra fishing regulations are not all good news. Some waters, like McGee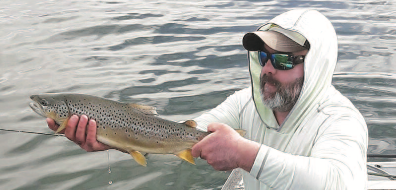 Creek downstream from U.S. 395 and Rush Creek, will not open to fishing until the Saturday before Memorial Day and will also close early on Sept. 30. These more restrictive dates were designed to protect the brown trout population that often sees unsustainable pressure, especially during the fall spawn.
It may take anglers a bit of time to adjust to the new regulations, but you can bet wardens will be out to help you get the message.
To check on specific waters, visit nrm.dfg.ca.gov/FileHandler.ashx?DocumentID=190456 &inline.
So, what can Eastern Sierra anglers expect for 2021?
Snowfall this winter has been normal to slightly below normal depending on the areas, but lakes were full and healthy last year, so water should not be an issue, at least until late summer.
Veteran Sierra guide Doug Rodricks with Sierra Drifters is upbeat about opening weekend, especially for the lakes.
"With warmer weather, the lakes should fish really well this opener, especially if the ice comes off earlier," he said. He is also excited about the red-hot action on the Lower Owens.
He also thinks creeks will be seeing early season runoff, because of warmer weather.
"On the warmer days currently, they are already flowing higher which is kind of early for this time. Freestone creeks may not fish as well with higher runoff, but tailwaters should be good," he predicts.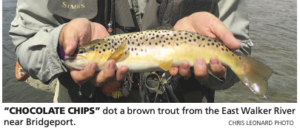 Stocking last year suffered a blow when three state trout hatcheries had to destroy mil- lions of fish and cease stocking for the year due to disease. Here is what the California Department of Fish and Wildlife has to say about stocking Sierra waters this year.
"Three CDFW hatcheries in the Eastern Sierra and Southern California have had to be de- populated due to a bacterial outbreak. Stocking schedules in the South Coast Region and Inland Deserts Region will be affected for the remainder of the 2021 calendar year as CDFW works to disinfect and repopulate the hatcheries with fish. Fish from other hatcheries are still being planted in these areas, but the numbers and locations have been greatly reduced."
Local landings, tackle shops, trout foundations and both Inyo and Mono Counties picked up the slack last year by purchasing trout from hatcheries in Oregon. Those trout were big, and average trout sizes being caught picked up, with a boat load of 5-pound fish coming in weekly. In fact, anything less than five pounds hardly got mentioned in weekly fishing reports.
Many of those fish are still hanging around and will be larger and ready for your bait or lure this year.
And local efforts will also continue to plant larger rainbows in most Sierra lakes and streams in addition to whatever catchable rainbows will be placed by DFW.
Mono County has committed $100,000 to spend on Oregon trout (Desert Springs Hatchery) and the City of Mammoth Lakes has kicked in an additional $100K.
Local lakes like Mary and Convict also purchase fish privately and the Twin Lakes Fish Foundation has already planted 1,200 pounds of trout in Robinson Creek, and the West Walker River. Both are now open to fishing.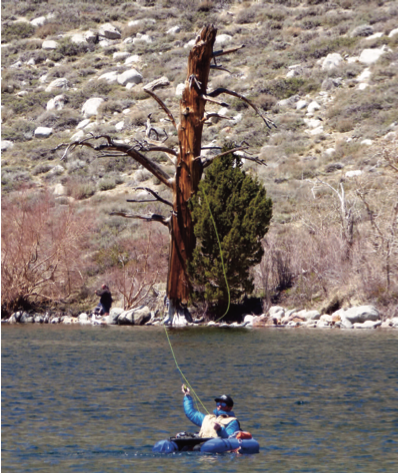 Lower Twin in Bridgeport also received some of the TLFF fish. Additional trophy trout loads will be planted in Bridgeport Reservoir and adjacent waters, thanks to the aggressive fundraising efforts of the Bridgeport Fish Enhancement Foundation.
Tawni Thomson, Executive Director of the Bishop Area Chamber of Commerce and Visitors Bureau said they have budgeted $30,000 initially for trout stocking and "maybe more if our budget situation improves."
Resorts and landing operators in Bishop Creek Canyon are also pitching in to stock lakes and streams in that area and additional funding has been requested from the county.
Sadly, the annual Bishop Derby Days event will not be held again this year, but Thomson said plans are in the works for some type of derby event later in the season.
But there is good news from the June Lake Loop, where the popular June Loop Monster Trout Derby will return again this year.
Jeremy Ross at Ernie's Tackle said there will be a few changes this year, including the elimination of the heaviest stringer, along with elimination of a Rush Creek category because that water will not open until the Saturday before Memorial Day.
Ross said he is removing the largest stringer category to help protect trout populations.
"I don't want to promote people putting their fish together for a prize package or killing five big fish just for the contest," he said.
Ross is one of the most visible promoters of catch-and-release, urging anglers to keep only what they want to eat.
Ernie's Tackle will also be launching a June Lake Loop Trophy Trout Program by deploying donation containers around the loop. Funds raised will go the purchasing trophy rainbows for lakes in the loop.
Some lakes raise their own fish that are then released throughout the season, so anglers should not have any problem locating fish this season, especially larger ones.
Misti Sullivan at Twin Lakes resort predicted a good brown trout bite as the season begins.
"The browns didn't get much pressure last year because of Covid and no opening day," she said.
As always, weather is the big unknown for opening weekend. At press time, it had been a while since storms rolled through the high country, but that can and often does quickly change.
I can remember plenty of times driving up Friday to the Sierra opener and mushing through deep snow as you crest Sherwin Summit north of Bishop.
If current weather patterns hold, it could be a bluebird opener, but Fishmas weekend anglers should always go prepared with gear and clothing to withstand late season snowstorms.
Lower elevation lakes like Crowley, Convict, Intake II, Lower Twin in Bridgeport, Bridgeport Reservoir, Grant and June Lake are already ice-free. Crowley, by the way, will allow anglers to check in with boats on Thursday before the opener.
Others waters at press time, such as North, Sabrina and South lakes, Mammoth Basin, Gull and Silver, Virginia Lakes, Tioga, Saddlebag and Ellery are still iced over, but the few reports we have received say there is open water and likely unsafe ice conditions for those thinking about ice fishing.
Jared Smith, the mountain Guru at Parchers Resort and South Lake Landing is upbeat about a return to a traditional opener this year.
The road to South Lake could be cleared of snow before opening day, thanks to some work being done in the canyon.
Smith said that means anglers would have access to hot spots like Weir Pond and the en- tire stretch of the south fork of Bishop Creek in addition to middle fork waters.
Current weather trends could also make ice fishing sketchy at best, and downright dangerous at the worst.
"In fact, I saw pictures from late January and South Lake wasn't even all the way frozen, so I would be extra cautious of ice fishing," Smith said.
The co-op stocking effort between Smith, neighboring lake operators and the Chamber of Commerce will continue throughout the season.
Reagan Slee at Reagan's Sporting Goods in Bishop said anxious anglers have already been taking advantage of Intake II being open in the Bishop Creek Basin.
"But it's still a little slow. It's not been stocked yet, so mostly smaller stockers are being caught right now," he said.
The road into Rock Creek Canyon will likely be open by Fismas weekend, but Jim King at Rock Creek Lake resort said there will probably be ice on the lake.
"The best fishing will be at the inlet and outlets of the lake, and along the creek," King said. "There will be lots of holdover fish, so anglers can expect some nice stringers."
Mammoth resident and Kitttredge Sports trout guide Chris Leonard said he anticipates a strong showing and a good bite opening weekend for lakes in the Mammoth Basin.
Roads are typically not open beyond Twin Lakes, so anglers wanting to fish those lakes will have to hike in.
Lakes will likely still be iced over, but with the current warm weather they could be unsafe for ice fishing.
"As far as I can tell, conditions are about what you'd expect given the mild winter we've had thus far and that means less snow that usual, better creek access, and the lakes will likely ice out earlier than usual," he said. "If the weather continues to be relatively dry for the next few weeks, which is of course a wildcard, access all around should be better than average."
At press time almost all of the snow around Lee Vining was gone, and Wayne Beaver at Beaver's Sporting Good was optimistic about opening weekend. Efforts by local merchants and the Lee Vining Chamber of Commerce means Lee Vining Creek will be stocked, and that's in addition to heavy stocking at the end of last season.
"There will be plenty of fish and we are working with the Forest Service to get campgrounds open as well," Beaver said.
That's also good news for those arriving early, as Lee Vining Creek above U.S. 395 is open year-round now.
Beaver said Lundy Lake is extremely low right now and still has some ice, but as it fills, ice should break up quickly. The campground there is a county-run facility, so he expects it to be open for Fishmas, but there will be no available services.
Typically, there will be more snow between now and opening day, sometimes even on opening day. It's just a matter of when and how much.
Keeping that in mind, opening weekend anglers should be prepared for any weather conditions and carry tire chains, which may be required to reach your favorite fishing hole.