EAST CAPE – This past weekend 134 teams competed in the East Cape Dorado Shootout for a chance at some big winnings. Based at Hotel Palmas de Cortez and directed by Kit McNear, participation went up from 109 teams last year despite COVID-19 restrictions (no parties).
According to WON Baja Reports Editor Pat McDonell who was at the event, there were 16 dorado weighed in — topped by a 46.6 pounder caught by a La Paz team on a fly-lined caballito at a Cerralvo Island shark buoy on their Mako 26 sportfisher named Juampi.
Said McDonell, "It was a long distance run from Hotel Palmas de Cortez, but the local La Paz team knew the locations of the shark buoys that attract big dorado."
The team anglers were Daniel Diestro, Marco Cota Leon, Joaquin Cano and Joaquin Cano Montaño. They were entered across the board and won the $30,000 Amarok VW 4×4 truck, as well as $142,205 in optional jackpots.
Second place was a 40.03 pounder by the El Rogalo team, captained by Harry Rogers of Poway on a fish caught at La Ribera bank. Third was a 39 pounder by Everado de la Toba of Ensenada on the boat, Reina Linda.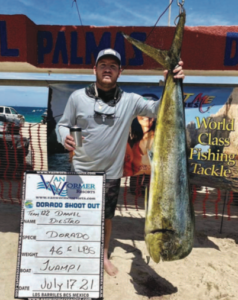 Alternate species of tuna were led by a 29.9-pound yellowfin and a 20.4-pound wahoo.
PUERTO VALLARTA – Stan Gabruk of Master Baiters Sportfishing & Tackle wrote in his newsletter that it finally happened: they have fishing in Puerto Vallarta's world-famous fishing grounds. Said Gabruk, "With hurricanes, dorado, marlin and more finally taking baits and moving in, it would be hard to deny summer fishing in Puer- to Vallarta is finally here!"
What does that mean exactly? For one, with blue water at Corbetena, Gabruk said there have been sailfish taking trolled live bait and yellowfin tuna are running the area if you find spinner dolphin. As for blue marlin, he said they are in the area to 500 pounds, but the numbers are thin at best — and dorado are running in the 10- to 20-pound range but are picking up in numbers. The cubera snappers are also taking baits if jigging.
In terms of other specific areas, Gabruk said Punta Mita has shown a stronger pulse in the last few days, with a large showing of dorado at 20 pounds around the "Big Rock" at the point. "With plenty of 'trash' in the form of debris and logs scattered throughout the area, these can be dorado gold mines, so don't pass anything that looks promising," he said. "If you find yourself about four miles out from the Punta Mita Point on the 330, you'll find striped marlin and blue marlin in the 350-pound range. Heading up towards Sayulita, there could be sailfish and possible roosterfish. So, finally there is a reason to go back to this area again."
Inside the bay, Gabruk reported seeing the regular summer fishing conditions when they have the seasonal rains. He said if you are in clean water, you'll find dorado around Los
Arcos and Yelapa in the 10- to 20-pound range — and bonito are still smaller at 20 pounds throughout the bay, as are jack crevalles in the same size range. He's also seen sailfish running the bay as well.
"With the fresh water, there are snook or robalo at the river mouths," he added. Overall, Gabruk said the bite is still both early and late, but you should be where you want to be before 8:00 a.m. to be safe. And with plenty of bait in the area, he said it's good to know trolling live bait is working.
CABO SAN LUCAS –Rebecca Ehrenberg of Pisces Sportfishing shared a few highlights from the week via Facebook, including the first big yellowfin tuna starting to hit the Pisces dock.
One of the biggest catches was a 134.5 pounder landed on Pisces' 31-foot Tiburon, along with another 4 yellowfin and 4 dorado! Father and son anglers David and Mason Williams landed the bucket list fish after a grueling 2-hour fight.
Ehrenberg reported lots of mahi starting to show up now, as well. She said their 31-foot La Brisa and 31-foot Ruthless both had some nice catches this past week.
LA PAZ – Jonathan Roldan of Tailhunter International reported that it wasn't a spectacular week of fishing, meaning there weren't a lot of big trophy fish caught. However, he said it was good, steady summer fishing. "Except for a few slack times, overall, everyone caught fish," said Roldan. "There was plenty of action to go around."
He said the good days usually made up for the slower days, and the bite produced a good mix of dorado, billfish, lots of small to medium roosterfish, jack crevalle, big bonito, pargo, snapper, cabrilla and even some late-season amberjack and rainbow runners.
According to Roldan, the dorado have definitely slowed from the wild bite of a few weeks ago but fish are still out there, especially under the sargasso paddies. "There were two days when there were lots of fish all around, but they just wouldn't bite," he said. "It was frustrating. We figured it was just because the tides were especially slack, and the fish simply weren't feeding. That applied to the dorado as well as other species. The currents picked up, and the fish started biting again."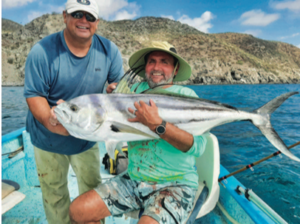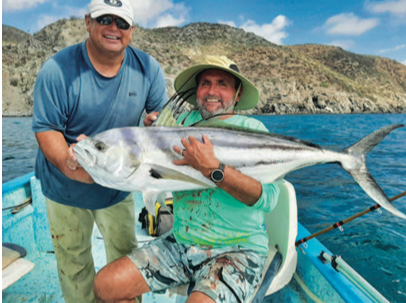 Roldan said the marlin have tapered off as well, which he thinks has a lot to do with the current but also a great deal of traffic on the fishing grounds causing the marlin to get lock-jawed. "The marlin have been so thick over the last month that everyone and their brother, especially locals, have been pounding the waters for the billfish," he wrote. "Hopefully, the bite comes back."
LORETO – Rick Hill of pinchysportfishing.com reported that dorado from peanut- sized to 30 pounds have been mixed in the current lines from Coronado all the way to Almeja Bay.
"Trolled feathers in the 4- to 6-inch sizes have been effective, with pink and blue being the best producers," he wrote. Hill added that chumming sardina along the sargasso debris lines has put the most fish on ice. "It's looking like a typical summer season, and that includes both the number of attending fish and fishermen," he said.
SAN JOSE DEL CABO – Eric Brictson of Gordo Banks Pangas said it's feeling more tropical in those parts, with mixed fishing action this past week.
He reported that the local fleets have been targeting fishing grounds from Red Hill, Chileno, Gordo Banks, Cardon, Iman, San Luis and to Vinorama and the action has been spread out, with really no specific hot spot right now.